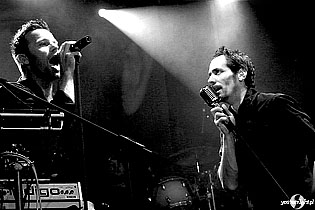 Studio, Cracow, Poland
25th November 2006
d'Electro Fall Tour: NUN, Lowe, Iris, Camouflage


On 25th November the last part of d'Electro Fall Tour organized by the agency Independent Events took place. It started in October to end up in Cracow with a wonderful line-up: CAMOUFLAGE, IRIS, LOWE and NUN. The German bad MINERVE had been supposed to play, but almost the very last moment their concert was canceled due to the organizers decision. Still, the place (spacious club "Studio") and the atmosphere were great enough to make the people remember the gig long.
NUN


The band NUN was formed in 2000 in Wroclaw as a result of splitting off their former project LEN. The music of NUN could be described as electro pop and their artistic output is to be found on four CDs: "Sunlight" (2006), "Stop!" (2006), "Hope" (EP) (2006) and "This is electropop" (2004). Constantly gaining popularity they present the music which equal lyrics about emotions with electronic music. NUN are: Magdalena Kaspryszyn (vocal, lyrics, keyboard, composition) and Olaf Karbowiak (programming, sampling, keyboard, composition).
http://www.nunelectro.com/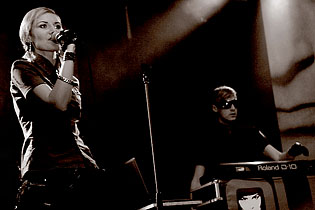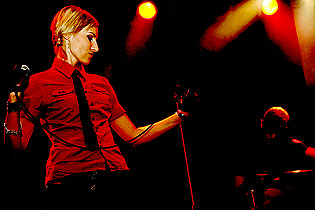 Music

There are bands that stuck as if in an artistic stupor for many years making no or little progress, both as far as their scenic manner and music are concerned. NUN is definitely the opposite. I've had a chance to see them three times this year, and believe me; Olaf and Magda have developed brilliant skills since October. They're not kinda chameleons; they're rather one stable electro-clash enterprise which nonetheless improves constantly within the borders of the genre. In Cracow, they presented the songs of their album "Sunlight" and also new dance versions of "Here 4 U" and "Hope" as well as a new live version of "Blind" with sampled guitars. What to expect of NUN? Warm, vivid, sparkling vocal, dynamic, danceable music and great, easily recognizable image.
Performance

There are two members of the band like I said: Olaf and Magda. Olaf is a keyboard player so he is rather stuck behind the equipment, however he does everything to be noticed, moving rapidly and occasionally throwing some parts of his outfit away. ;) Magda in turn could be called living silver, she's so energetic and joyful person. It's a real pleasure to watch her on the scene, moving, establishing contact with the audience and proving that women indeed constitute a real, fascinating scene power.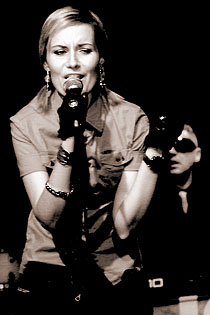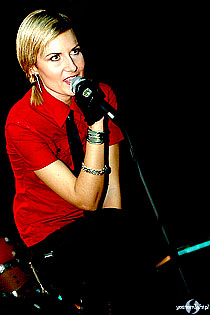 Setlist

01. Here 4 U
02. Stop!
03. Vision Of Life
04. I Don't Know How
05. Hope (new single dance version)
06. Blind (new live version)
07. Dream Away
08. Here 4 U (new dance version)
Rating

Music: 8
Performance: 8
Sound: 6
Light: 7
Total: 7.6
LOWE


LOWE was formed in 2002 by Jörgen "Leo" Josefsson (vocals/guitar), Rickard Gunnarsson (bass) and Mehdi Bagherzadeh (keyboards). Their music has already received national and international recognition. LOWE won the "Newcomer of the Year" award at
Scandinavian Alternative Music Awards 2005
, and was also the only band nominated in three categories, "Newcomer of the Year", "Best Song" and "Best Album". The music can be described as emotional pop, contrived with electronic elements. Their first three singles "The Vanishing", "Ahead Of Our Time" and "Hear Me Out" quickly earned them the reputation as "the new hope for Swedish pop". The band has been compared to artists such as DEPECHE MODE, NEW ORDER, KEANE and A-HA.
http://www.lowe.st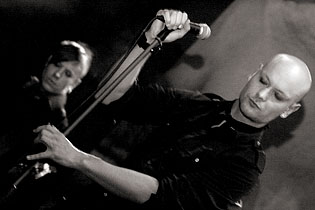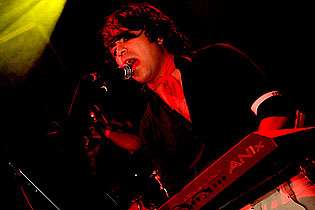 Music

The music of LOWE was a real knock-down on that Festival, a very fine mixture of emotional vocals, living guitar, hear-rendering lyrics and splendid energy demonstrated on the stage. The musicians' power definitely influenced the audience: numerous fans danced, sang and waved their hands to show their favorites that they really appreciate their music. I used to be a DEPECHE MDOE and A-HA fan, so I couldn't stay indifferent to LOWE's gig as their music follows the path marked by the mentioned bands in a great style. It sometimes happens that either music or the vocals comes to the foreground leaving the latter in the shadow - not so in case of LOWE - here the extremely powerful music plays equal with magnificent vocals.
A bit more about music: it either runs fast to speed your heart beat or slows down to a tempo of a sweet ballad (though perhaps ladies' hearts didn't slow down at all during "Gravitation" or "Ahead of Our time"... :)). Fire and ice...crystal cold and yet engaged vocals of Leo supported by those of Mehdi and Rickard, burning with emotions and passion, reaching such a register as some point that it made us shiver together with fantastic, vivid music gave the effect that left the fans delighted and completely enchanted.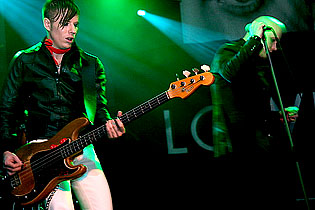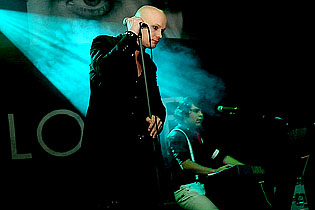 Performance

For me the performance of LOWE was a sum of larger and little, infinitesimal even elements that brought together constituted an entity that could be called as "Handout on how to seduce an audience within an hour". A little sensual movements, a special sight, a look straight into the eyes of individual fans, atmosphere of good fun, tricks with a guitar, the game of light on the musicians' faces and wonderful contact with the audience they had - altogether it made me appreciate their scenic manner a lot. So did the fans I suppose, because their reaction to the concert was enthusiastic. As an encore LOWE played their version of "Enjoy the Silence". As Leo told me after the concert that was the last concert of their West-Central Europe tour and now they'll concentrate on the new album inspired to some extent by what they experienced during they tour.
Setlist

01. Intro
02. Move me
03. The Vanishing
04. Hear me out
05. Down the Waterline
06. Face to Face
07. Ahead of our time
08. Thick as Thieves
09. True Faith
10. Gravitation
11. My Song
12. Simplicity
---
13. Enjoy the Silence (Depeche Mode)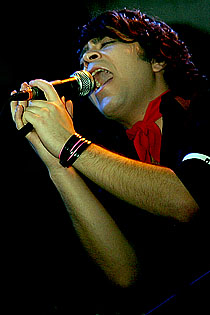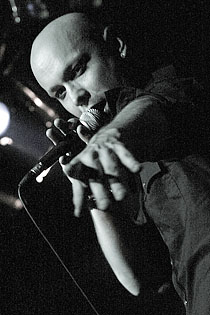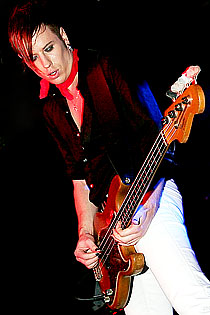 Rating

Music: 8
Performance: 8
Sound: 6
Light: 6
Total: 7.4


Iris

Reagan and Andrew meet in 2001; in 2002 they released their first single "Unknown". Since then working together, they published more albums: "Awakening, "Reconnect" and the latest one "Wrath". Their music is - as they describe it - a mixture of "rock, glitch, retro-flavored-synth music...with a decidedly melodic worldview". IRIS are Reagan Jones (vocals, songwriting) and Andrew Sega (programming, orchestration, guitars).
http://www.irismusic.com/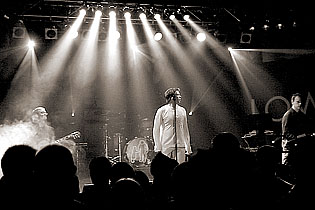 Music

Iris might have sung that they were "Sorrow Experts", but that night they were like experts on melodic, highly dynamic, moving, appealing and invigorating songs, catchy melodies, beautiful vocals and sentimental lyrics. Like most of the bands on d'Electro Fall Tour, they belong to a genre that is to move bodies and hearts altogether in a bearable (for ears) manner. Definitely, despite static performance, they managed to appeal to the audience - surely thanks to their music, vocals that move the listeners deeply and scope attention and enormous talent to create wonderful soundscapes with a bit 'rock' tint.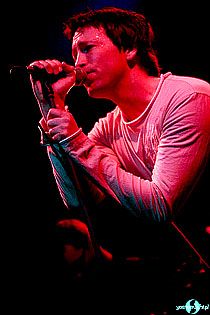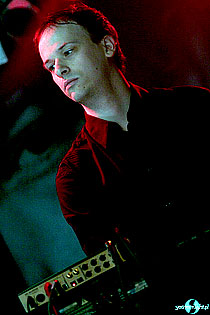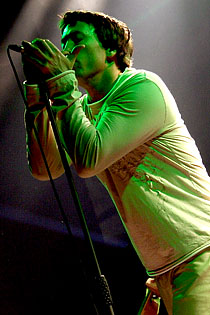 Performance

From the very beginning I wondered: is the front man experiencing stage fright or is he tensed for some other reason? Of course the music he presented was the music of IRIS - one of the main reasons people had come to Cracow - and I suppose the live performance did not smash the image of their music in the heads of IRIS fans, however, the performance is quite a different story. Like I said - I don't know if members of IRIS were somehow distressed or perhaps their attention was distracted 'cause one could think that to play one hour long gig was a hard act to follow for them. Performing the songs, in an emotional manner, yes, but rather statically - keeping the microphone tightly as if afraid that someone might steal it from him, exchanging few words with the audience, drinking beer (not that bad altogether, we're getting used to the artist drinking during/before, never mind after the concerts) and moving lazily - it looked as if it wasn't Reagan's day. Well, at least it was my impression. Lucky enough I could enjoy the music which was really beautiful otherwise it would be a rather care-not-ish concert.
Setlist

01. Lands of fire
02. Whatever
03. Sentimental scar
04. Waves crash in
05. Imposter
06. In spite
07. It generates
08. No one left to lose
09. Vacant
10. Hell's coming with me
11. Sorrow expert
12. Appetite
13. Unknown
---
14. Island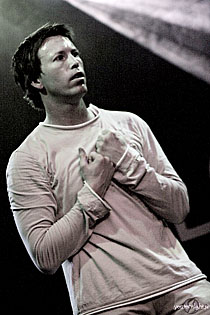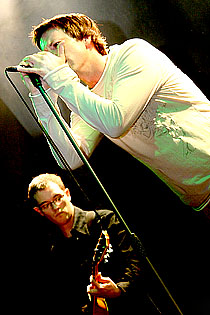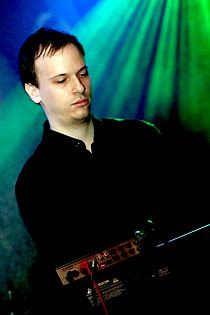 Rating

Music: 8
Performance: 5
Sound: 6
Light: 6
Total: 6.5


Camouflage

The band was started in 1983 by Heiko, Marcus and Oliver. The first single that got any response was "The Great Commandment" from 1986. The band released their first album in 1988 and it was entitled "Voices and Images", the third single "Neighbours" followed soon after and the popularity of CAMOUFLAGE started to grow and crossed the borders of Germany. The next albums "Methods of Silence", "Love is and shield" bore witness to the search for new inspirations and constant artistic development of the band. In 1990 Oliver Kreyssig left the band and the next albums "Meanwhile", "Bodega Bohemia" and "Spice Crackers" were released by CAMOUFLAGE as a duo. In 1999 Oliver Kreyssig came back into the band. "Rewind", the next album of CAMOUFLAGE was released in 2001. During that year, CAMOUFLAGE played three concerts including their first performance at "Wave Gotik Treffen" in Leipzig. The new album of CAMOUFLAGE, "Relocated" from 2006, is definitely long-awaited by the fans. CAMOUFLAGE are: Heiko Maile, Marcus Meyn and Oliver Kreyssig.
http://www.camouflage-relocated.de/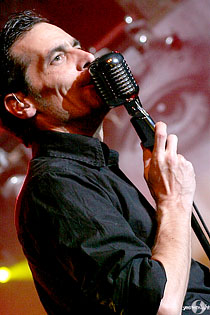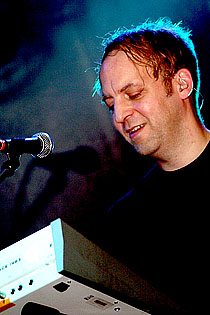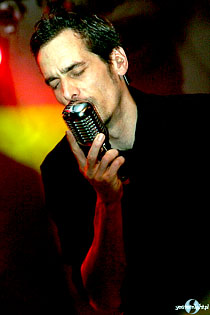 Music

Camouflage is the answer to the question how a soft, warm, sensual voice and smooth, rather delicate melodies can evoke such power and such enthusiasm. "Relocated" is definitely an album that met great reception from the band's fans. And so, they came to see it performed live. I suppose they weren't disappointed. Marcus steering with emotions and tension perfectly set his fans in the state of utter euphoria and joy. It was really great to see the glittering eyes of the fans and cheeks redden with engagement. CAMOUFLAGE played i.e. "Motif Sky", "We Are Lovers", "The Great Commandment", "I Can't Feel You", "Me and You", "Suspicious Love" and as an encore "Love Is a Shield".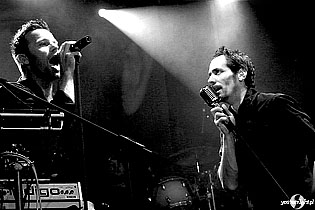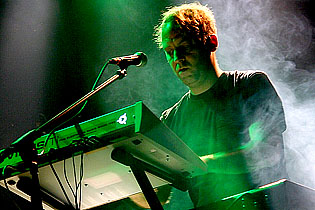 Performance

It was the band most of the people gathered in the club Studio had been waiting for! The long awaited stars, masters of Synthpop and smoothly running melodies. Yes, and here you'll have to forgive my ignorance as I'm not a Synthpop expert so perhaps I won't be able to appreciate the greatness of CAMOUFLAGE fully. For me it was a very dynamic - though relatively short - gig (I'm sure the fans would have expected more of their favorite artists), full of power and great melodies that made the audience run wild - the crowd by the stage scanned, sang and jumped, those who wanted to remain safe run away as quickly as possible. :) All in all the atmosphere of the concert was splendid, though some people complained on the sound and lights - cannot disagree with them, still I believe the show of CAMOUFLAGE compensated the mistakes of the technical staff.
Rating

Music: 9
Performance: 8
Sound: 6
Light: 6
Total: 7.8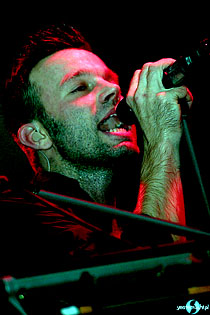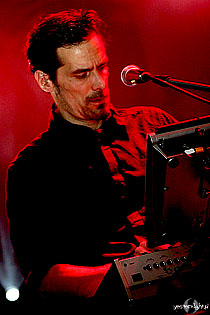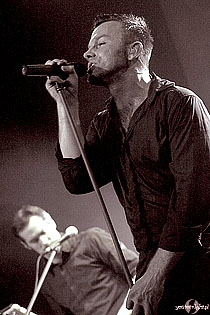 After the concerts there was a short after party led by DJs of ELECTROBOT much in electro/industrial style and those who remained could talk to the bands and take autographs.
pictures by
yesternight.pl
See also (all categories):