Interview with

Bill Leeb und Jared Slingerland of Front Line Assembly

Their new single 'Shifting Through The Lens' just hit the clubs and rocks the dance floors in Europe and North-America - FRONT LINE ASSEMBLY is back! The new single is a teaser of the new album 'Improvised Electronic Device', which shows the Canadian Electro / Industrial legend going back to old strengths with one foot and to new, unexplored territory with the other. If you liked 'Shifting Through The Lens', you will love the album, as most of the songs on 'Improvised Electronic Device' are even stronger than the hit single! FRONT LINE ASSEMBLY took the time to answer a few questions for Reflections of Darkness.

Reflections of Darkness (RoD): For people who did not follow FRONT LINE ASSEMBLY's progression over the last few years, it is probably a little unclear who is in the band, who is not anymore, and why. Could you please shed some light on this matter?
Front Line Assembly (FLA): The official band members are Bill Leeb, Chris Peterson, Jeremy Inkel and Jared Slingerland. Rhys Fulber is not in the band at this time due to his own schedule but FLA has a pretty open door policy, people come and go but everyone seems to find their way back at one point or another.

RoD: After his contribution to 'Artificial Soldier', Rhys Fulber is apparently not involved in FLA anymore. Was he simply busy with other projects?
FLA: Rhys is busy doing his own productions, we are always in contact with him and it's imminent that in the future our paths will cross again. We are still working on several other different projects with Rhys.

RoD: In the past, FRONT LINE ASSEMBLY was often seen as Bill Leeb's project with other people collaborating for a longer or shorter period of time. It seems that there's been more of a band feel in FLA over the last few years. Are the current members also involved in the song writing process?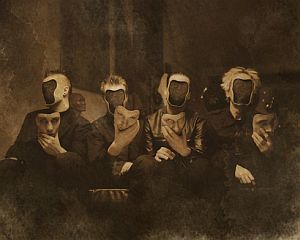 FLA: This album is the most collaborative joint venture between all members of the band due to bonds created from our extensive touring. We really connected on the road and became a cohesive unit that translated very well into song writing.

RoD: To many fans, 2006's album 'Artificial Soldier' was FRONT LINE ASSEMBLY revisiting old glories and a return to a more hard-edged, more aggressive sound compared to the previous two or three albums. Judging on the seven songs I got to hear, 'Improvised Electronic Device' seems to go into a similar direction with lots of elements which remind of various periods in FLA's history. At the same time 'Improvised Electronic Device' explores new territory for FRONT LINE ASSEMBLY and the songs are often rather epic and mid-tempo than just fast and aggressive. Was this a natural evolution for the band, or did you decide beforehand where you wanted to go with this new FLA project?
FLA: We focused more on writing really moody moving music rather just beat people in the heads... We wanted to create an album that return to the roots of more dark, ominous anthem type music considering how much Synth poppy music is saturating the scene.

RoD: There seem to be many moments, reminiscent of 'Hard Wired' or 'Tactical Neural Implant', and the guitar-driven Metal / Electro crossover of the 'Millennium' album seems to be prominent again on the new album. Would you agree that the mentioned FLA classics are key albums in FLA's back catalogue?
FLA: They all stand the test of time from when they were relevant and if we had to state at this point, this album would be the perfect assimilation of all albums to stand alone.

RoD: On the last album, you had Jean-Luc DeMeyer from FRONT 242 and COVENANT's Eskil Simonsson as guest vocalists. This time, MINISTRY's Al Jourgensen is on the mic for one track. How did this come about?
FLA: Jeremy went on tour with his side project LSD and RevCo and struck a relationship with Al and Angie. Bill later asked Jeremy if he thought Al would be interested in contributing to the record. Jeremy got a hold of Al, sent him the song we had in mind and when he heard it he loved it. He then wrote the lyrics and produced the track and we think it turned out kick ass.

RoD: There was a remix album as a spin-off from the last album 'Artificial Soldier'. Is something like this in the pipeline as well?
FLA: We haven't given it much thought yet but once we do some extensive tours and if the album is well received we would definitely like to do something along those lines but hopefully a little more interested and introverted.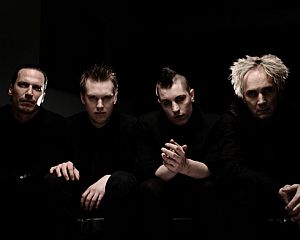 RoD: Are there any tracks left from the sessions for another release like "Fallout"?
FLA: At this point we only have two bonus tracks that are going on the digital release but we didn't create many throw-aways.

RoD: Did the remixes by other artists on 'Fallout' help to find new directions for FRONT LINE ASSEMBLY?
FLA: No, not really. It was more of a friendship remix album with people we have toured with and worked with then pushing the envelope remixes with artists who are at the cutting edge and also cost too much money.

RoD: In summer 2010, FRONT LINE ASSEMBLY play at a number of European festivals, and rumour has it that you will return to Europe for a club tour in autumn. What can the fans expect from the new show?
FLA: We are going to focus on really mastering the songs and show a lot of musicianship rather than worry too much on stage props and visuals, since we've done it so many times in the past and are getting kind of tired of it.

RoD: What will be the live line-up for the forthcoming tour?
FLA: The line-up will be: Jared Slingerland on guitars / keys, Jeremy will play keys, Bill vocals and keyboards and we will have a new drummer.

RoD: Will the setlist focus on the last few albums with one or two classics thrown in, or is there a chance that FLA will dig out some of the very old anthems (esp. with the festivals in mind)?
FLA: Personally I only want to play almost all new material but I'm willing to play probably 4 or 5 classics. As far as really old classics we are not sure how many songs we can dig out and don't have a lot of time to update them.

RoD: For years there's been a Front Line Assembly DVD announced but it never happened. Do we have a chance to see finally the release of a DVD after the 'Improvised Electronic Device' tour? And what happened with the material which was shot for a potential DVD release over the last few tours?
FLA: At this point all the old filmed footage we saw we didn't feel was really necessary to release or focus on so for now it's on the back burner. DVD sales don't warrant releasing a DVD anymore so much; it's more realistic to put the videos directly on YouTube for free as promotion.

{jos_sb_discuss:21}

See also (all categories):