Page 1 of 2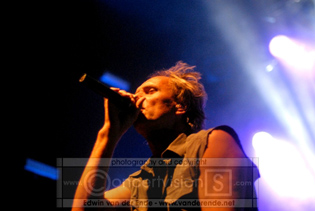 Summer Darkness, Utrecht, The Netherlands
11th of August 2006
Frontline Assembly, XPQ-21, Schattenschlag, Stromkern, Seaculum, Dead Cell, Inertia, XmH, XP8, Transworld, Gail of God
The fourth and final day. Only two venues this day and not that many famous bands but there was enough to see and hear. Cyber at Tivoli and some metal at the Ekko. Take your pick or enjoy both. Today was also the special Gothic Lolita event. A new style in clothing from Japan where girls (and some men as well) dress up as Victorian dolls.
Gail of God
Gail of God is a band that makes dark music. The EBM beats are still recognisable, but the guitar and bass player gave the band some more metal influences. The band was formed by singer Gail Liebling, and bass player Kaleen. They have a few demo's and albums out. Mostly they perform in the south of the Netherlands, but for this special day they came up to Utrecht, for the Dutch Underground Day.
Music
Gail is the main writer of the band, he finds his different influences from bands like Ministry up to The Banshees. The music they create themselves can be described as Industrial/ doom metal with some wave influences. The whole atmosphere the music creates is dark and depressing. The heavy music and heavy lyrics really take me away from the Ekko. You can really let yourself go, and just move to the music in any way you want. The songs are simplistic, and vary from fast beats to slow more doom-like guitars. The music it not really easy listening, because of the atmosphere it creates, if you're a fan of gloomy and heavy music, definitely look up this band.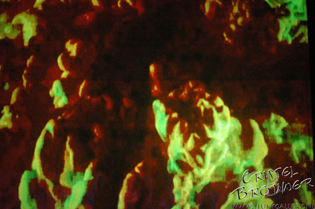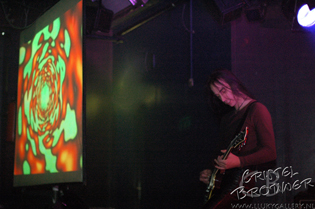 Performance
Since the music was gloomy, and depressing, so were the lights. Gail had a purple light on him the rest of the band started out in the dark. The stage was a bit smoky but not too bad. Even though the stage was dark the audience was well lit by a big video projection on the left of the stage This projection was set up well for the show, giving the show an extra edge. During a song about women who are being used for example, the video showed an women playing with a gun. The whole performance looked professional and I liked looking at it. There could have been an a bit more light, that would have made it easier to see the whole band. The band seems to have fun though, the audience picks this up. Ekko is filling up during the gig and people stay in, and dance

Rating
Music 9
Performance 7
Sound 6
Light 6.5
Total 7 (7.3)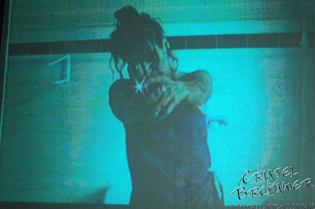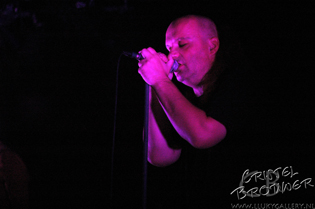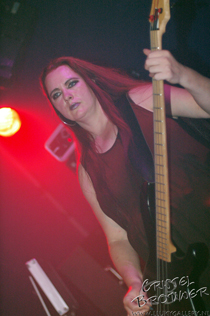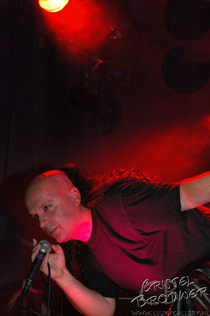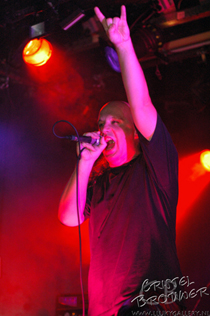 Transworld
From a total different point of view, there is Transworld. Transworld is a fresh breeze in this world of dark colours and faint smiles. Today they had 40 minutes to light up the Ekko

Music
Musicwise Transworld doesn't really fit in with Summer darkness. Their music is nice easy listening rock with a electronic taint. All of the music it accompanied by a kiss style singer, with a little (zelfspot) on the line. This band does not take itself to seriously, that it what makes it fun, and easy to watch. Songs are about love, sex, transexuality, and even though both music and lyrics are quite simple, together with the suits worn on stage its and outrageous performance.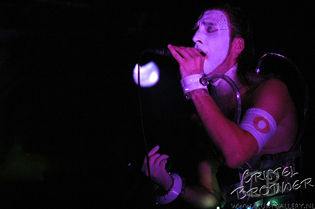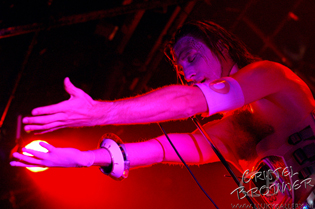 Performance
The performance is a mix between ridiculous and almost shocking. All the band members are dressed up in synthetic fabrics, either polyester or pvc stuff, all in silver/white and pink. The guitar and bass player members have sunglasses with lights in them, the singer has a huge pair of sunglasses on his nose, and had this weird version of a game boy taped to his belly. Further on the movements of al artists were very futuristic in the beginning, stiff and curious. Later on they turned more into a real band. The band has 4 members, drums guitar, bass, and singing. During the song 'Love you Forever' they would bow down to girls in the crowd. The song are not too difficult, this leaves more space for the performance, and that's in this band what it is mainly about. Their song ´Transsexual Superstar´ seems to fit the band perfect. See and be seen!
Rating
Music 7
Performance 7
Sound 6
Light 6.5
Total 7 (6.7)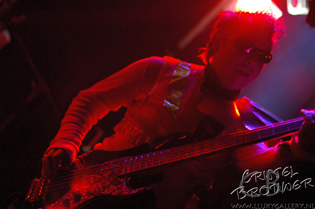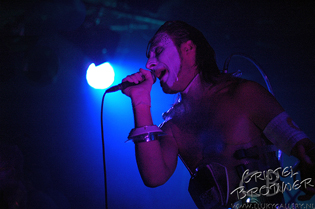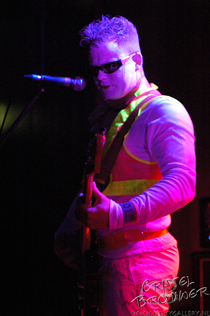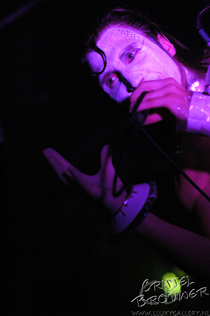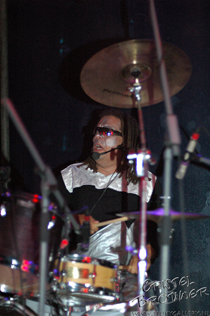 XP8


In 2003 they released their first album themselves called Forgive. Last year they released their fifth album. HRS:MIN:SEC with Infacted recordings and Nilaihah records. Today they could open the final day of Summer Darkness in Tivoli.
Music
Nice beats to wake up to on the final day of Summer Darkness. With his dark creaking voice their vocalist completes the music. Sometimes he uses his normal voice. He is not a great singer but together with the music have a nice sound. The lyrics are in English. One of the men behind the buttons screamed along with the lyrics every one in a while, which had a very nice effect. During their last song the vocalist was off stage, leaving it up to the other men to easily slow the beats and leave the crow with a very mellow and relaxed feeling.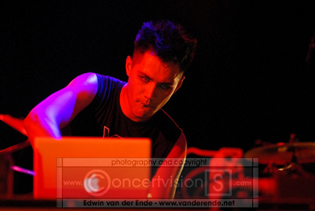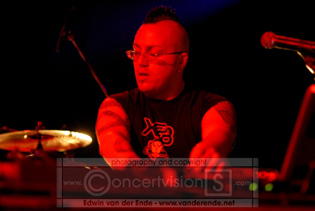 Performance
There were many people there to see the first band of the day. A table with a pc and a lot of buttons with two men behind it, on of them is constantly singing along with the vocalist. Their vocalist is in front of the table and when he is not singing he dances. There were a lot of flashing lights and some blue and red lights but over all the light show was meagre.
Rating
Music 7
Performance 6
Sound 7
Light 5
Total 6 (6,3)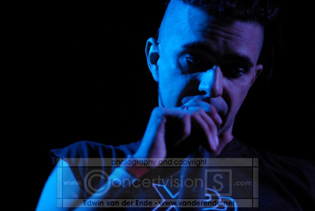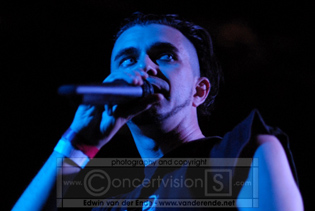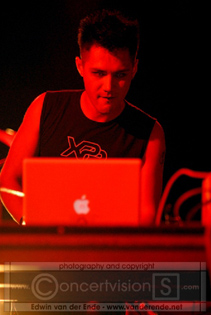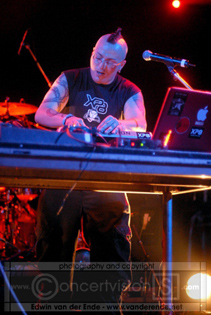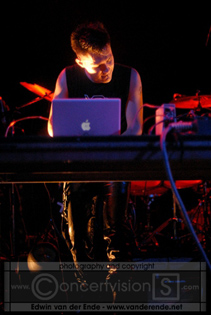 XmH
XmH was found in 2003 by Benjamin Samson, also the singer on the band. After being in several bands and projects, XmH seems to be a good place for him. To back him up on stage there is Pieter Sperling. He joins Benjamin every time on stage and is responsible for the programming.
Music
HmX makes strong industrial cyber beats that hammer all trough the venue. The vibe of this band is very good and energetic. The crowd start dancing immediately. At the end of the first song there is a problem with the sound. It doesn't work anymore. It stayed quiet for 20 secs, then the sound was fixed again, and XmH started their second song. ´Rape your God´ is one of their familiar songs, its aggressive tones and stomping beats make is very danceable. This is the same with the set of the set. Songs are compact and fast. A lot of varouis samples are used to make the songs sound better. There isn't more to say, I was busy dancing!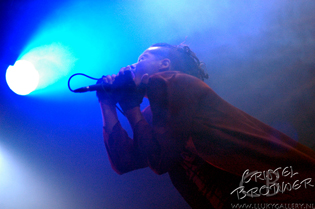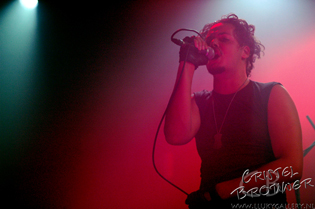 Performance
The performance is pounding en energetic. The music makes you bounce of the walls and just want to dance, while the light are flickering, stroboscope is on, and the venue filled with smoke, you just have to join in. Benjamin sings with emotion, which looks good on him, while Pieter in the back was having fun behind his kit. The Ekko was quite busy. Some people fled, and went outside, while other really had a blast and danced like maniacs. There wasn't much light on stage, but there was really a lot of smoke, I think it was too much, I saw smoke floating by between my face and notebook. That's too much! Having said that, it was a raw and good gig.
Rating
Music 8
Performance 7
Sound 7
Light 6
Total 7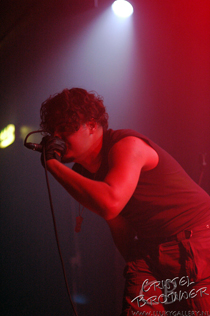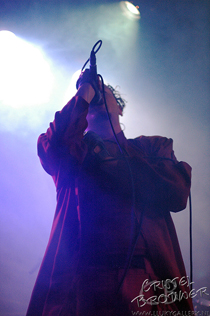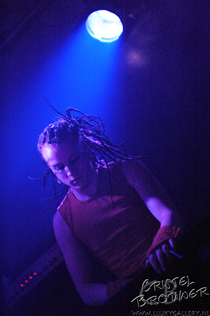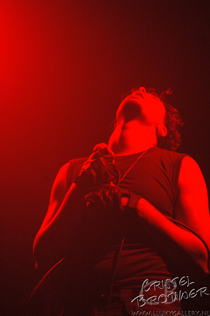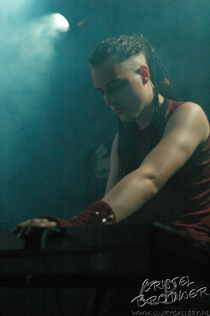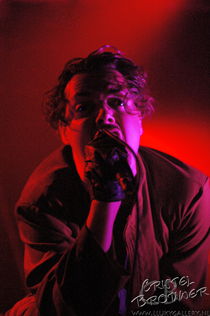 Inertia


Inertia has been around since 1994 and they have recently even released a 'best of' album. In between the already placed synth constructions of Front Line Assembly they had made their set up. They have electric drums, keys and of course a singer.
Music
They started out with a male singer and a female drummer. His voice was not that pleasant to listen to. Luckily she sung along with him a few times which was a pleasant surprise. She sung along with her normal voice as well as an electronically adapted voice which sounded like a little devil. During the performance more and more people started to dance. Inertia seems to be a band on their way up, who knows when we'll hear from them again.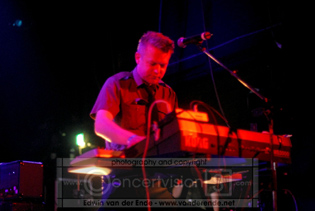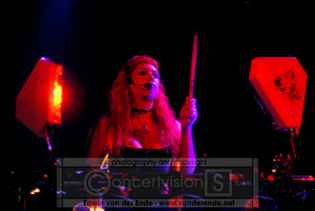 Performance
A red haired woman behind the electrical drums and a guy behind the buttons and then of course the singer. His face was decorated with black smears. She was standing firmly behind her drums, stepping to the beat she was playing. When she was singing she danced like a temptress, seducing the audience while drumming she constantly did tricks with her drum sticks. The male vocalist was walking up and down the stage when he was singing. Their keyboard player was fully concentrated and seemed to be having a very good time behind his drums.
Rating
Music 7
Performance 7
Sound 7
Light 5
Total 7 (6,7)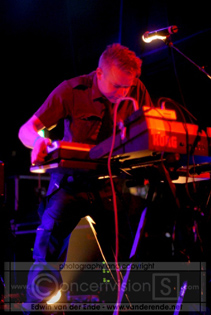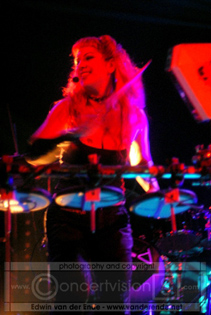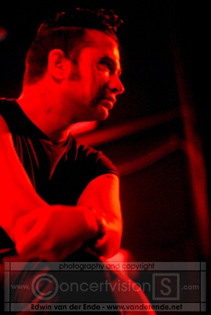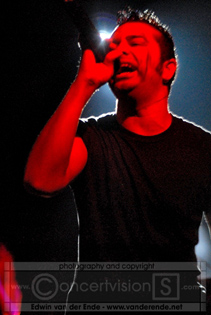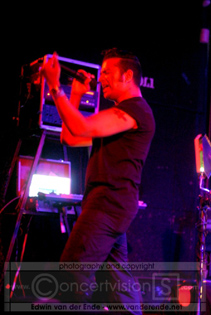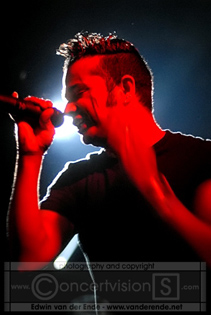 DeadCell
This Eindhoven based band tries to make a new mix between electro and guitars, and they do this quite well. Seeing them before in Dynamo café in Eindhoven, I wanted to see them them again at summer darkness. Well, I wasn't the only one, Ekko was pretty full by the time DeadCell entered the stage. They were quite late; the video didn't feel like working… luckily I still had time to see about half of the show.
Music
Simple EBM beats to start out with, a thick layer of guitar riffs, and top that off with a few samples and and Marcus´ clean vocals, and there you have DeadCell. One of the forst song they played was a new one ´Deus ex Magina´. The speed in the set remains, after half an hour the sound was still slamming through the audience, where most of them just stood there, utterly amazed. They probably were expecting a lot, but nothing like this. In the front there were a few people dancing and jumping around, they loved the freaky tunes and hammering beats. Some tracks are quite long, but do vary enough to keep the music interesting. Every aspect of the set seems to be thought though are picked selectively. This makes the band look good and energetic on stage, the audience does appeal to that. Not many are dancing, but nobody is leaving.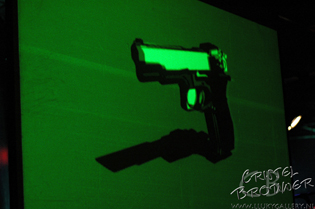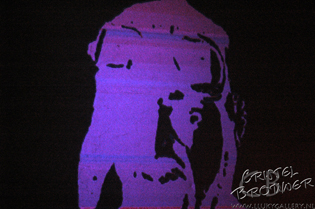 Performance
DeadCell on stage makes sure you get plenty to see. First of all, Marcus is dressed in a long black robe. Behind the laptop there is J.P., all dressed in white. Add to this a few Victorian ballet dancers, wearing big wigs and Victorian style dresses, Maya the belly dancer, and Mel, another dancer who chances outfits heaps of time to show off on stage. These are only the members of the band. Dancers come and go, Marcus are J.P. stay to make the music (how convenient). At the left side of the stage there is a big screen for their video projection, that shows a freaky compilation of dancers, guns American flags and evil bunnies. You will not get tired of watching this show. There is plenty to see, and if you do get sick of watching, start dancing! Great show
Rating
Music 8
Performance 8
Sound 6
Light 7
Total 8 (7.7)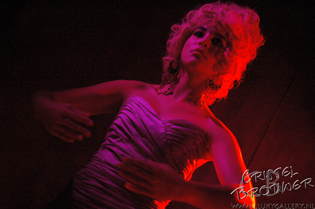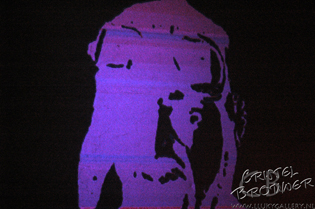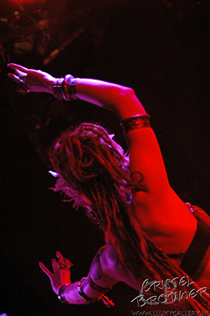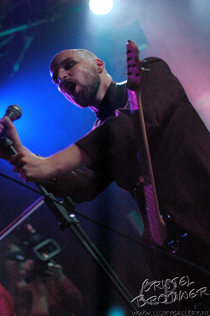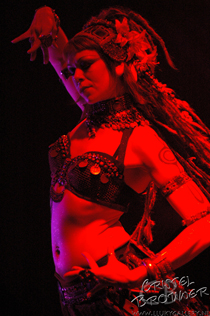 Schattenschlag
Joachim Sobczak of Siechtum has his side project called Schattenschlag. It could be considered to be a mix of industrial and electro. On stage he's accompanied by two other musicians, they are Deddy and Cat but the majority of the work is done all by himself. After 2 records it was time for the Netherlands to get acquainted with Schattenschlag.
Music
The music of this band is well played and has a very nice mix of instrument and vocals. The music sounds deep and bright at the same time. Combine this with the distorted vocals of the male singer and you've got an idea of what Schattenschlag is showing the crowd that needs some time to get into the music. All vocals are in German and at times the vocals sound like extremely amplified whispers and at time powerful yet always run through some digital effects. The set's starting slow but clearly building up towards a good end.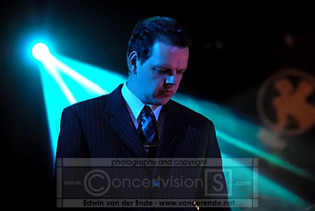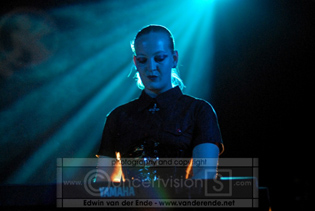 Performance
On stage there is 2 people behind the keys one wearing a business suit the lady is wearing something more gothic style. In the mean time the singer has lots of fun in his some what streetwear outfit. He is all over the place and does so with great enthusiasm. Unfortunately the band's key players don't seem to be allowed to move. The guy on keys more or less would be the guy you'd meet at your local bank. The female key player did somewhat better while scanning the audience with her eyes, yet nothing convincing and certainly there's room for improvement there. Light during the show is more than most of the bands during Summer Darkness, not meaning it was great, just much better than some headliners. All things considered the band has done well, most of all because the vivid singer.
Rating
Music: 7
Performance: 7
Sound: 7
Light: 7
Total: 7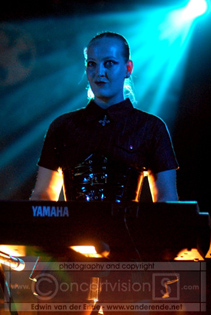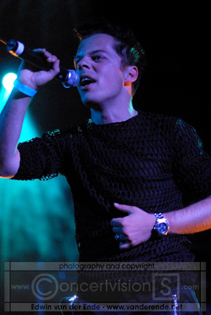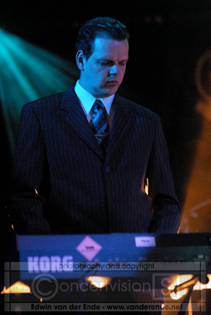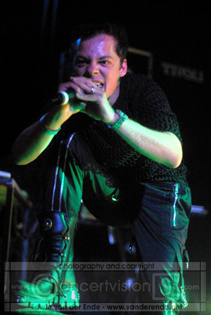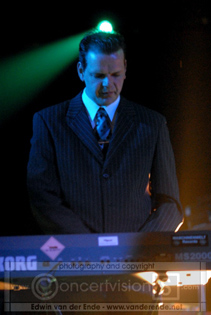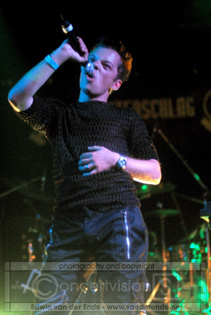 Stromkern
Stromkern has been around for over a decade already and know quite a lot about business within music industry. They would land down for a one hour show at the Summer darkness festival, during their tour with Front Line Assembly.
Music
On stage 4 band members filled up the first half of the stage. With 2 synths (whom also play the guitar and bass), the drums and a singer, J. Ned Kirby, the band is complete. This is one of the first bands I have seen performing that really work as a band. They belong together on stage and have a lot of fun together. The music, dark electro combines with rap influences and 90s dance music is very divers and complete. A few times you may hear some industrial beats pass by, the songs in general have a lot of energy and pump up the venue. The Lyrics have a political message in them, which is a nice accent for a change. Songs do vary a lot, but even though they are quite danceable, most people are just looking at the band, and don't really know what to do with this hip hop influence, in their music. I find is very good, easy listening but with an intelligent twist.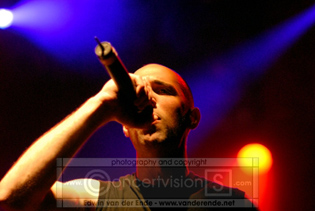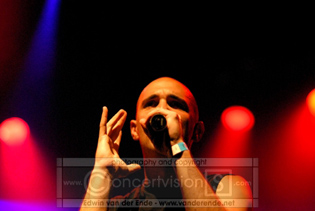 Performance
Listening to the music, their performance goes together very well. Its energetic, raw and true. No dressing up of video projections. Just the band. This makes the show very intimate and good, and happy. Only thing I really didn't like were the bright yellow lights in the back, they shine in your eyes, and that is just plain annoying.
Rating
Music 8.5
Performance 7
Sound 8
Light 7
Total 8 (7.6)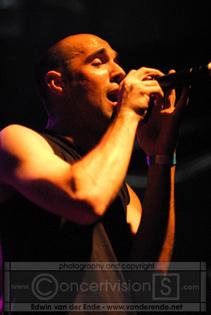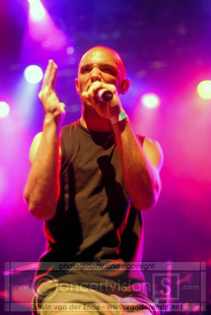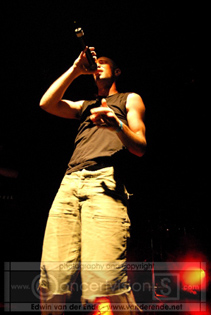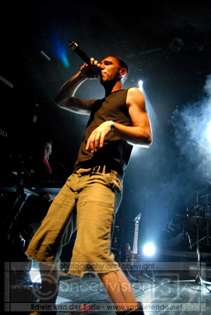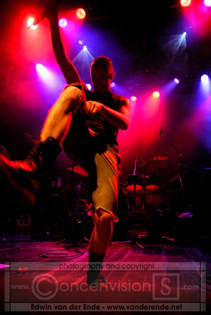 Saeculum
The only black metal band on the festival. With a website full of nicknames and dark remarks what more could we expect than corps paint and aggressiveness? While Seaculum was shouting and playing their guts out the guests for the gothic Lolita event were arriving, quite a strange encounter.
Music
Die hard black metal. The drums provided rolling thunder, though he needed some practice it seemed. Their vocalist grunted his way through the concert. Even though grunting was his vocal style, a little more articulation couldn't hurt. It was a shame each line finished with a long note. All in all it was just a pleasant change in these days but some more practice would be nice.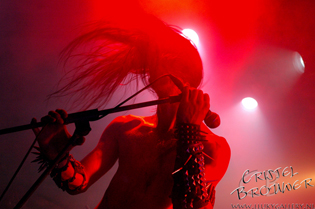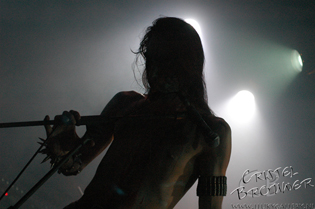 Performance
The stage was blown full of smoke. Tough guys with very bad corpse paint entered the stage. It was fun to see but shame their paint stopped dead at their t-shirts. Arms were covered in spikes. It was nice to see the Ekko turn in to a dark hell hole for once. No computer sounds but loud guitars and sweeping hair all over the place. It was hard to see the band because of the huge amount of smoke and lack of light, pity because they were funny to see.
Rating

Music 4
Performance 5
Sound 6
Light 4
Total 5 (4,7)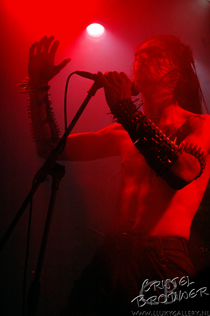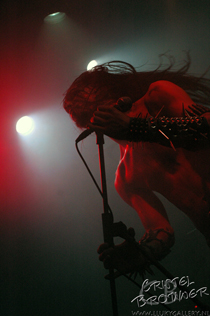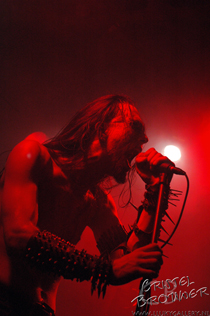 Frontline Assembly


Another Canadian band on the festival. Front Line Assembly was the big closing act of the festival. Again a packed Tivoli. Anticipation was high. The show started before it started, while other music was playing the stage lights were already moving and you could hear a buzz of excitement go through the venue. The work of Bill Leeb and Rhys Fulber was about to burst loose on the stage. Their first album 'Nerve War' was released in 1986 and now in 2006 they have released their 18th full length album 'Artificial Soldier'.
Music
Front Line Assembly delivered a great mixture of electronics and guitar, the perfect band to close this festival. Both keyboard players were on some kind of installation holding their 2 boards, at times they disappeared behind them while banging their heads. Their vocalist was very enthusiastic and this was transferred to the audience. At times he played the keyboards himself as well. The guitarist didn't take part in every song. Personally I most liked the songs in which the guitar joined in for they were more heavy and melodic to my opinion. Which you of course have to like for there were a lot of people who were happy enough with just the electronic part of the music.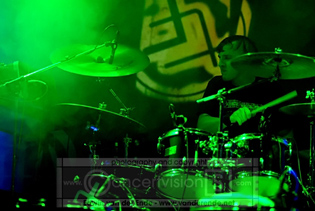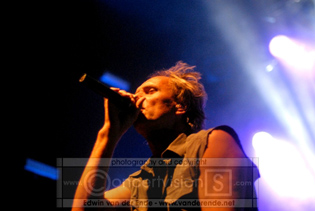 Performance
The stage was decorated with two backdrops reading: Front Line Assembly and their logo. Pity the word Front disappeared behind the lamps. At first there seemed to be a very long intro to the performance but it turned out it was just a little light show to warm us up. The backdrops were lit up and at times some video images of the band logo were shown. Then suddenly there was silence, a lot of smoke and the band enters the stage. The drummer speaks to the audience but what he says is hardly audible. The logo is projected on the screen which sometimes disappeared in the smoke.
Rating
Music 8
Performance 7
Sound 7
Light 7
Total 7 (7,3)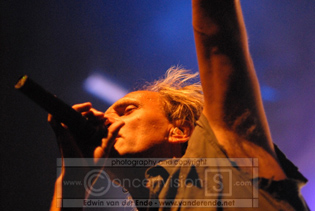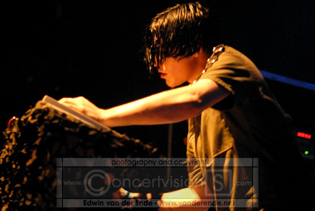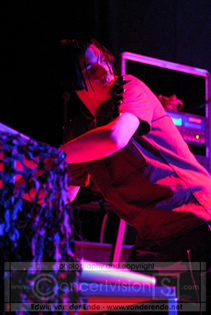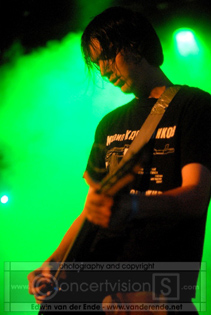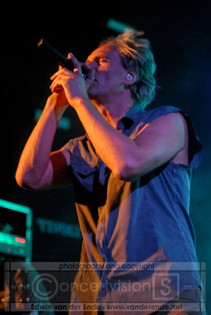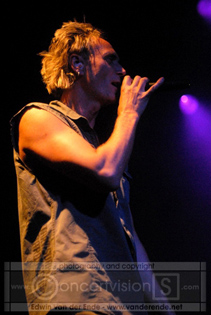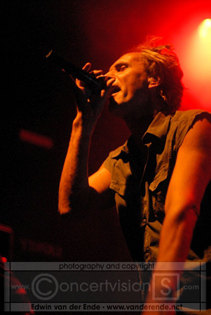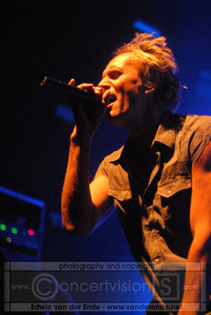 XPQ – 21
After 4 days of Summer Darkness, it must all come to an end. After dancing and more dancing, some head banging and dancing again, it was time for the closure for tthis years edition. After Front Line Assembly it was XPQ´s turn to finish off.
XPQ – 21 was originally a song, that was such an success, Jeyênne and the rest of the band, decided to rock this wave, and go where the music would take them.
Music
In their search for new and beautiful sounds they have created their own sound. The eclectic sounds shows they have picked up all sorts of different noises and were influenced by many bands. The music is danceable and very divers. Industrial beats accompanied by a guitar and different samples created by ´The Mask´. The electronic sounds are lifted by the guitar and the female drummer Killer. Their sound is unique, easy listening. All of the tracks have the same base, but vary so much in the body, it's a quite unique band.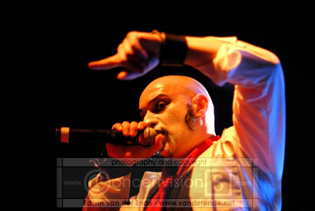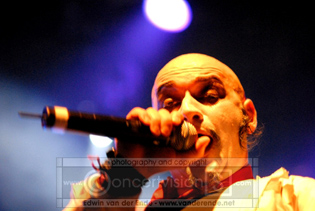 Performance
On stage there is Jeyênne, dressed up as a weird Englishman with a hat on, and a white suit. Also he painted his face white, and has big black sideburns. Annelie, the guitar player is dressed in white as well, a little cyber outfit. Behind the synths is the mask, and Killer is sitting in the back, drumming. Jeyênne takes a lot of time in between and during songs to interact and communicate with the crowd, they love it, because most of them are clapping and cheering and dancing, till far in the back of Tivoli. Most songs that are played are from the new CD, ´Alive´, like ´In Your Eyes´, ´Jesus Was Gay´, ´White and Alive´. Most people love the songs, some I can see singing along. The Rest of the stage is not really dressed up, the band is enough. There is also a lot of interaction between the band members, they have a blast on stage, and are joking with each other. This is usually a good sign, and makes me want to see more. The sound was a little bit to loud, sometimes the guitar would have some feedback, that was to bad, but besides that the show was awesome, and a proper way for me to close this year of Summer Darkness.
Rating
Music 9
Performance 9
Sound 8
Light 8
Total 9 (8.8)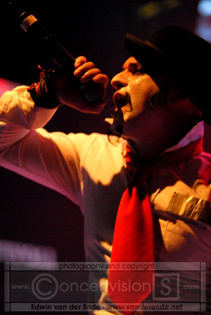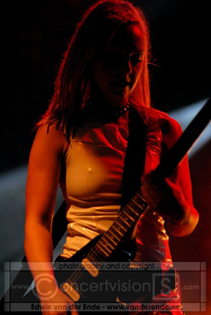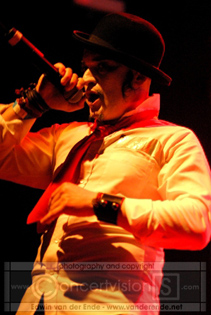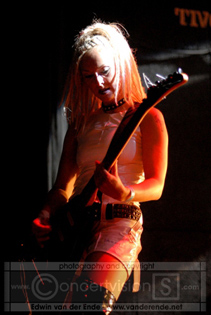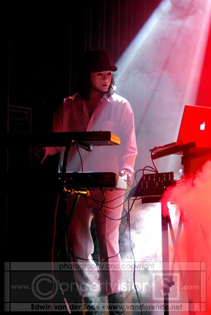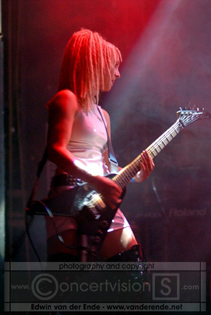 More photos on page 2

{jos_sb_discuss:18}