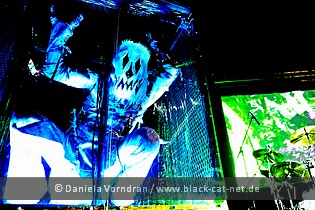 De Meenthe Theatre, Steenwijk, The Netherlands
30th July 2010
Gothicfest 2010: Skinny Puppy, Mindless Faith, Destroid, Misery, Dismantled, The Chaos Industry
,
Angelspit, Contrast

Besides all those big Scene Festivals like WGT, Amphi or M'era Luna, there are also the small ones, just like the Gothicfest in Dutch Steenwijk taking place for the first time (and hopefully not the last time) this year. The venue was rather small with room for a few hundred people and a lot of merch booths built up outside the concert area. Having SKINNY PUPPY and DESTROID on the bill was reason enough for me to take the 2 hours ride to be part of the evening. Sadly, only about 200 people decided the same way. Maybe people thought it is much farther to drive than it really was. Anyway, it turned out to be a really nice little festival…
Since I had to work until 2pm, I arrived at the venue short past 4pm missing the first band. And that's the disadvantage placing the festival on a Friday, starting already at 3pm. People usually have to work; Saturday would have been a much better date. Arriving at the hall I first learned that DAS ICH had to cancel their show at very short notice because of a little accident of Stefan. Hope he's feeling better by now. So, the schedule was rearranged and I at least could start my day with the second band on the bill, CONTRAST.


Contrast
Having worked together in the band MALOCHIA until 2001, Rene and Patrick launched CONTRAST in 2003 as a mutual project. A promo release gained the band significant exposure with music fans and critics. Their song 'Follow the Leaders' peaked at #6 in Dutch Underground Charts and was featured in 2004 on the 'DeCODEr V2.0' compilation by Johan van Roy. The first album 'Antidote' was released in 2009. CONTRAST is Patrick van Alphen (programming, vocals, guitar), René Jongeneelen (programming, electronic drums, backing vocals) and Sharon Feigal (live keyboard).
http://www.contrast-site.nl/
/
http://www.myspace.com/contrastnl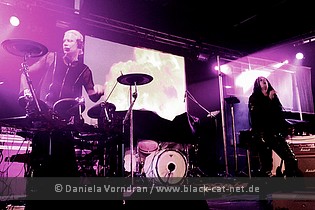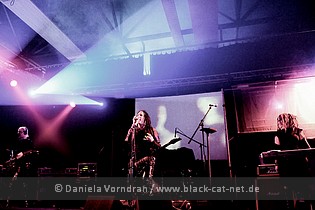 Music & Performance
The first band of the festival I witnessed was Dutch CONTRAST not making a deep impression on me. I entered the hall when the band was already playing their pumping electronic tunes mixed up with Goth and Wave elements being not very outstanding in the wide field of "modern" electronic music. Presented songs were all out off 2009 release 'Antidote' released on Triple HandShake Records. There was not too much action on stage even though the used guitar made the show and the music a little more interesting. Sound was ok but not outstanding, the "light show" pretty poor. But at least there were a few video projections making it more pleasant to watch.
Setlist
01. Intro
02. Eye of the Storm
03. Testify
04. Insecure
05. Dare
06. Incisions
07. Follow the leaders
Rating
Music: 6
Performance: 5
Sound: 5
Light: 5
Total: 5.4 / 10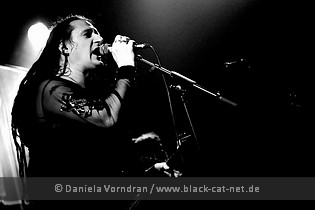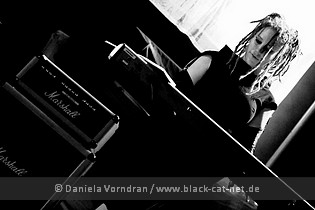 Angelspit
'Nurse Grenade' was the first descendant of the growth named ANGELSPIT; founded in 2004. The name of their first album, 'Krankhaus', is a diversion of the German term "Krankenhaus" translating as "hospital". The album came out in 2006. The second album 'Blood Death Ivory' became significantly harder and less organic than its predecessor release; given a companion remix release with 'Black Kingdom Red Kingdom' in 2009, including remix works by e.g. KMFDM or ALEC EMPIRE. Following the release of their latest album 'Hideous and Perfect', the band supported KMFDM on their 25th anniversary tour and their album at the same time. ANGELSPIT is DestroyX (vocals, distortion) and ZooG (vocals, keyboards, software synthesizers, vocoders).
http://www.angelspit.net/
/
http://www.myspace.com/angelspitmusic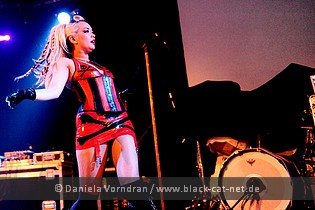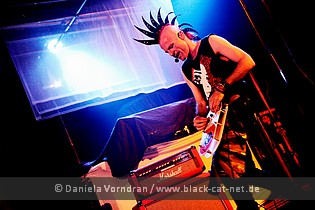 Music & Performance
In fact, I was not very much impressed by the live performance of the duo. Being pretty much innovative on CD mixing industrial and rock elements with pure electronic sounds, the live show seemed somehow pale for me. Except turning one or another knob on an electronic device, both band members did not play any instrument on stage. The music was all played from backing tape. The nearly rapped lyrics with lots of vocoder effects were not my cup of tea on that day either. Also during ANGELSPIT's gig, the sound was not the best, but the lighting was even worse to it was partly hard to see what's going on onstage. And… pretty singer DestroyX in her short red latex dress surely deserves much better illumination. The setlist contained songs from the whole band history, reaching even back to 2004 album 'Nurse Grenade' out of which 'Maggot' was played as final song. With 'Grind' and 'Devilicious', 2008 album 'Blood Death Ivory' found its place in the set. Also 'Krankhaus' album (2007) and 'Hideous and Perfect' (2009) were covered with two songs each.
Setlist

01. Grind
02. Devilicious
03. Princess Chaos
04. 100%
05. Fuck The Revolution
06. Vena Cava
07. Maggot
Rating
Music: 6
Performance: 6
Sound: 5
Light: 5
Total: 5.7 / 10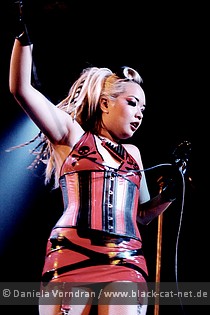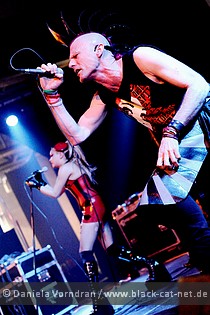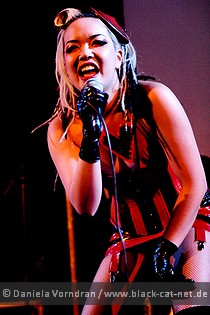 The Chaos Industry
THE CHAOS INDUSTRY was born out of the ashes of the project SPERMBLASTER. The project has so far spawned one album named 'Karoshi', available for download at the band website.
http://www.tcindustry.com/
Music & Performance
THE CHAOS INDUSTRY, short TCI, is a one man project combining rhythmic harsh industrial noise with atmospheric sounds. So, what to do when you're just one person on stage to perform? Either extend the setting by some live musicians or do something else special. TCI decided for latter one. The special thing on the performance was the futuristic and very big keyboard stand and the laser show. But besides that, nothing else happened on stage, just pumping, too loud rhythms floating out of the speakers. Ok to listen to in a club for dancing, but not as concert in the course of a festival, in my opinion.
Setlist

01. Thank you Alex
02. Temper
03. Conflict
04. Dreamless
05. Vince Omnia
06. Karoshi
Rating
Music: 6
Performance: 4
Sound: 5
Light: 6
Total: 5.3 / 10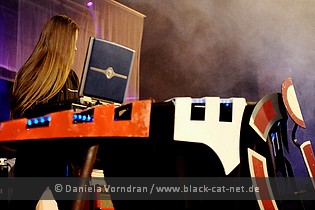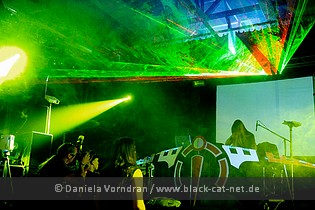 Dismantled
At first it was only an experiment to create something similar to FRONT LINE ASSEMBLY, but when Gary Zon got only positive reply from online listeners, he started to develop his sound further and added influences of television, movies and music into his sound. The first and only demo was sent out in March 2001 and caught the attention of Dependent Records, who released the song 'Purity' on the Septic II Sampler. The self-titled debut album was released in June 2002 via Dependent. Preceded by the single 'Exit', the second album 'PostNuclear' was hit the stores in February 2004 and became a highly acclaimed electro-industrial release in that year. But Gary did not rest and already prepared the next full-length release called 'Standard Issue' which was released in 2006. The fourth album is called 'When I'm Dead' and saw the release in November 2007.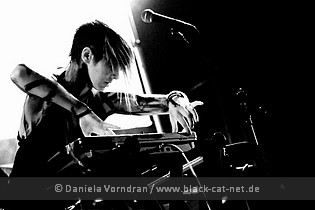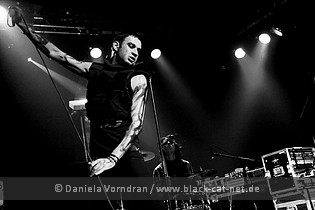 Gary put DISMANTLED on hold soon afterwards with the possibility of new material being released some time in the future. For the time being he focused on other projects. In the meantime, the label Dependent had resumed activities and signs began to surface of a new DISMANTLED album as well, titled 'The War Inside Me'. DISMANTLED live are Gary Zon (vocals), TZA (keys) and Jon Siren (drums).
http://www.dismantled.org/
/
http://www.myspace.com/dismantled
Music & Performance
Finally, the first highlight of the evening. I really was looking forward seeing DISMANTLED since I really like their musical output on CD and so far, I never had the chance to see them on stage. The electronic music got this extra pinch of salt from the drums played by Jon Siren who reminded my in his way of drumming of Joe Letz (Combichrist). It was a true pleasure to watch him playing. Furthermore, there was a lot movement on stage not only by Jon. Also keyboard player TZA, dressed up in a tight outfit and high heels, was moving like crazy, she was also standing on the bass drum during one song. When it comes to the singer, Gary put a lot of emotions into his songs as well. The Set started with 'The Swarm' from 2004 output 'Post Nuclear'. With 'Purity', the band even went far back in history to the 'Dismantled' album from 2002. But not only old songs were on the list.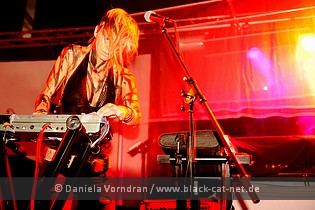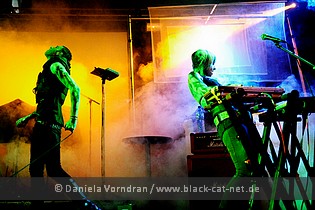 With 'The Whore inside me', the band presented a song being part of 2010 'Dependence' compilation. We even got a very new song, 'Kill or be killed', to be released on the upcoming album. Somehow it was just a bit surprising that no song out off the latest full-length, 'When I'm dead' from 2007, found the way into the setlist. The sound during the show was a bit better than before, at least in the second half.
Setlist
01. The Swarm
02. Get it through
03. Kill or be killed (New Song)
04. Purity
05. Breed to death
06. The Whore inside me
Rating
Music: 8
Performance: 8
Sound: 7
Light: 6
Total: 7.6 / 10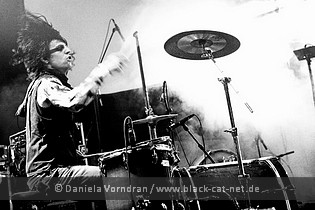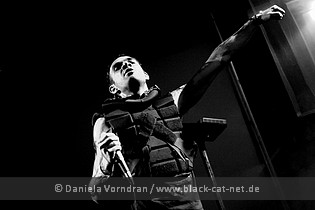 Misery
MISERY has been founded several years ago and started with creating demo recordings very soon after their inception. Over the years, a signature sound took shape and in 2005 the first album 'Nexus' was released. The release was followed up with many festival gigs at renowned events such as Summer Darkness and Terra Gotha. Their second album 'Obscurus & Lux' hit stores in 2008. MISERY is Lis van den Akker (vocals, lyrics), Alain ter Schuur (programming, live synths & guitar) and Maarten Pels (programming & live synths).
http://www.misery.nu/
/
http://www.myspace.com/miseryelectro
Music & Performance
First contact with Lis van den Akker was during last year's Blackfield festival, when she joined FROZEN PLASMA for the song 'Earthling'. Now, I got to witness her with her own band MISERY. So far, I had no closer contact with the band, even though the first demo already was released in 2000.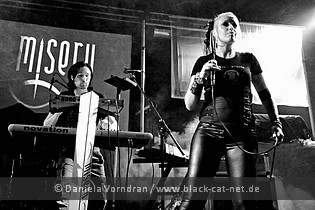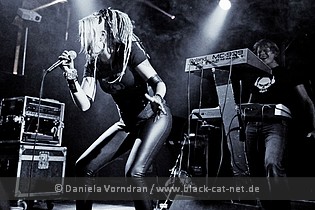 The show in Steenwijk started with 'Stonecold' from 2008 release 'Obscurus & Lux'. Later in the set, we also git 'Panorama' out off 'Nexus' released 2005 already. The other songs being played during the concert are not listed on any of the band's released. So, my guess is that this must be new songs to be released on the next album. The songs itself are a mix of Synth Pop and Future Pop with even some Trance elements. As for the show, it was on Lis to draw the audience's attention. Her male colleagues were not moving much behind her keyboards. But with her wonderful voice, Lis made up for this.
Setlist
01. Stonecold
02. Battle
03. Left me Crying
04. Starlight
05. Rotten Flowers
06. Panorama
07. Equillibrium
Rating
Music: 7
Performance: 7
Sound: 6
Light: 6
Total: 6.7 / 10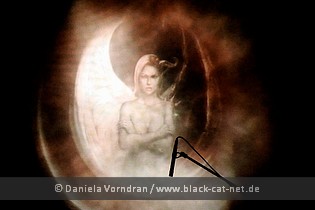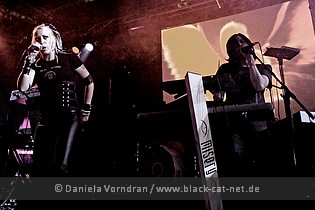 Destroid
DESTROID is a project of Daniel Myer, who is also well-known for his other projects, i.e. HAUJOBB and ARCHITECT. With their first album 'Future Prophecies' released in 2004, they already gathered much attention by the press as well as from the fans of electronic music. Their second album, which is called 'Loudspeaker', was released on 26th October 2007 and was once again a success as much as it was an evolvement of the band's sound. On their new EP, which hopefully is the vanguard for a new album, they set out to explore the paths of a 'Silent World'. The EP was out in this year's February and besides new material included remixes and a live track. DESTROID is Daniel Myer (vocals, production, programming) and
Sebastian Ullmann (production, live-keyboard, programming) extended now by Achim Färber on drums.
http://www.destroid.de/
/
http://www.myspace.com/destroidmusic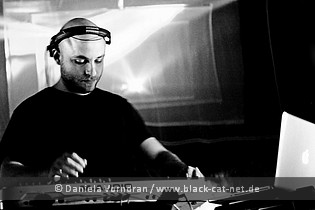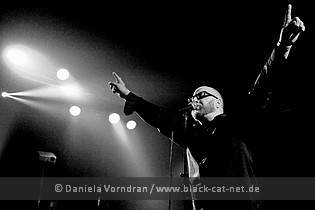 Music & Performance
Just the weekend before, I've seen the DESTROID show at Amphi Festival. Due to overlapping stage times, I could not see the whole show there. So, I was even more looking forward the show in Steenwijk. Due to the cancellation of DAS ICH, the band even got 45min playing time instead the originally planned 30min. Just like the weekend before, the show started with the title song of current 'Silent World' EP followed by 'Friend or Foe' from the 'Loudspeaker' album. Luckily the sound during the show was better than before. I also loved the drums played by Achim Färber making DESTROID's live sound more organic. It was definitely a very good idea to add them to the show. After 'Revolution' and 'Run and Hide' the band went back to the 'Future Prophecies' album (2004) with a harder electronic tune, namely 'Bonewhite Light' (well, we're speaking of Daniel Myer of HAUJOBB fame…).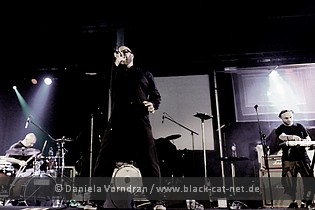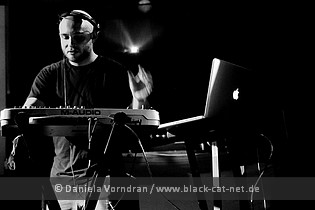 Back to present with 'Mourn' being announced with the words: "That's DESTROID 2010… Motherfucking Synth Pop!" And indeed this song is a softer, catchy tune. Towards the end of the set, DESTROID also presented their cover version of the SISTERS OF MERCY classic 'Lucretia My Reflection'. All in all, a pretty solid show. And finally I could enjoy it in full length.
Setlist
01. Silent World
02. Friend or Foe (The Betrayal)
03. Revolution
04. Run and Hide
05. Bonewhite Light
06. Mourn
07. Leaving Ground
08. Lucretia My Reflection (Sisters of Mercy Cover)
09. Judgment Throne
Rating
Music: 8
Performance: 8
Sound: 7
Light: 7
Total: 7.7 / 10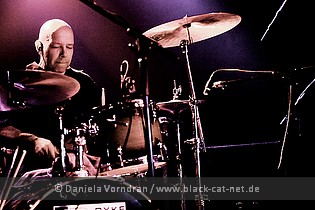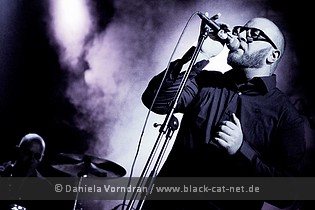 Mindless Faith
The American trio MINDLESS FAITH are no newcomers in the music biz. Their debut 'The Silence' was already released in 1996 on their own label AlterCulture Records. 4 years should pass before the successor 'Manifest Destiny' was released in 2000. The album received rave reviews from various magazines. In 2004 the band signed to the label Dependent Records after their song 'Momentum' which was featured on the Septic IV compilation received such great feedback and the same-titled album was released in September of the same year. Three years after this highly successful album, the project released their album 'Medication for the Misinformed' as one of the last releases on the Dependent label before its temporary closedown. The band's been touring a bit since and did some remixing for other artists. No news about a new full-length as of yet. MINDLESS FAITH is Exeris (production, keys, beats, gfx, samples, vox), Jasin (production, beats, keys, vox, guitar, gfx) and MindCage (additional guitars).
http://www.mindlessfaith.com/
/
http://www.myspace.com/mindlessfaith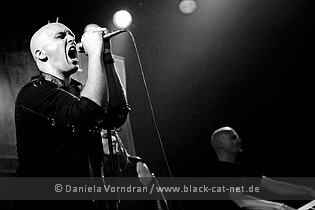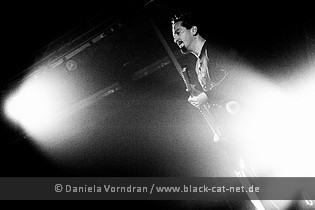 Music & Performance
MINDLESS FAITH were definitely the unlucky ones during this evening in Steenwijk. Due to technical problems, there was a delay of 45min when the band started the set. They were told by the local crew that they need to be off stage at 10.30pm, and so, they had only time to play 4 songs, all in all not even 20 minutes. The "funny" thing is, how I was told later, that if SKINNY PUPPY knew, they could have played the whole planned 45 minutes. Such a bad luck for the band! But back to the short show… the trio played three songs out off the latest album 'Medication for the Misinformed' from 2007, namely 'Red Lines', 'Down Here' and 'I'm Pretty Much Fucked'. Also one old song from 2000 album 'Manifest Destiny', 'Vultures', was performed. The light show during their set was a bit better than during the bands before, they also used the video screen behind them. Just musically I had the feeling that too many sounds came from backing tape. Anyway, hope the band has more luck next time!
Setlist
01. Red Lines
02. Down Here
03. Vultures
04. I'm Pretty Much Fucked
Rating
Music: 7
Performance: 7
Sound: 7
Light: 7
Total: 7 / 10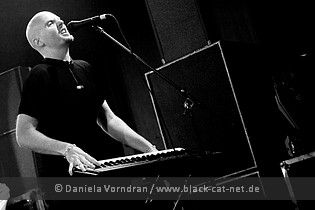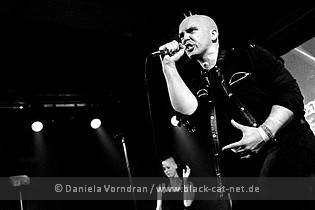 Skinny Puppy
In 2005 the Canadian music legend SKINNY PUPPY headlined the Saturday night at the M'era Luna, in 2007 they were only granted a 45 minute slot in the late Sunday afternoon! Heresy! Well, at least unfortunate. SKINNY PUPPY, founded in the early 1980s in Vancouver, is one of the most influential bands in the scene, and their Industrial sound and their conceptual work influenced a plethora of subsequent bands. SKINNY PUPPY's early albums like 'Remission', 'Bites' or 'Mind: TPI' were ground-breaking for their times and comprised popular classics like 'Smothered Hope', 'Assimilate' or 'Addiction' which were standards at your local Goth club for years and years. But SKINNY PUPPY never stood still and were in search of new sounds and aimed at an even more complex and less accessible sound in the late 1980s and early 1990s, always eager to explore new musical grounds.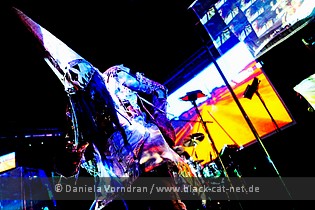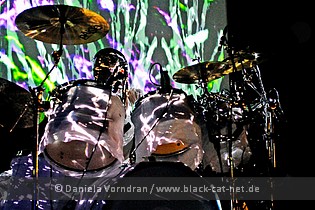 An urge that made albums like 'VIVIsect VI' (1988), 'Too Dark Park' (1990) or 'Last Rights' (1992) unrivalled to this day. But tensions grew and during the recording of 'The Process', SKINNY PUPPY broke-up and Dwayne R. Goettel died of an overdose after returning back home. A return of this influential band seemed impossible at this point, but sometimes even impossible things happen and after a reunion show in 2000, SKINNY PUPPY returned in 2004 with 'The Greater Wrong Of The Right', followed by the latest offering 'Mythmaker' in 2007. A new album is already finished but still wasn't released due to the insolvency of the label. SKINNY PUPPY live is cEvin Key (synths, keys), Nivek Ogre (vocals, performance) and Justin Bennett (live drums).
http://www.skinnypuppy.com/
www.myspace.com/skinnypuppy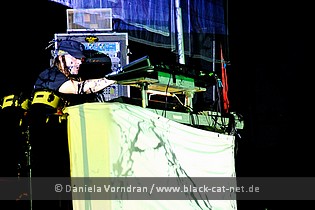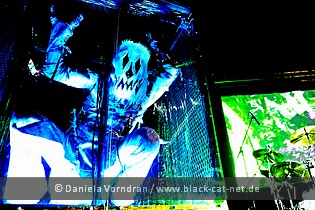 Music & Performance
This show was already my third SKINNY PUPPY show within two weeks and I was very much looking forward to it. The settings of the shows were totally different, reaching from a big festival with several thousand people watching the concert to this small one with just about 200 people. But exactly this was the special charm of the Steenwijk show. Even though there was a huge delay before MINDLESS FAITH started their show, SKINNY PUPPY started more or less in time due to the shortened set of previous band. I was still flashed by the grandiose show seen at Gothic Festival in Waregem and pretty curious how it would be this time. First of all, I loved being that close to the band. I mean, I even could touch Nivek if I wanted too. Being so close also meant to realise a lot of the small details making the show visually so special, i.e. how the splashing blood in the cage worked.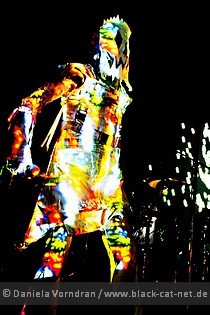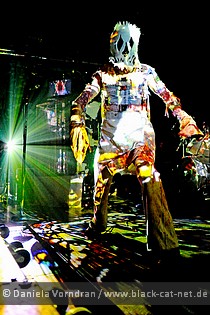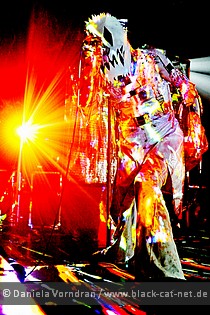 The little disadvantage of this show was the sound. It was much too loud over the whole set (lucky me had good earplugs in) and became louder nearly with every song. Usually, sound master Ken Marshall is "famous" for his good sound mix. Well, the balance in Steenwijk was good, but the volume… as heard later, it was cEvin asking Ken during the show making him running the show louder with every song. Not a very good idea if you ask me. As for the show itself, the set was more or less the same like during the shows I had seen so far. There was just some change in order, 'Tormentor' was played later in the set, when I remember right. Highlights for me were 'Dogshit', 'Pedafly' (love that song and the live presentation was awesome), 'Ugli', of course club hit 'Assimilate' and one of my all-time faves, first song of the encore 'Worlok'.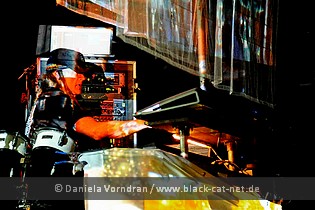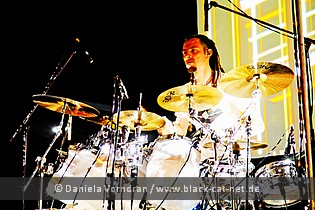 Visually, there was absolutely no difference between all shows. But still I am really impressed what mood you can create with just a few projectors, screens and hung up white cloths. A visual psycho trip so to say underlined by the extraordinary performance of Nivek. Already looking forward the upcoming show at M'era Luna.
Setlist
01. Love In Vein
02. Hatekill
03. Addiction
04. Dogshit
05. Deadlines
06. Politikil
07. Pedafly
08. Rodent
09. Tormentor
10. Pro-Test
11. Morpheus Laughing
12. Ugli
13. Assimilate
---
14. Worlock
15. Brap
16. Shore Lined Poison
Rating
Music: 9
Performance: 9
Sound: 7 (too loud)
Light: 8
Total: 8.6 / 10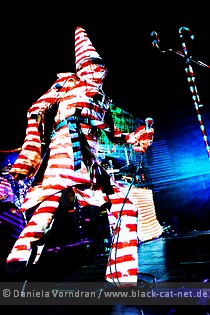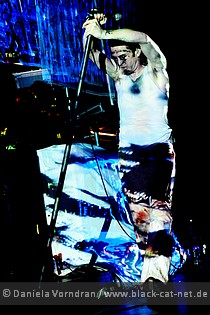 All pictures by Daniela Vorndran (
http://www.vorndranphotography.com/
/
http://www.black-cat-net.de/
/
www.myspace.com/vorndranphotography
)
{jos_sb_discuss:17}
See also (all categories):