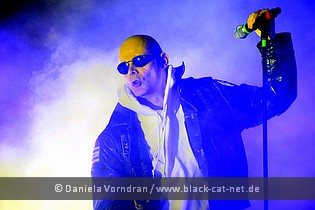 Flughafen Drispenstedt, Hildesheim, Germany
7th & 8th August 2010
M'era Luna 2010 Day 1 Main Stage: The Sisters Of Mercy, Unheilig, Nitzer Ebb, Laibach, Stolen Babies, Samsas Traum, Lacrimas Profundere, Angelspit, Rabenschrey, Lord Of The Lost, Unzucht

This year's M'era Luna Festival was a big success for the promoter. They had a new attendance record with 24,000 visitors being excited by the shows of 40 bands in total as well as the fashion show and the medieval market. Already in Friday afternoon, a big part of the guests arrived to give live to the camping ground and start the festival weekend with the party at the hangar. The first festival day at the main stage was headlined by SISTERS OF MERCY. Winner for the newcomer contest, UNZUCHT, opened the program.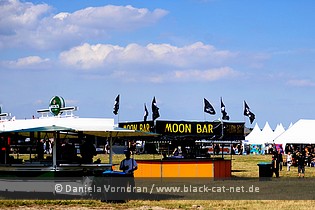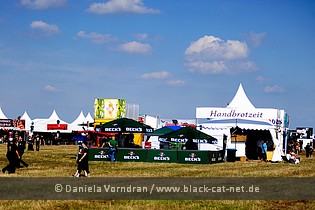 Unzucht (J. "Niggels" Uhlenbruch)

German band UNZUCHT are the winners of the M'era Luna Newcomer Contest 2010 and had the honour to be the opener to open the festival in Hildesheim. The "new hope of the German Gothic scene", as the M'era Luna team put it, are Der Schulz (vocals), De Clercq (guitar, electronics, vocals), Schindler (bass, electronics) and Fuhrmann (drums).
http://www.unzucht-music.com/
/
www.myspace.com/unzuchtmusic
Music & Performance

I have to admit that not UNZUCHT but the Belgian band LIZARD SMILE were my favourites in this year's newcomer contest but of course I would check out UNZUCHT anyway. I had no expectations really but I was positively surprised! UNZUCHT delivered a very professional but at the same time very passionate performance, and it was more than clear that the band was more than happy and very proud to play at the main stage of such a huge festival.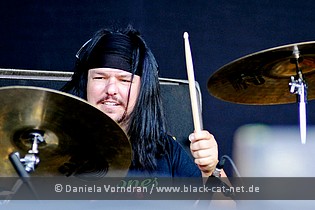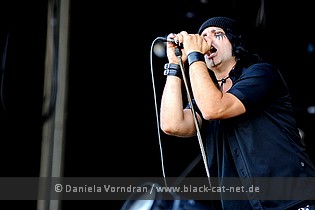 According to their MySpace page, the M'era Luna gig was only the sixth live gig ever for UNZUCHT, so the professionalism was quite stunning. In fact, the UNZUCHT members have quite some experience in previous bands, and singer Der Schulz performed at the M'era Luna already with his former band PINKOSTAR. The crowd response was pretty good, considering that it was still early in the day as UNZUCHT started their performance at 11 o' clock in the morning! UNZUCHT's Synth-flavoured Dark Rock with German lyrics appeals to people who love bands like RAMMSTEIN, OOMPH!, DEATHSTARS or ASP, and seeing a young, enthusiastic band enjoying what they are doing on stage while doing a good job up there surely does appeal to me. A positive surprise, so both thumbs up!
Setlist

01. Allein
02. Meine Liebe
03. Schwarzes Blut
04. Todsünde 8
05. Engel der Vernichtung
Rating

Music: 7
Performance: 8
Sound: 8
Light: (daylight)
Total: 7.5 / 10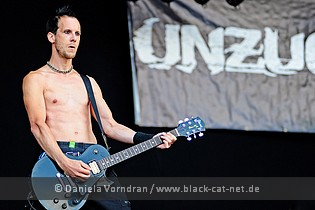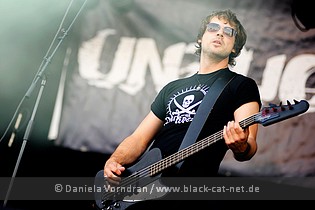 Lord Of The Lost (J. "Niggels" Uhlenbruch)
LORD OF THE LOST is a Gothic Metal band from Hamburg, Germany, founded by Chris "The Lord" Harms. The band, which is completed by Sebsta (guitars), Class (bass), Any (drums) and Sensai (guitars), just released their debut album 'Fear'. Chris Harms started his musical career as vocalist and guitarist for the Industrial Rock band PHILIAE in1999. They disbanded in 2004, and after being involved in various projects including the Glam Rock band THE PLEASURES, where Harms did the lead vocals and played the guitar, Harms started LORD OF THE LOST to bring life to his own visions. After spending a lot of time in the studio to produce the debut "Fear" (out since February 2010), LORD OF THE LOST hit the road for extensive touring including gigs at the Wave Gotik Treffen, the legendary Wacken Open Air, and the M'era Luna.
www.myspace.com/lordofthelost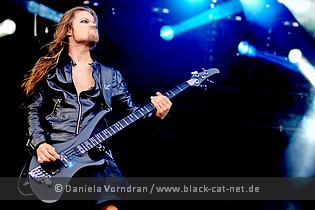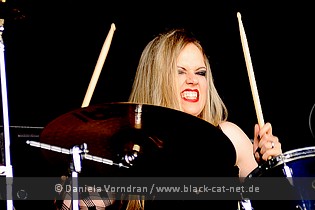 Music & Performance

LORD OF THE LOST entered the stage shortly before lunch time but met a good crowd which was warmed up well by UNZUCHT's opening gig. Live, LORD OF THE LOST sounded a lot of heavier than I expected, the romantic dark Rock of their promo single 'Dry The Rain' reminded me a little on the Finnish heartbreakers HIM but at the M'era Luna LORD OF THE LOST were much more straight-in-yer-face. Harms and his band of course played many songs from their debut album, like 'Proloque' or 'Last Words', but also two yet unreleased songs, one of them called 'Sex On Legs', and they surprised people with a rocking cover version of LADY GAGA's 'Bad Romance'! On record they are good but not all the time my cup of tea, live they rocked and sounded to my ears better just because it was heavier!
Setlist

01. We Are The Lost (New yet unreleased Song)
02. Break Your Heart
03. Bad Romance (Lady GaGa cover)
04. Last Words
05. Sex On Legs (New yet unreleased Song)
06. Prologue
07. Dry The Rain
Rating
Music: 7
Performance: 9
Sound: 8
Light: (daylight)
Total: 7.9 / 10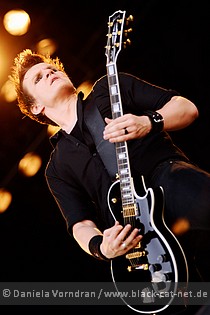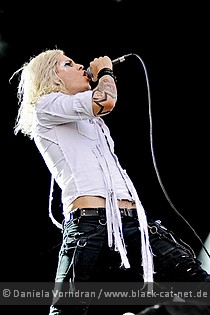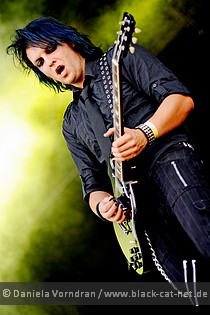 Rabenschrey (Sebastian Huhn)

The band that describes their style as "Pagan Medieval Folk" was founded by Peter Herbertz ("Donar von Rabenschrey") and O'Connor in the year 2000. To go own musical ways and to write the music and lyrics themselves is a priority since the very beginning. Following their founding their released the debut 'Der verwunschene Eichenwald' the same year, followed a string of albums to the newest 'Unvollkommen'. Not only the band plays on medieval market as it is typical, they also play on festivals and in clubs.
http://www.rabenschrey.de/
/
http://www.myspace.com/rabenschrey
Music & Performance
I headed right back over to the main stage where RABENSCHREY had just started playing to a quite large audience, entertaining them with their medieval-inflicted rock compound and as happens every time, people were catching the flow and had themselves carried away. When Donar announced the next song to be 'Tanze Dir Die Seele aus dem Leib', people considered this an order and started dancing as if there'd be no tomorrow, while the main protagonist was jumping around on stage playing a flute.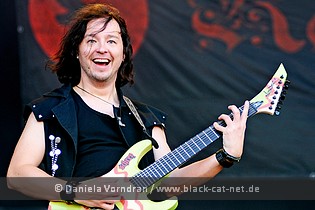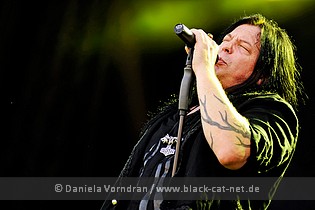 For the next song it all went up north; way up north actually and into the mystic 'Walhalla'. But there was no one freezing here it seemed and even a cyber-Goth who stood in the first row knew the lyrics inside-out. Didn't expect to see one of those guys there to be honest! The next one 'Brennen' was dedicated by the band to their pyro technician and became indeed a fiery effort for everyone on and in front of the stage. Last one I heard before heading off to the next band again was 'Der Raben Schrey'. They knew how to make a good mood but I couldn't get anything out of the music beyond acknowledging that.
Setlist
01. Leb deinen Traum
02. Dreckstück
03. Tanze Dir
04. Walhalla
05. Brennen
06. Der Raben Schrey
07. Das Templerschaf
08. Heiden tanzen
09. Hey wir sind Heiden
Rating

Music: 5
Performance: 6
Sound: 7
Light: - (daylight)
Total: 5.7 / 10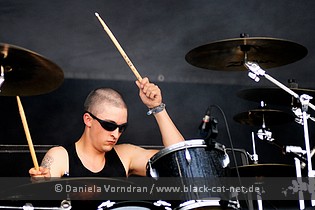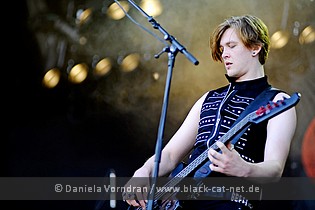 Angelspit (J. "Niggels" Uhlenbruch)
ANGELSPIT is a band from Sydney, Australia. The band was formed in 2004 by lead vocalist DestroyX (Amelia Tan) and synthesist ZooG (Karl Learmont) and later that year they released the independent EP 'Nurse Grenade'. ANGELSPIT have released four further discs since then, and supported bands such as KMFDM, FRONT LINE ASSEMBLY, FRONT 242, and CRÜXSHADOWS.
http://www.angelspit.net/
/
www.myspace.com/angelspitmusic
Music & Performance

The official M'era Luna programme described ANGELSPIT as a "mixture of Gothic, Punk and electronic music but also Pop and Metal" but at their gig in Hildesheim I couldn't discover much of Punk, Pop or Metal. It was heavily electronic though, and pretty much in the vain of the new "Industrial" which involves a lot of Techno elements. The Cyber-Goth duo played a stomping set full of storming beats which invited dancing but which didn't offer the variety which the M'era Luna programme promised.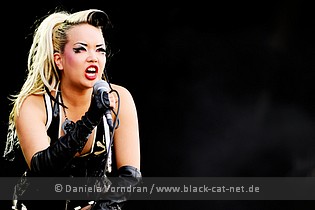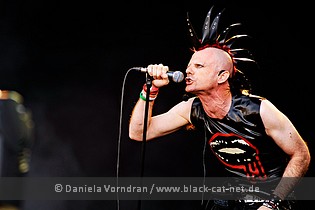 The fans in front of the stage embraced the Techno attack, though, but at the sides some people were leaving after a while. Maybe it was just the wrong time and wrong place for ANGELSPIT, I'm sure and in a dark club their sound works so much better. The daylight meant at least that you could catch a glimpse at gorgeous DestroyX and her great outfit but that's hardly enough to enjoy a show. In the past they often had an additional keyboarder but at the M'era Luna it was just the two of them, doing vocals to the backup music and tweaking and fiddling with some Synth gadgets every now and then. Well, it was nice but I'm afraid it didn't impress me too much. I'm sure ANGELSPIT would have worked a lot better at the second stage inside the hangar!
Rating
Music: 6
Performance: 6
Sound: 7
Light: (daylight)
Total: 6.2 / 10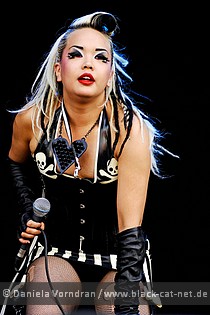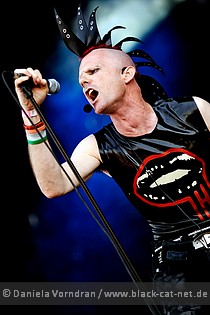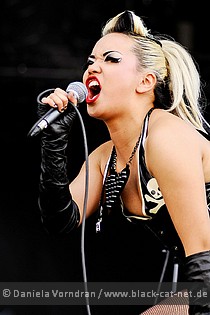 Lacrimas Profundere (Sebastian Huhn)
LACRIMAS PROFUNDERE is a German band founded in 1993 by Oliver Nikolas Schmid. Short time later he was joined by his brother Oliver Schmid. But it was not before the entrance of vocalist Anja Hötzendorfer, they drew enough attention to themselves to be able to record their debut, entitled '...and the Wings Embraced us' which was released in 1995 followed by the second album 'La Naissance d'un Rêve' in 1997. Taking a look into the future now we'll notice there have been several substantial changes to the line-up and except for Oliver no one of the original crew remained. Same goes for the style of music which has become an emotive mixture of Dark, Rock, Gothic and Doom Metal.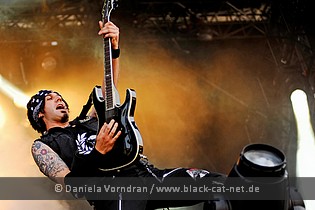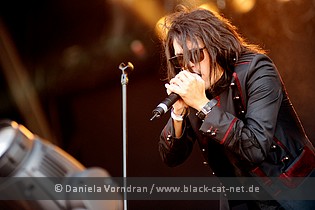 With 'The Grandiose Nowhere', they've released their most recent record in 2010. LACRIMAS PROFUNDERE is Oliver Nikolas Schmid (guitar), Tony Berger (guitar), Karl Fuhrmann (drums) and Roberto Vitacca (vocals).
http://www.lacrimas.com/
/
http://www.myspace.com/lacrimasprofundere
Music & Performance
The audience at the main stage now got serviced with the seasoned Goth rock formation LACRIMAS PROFUNDERE who started their set at a driving pace soon after entering the stage, got the crowd going and were rewarded with a huge applause immediately after the song had ended. That was definitely a motivation call and with the next tune they even kicked it up a notch and the people were keeping up with them within the warmth of the sun.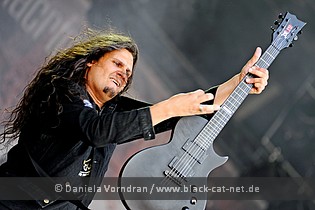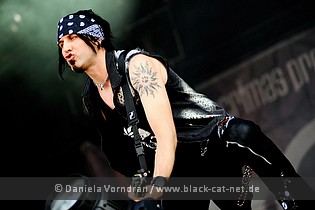 But the next one 'My Little Fear' from their recently released album 'The Grandiose Nowhere' calmed things down a bit then, moving forwards at a mid-tempo pace and rather relying on moods and Roberto Vitacca's sonorous vocals. Next up was the new single 'The Letter' which had a rush of adrenaline going through the band, rushing over the stage! Afterwards, some minor technical problems prevented the show from continuing smoothly. But that didn't bring the mood down a bit and when 'The Fear of Being Alone' hit, everyone was enjoying themselves. Definitely a cool show!
Rating
Music: 7
Performance: 7
Sound: 7
Light: - (daylight)
Total: 7 / 10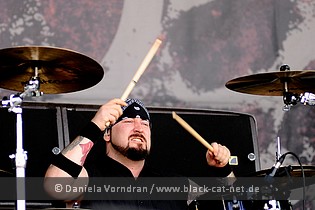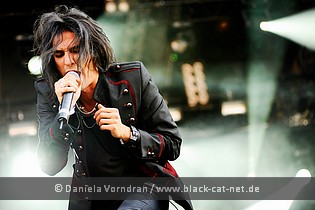 Samsas Traum (Sebastian Huhn & Terrorverlag)
Many of you will probably know SAMSAS TRAUM due to the often very provocative and direct statements of its eccentric creator Alexander Kaschte, who founded SAMSAS TRAUM in 1996. He produced some demos and exactly three years after its foundation, the band signs a record deal with the Trisol Music Group through which the three albums 'Oh Luna Mein', 'Die Liebe Gottes' and 'Utopia' were released in the years to come. After a tour as support for ATROCITY and PAIN in 2000, Kaschte took a creative break to return with a new album 'Tineoidea oder: Die Folgen einer Nacht' in 2003 on which he collaborated with several well-known artists like ASP and BLUTENGEL. Only one year later, the double album 'a.Ura und das Schneckenhaus' was released, followed by two albums 'Heiliges Herz' and 'Wenn schwarzer Regen fällt'. 2009 saw the release of '13 Jahre lang dagegen - Anti bis zum Tod'. SAMSAS TRAUM live is Alexander Kaschte (vocals, agitation), Michael "Cain" Beck (drums), Dennis Gabriel (guitars), Jochen Interthal (guitars) and Matthias Fischer (bass).
http://www.samsas-traum.info/
/
http://www.myspace.com/samsastraum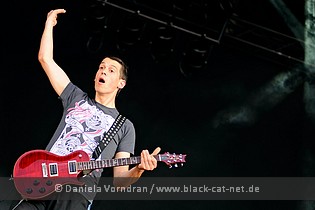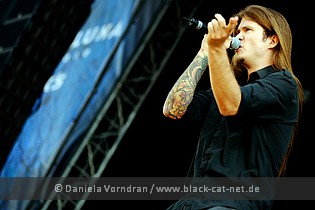 Music & Performance
The space in front of the main stage was quite crowded already before the show of SAMSAS TRAUM started. But Alexander Kaschte is always up for a surprise and if it's just him playing a fierce metal set regardless of the consequences. So I was quite excited this time as well what they'd have in stock for me and since people complained about his green shirt after Wave Gotik Treffen and he appeared all dressed-up in white at Amphi festival, he opted to blend in with everyone at M'era Luna, wearing black. Since the set started with 'Ein Name im Kristall' from the 'a.Ura' album, no one could expect or had to fear a pure metal set, propitiating me already. But you have to note that Alexander Kaschte does emphasize more on guitars and rather puts the electronic elements of earlier days to the back seat. Wasn't necessarily a bad thing since they found a good balance between the thrashing and the electronic! The set went on with the much-loved 'Für Immer' and 'Stromausfall im Herzspital', fairly celebrated by the audience. They couldn't fully dismiss the 'Heiliges Herz' album after all and with wild head banging the title track started rolling, including remarks to remotely existing mosh pits and a wall of death.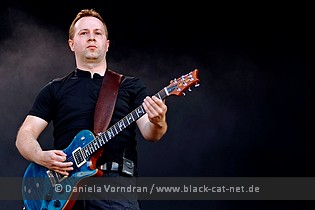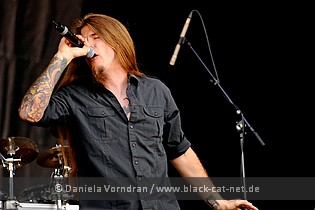 Also nice to see that some things never change and so Alexander came up with his hand puppet again to 'Die Zärtlichkeit Der Verdammten'. While its predecessor was already dead and gone and he had to borrow one from someone in the crowd at the last show I attended, he had a new fellow this time with a racoon. The new puppet then was taking the part of Bartholomäus Skarabäus Peingebreck within the dialogue with Samuel. I won't give away anything about the kind of puppet it was but one or might be getting the joke. After 'Ein Foetus Wie Du', we had already reached the end of a rather short SAMSAS TRAUM set. But as a fan you knew that something was still missing, the crowd started mutual "Ohne Kugel geh'n wir hier nicht weg" choirs and so they were given a boiling set closer with '9mm - Kugel im Gesicht'. Great show but next time a little longer please.
Setlist
01. Ein Name im Kristall
02. Für Immer
03. Stromausfall im Herzspital
04. Endstation.Eden
05. Heiliges Herz
06. Die Zärtlichkeit der Verdammten
07. Ein Foetus wie du
08. 9mm - Kugel im Gesicht
Rating
Music: 7
Performance: 8
Sound:  7
Light: - (daylight)
Total: 7.4 / 10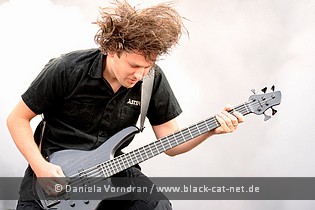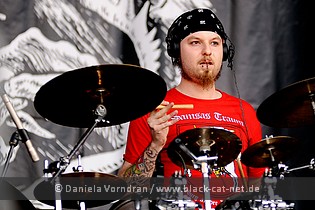 Stolen Babies (Sebastian Huhn)
The group was formed by the remaining members of former 12-piece performance group THE FRATELLIS. Following two demo recordings and an EP, the debut full-length 'There Be Squabbles Ahead' was out in 2006. New material is in the pipeline. STOLEN BABIES are Dominique Lenore Persi (vocals, accordion), Rani Sharone (bass guitar), Ben Rico (keyboards), Gil Sharone (drums) and Mick (live guitar).
http://www.stolenbabiestheband.com/
/
http://www.myspace.com/stolenbabies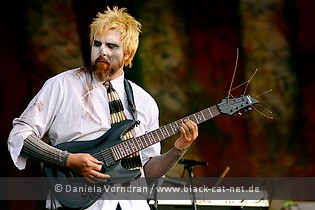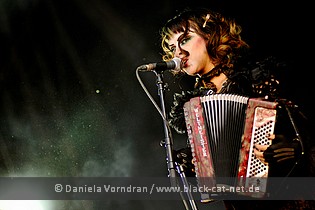 Music & Performance
With a heavy heart I left the hangar where BRENDAN PERRY was still playing and rushed to the main stage for the performance of the STOLEN BABIES was up on the schedule now. What I read about them however promised the show to become at least an eye-turner and with their dark, cabaret-influenced stuff also something different musically. Well, the guys around front woman Dominique indeed were one for instance with one of the guys wearing a quirky ballet dress. As suggested before with the genre description they have created quite a unique blend of music and even though "Dark Cabaret" can give you an idea it cannot deliver the full picture with elements of punk and rock woven in, just as well as some quirky ingredients. Sometimes the performance reminded of a kind of theatre play with Dominique being the well-spoken narrator of the stories told in the songs that ranged from harder to softer tunes.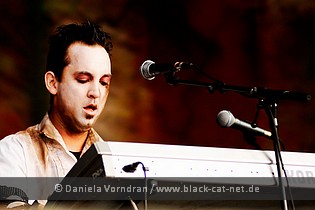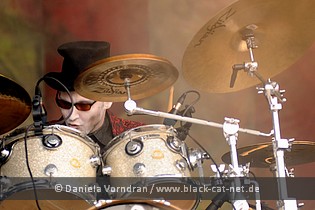 People in the audience seemed to have their fun as well. Not everyone, but quite a few were enjoying themselves a lot to the set which also included the newest track the band has created, called 'Swimming Hole'. Not bad at all and something to keep an eye out for.
Rating
Music: 7
Performance: 7
Sound: 6
Light: - (daylight)
Total: 6.8 / 10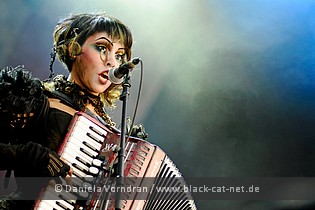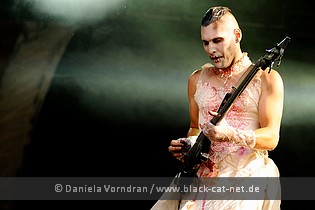 Laibach (J. "Niggels" Uhlenbruch)
LAIBACH is the musical arm of Neue Slowenische Kunst, an art collective which features almost anything from literature, painting, sculpting to architecture. There is even the virtual NSK state, and everyone is welcome to become a citizen! LAIBACH is a band with a huge musical legacy which includes various styles from Industrial to Rock to neo-classical elements to Techno and Electronica. And they are known for spectacular, challenging and often also provocative live shows. So their gig at the M'era Luna 2010 was bound to be one of the highlights of the festival.
http://www.laibach.nsk.si/
/
www.myspace.com/laibach
Music & Performance

Beforehand I wondered if LAIBACH fit into the concept of this rather "mainstream" festival, especially as they were scheduled to play the main stage during daylight. In the past there were rumours that LAIBACH would refuse to perform in daylight - which makes sense as many of their show concepts relied heavily on video projections and visuals - so it was a bit of surprise to see them listed to play at the main stage on the Saturday afternoon of this weekend. But LAIBACH played big open air festivals before, especially in the countries of the former Eastern Bloc, like the Exit Festival in Serbia or the Istra Rock Festival in their home country Slovenia. And LAIBACH surely know how to put on a great and impressive show!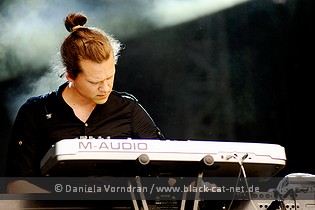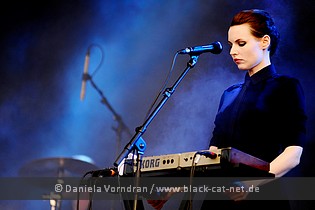 At the M'era Luna, almost everything went wrong. That's at least how I felt, and how many people, from LAIBACH die-hards to LAIBACH newbies, felt after the show. It started with apparently quite serious technical problems which caused a delay until LAIBACH actually could start their performance. The intro started, the South Tyrol traditional 'Wohl ist die Welt so groß und weit' with the simple and significant chorus "heidi heido heida". Typical LAIBACH! Vocalist Milan Fras finally entered the stage… and left it again. Obviously there were still some technical issues, so the "heidi heido heida" went on and on while the crowd was waiting for the show to begin. LAIBACH finally started with the new version of 'Smrt za Smrt', one of their earliest songs and in Slovenian language. LAIBACH were sticking to old but updated songs in their native tongue with tracks like 'Brat Moj' or 'Država'. We were already four songs into the show, there were still some technical problems (in particular with the drums) and the sound wasn't well mixed, and so far LAIBACH played rather unknown and "difficult" songs. The audience waited for something to happen. That LAIBACH did not (or could not) bring their video show, and their popular and impressive "drum girls" neither, surely didn't help to improve the situation. Quite the contrary! Some people were already leaving to get a drink at the bar or to try to get inside the packed hangar where DAS ICH played at the same time.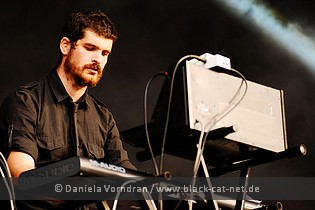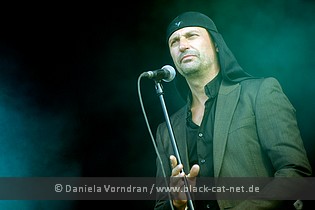 LAIBACH singer Milan Fras stood in the back of the stage with folded arms, clearly not happy with what was going on. A couple of songs from their 'Volk' album followed, but at an open air stage without visuals and with bad sound this material simply did not work at all. LAIBACH announced a "festival set" for the M'era Luna on their web site but they only picked not too well-known, rather slow and pretty demanding tracks. The setlist they performed was, under the given circumstances, nothing but a big fail! It would have worked better at a dark club, with visuals, and with a pure LAIBACH audience. But not at the main stage of a huge festival. I know that LAIBACH is about art and not just entertainment but it has to be said that they did themselves no favour with what they delivered at the M'era Luna. The technical problems are a shame but I do not blame the band for them but to announce a "festival set" to deliver a set which displays LAIBACH in total denial mode is something I do blame the band for. Maybe that was the message they wanted to come across, that they play the main stage of a big open air festival and totally reject to adjust their ways to the commercialism of such an event. Yeah, we got the message - we just didn't like it! Most of the audience, including many LAIBACH fans, were disappointed and bored to death. The last song was 'Tanz mit Laibach' but the stomping march rhythm of it came to late to save the situation. This should have come earlier, followed by more stuff from the 'WAT' album or classics like 'Alle gegen Alle' or 'God is God'. We would have loved to dance with LAIBACH!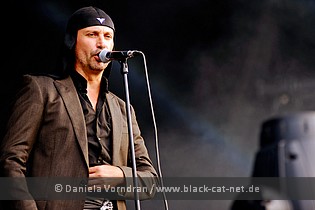 It seemed that the band wanted to perform one more song but due to the delay of the show they weren't allowed anymore. But I for one was glad that it was over anyway. I've seen LAIBACH live on literally every tour since their "Kapital Tour" in 1992 and they were always brilliant! At the M'era Luna we witnessed LAIBACH at their worst, and the disappointment still hurts. Musically and artistically, LAIBACH are still miles above so many other acts of the festival but the way this gig went down was nothing but a missed chance!
Setlist

01. Wohl ist die Welt so groß und weit (playback)
02. Smrt za Smrt
03. Brat Moj
04. Ti, ki izzivaš
05. Država
06. America
07. Anglia
08. Francia
09. Türkiye
10. Tanz mit Laibach
Rating

Music: 8
Performance: 5
Sound: 7
Light: (daylight)
Total: 6.7 / 10
Nitzer Ebb (J. "Niggels" Uhlenbruch)
British Electro legend NITZER EBB had a fantastic first half of 2010 with a brilliant new album, a great club tour and great support shows for the "Tour Of The Universe" of their ex-label mates DEPECHE MODE. The second half of the year is a little calmer for Douglas McCarthy (vocals), Bon Harris (programming, percussion) and Jason Payne (drums) and so, the gig at the M'era Luna is the big event for NITZER EBB in the late summer of 2010! NITZER EBB are often labelled EBM pioneers which is on one hand true and on the other hand a little irritating when you take a closer look at their back catalogue. Only a fraction of their body of work is EBM in a strict sense. NITZER EBB started as young teens in the early 1980s with minimalistic sequencer attacks in the tradition of German pioneers like DEUTSCH-AMERIKANISCHE FREUNDSCHAFT or early DIE KRUPPS, made their sound perfect in 1987 on their debut album 'That Total Age' - probably their only album which is pure EBM from start to finish - and slipped in Pop influences and sounds from the, back then, brand-new Acid House trend on their second album 'Belief', released in 1989. One year later Blues and Jazz entered the world of NITZER EBB on 'Showtime', and they developed on that further with their fourth album 'Ebbhead' and the accompanying 'As Is' EP by integrating Rock, Dance and even Hip Hop ('Trigger Happy', 'DJVD') in their sonic universe. With this NITZER EBB laid the foundation stone for what made NINE INCH NAILS on the one hand and PRODIGY on the other so immensely popular in the 1990s. But they hardly get credit for that, maybe because their fifth album, 'Big Hit' from 1995, was the exact opposite of what the title indicated.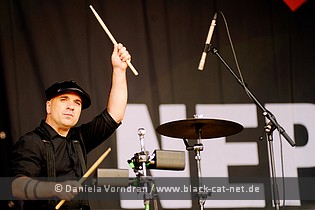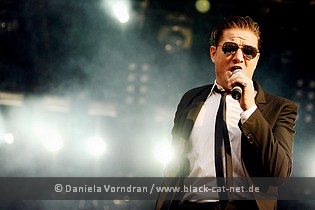 So thanks to their early stuff NITZER EBB stick with the reputation of being EBM pioneers - fair enough! But whatever styles and genres they mix to create their energetic sound cocktail, it always sounds like NITZER EBB. 'Industrial Complex', released in early 2010 as their first proper album in 15 years, proves this again. It's diverse and yet monolithic and 100% NITZER EBB in every second, and old and new fans embraced it wholeheartedly.
http://www.nitzer-ebb.com/
/
http://nitzerebbicp.com/
Music & Performance

After their club tour and support tour for DEPECHE MODE the band took a well-deserved rest, interrupted only by their gig at the famous Arvika festival in Sweden in July, and the M'era Luna in Hildesheim. After watching a bit of LAIBACH from the side of the stage it was about time for Harris, McCarthy and Payne to hit the stage themselves. Three huge "NEP" banners were put up in the back to announce our, ahem, "EBM heroes" while their team did a sound check. After the LAIBACH disappointment, which still dampened my spirits, I was afraid that NITZER EBB would suffer from the same technical sound problems. Well, they did, but they also have their secret weapon, Mr Douglas McCarthy! Give Douglas McCarthy a big crowd and he will grab it by the balls! After a short intro NITZER EBB kick-started with the 1985 classic 'Warsaw Ghetto' - awesome choice - and McCarthy raised the energy level in a jiffy. The sound was still a bit muddy and the volume too low but that's no obstacle for the NITZER EBB front man, who is by now nicknamed "die Rampensau" by German fans. Hard to translate, just be sure that it's something positive and admiring with the tongue firmly in cheek.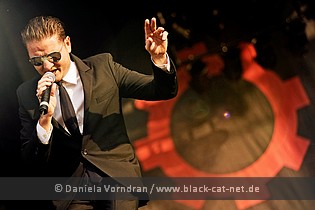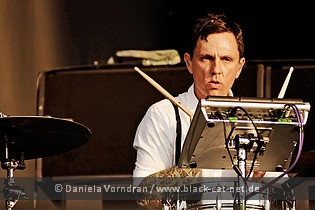 'Down On Your Knees' was next, one of the most straight-forward tracks of 'Industrial Complex', and it seemed that the stage is already way too small for Mr McCarthy. He is a little show-off and a big poser but the mischievous Essex boy does it with charm and carries it so much to the excess that you get the idea that he doesn't take it too seriously himself. The audience in front of the stage was wrapped around McCarthy's little finger already but in the back it was a less enthusiastic, though, thanks to the M'era Luna team still not getting the sound right. But the volume problem was solved and in front of stage the sound was loud and pumping, even when some parts of the Synth backups weren't audible. Maybe that's why McCarthy missed his cue once or twice but that's hardly something which would make him scratching his head. He just goes on and on, and with tracks like 'Shame', 'Lightning Man', or 'Godhead' NITZER EBB played a storming set, only interrupted by the slow and dark ballad 'I'm Undone'. It was noticeable that NITZER EBB's audience fully absorbed the 'Industrial Complex' songs like 'Once You Say' or 'Payroll' and they got the same frenetic cheer and welcome like all the classics like 'Hearts & Minds'. 'Murderous' or 'Let Your Body Learn'. NITZER EBB closed their set with 'Control I'm Here', a classic from 1988 which still sounds fresh and modern, like most of the band's old stuff.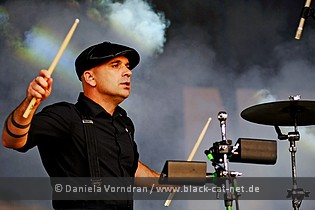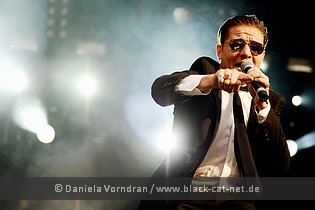 Such an energetic show deserves an encore, and with 'Getting Closer' NITZER EBB returned and Bon Harris joined McCarthy at the front to share vocal duties with him and for just another powerful performance. A pity that the Synth hook after the chorus was inaudible - tech problems again - but that's the M'era Luna for you and the fans couldn't care less at this point and just continued the party. Despite all the technical glitches NITZER EBB was simply a highlight of the weekend and for many the wildest party in front of the main stage. After the LAIBACH downer I had a happy smile on my face again, thanks for that, NITZER EBB!
Setlist
01. Intro
02. Warsaw Ghetto
03. Down On Your Knees
04. Shame
05. Hearts & Minds
06. Once You Say
07. Lightning Man
08. Hit You Back
09. Godhead
10. I'm Undone
11. Payroll
12. Let Your Body Learn
13. Murderous
14. Control I'm Here
---
15. Getting Closer
Rating
Music: 9
Performance: 9
Sound: 7
Light: - (daylight)
Total: 8.7 / 10
Unheilig (J. "Niggels" Uhlenbruch)
German act UNHEILIG and its protagonist "Der Graf" are at the moment the most discussed, and they are definitely a case of love 'em or hate 'em. With their latest album 'Grosse Freiheit' they finally gained mainstream success in their home country Germany, including much-debated TV appearances in teenager shows and cheesy soap operas. However, it's still legal to book them for Gothic events, so they co-headlined the Saturday of the M'era Luna together with THE SISTERS OF MERCY. UNHEILIG is Bernd Heinrich Graf aka "Der Graf" (vocals), Henning Verlage (keyboards), Christoph "Licky" Termühlen (guitars), and Potti (drums).
http://www.unheilig.com/
/
http://www.myspace.com/unheilig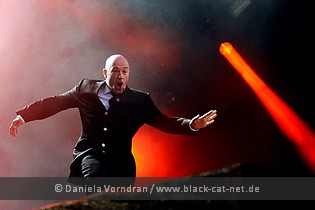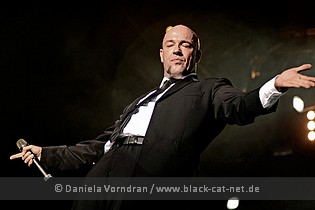 Music & Performance

Just two months ago it was the first time that I saw a full UNHEILIG show and since then it was already the third time that I saw them when the performed at the M'era Luna main stage. The concept and stage design was the same every time, with a very heavy focus on Der Graf and the ship's bow in the middle of the stage - allegorizing the "sea" imagery of the latest album (well, the ship is new on this tour of course) - and the huge white candles were all there again. Obviously there were many fans who just came for UNHEILIG, and the audience was pretty much divided into two parts. In the middle the rabid UNHEILIG fans who were absolutely into the show and who were hanging on every single word from Der Graf's mouth, at the sides people who didn't mind listening to UNHEILIG while enjoying a drink at the bar and UNHEILIG haters who simply didn't escape from the main stage quickly enough. In fact there was some hatred and booing at the sides and in the back, and a lot of "f*ck off"s and "go home" addressed at Der Graf. Meanwhile the UNHEILIG following celebrated their hero, and I got the impression that to some it was even some sort of semi-religious experience. For me seeing UNHEILIG three times in only two months didn't help much to enjoy the experience, I'm afraid, as the show was basically the same every time and only the setlist was longer or shorter, depending on the festival they actually played.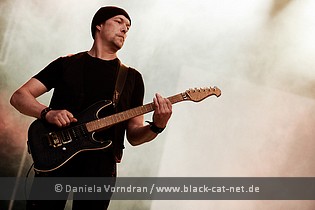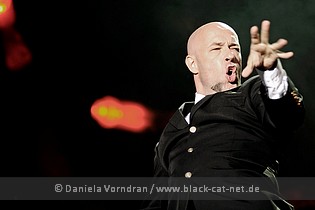 I can't say that it's bad what UNHEILIG have to offer but it's surely pretty cheesy Pop music with heartfelt to cheesy lyrics. The only sad thing is that certain parts of UNHEILIG's following is apparently completely ignorant to what a festival like the M'era Luna has to offer besides Der Graf. Maybe it's simply time for UNHEILIG to leave the Goth scene behind them, at last? And after witnessing three UNHEILIG gigs at festivals I wonder why the quota of square, overweight people committing fashion crimes (e.g. wearing UNHEILIG shirts size M when you actually need XXL) and with dreary haircuts raises few minutes before UNHEILIG enter the stage. A miracle!
Setlist

01. Intro
02. Seenot
03. Spiegelbild
04. Unter Deiner Flagge
05. Feuerengel
06. Abwärts
07. Halt mich
08. An Deiner Seite
09. Freiheit
10. Astronaut
11. Grosse Freiheit
12. Maschine
13. Für Immer
14. Geboren um zu Leben
Rating
Music: 6
Performance: 7
Sound: 8
Light: 8
Total: 6.9 / 10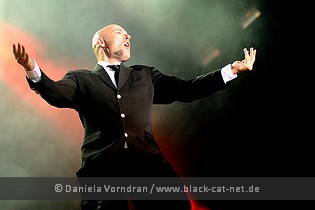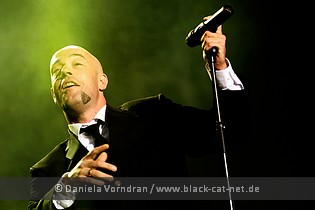 The Sisters Of Mercy (J. "Niggels" Uhlenbruch)
When you have to name some of the forefathers of Gothic Rock the chances that SISTERS OF MERCY come to mind first are really good. Even though core member Andrew Eldritch dislikes anything related to the word "Goth" it can't be denied that his band were among the founding fathers of a whole scene with singles like 'Alice' (1982) or 'Temple Of Love' (1983) and the debut album 'First & Last & Always' (1985). THE SISTERS OF MERCY are Andrew Eldritch (lead vocals), Chris May and Ben Christo (both guitars & backing vocals) and the legendary Doktor Avalanche, a drum machine!
Music & Performance

THE SISTERS OF MERCY have a very mixed reputation as a live band. The die-hard fans love it, everybody else wonders why - to put it a little blunt! I've seen the SISTERS quite a few times since their 'Vision Thing' tour in 1990/1991, which was just brilliant by the way. But since then it went downhill, I'm afraid, and in my book, the SISTERS live experience went from brilliant to just okay in the nineties to absolutely disastrous in the new millennium. My desire to see them live decreased, so the only times when I checked them out where festivals they played at. In my book, THE SISTERS OF MERCY hit rock-bottom with their gig at the Doomsday Festival in Dresden in the year 2000 but they sounded better again when they played the M'era Luna in Hildesheim in 2002 and 2005. I was still a little unimpressed though. Before headlining the M'era Luna 2010 THE SISTERS OF MERCY played a few gigs in the UK, and checking the YouTube clips from those gigs gave me the hope that the SISTERS sound really good again as a live band.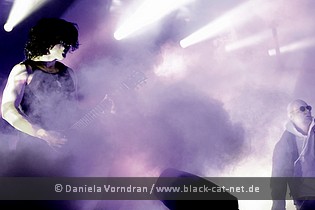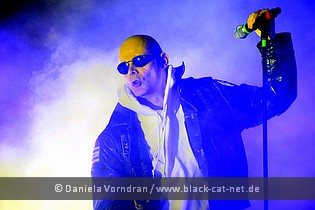 They started with 'Vision Thing', the title track of the 1990 album, and it sounded quite good. A little more Hard Rock than Gothic Rock but as holy Eldritch told us many times the SISTERS are not "Gothic" anyway. Muscle-bound guitarist Ben Christo lived the 1980s hard Rock clichés with his Rock star poses in tight leather pants but I found this quite entertaining, and after all he was the only band member I could clearly see all the time from the spot where I was. Because SISTERS live means fog, fog, and fog again. Some people complained after the gig that they couldn't see the band at all but then THE SISTERS OF MERCY are infamous for the heavy use of fog machines on stage. At this year's M'era Luna it was actually not that bad as at some point or other I could see all of the three live musicians! Andrew Eldritch, with bold head and wearing a light grey Hoodie, made his way through the coloured fog and welcomed the audience with "Hello clowns!" The setlist was almost perfect with song from every era of THE SISTERS OF MERCY and an emphasis on their pre-'Floodland' material. The problem was just that the very early songs simply didn't sound right, and the simplified high-speed version of 'First & Last & Always' would make original band member Gary Marx (who wrote this song) cringe!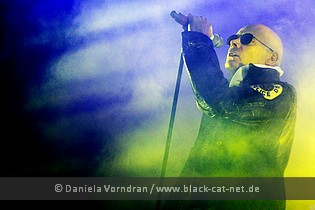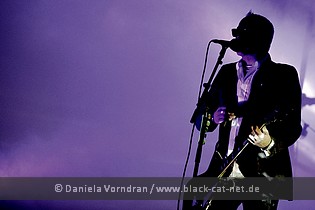 So, the pleasure to hear 'No Time To Cry' again in a SISTERS live set after all those years was also a bit narrowed by the actual performance. Things got better when the SISTERS played stuff from the albums 'Floodland' or 'Vision Thing' or still unreleased songs like 'We Are The Same, Susanne'. But all in all I did not exactly jump for joy and while some die-hard fans claimed that THE SISTERS OF MERCY were the highlight of the festival I felt rather underwhelmed after the gig. But I knew that before, to be honest, I just hoped that I'd be wrong!
Setlist
01. Vision Thing
02. Crash and Burn
03. Ribbons
04. Train / Detonation Boulevard
05. First and Last and Always
06. No Time to Cry
07. Alice
08. Marian
09. We Are the Same, Susanne
10. Arms
11. Dominion / Mother Russia
12. Summer
13. Logic
14. Flood II
---
15. Rain From Heaven
16. Lucretia My Reflection
17. Temple of Love
Rating
Music: 7
Performance: 7
Sound: 7
Light: 7
Total: 7 / 10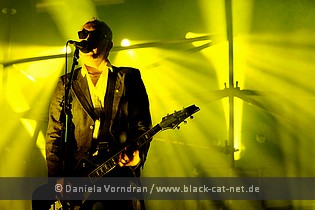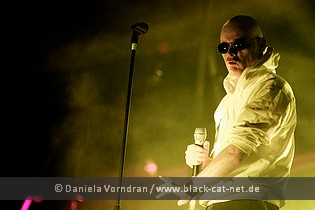 For me as photographer, the festival had a rather calm ending, no heavy partying at the hangar or the camp ground. I finally had some food with friends and later on we met with other at the VIP area to share the last beer of the evening and finally go to our nearby hotel for a good night's sleep. Even though the night was rather short, but hey, that's how it is at festivals anyway…
All pictures by Daniela Vorndran (
http://www.vorndranphotography.com/
/
http://www.black-cat-net.de/
/
www.myspace.com/vorndranphotography
)
Written by Daniela Vorndran (common parts), J. "Niggels" Uhlenbruch and Sebastian Huhn. SAMSAS TRAUM in Co-Operation with Terrorverlag
{jos_sb_discuss:17}
See also (all categories):