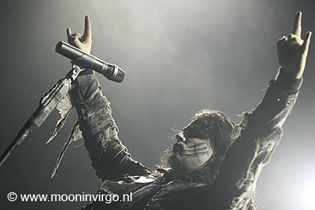 013, Tilburg, The Netherlands
24th September 2007
Dimmu Borgir, Amon Amarth, Engel

After intensive trips to different festivals this summer the most famous black metal band Dimmu Borgir started their European and North American tour "The Invaluable Darkness Tour" in The Netherlands. The first day they played in the sold-out venue the Melkweg in Amsterdam. Now, one day later, on this Monday evening they stood in the nearly sold out main hall of the venue 013 in Tilburg. I was very excited to finally see them. The last time I "saw" them live was at the Graspop Festival in Belgium. The tent they stood in was overcrowded. I was standing in the back so I couldn't see a damn thing. But what I heard sounded marvellous, so my expectations about their concert were high this evening.
Engel

Actually the band HateSphere was supposed to open for Amon Amarth and Dimmu Borgir, but their singer Jacob Bredahl had just left the band. This tour they were replaced by the Swedish band Engel. This band was founded in 2005 in Gothenburg. They're expecting their debut-CD in November 2007. So it's a new band, but it consists of some experienced musicians, like guitarist Niclas Engelin who once handled the strings in the bands Passenger, In Flames and Gardenian and bass-player Mikael Håkansson had once been een member of Evergrey. Together with Mangan Klavborn (vocals), Morbid Mojjo (drums) and Marcus Sunesson (guitar) the line-up is complete.

Music
This band was profiting by the cancellation of HateSphere. Still being an unknown band, they were now given the opportunity to present themselves to a large audience. And who could they've done it better with than with famous bands like Dimmu Borgir and Amon Amarth, who attract lots of metalheads to their shows. The music from Engel can be described as, as they mention it themselves, a mix between metal, industrial, hardcore, techno, rock and disco. The singer alternates between clean vocals and raw grunts. In the more aggressive parts he sounded more convincing when grunting. His clean vocals sounded somewhat less steady. The other musicians played a solid set. The audience didn't really react enthusiastically to their music. The problem could be that the musical style of this band is just too different from the style of Dimmu Borgir and Amon Amarth.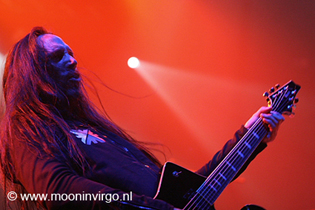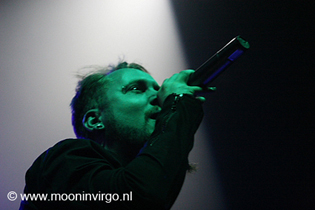 Performance
It could be read from the faces of the musicians that they were very excited to support Amon Amarth and Dimmu Borgir and they were doing the best they could to present themselves as a band interesting enough to keep track on. Doing this tour was their big chance to prove themselves. Engel gave a no-nonsense performance without any finary. The singer moved around a lot on stage and tried to interact with the audience. When grunting aggressively he drew the attention of the audience. The other bandmembers were more concentrated on playing their instruments well, but they visibly enjoyed it. The audience reacted somewhat modest, maybe because their style didn't completely fit into the audience's musical preference.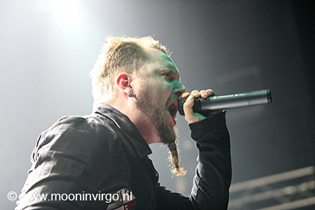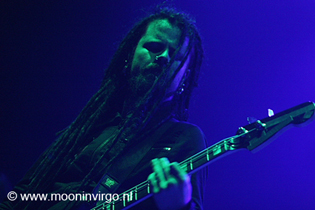 Setlist

01. In Splendour
02. Casket Closing
03. Scythe
04. Trial & Error
05. Propaganda
06. Calling Out
07. Seven Ends
Rating
Music: 7
Performance: 7
Sound: 6
Light: 5
Total: 6,5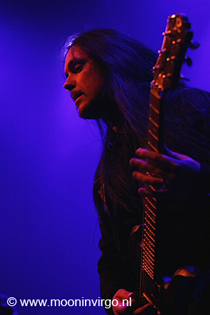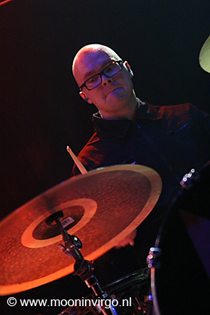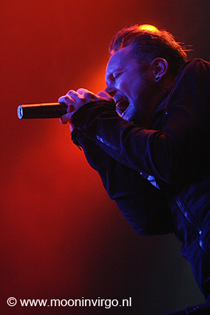 Amon Amarth
To many people Amon Amarth was also a main act for this evening, for quite a lot of them were wearing Amon Amarth shirts and especially came to see these Vikings from Stockholm, Sweden. The history of the band goes back to 1992. In the beginning they operated under the name "Scum". Later they changed their name into "Nifelheim", but they had to change this again because of another Swedish band holding the same name. After that they decided to be "baptised" as "Amon Amarth", named after the Mount Doom, known from J.R.R. Tolkien's Lord Of The Rings books. The bandmembers are Johan Hegg (vocals), Johan Söderberg (guitar), Olavi Mikkonen (guitar), Ted Lundström (bass), Fredrik Andersson (drums).
Music
The melodic death metal from Amon Amarth kicked right in from the beginning. With the opener "Valhall Awaits Me", also the opening song of their most recent work "With Oden On Our Side" the audience really started to get warmed up. Half of their setlist consisted of tracks from this album. Some people were a little bit disappointed about this and had wanted to hear some more older work, right because of the short setlist. The band had only 45 minutes to play. Musically it all sounded very solid and structured. Johan grunted his lyrics, larded with northern mythology, full of elan and the other bandmembers played a tight set.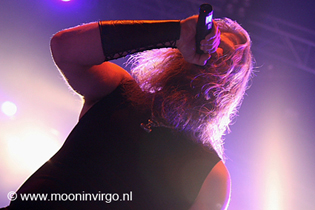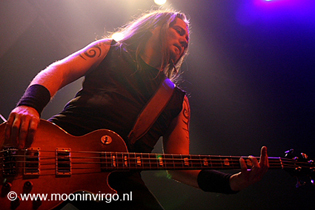 Performance
With just a large backdrop with their name on it, the stage was furnished in a more modest way than we were used to from Amon Amarth. When the intro started and the Vikings entered the stage the audience started screaming enthusiastically. There were even some girls standing in the front who screamed so loud you'd think that a boyband like Backstreet Boys was about to enter the stage. As usual Johan wore a large drinking horn on his side and now and then he took a large draught of... water? Yeah, right! His interaction with the audience was nice although his hair covered his whole face most of the time. The lightshow didn't make that any better because of poor frontlights and an extensive use of backlights. At the third song Johan screamed "Death"! which made the audience finish the title screaming "In Fire"! The guitarists and the bass-player showed their abilities mostly standing at the front edge of the stage. From the beginning to the end their show was entertaining. At least entertaining enough to create a large moshpit.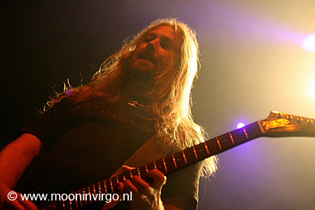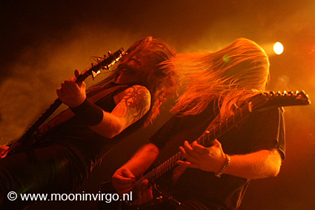 Setlist
01. Valhall Awaits Me
02. Runes To My Memory
03. Death In Fire
04. Cry Of The Black Birds
05. Asator
06. Fate Of Norns
07. Victorious March
08. Pursuit Of Vikings
Rating
Music: 8
Performance: 8
Sound: 8
Light: 5
Total: 7,5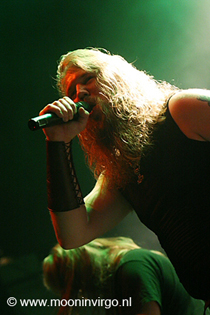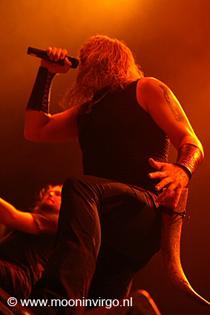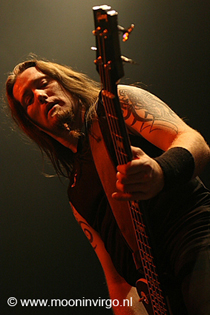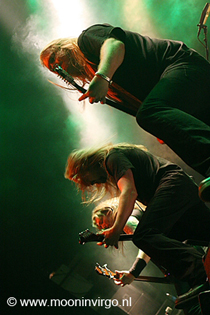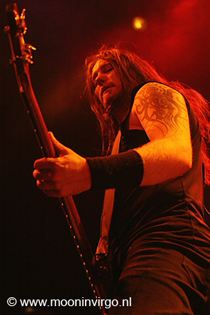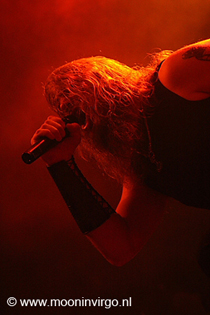 Dimmu Borgir
The black metal band Dimmu Borgir was founded in 1993 in Norway by the members Shagrath (who played the drums in the beginning), Silenoz (vocals) and Tjodalv (guitar). Their first release, the demo "Inn I Evighetens Mørke" (in English: "Into The Darkness of Eternity") was an immediate success, and shortly after that they released their full-length album "For All Tid" in 1994 which featured some guest musicians. In 1996 the album "Stormblåst" was released. To many people this album forms the highlight of their career. After the Stormblåst period some big changes happened in the band's line-up. Bandmembers left and new bandmembers were attracted. Their latest full-length album "In Sorte Diaboli" has been released a few months ago. The current line-up consists of Shagrath (Stian Thoresen) (vocals), Silenoz (Sven Atle Kopperud) (guitar), Mustis (Øyvind Mustaparta) (keyboards), ICS Vortex (Simen Hestnæs) (bass guitar, clean vocals), Galder (Thomas Rune Andersen) (guitar) and Hellhammer (Jan Axel Blomberg) (drums).
Music
Dimmu Borgir started off loud, with a bombastic, almost Wagnerian intro, which led in one of their most known songs "Progenies Of The Great Apocalypse". The setlist contained an interesting variety of songs from different albums they've made. They played five tracks from the new album, which is somewhat more melodical than the previous albums and it contains more clean vocals from Vortex. This made it an extra pity that the sound wasn't too balanced in the beginning of this show, which caused that his impressive voice wasn't prominent enough in the mix for about half an hour. Shagrath's vocals were audible enough. He did a good job, screaming his lungs out. All musicians did a great job actually, except for the drummer. Hellhammer wasn't able to join Dimmu Borgir on their tour because of a broken arm, from which he's recovering. His place was now taken by Tony Laureano, who has also worked with amongst others Nile, God Dethroned and Angel Corpse. He was already familiar with music from Dimmu Borgir because he had played with them during the Ozzfest tour in 2004. Maybe he still felt a bit strange now or he hadn't practiced enough because this was only the second show of this new tour. The fact is that he lacked sufficient energy and wasn't able to create a steady bassdrum sound in the very fast parts.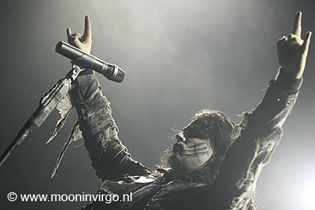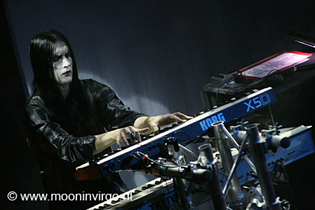 Performance
When the heavy classical intro started, figures in monk's frocks with pointed hoods, which were totally covering their faces, entered the stage. In their hands they held smoking censers, moving them slowly to and fro. Torches were placed on several parts of the stage. If it would've been real fire coming from the torches it would've looked impressive, but now it looked kind of cheap with papier-mâché-like material, that was supposed to look like fire. At the back of the stage a screen was placed on which orange/yellowish images were projected, to create a somewhat more evil atmosphere. The bandmembers looked evil with their painted white faces and dark make-up and were wearing leather with lots of spikes. The good-mooded Shagrath moved a lot around stage and was well able to keep the attention of the audience. The other bandmembers were visibly enjoying this fresh start of a new tour. At times not Shagrath, but Silenoz, Vortex and Galder were the eyecatchers of the show, holding their guitars up high, standing on the edge of the stage. The lightshow made the evilish atmosphere complete, with different sets of colours, strobe effects and smoke at the right moments.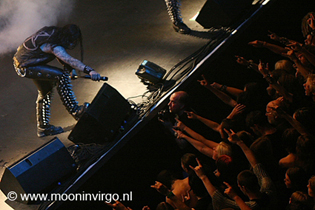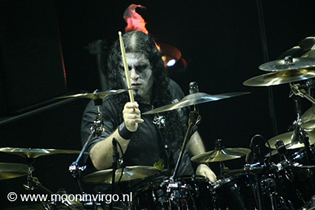 Setlist
00. Intro
01. Progenies Of The Great Apocalypse
02. Vredesbyrd
03. Puritania
04. Sympozium
05. The Serpentine Offering
06. The Chosen Legacy
07. A Sinister Awakening
08. A Succubus In Rapture
09. Fear And Wonder
10. Blessings Upon The Throne Of Tyranny
11. Sorgens Kammer Del II
12. The Insight And The Catharsis
---
13. Sacrilegious Scorn
14. Grotesquery Conceiled
15. Mourning Palace
16. The Fallen Arises (Outro)
Rating
Music: 8
Performance: 9
Sound: 7
Light: 8
Total: 8 (8,2)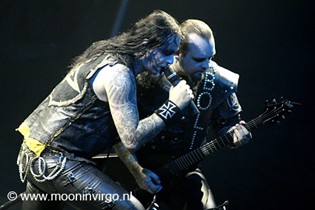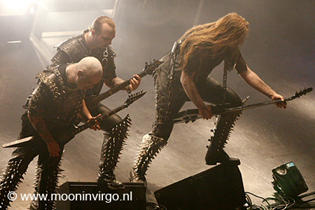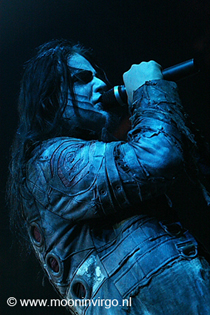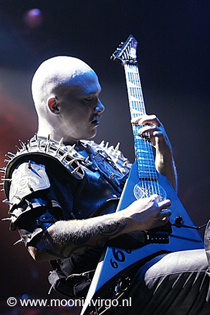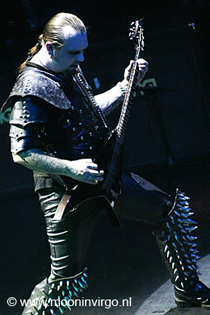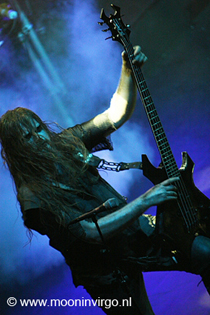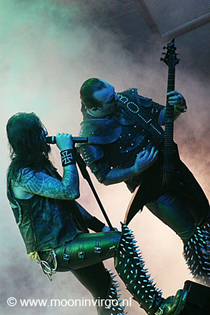 Photography and copyright: Monica Duffels
See also (all categories):