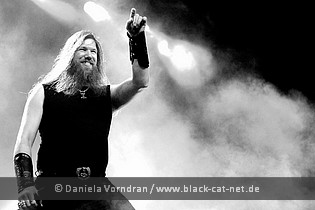 E-Werk, Cologne, Germany
21st May 2011
Amon Amarth, The Black Daliah Murder, Evocation

AMON AMARTH is back with the new album 'Surtur Rising' and just as Surtur, the band arose to conquer the E-Werk in Cologne, being supported by THE BLACK DALIAH MURDER and EVOCATION. Even though the venue was not announced as being sold-out, it was really packed and very soon it became very hot inside.



Evocation

Swedish Death Metal band EVOCATION was founded already in 1991 recording two demos in 1992. First gaining reputation as a good live band, the "debut" album 'Tales from the Tomb' was finally out in 2007 being followed one year later by second studio album 'Dead Calm Chaos'. Works on third full-length album 'Apocalyptic' started in early 2010 seeing the release of the album in October 2010. EVOCATION is Thomas Josefsson (vocals), Vesa Kenttäkumpu (guitar), Marko Palmén (guitar), Martin Toresson (bass) and Janne K. Bodén (drums). http://www.evocation.se / http://www.myspace.com/evocationswe / https://www.facebook.com/EvocationSwe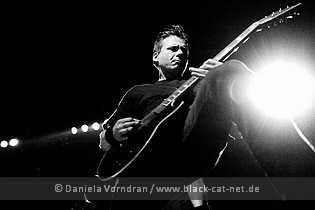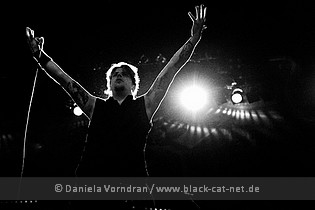 Music & Performance
AMON AMARTH's fellow countrymen EVOCATION fitted very well to the evening's headliner music-wise since they were also playing straight and rhythmic Death Metal. With just 30 minutes and seven songs, the show was rather short but not less powerful. Opening with 'Sweet Obsession' they made the audience latest with 'Angel of Torment' banging their heads. The venue filled more and more and heated up at the same time making first metal heads pulling of their shirts. Singer Thomas was shaking his hair being constantly on move on stage. 'Psychosis Warfare ', 'Feed the Fire' and obligatory 'Tomorrow Has No Sunrise' followed. The short set ended with the title track of the recent album, 'Apocalyptic'.

Setlist
01. Sweet Obsession
02. Silence Sleep
03. Angel Of Torment
04. Psychosis Warfare
05. Feed the Fire
06. Tomorrow Has No Sunrise
07. Apocalyptic

Rating
Music: 8
Performance: 8
Sound: 7
Light: 5
Total: 7.4 / 10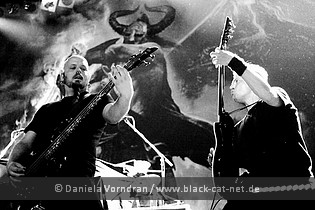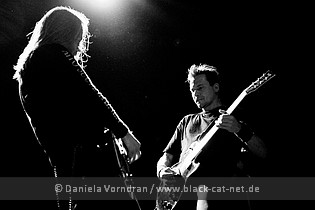 The Black Daliah Murder

Detroit based Melodic Death Metal band THE BLACK DALIAH MURDER was founded during late 2000 releasing the first album 'Unhallowed' in 2003 through Metal Blade label where the band still is signed. Three more followed with 'Miasma', 'Nocturnal' and 'Deflorate'. In February 2011, the band completed songwriting process for the their fifth studio album 'Rirual' to be out in June 2011 as CD, digital download and even vinyl. THE BLACK DALIAH MURDER is Trevor Strnad (vocals), Brian Eschbach (guitar, vocals), Ryan Knight (guitar), Ryan Williams (bass guitar) and Shannon Lucas (drums). http://www.myspace.com/blackdahliamurder / https://www.facebook.com/theblackdahliamurderofficial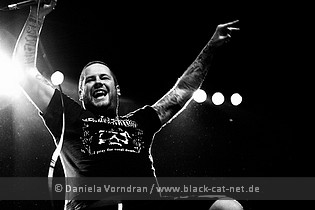 Music & Performance
This band belongs stylistically more to the American Core genre and was not really fitting to the Death Metal the other two bands presented. Ho offence, because BLACK DALIAH MURDER were technically perfect, but for me it simply did not work. Anyway, the response from the audience was better than expected and you could see banging heads and even some circle pits singer Trevor was requesting. Anyway, the band did what a metal core band is supposed to do. They were running and shouting. The heat on stage seemed to be overwhelming since Trevor already put down his shirt to show his potbelly to the audience. Well, it would have been better to leave the shirt on, wasn't really aesthetic. He was talking quite some words, but in fact I did not really understand much of his mumbled words, just that he pushed "all the suckers out there" further convincing at least one to do a little crowd surfing. 45 minutes later it was all over and the band we were waiting for was going to enter stage soon.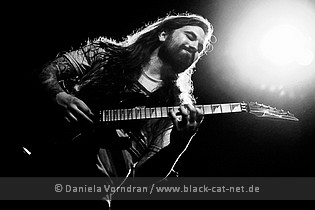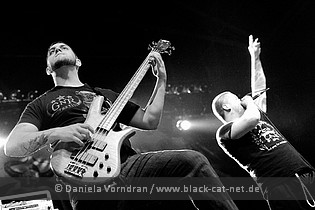 Setlist
01. Everything Went Black
02. Necropolis
03. A Vulgar Picture
04. Statutory Ape
05. Moonlight Equilibrium
06. Nocturnal
07. What a Horrible Night to Have a Curse
08. Deathmask Divine
09. Miasma
10. Funeral Thirst
11. I Will Return

Rating
Music: 6
Performance: 7
Sound: 7
Light: 6
Total: 6.5 / 10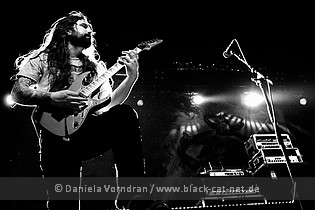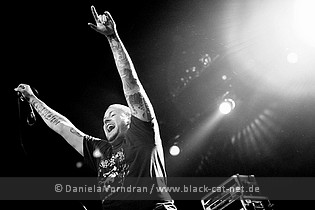 Amon Amarth

AMON AMARTH arose in 1992 from the band SCUM. The band released a first demo in 1994 called 'The Arrival of the Finbul Winter', gaining them their first record deal. The mini album 'Sorrow throughout the Nine Worlds' was the only release for that label. After changing labels again, and drummer, the debut album 'Once Sent from the Golden Hall' saw the light of day in 1998. A lot of things happened for AMON AMARTH since the 2008 release 'Twilight Of The Thunder God'. This album celebrated high chart positions followed by a headlining tour even through USA. In addition, AMON AMARTH was crowned "Best Breakthrough Act" at Metal Hammer's prestigious Golden Gods Awards and earned a support slot on the European leg of the Unholy Alliance Chapter III tour featuring SLAYER.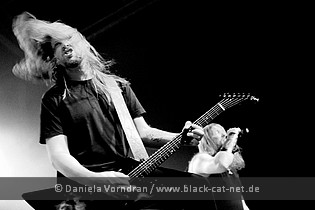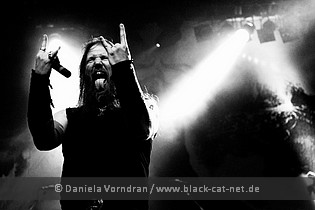 The band even made their way to India for the first time. The newest album 'Surtur Rising', out in March 2011, was charting worldwide as well. AMON AMARTH is Johan Hegg (vocals), Olavi Mikkonen (guitar), Johan Söderberg (guitar), Ted Lundström (bass) and Fredrik Andersson (drums). http://www.amonamarth.com / http://www.myspace.com/amonamarth / http://www.facebook.com/amonamarthband

Music & Performance
AMON AMARTH is not just popular right now, they built up a good reputation over the years and so, they were loudly welcomed by a screaming audience, starting up with 'War of the Gods' and older 'With Oden On Our Side'. Next song out off the new album was "about Surtur himself" 'Destroyer of the Universe'. If was welcomed with heavy head banging and you had to be careful in the photo pit that you won't be hit by someone else's head.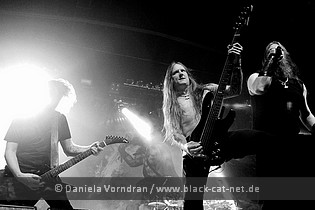 The band on stage offered a really experienced performance visually supported by a perfectly fitting light show illuminating lots of smoke in various colours and a huge backdrop showing the rising Surtur. Vocally on top, Johan not only convinced with his deep growls but also with his quite good German which he mixed with English in his statements. The mood in the audience was great. You saw people banging their heads everywhere, even on the balcony, where it must have been unbelievably hot judging from the temperatures down on the main floor. Epic 'Live for the Kill', evergreen 'Guardians of Asgaard' or 'God, His Son and Holy Whore' are just a few songs being presented during the show. After the medley consisting of 'Victorious March', 'Gods of War Arise' and 'Death in Fire', the band left the stage. The encore was announced by an intro and in the 'Twilight of the Thunder God', AMON AMARTH returned to stage. The evening with lots of Northern sagas ended with 'Runes to My Memory' and 'The Pursuit of Vikings' releasing the sweating audience into Cologne's Saturday night.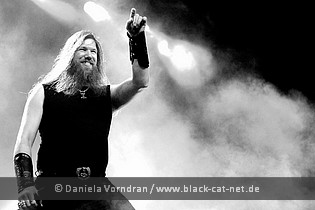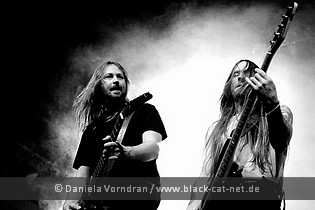 Setlist
01. War of the Gods
02. With Oden On Our Side
03. Destroyer of the Universe
04. Masters of War
05. Live for the Kill
06. Guardians of Asgaard
07. Doom Over Dead Man
08. Slaves of Fear
09. God, His Son and Holy Whore
10. Varyags of Miklagaard
11. For Victory or Death
12. Medley: Victorious March / Gods of War Arise / Death in Fire
---
13. Intro
14. Twilight of the Thunder God
15. Runes to My Memory
16. The Pursuit of Vikings

Rating
Music: 9
Performance: 8
Sound: 8
Light: 9
Total: 8.5 / 10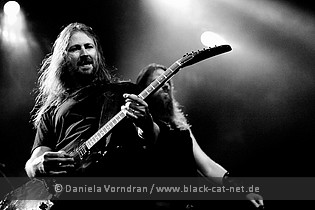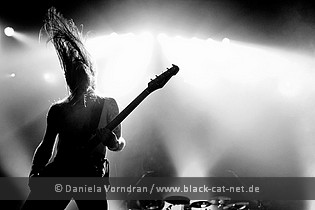 All pictures by Daniela Vorndran (http://www.vorndranphotography.com / http://www.black-cat-net.de/ / www.myspace.com/vorndranphotography / www.facebook.com/blackcatnet)



See also (all categories):