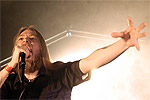 2000 Decibel, Folkets Park, Bengtsfors, Sweden
May 21st, 2005
Defleshed, Amon Amarth, Clawfinger, Unleashed, Tiamat, Wolf, Meshuggah, Therion and more
2000 Decibel is a pretty small festival featuring exclusively Swedish metal bands. It's located in a small town in the deepest forests of Sweden. Spanning only one day it offered 22 bands of various magnitudes on three stages. Even though it wasn't a huge horde that visited the rain-soaked festival this year, the numbers can't have been too bad since there was a fair amount of metalheads running around.
Last year the festival almost didn't make it after extremely low attendance and a resulting debt of 200 000 SEK (over 20 000 Euro), but the festival was saved by a support gala cleverly called 200 000 Decibel which secured the festival's existence for another year. Last week, however, the festival management announced it finally called the quits after years of battling with bad weather and a non-optimal location. The reason for the termination wasn't economical, but rather personal since festival-mastermind Lennart Larsson just doesn't have the energy anymore but he deserves a huge applause from the whole of metal-Sweden for his many years of dedicated work! The festival will be missed by artists and audience alike and hopefully someone else will take over the torch and spawn a new all-Swedish, all-metal festival somewhere next year.

Defleshed
Being first out on the medium stage definitely has its drawbacks, and whilst the rain is negative for the festival, it can actually have a positive effect on the number of people watching the show, since all the audience areas are under roofs. Whether or not people were escaping the typical Swedish weather, or if they actually were there for the band, there was a surprising amount of people showing up for Defleshed's concert. The guys themselves comment on the early hour, claiming this to be "the first gig they had to set their alarm clocks to get up to" and then continued
to uncork a bottle of Martini.
http://www.defleshed.de/

Music
The frequent errors aren't because of the guys themselves, but a consequence of the sound being awful both on- and off stage. The only things that are heard are the drums of Matte Modin (also in Dark Funeral) and a tad of bass. Since the guys can't hear each other play, this leads to a lot of unnecessary off-synch playing. The bad sound can be attributed to them being the first band on the stage, but unfortunately the awful sounds continued to fester the following bands as well… shame!

Performance
Vocalist/bassist Gustaf Jorde proved himself to be a quite photogenic guy and puts on a good show. Guitarist Lars Löfven starts out alright, but soon slips over to looking partly embarrassed and partly amused by all the mistakes in their playing.

Rating
Music: 7
Performance: 6
Sound: 3
Light: 6
Total: 6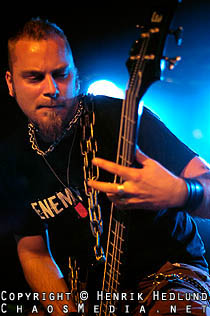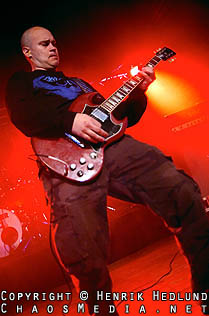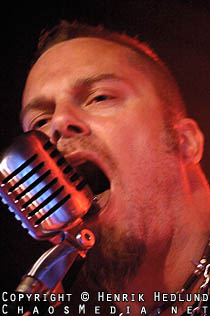 Amon Amarth
While vocalist Johan Hegg claims it rains med (honey wine) in Valhalla, it's only old crappy water that continues to fall during this cold afternoon. This is the third time I'm seeing Amon Amarth in less than half a year (last time being the Inferno festival), which means I kind of knew what to expect. The first time I saw them I thought the show was pretty boring (I actually fell asleep, but I blame the beer more than the band for that), but last time, partly because of the excellent lighting, the performance had drastically improved and now I was curious to see what they had to offer this time.
http://www.amonamarth.com/

Music
I'm not a big fan of this slower music live and there has to be some additional spice present for me to fully enjoy it. At Inferno the lighting brought the show and the music to new heights, but here it's just plain, so there is nothing that can elevate the experience. I'm kind of fond as Amon Amarth as a band, but this rainy afternoon it just doesn't cut it for me…

Performance
Vocalist Johan enters the stage carrying his drinking horn, which is raised in the mandatory toast with the audience, and thus the inferno starts…
The guys are really working the audience oozing with live experience, sporting a lot of hair (and beards) in the air, and at times it's great, but in between those moments it's just monotonous. Playing during daylight never helped anyone, and it ruins a lot of the mood, and whilst the lightning in no way is bad, it's not as great as at Inferno and doesn't add much to the experience.

Rating
Music: 7
Performance: 7
Sound: 8
Light: 7
Total: 7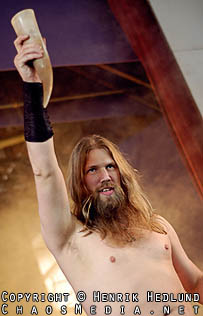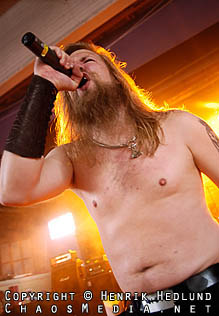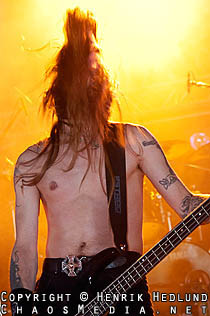 Clawfinger
A couple of years back Clawfinger played at 2000 Decibel and apparently the festival management thought they did a pretty damn good job (actually I know they did, they thought it was the best concert at 2000 Decibel of all times), because when Spiritual Beggars had to cancel, Clawfinger filled their spot.
http://www.clawfinger.se/

Music
Clawfinger haven't released anything new in years (not even since their last visit to Bengtsfors) and there where some disappointed grunts around various internet forums that this would be an uninteresting act. I however, had heard great things of the aforementioned last show so I really looked forward to seeing them this year, and I wasn't disappointed. These guys have been around for long enough to put on a good show whilst sleeping. They were pioneers in their genre when they first started out, and even though there are tons of similar bands today, the old songs are still just as good. The newer stuff has a few gems, but I could live without most of them.

Performance
Clawfinger, together with Wolf, was this festival's unchallenged champion of performances and I enjoyed every second of it. There is a lot of movement on stage, at large attributed to their bassist who jumps around the whole stage and performs a totally crazy helicopter while head banging, which together with his extremely long hair proves a very cool effect. Vocalist Zak Tell also takes part in the craziness and in the beginning of the show he jumps into the crowd and performs a song from there instead. There's also a lot of humour involved, both good and bad. During a couple of the songs they make breaks and perform something totally different, for instance the keyboard tunes from Europe's "The Final Countdown" or some sing-along tunes. The only negative aspect I can think of is when their sampler, Jocke Skog, makes his feeble attempts to be funny when his toilet humour is just ridiculous and out of place. All in all a good and fun show, but the next time they should tape Jocke's mouth shut and everyone else would be much happier.

Rating
Music: 8
Performance: 9
Sound: 8
Light: 7
Total: 8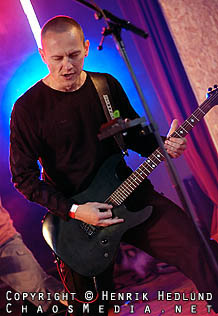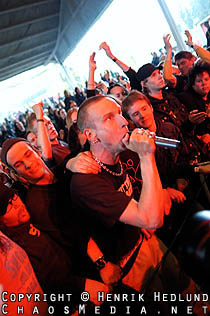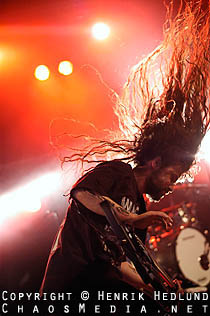 Unleashed
Prior to 2000 Decibel, the old-timers in Unleashed had not done a concert in Sweden in over ten years. That is not to say they have been inactive, they've been touring extensively across Europe, but never quite made it to their home country. But, with a new album under their belts the time was apparently right to greet their Swedish audience…
http://www.unleashed.nu/
Music
During the show we're offered a mix of newer and older songs, and I'm pleased to report that my all-time favourite "To Asgaard We Fly" (of "Across the Open Sea") was among them. However, I can't really say it's a great show musically; it has its moments, but more often than not I find myself bored. The vocals sound different than on record, somehow brighter, and I think I enjoyed the performance more than the music being performed…
Performance
The touring experience really shines though during the concert and vocalist Johnny Hedlund does a good job at keeping the audience interested. During the song "Death Metal Victory" (which, by the way, is quite a nice party tune) he tries to get them to sing along and after a couple of tries succeeds. There's not a whole lot of movement on stage, but they still manage to fill it somehow so that it doesn't feel too big for them.
Rating
Music: 6
Performance: 8
Sound: 8
Light: 7
Total: 7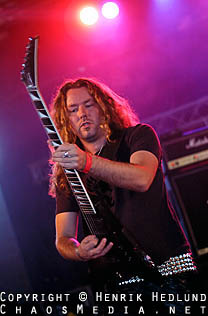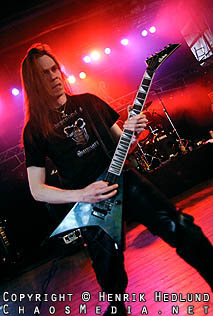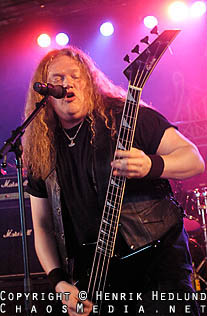 Tiamat
I absolutely love Tiamat, so you can safely assume I'm a bit more forgiving of any flaws in their performance than the next man. Actually I hadn't been a huge fan until just a couple of weeks before the festival and had only heard a few songs which I thought were alright, but nothing more. Due to some co-workers being die-hard fans and the opportunity of seeing them live in the next couple of weeks I thought I'd give them a chance and fell straight into love. Pardon my language, but all their material from the mid-nineties up to now is just fucking brilliant and if you haven't checked them out before; do it!
http://www.churchoftiamat.com/

Music
Johan Edlund's vocals were a bit on the weak side from time to time, but other than that the show was incredibly good. I seldom watch whole concerts at festivals, as I often have to rush to other things, and this is the first show in tears I saw (and enjoyed) each and every second of. They performed songs from their whole career, which isn't necessarily a good thing as I would have preferred them to skip the old tunes from back in '92.

Performance
Since the music isn't exactly upbeat, the performance itself was kind of mellow and calm, something I normally dislike, but this time found quite suitable. Edlund is very charismatic in a subtle way and even though his performance is more minimalist, I can't help to see similarities between him and Samael's front-man, Vorph. They both have this calm hypnotic aura around them that brings a soothing feeling to the audience.
The lighting was alright, but didn't exactly give the extra edge to the moody music which would have brought another dimension to the experience.

Rating
Music: 9
Performance: 8
Sound: 8
Light: 7
Total: 8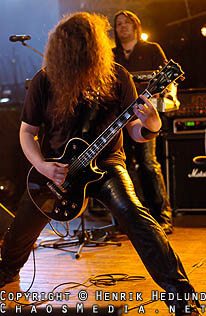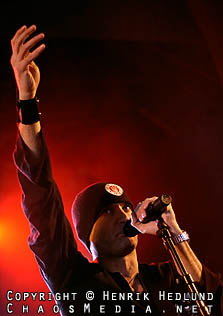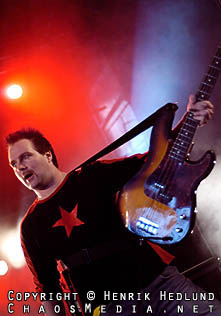 Wolf
If you're a fan of eighties heavy metal, you must have heard (of) Wolf. Their last album, "Evil star", is highly recommended and it almost brings a nostalgic tear to my eyes. They played at 2000 Decibel last year as well, but this time they stepped down one size and performed on the medium stage.
http://www.wolf.nu/

Music
Apparently vocalist Nick Olsson did something to his voice while touring Germany, so Kristoffer Göbel from Falconer had to step up and try to fill his shoes, but Nick was still part of the show playing guitar. Kristoffer did a good job and even though he had a lyrics sheet available, it was in no way disturbing and personally I think he did a better job here, than when he performed with Falconer earlier the same day. The focus of a Wolf show isn't the music, although it's as tight as the best of them, but the performance is really where they prove to be a little gem…

Performance
The performance of Wolf is just great and very eighties flavoured, just the way it's supposed to be. The guys are hardly ever standing still and on the fairly small stage, they're almost bumping into each other during their thrashing around. They're also huge posers; posing both for the photographers (it's almost impossible to get a natural shot without them posing for the camera) and the audience. All in all it's a real fun experience and I find myself leaving the place with a smile around my lips. If you ever have the opportunity to see a Wolf show, even though you've never heard them, I highly recommend you to take that chance; it's worth it!

Rating
Music: 8
Performance: 9
Sound: 7
Light: 7
Total: 8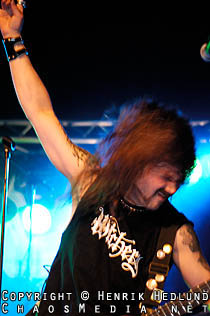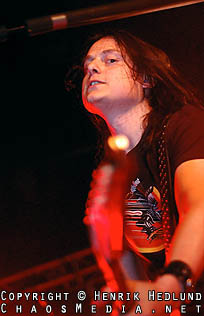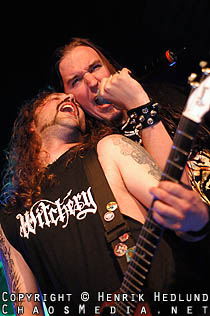 Meshuggah
The best way I've found to describe Meshuggah is that its machinery that delivers a very high quality output. High quality is a keyword here, because "good" is a matter of personal taste, but the quality is undeniable. Personally I recognize the excellent musicianship, but I can't really say I enjoy the music, but I know it would be wrong of me to call it "bad".
http://www.meshuggah.net/

Music
As I said, I can't really say I enjoy Meshuggah music very much. It's good once in a while when your spine needs a good kicking' from some raw aggression, but then I'd much rather listen to it on record than live. However, they're an extremely reliable live-act. I've seen them live three times and they've always delivered with extreme precision!

Performance
This is the first Meshuggah show I've seen when the lighting has been totally to their advantage and the otherwise dark stage totally drowned in red and yellow brings almost an eerie feeling to the performance. The string-benders of the band do their thing with a lot of head banging and some shuffling around the stage, which normally isn't that exciting, but in this light it's almost like hypnotic theatralics. Vocalist Jens does an outstanding job as always, towering above the audience and robotically moving around against the foggy backlight. Come to think of it, his motions almost remind me of the ones of a crab.
To sum up: technical brilliance, aggression, love it or hate it, if you like the music you'll love their live-show!

Rating
Music: 7
Performance: 7
Sound: 8
Light: 9
Total: 8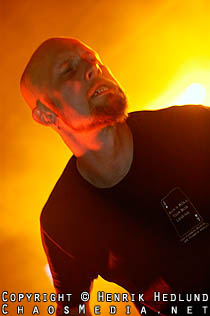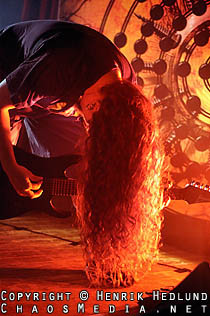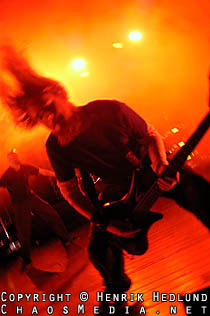 Therion
Therion's first "real" operatic album, "Theli ", really opened my eyes for this band, but after the follow-up, "Vovin," I lost interest. Personally I felt like they didn't provide anything new anymore and regurgitated the same old stuff over and over again.
http://www.megatherion.com/

Music
With that in mind I didn't expect much from this show, quite the contrary; I thought I would be boring. But, as many times before, I was wrong… I can't really decide if I like the new heavy metal styled male vocals or not, but at what he does, he is really good. Obviously there's no huge choir with them on stage, only one female vocalist together with a backup choir consisting of two males and one additional female. Guitarist and general Therion-mastermind, Christofer Johnsson, is also called in for vocalist duties on some songs requiring some growls. Even though the general impression of the show was good, one thing would have made it even better. At the moment I'm writing this, I can't actually recall which song it was, but they played a cover and if they had replaced that cover with the one they have made of Abba's "Summernight City", their rating would have been knocked up a notch.

Performance
Headlining this cold Swedish evening has its drawbacks. Just after the first song the cold weather wreaked havoc upon the drum skins and a tech had to be called in to tune them, but the show was soon on the road again… The show was pretty much what one would expect from this spectacle. The metal part of the musicians ran around and did their thing, whilst the choir people pretty much stood there. The background choir left the stage during the parts where they weren't needed, most likely to warm themselves backstage. The lighting was good, albeit a bit repetitive and boring.
As a side note I can also report that those bastards almost parked us in at the hotel with their minivans… Shame on them! ;-)

Rating
Music: 8
Performance: 8
Sound: 9
Light: 7
Total: 8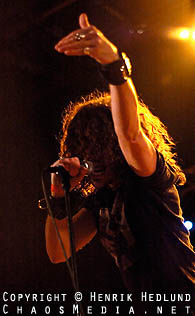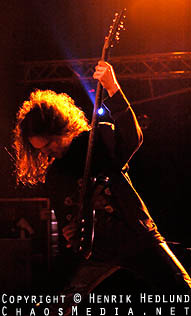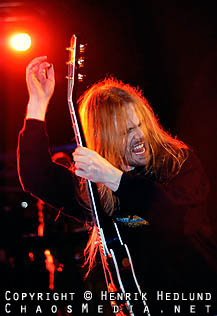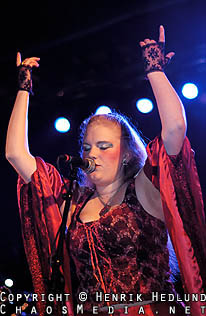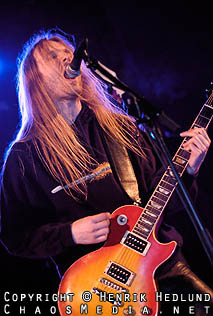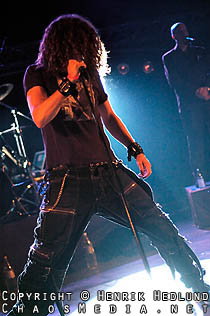 More articles about Therion
Concert Review - Tilburg 2005
Concert Review - Oberhausen 2004
Interview - December 2004

More articles about Amon Amarth

Concert Review - Oslo 2005
See also (all categories):