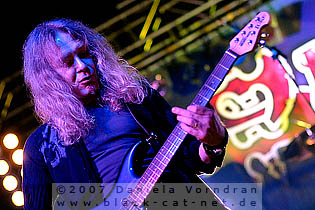 Live-Music-Hall, Cologne, Germany
13th March 2007
Saxon, Masterplan, Rose Tattoo


One of Britain's biggest metal bands have released a new album on 2nd March. I'm talking about SAXON and the album is called 'The Inner Sanctum'. So it's also time for a new tour on which they are supported by ROSE TATTOO and MASTERPLAN. SAXON can join the hall of fame with BLACK SABBATH, IRON MAIDEN or JUDAS PRIEST, so you can be sure you will get the finest of a rock show when you want to see them.
Rose Tattoo

It was the year of 1976, as Peter Wells, former bass player of the Sydney band, Infamous Buffalo, went on the search for partners to start an aggressive new Street Rock´n`Roll band. The only condition: All members had to have tattoos, short hair and the same clothing style. At the same time in Melbourne there was a singer by the name of Angry Anderson, whose voice reminded you of a young Rod Stewart. Anderson met with Wells and the chemistry between them hit off straight away. With a blues-rock type sound, which reminded of the Stones and Faces, ROSE TATTOO performed their first gig on the evening of New Years Day in 1976 and shortly thereafter signed their first deal with Albert Productions, the firm known as the Australian Hard Rock label where bands such as AC/DC and the Angels had also found their home. The in-house producers of the firm were the legendary Harry Vanda and George Young who had made their name with the Easybeats. The first TATTOO single 'Bad Boy for Love', hit the radio like a rocket. In 1978 followed the self titled debut album, that in the meantime has been re-named Rock'n'Roll Outlaws.
In the early years of their career, the band spent all of their time on the road until 1981 where they released their second album 'Assault and Battery'. ROSE TATTOO had meanwhile developed into a form of Rock'n'Roll-Samurai: Angry regularly lost consciousness on stage or just stood whilst covered in blood and emotionally overwhelmed in front of the crowd. Fitting to this the band released their third album 'Scarred for Life' (1982), where the title spoke more than a thousand words. After tours with AEROSMITH and ZZ TOP, in 1983 everything came to a halt. It was only ten years later that they got back together when their faithful fans GUNS N'ROSES, who had in the meantime covered 'Nice Boys', asked them to re-form and open their 1993 Australian tour.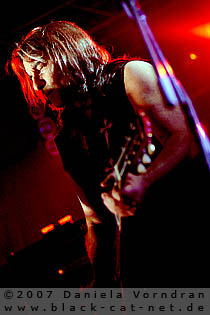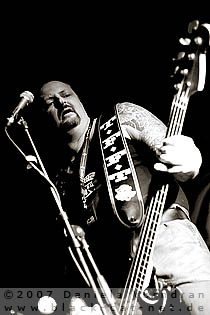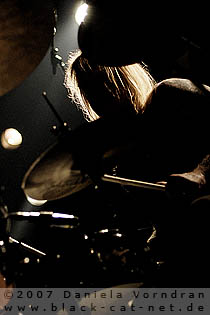 On the evening before their performance at Calder Park in Melbourne Slash and Duff got together on stage with Anderson & Co. In 1999 ROSE TATTOO finally presented themselves in Europe, playing several spectacular concerts under the motto "Songs like a Hurricane 3" (feat. Boehse Onkelz, Saxon & Danzig). Something similar happened just a year later when the band made an appearance at the Wacken Open Air festival in 2000 showing the many young metal heads how real Rock´n´Roll is forget. The musicians used the excellent atmosphere with over 25,000 Wacken fans to record songs for their live album '25 To Life'. Finally they returned to Australia to compose the material for the highly praised album 'Pain' which was then released in 2002. Due to the heavy illness of Peter Wells, further plans fort he band were put on ice, Wells passed away in March 2006, in October 2006, the former Bass player of the band Ian Rilen also lost his life. The current line-up is Angry Anderson (vocals), Mick Cocks (guitar), Steve King (bass), Paul DeMarco (drums) and Dai Pritchard (slide guitar).
http://www.rosetattoo.com.au/
/
http://www.myspace.com/rosetattoo


Music

Pete Wells once asked with amusement: "What else can you do in Australia but write rock songs? People always think everything's so exciting over here, when in fact it's dead boring." It was a good choice and the guys can look back on such a long career, which shows they have chosen the right way. They sound dirty, they are heavy and they are powerful back with a new album called 'Blood Brothers' which they presented as support for SAXON. They started with the new song 'Man About Town'. But they also played classics like 'Black Eyed Bruiser' and 'Nice Boys Don't Play Rock'n'Roll'. Not a boring minute, just pure Rock'n'Roll fun!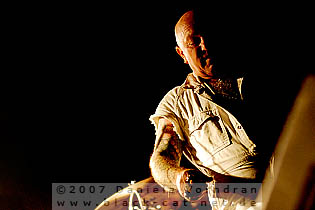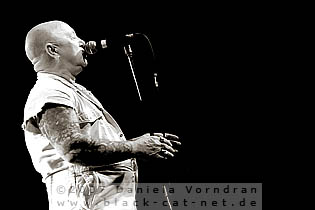 Performance

The smallest person on stage had the most powerful voice: Angry Anderson. The guys showed the people how to rock directly. Between the songs, Angry kept on talking to the audience and was telling little stories. He also remembered brothers and sisters who had gone already and later he drank with the brothers and sisters who were there with them that evening. They rocked the house and hopefully their old fellows were watching.
Rating

Music: 8
Performance: 8
Sound: 7
Light: 7
Total: 7.7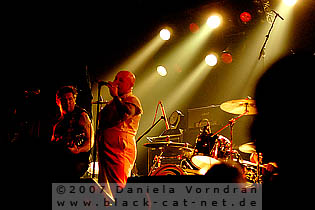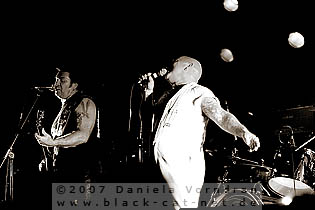 Masterplan
There have been reports about a number of personnel changes, causing concern among their international fan community that MASTERPLAN mark 2007 may not continue where the exceptional standard of their first two releases had left off. But rest assured - these worries have turned out to be entirely unfounded. Now that the veil of speculation and rumours has been lifted, MASTERPLAN are about to present an album that will elicit unanimous comments from connoisseurs of the scene: absolutely terrific from the first to the final note! Not only have MASTERPLAN effortlessly reconfirmed the compositional class of their two predecessor albums, 'Masterplan' (2003) and 'Aeronautics' (2005), they have even upped the ante. MK II, the third offering by the band surrounding former HELLOWEEN axe man Roland Grapow, features twelve haunting tracks that are a credit to the melodic metal genre. The guitarist, composer and producer from Hamburg has turned over a new leaf in his own musical history with his reformed group, coming up with a recording full of breathtaking songs, marked by an absorbing dynamism and brimming with enthusiasm. Although this kind of comment may sound like a contradiction in view of the recent line-up changes: never before have had MASTERPLAN sounded as tight and homogeneous as they do on MK II! The current line-up is Mike DiMeo (vocals - ex-Riot), Roland Grapow (guitars - ex-Helloween), Jan S. Eckert (bass - ex-Iron Savior), Mike Terrana (drums - Rage) and Axel Mackenrott (keyboards).
http://www.master-plan.net/
/
http://www.myspace.com/masterplanmetal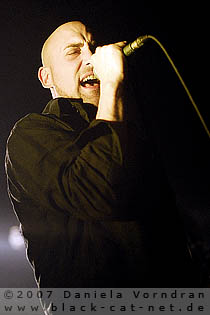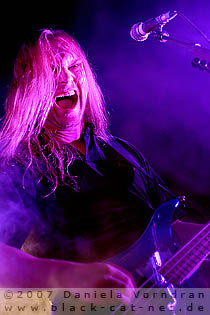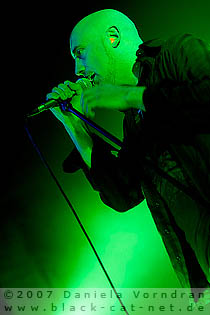 Music

With a new formation and a new album MASTERPLAN are back! They spread the metal over Cologne by starting with the fast 'Spirit Never Dies'. Followed by two new songs 'I Can Fly' and 'Lost and gone'. Because of technical problems they had to stop their set for a few minutes. Drummer Mike Terrana took the opportunity to let us enjoy a simply great drum solo; so powerful it was amazing. The audience showed their enthusiasm. It was also Mike's birthday and we were wishing him all the best to his "25th" like Mike DiMeo said. After the little break they continued with 'Crystal Night'. Hard riffs and a great bass! With 'Heroes' the set had found its end.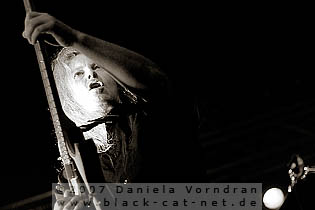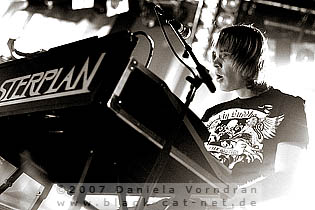 Performance

It seemed to me the hardest part on stage had definitely drummer Mike Terrana. How he was beating on his drums was so amazing. Unfortunately new singer Mike DiMeo looked most of the time like he was totally bored and wished the set was over better sooner than later. Energy and enthusiasm were missing. That was really a shame because he has a great voice. Maybe be has watched the performance of SAXON's singer Biff Byford. Biff is maybe a bit older, but this man kicked ass and knew how to rock. Nevertheless all in all MASTERPLAN gave us a good show.
Rating

Music: 8
Performance: 6
Sound: 7
Light: 7
Total: 7.1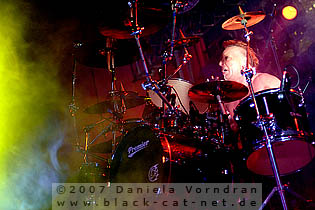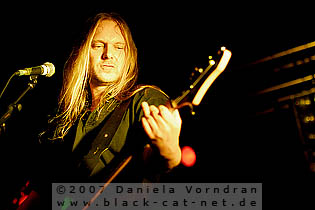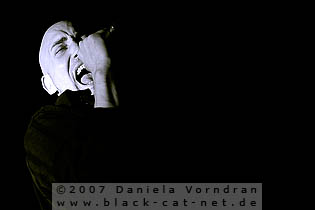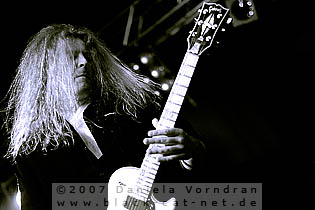 Saxon
Somewhere around South Yorkshire, UK, there was a band that started life as SOB during 1976 with founding members Graham Oliver and Steve Dawson. This band joined forces with another local band, COAST, featuring Biff Byford on vocals and Paul Quinn on guitar. The two bands then finalised with a line-up comprising of the then 26 year old Graham 'Oly' Oliver, Steve 'Dobby' Dawson (27), Paul 'Blute' Quinn (26), Pete 'Frank' Gill (27) and Peter 'Biff' Byford (27). The name of the band was SON OF A BITCH. That name was dropped a few years later and the band re-christened itself SAXON. They were at this time playing the usual rock clubs and concert gigs supporting THE IAN GILLAN BAND and HEAVY METAL KIDS, amongst others, playing all their own material. Demo tapes were recorded at Tapestry Studios, with producer John Verity (Ex. ARGENT singer/guitarist). They hawked these round the usual record companies only to be ignored as the New-wave was at its height at this time. After a few months the band finally gained a favourable reaction from EMI man Peter Hinton. He had come up to Barnsley to see the band play at the town's Civic Hall. He was very impressed and recommended SAXON to Claude Carrere as candidates for his new label on the British scene, Carrere Records. Claude decided to offer them a contract, after hearing the band's demo tapes. The current line-up is Doug Scarratt (guitar), Nigel Glockler (drums), Biff Byford (vocals), Paul Quinn (guitar) and Nibbs Carter (bass).
http://www.saxon747.com
/
http://www.myspace.com/saxon747band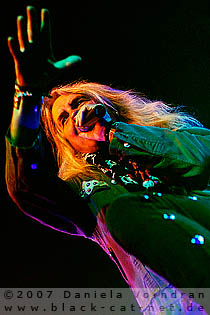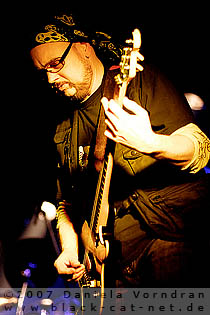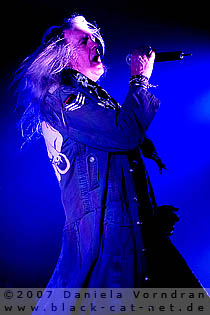 Music

Start was the first song of the new album 'State Of Grace', followed by 'Let me feel your Power'. It was the first gig of the German concerts, so we could enjoy still the whole energy the band had. New single 'If I Was You' was next. With 'Requiem (We Will Remember)' from 1991 they sang a song for their friends who had gone already to the other side. 'To Hell and Back' was played and it will be the title track of the DVD SAXON want to release, they just didn't know when this will be - maybe in 10 years, as they stated with a smile. Next single release shall be 'I've Got to Rock (to Stay Alive)'. After the first break they returned with 'Atila the Hun'. 'Dallas 1pm'/ '747 (Strangers in the Night)'/'And the Band Played On' became a little medley. Don't think that was the end. After 'Crusader' Biff warned us that they just warmed up and will still play 2-3 songs. In the end Biff asked for other requests we have and tore the setlist into thousand pieces, put them in his mouth and you could still understand him when he said the title of the next track 'Wheels of Steel'. It seemed nothing could stop SAXON that evening and they still played 'Denim and Leather'/'Ashes to Ashes' as one song before they really left the stage.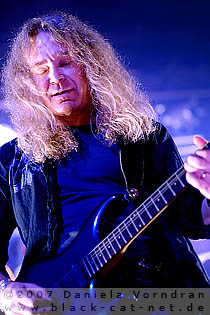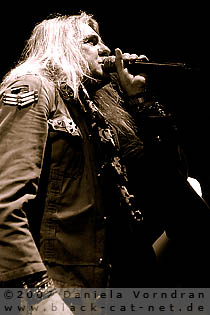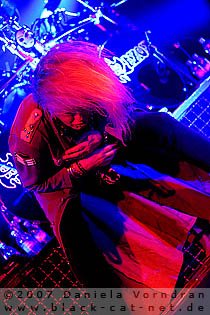 Performance

The audience was shouting already for SAXON before they were even on stage. When the intro began the stage got a beautiful blue light. As the guys came on stage everybody was ready to rock. Singer Biff Byford was wearing a long, kind of army coat with the German flag on his arm and skulls on his back. Biff thought his hair looked like shit, but hey this is metal, just mosh and everything is fine! Biff said they haven't played in Cologne for a while and asked us to keep on screaming. He was worrying if it was loud enough. We could just agree when he screamed: "It's never fucking loud enough man"!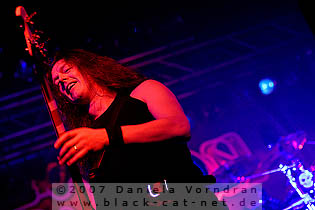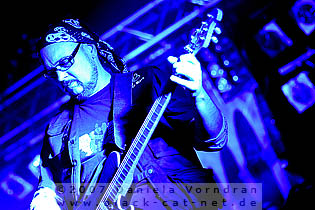 With 'Red Star Falling' the stage turned into great red light. Nibbs Carter was moshing endlessly and it didn't take long until he got his shirt off. But as we got to know now from Biff, sweat is good for you: You can drink it, you can inject it, and you can do everything with it. He also decided that Germany is the capital of the universe. The reactions were that everyone was shouting SAXON, SAXON, SAXON…. You could see that the band enjoyed playing and gave that energy back to the audience. SAXON will also play at the Wacken festival this year, so watch out for them and don't stop moshing! You are never too old to rock!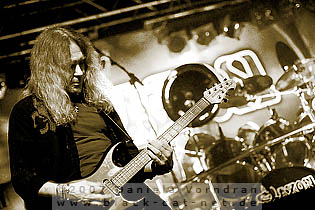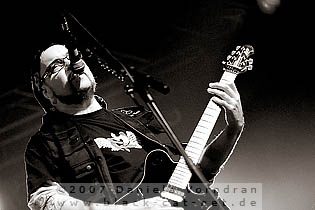 Setlist

01. State Of Grace
02. Let Me Feel Your Power
03. If I Was You
04. Killing Ground
05. Witchfinder General
06. White Great Buffalo
07. Requiem (We Will Remember)
08. Power & The Glory
09. Travellers in Time
10. Forever Free
11. Red Star Falling
12. Strong Arm Of The Law
13. To Hell And Back Again
14. I've Got To Rock (To Stay Alive)
-----------------------------
15. Atila The Hun
16. Dallas 1pm/ 747 (Strangers In The Night)/And The Band Played On
-----------------------------
17. Crusader
18. Princess Of The Night
-----------------------------
19. Wheels Of Steel
20. Denim And Leather/Ashes To Ashes

Rating

Music: 9
Performance: 9
Light: 8
Sound: 7
Total: 8.6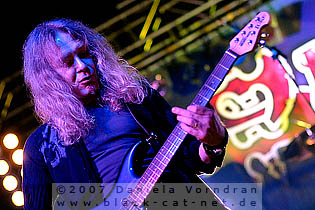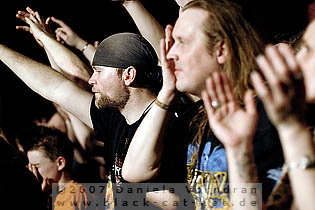 All pictures by Daniela Vorndran (
http://www.black-cat-net.de/
/
http://www.vorndranphotography.com/
)
{jos_sb_discuss:17}
See also (all categories):