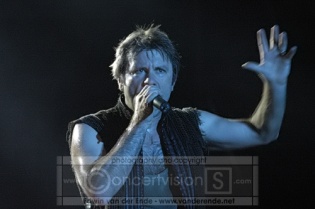 Sportspark Boshoven, Weert, the Netherlands
July 2nd and 3rd 2005
Marillion, Uriah Heep, Iron Maiden, Porcupine Tree, Y&T, My Dying Bride, Within Temptation, Overkill, Masterplan, Mastodon, In Extremo, Dragon Force, SQY Rocking Team
Bospop 2005 was a great success for chairman Peter Verkennis. With the 25th anniversary he received a recommendation in the Order of Orange-Nassau for his work at the Bospop festival and the music centre "De Bosuil" . With a good variety of rock/metal and popular music from the early days. It was the best 25th anniversary ever! With many successes from the past and present, we have seen most of the shows with a few exceptions. Bospop 2005 has been a festival of contradictions with dark clouds on Saturday and a burning sun on Sunday. I gained even more respect for bands like Iron Maiden and Uriah Heep who have been with us for so long and still kick ass! A weekend for all ages and with great spectacle!
For us Bospop 2005 starts at july 2nd at 16:45 with de band Uriah Heep.

Uriah Heep
After thirty five years this band still rocks and brings us as said by front man Bernie Shaw: "Thirty five years of Uriah Heep in only 45 to 60 minutes, we'd rather play 2 hrs!" Considered to be founders of Hard Rock, I was very curious to see this band on stage. And was I in for a surprise.
Music
Uriah Heep had it's 35th anniversary this year! And has gathered quite a large following in the Netherlands. With great music, starting with a native American intro we are bound to hear the best of Uriah Heep. Musically no comments about Uriah, with a great sound they rock away. Playing songs like 'Blood Red Roses' and 'So Tired' they bring us the classics! Lead singer Bernie Shaw has a surprisingly good voice and a unique sound. The music is old fashioned rock music and has great guitar solo's and magnificent intermezzos.
Performance
A bunch of old school rockers are set off for a terrific show! Front man Bernie Shaw is a very, very, active man! He has a great connection with the audience and pulls them right into the show. With the many concerts they have given in the Netherlands the have many fans present today and we could see the appreciation glowing of the band's faces! Guitarist Mick Box has a great connection with the audience as well, it looks like he knows them all personally! Moving around the stage this band is very active and uses the stage lights well! Bringing many well known songs the crowd sings along!

Rating
Music 7
Performance 7
Sound 7
Light 7
Total 7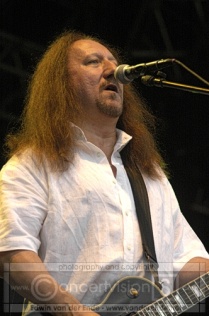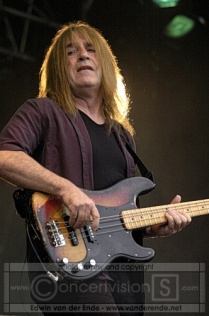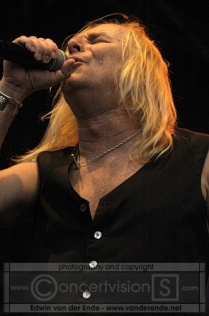 Marillion
A band with a great history is Marillion. I was hoping they would play some of their older work on Bospop. Unfortunately for me they played their newest songs. But It was great! A bit of a shift in genre, not really rock music, more popular tunes. Yet it was a blast to see them play.
Music

With songs as 'Beautiful', 'Damage' and 'Man Of a Thousand Faces' they bring us some of their best work. The band is giving us all they have and more with a great sound they conquer the audience. Sometimes the sound is blown away by the wind but that doesn't effect it too much. Seeing them for the first time, I am quite surprised by their sound while I only know their older work. 'Man Of a Thousand Faces' it has the sounds of a true feel good song, even though the lyrics are very deep. "Cry me a river and call it rock and roll!"
Performance

Since the Saturday on Bospop was planned with the Live8 day, Steve Hogarth takes a moment for an awareness speech! Right before the song 'Don't Hurt Yourself' He told us that: "it would be stupid in the extreme to not only look after the planet, but as well look after each other." And he asked us to grab our mobiles and send a SMS to the live8 list! As a true Brit the gin is flowing rich and Steve tried to share it with the audience, but the bottle was confiscated by the security. Being pleasantly insane on stage he is great to look at. Moving around like a little maniac (severe energy issues I guess) and with the use of the stage and a great timed confetti bang during the last show it was a perfect set! By the end I didn't even mind that they hadn't played 'Kayleigh' and I hope to see them again one day!
Rating
Music 7
Performance 8
Sound 7
Light 7
Total 7 (7,3)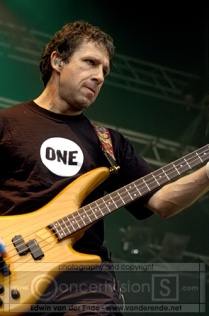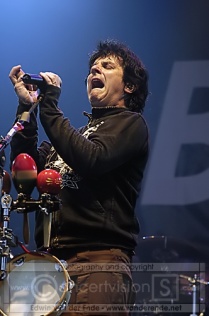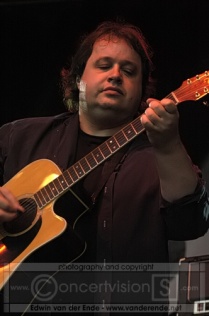 SQY Rocking Team

Opening act for today on the main stage is SQY Rocking Team, formerly known as Sequoyah, this Rocking Team has been support act for huge bands like Europe and Status Quo and after today I absolutely understand why. On stage it breathes a unique atmosphere. We are set for some good old fashioned rock and roll!
Music
SQY Rocking Team is a brilliant wakeup call for all of the festival. With sneering guitars and a "Full Throttle" bass line we got right into the rocking mood. With a small army of guitars and massive drums, I can't tell you anything more than that the music was excellent. Bringing us the songs 'Tonight' 'Heavy Metal Thunder Baby' and 'No Guts', it all was complete, the sound was good and I was actually able to hear and understand the lyrics. Which is quite refreshing on a festival. Where most of the time the sound is imbalanced. Harald's singing was excellent, loud and clear. Carrying out every single word as it was supposed to be. Musically..I have nothing more to say than: It was excellent!
Performance
On stage with a huge backdrop of their new album "Full Throttle" the band gave a show of which I almost regretted they had to open the day for us. The use of the stage lights was great but because of the daylight it disappeared to the background. Celebrating their 12,5 years anniversary on this exact day, it was an absolute celebration to see these guys rock! Given the time of day I must say that 'stage turn on' Harald really dragged you into the mood, expressing every feel of the songs, teasing the crowd with moves, playing with the mike stand, throwing it up in the air (and missed the catch!) having aqua and beer showers on stage, throwing it into the crowd. Who loved it! And some real great guitar work as well. With many different guitars even the guitar fan had a great view.
If you want to know what I am talking about you just should go see them. They are so energetic that it crosses over to the crowd. Luckily I get to see them again on the Walhalla Festival in Deurne, The Netherlands on the 24th of this month.
Setlist
01. No Guts
02. Unleash me
03. Struggle
04. Tonight's the night
05. Heavy Metal Thunder Baby
06. Southern Moon
07. From Soho down to Hollywood
08. Daisy Baby
09. I want you down
10. Unbroken (Hotel Baby) a Monster Magnet song
11. No Queda nada en la manjana

Rating
Music 8
Performance 8
Sound 8
Light 7
Total 8 (7.7)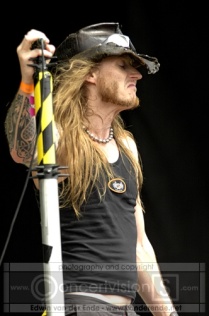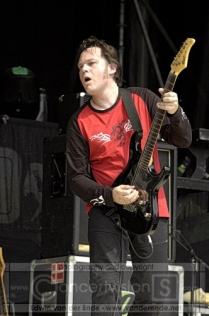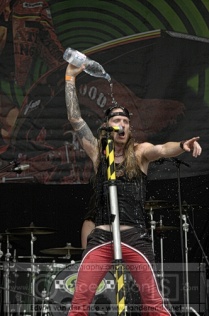 Dragon Force
Being a power metal band in the extreme I was in for a pleasant surprise! This multicultural band with members from all over the world, has created the perfect mix of power-, thrash-, speed-metal combined with classical influences!
Music
A groundbreaking intro starts off this spectacular energy! So many brilliant guitar riffs and bass lines accompanied by great singing it dazzled me! With powerful lyrics and melody lines I have instantly become a new fan! Even though the riffs and bass lines are powerful, and the sound is loud it is quite easy to listen to. The sound is energetic and it takes you to various places in any one's dream! This is bound to go full throttle the whole gig and the crowd loves it. Playing songs like 'Fury', 'Black Winter Night', Soldiers Of The Wasteland', 'White Spirit' and 'Valley Of The Damned', the band brings us such power in their music and such great energy. You would have to see it to believe it!

Performance
Having double bass drums (like almost any band present today) two bass players and a marvellous guitarist. The stage is quite filled, add a keyboard player and a singer and you are bound to see a great spectacle. Lead singer ZP Theart is an active man with absolutely big hair! Running around on stage he pulls in the crowd, wearing a wig someone threw on stage he adds humour to this show! Constantly pulling the crowd in, you have to keep looking at the stage to see what he will do next. And then, the two bass players! They keep jumping off a stage element simultaneously. This band has so much energy you don't care to watch at the stage lights or anything else just listen to them and watch the band. That is more than satisfactory! Great respect for this band which started in 1999!

Rating
Music 8
Performance 8
Sound 8
Light 7
Total 8 (7,9)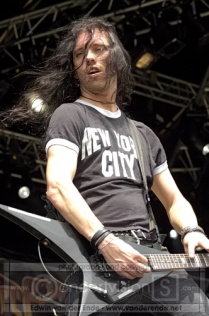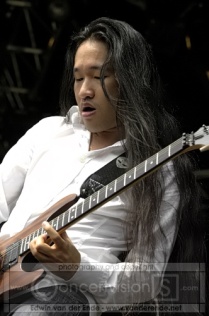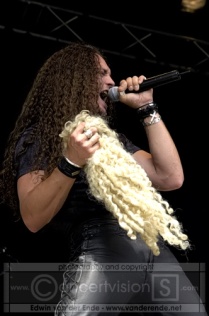 In Extremo
In Extremo has just released their new album 'Mein Rasend Herz'. With this new album they seem to have taken on new names, which makes it fun to let you enjoy the list of their line up:

Das letzte Einhorn (Last Unicorn) (Vocals, Harp and Cyster)
Der Lange (The Tall) (Guitar)
Die Lutter (Lute) (Bass)
Der Morgenstern (Morningstar) (Drums, Percussion, Horse)
Dr. Pymonte (Bagpipes, Flute, Harp)
Flex der Biegsame (The Flexible) (Bagpipes, Flute)
Yellow Pfeiffer (Piper) (Bagpipes, Flute, Nyckelharpe)

The 'Folkmetal' band In Extremo might seem to be the odd one out at this festival, to those who don't know them but the force of this band is not to be underestimated.
Music
There is no need for 'Micher' to grunt for his voice is raw enough as it is. In Extremo stands out because of their exceptional instruments such as a harp, bag pipes, DRAAILIER and some I have never even seen or heard of before. This all is supported by some heavy or even thundering drums and electric guitars, which are of course the base of most metal bands. Besides a heavy and folk sound they just have a sound which grabs your attention and takes you with them. For instance 'The Wind, The Wind' brought much joy and movement to the audience and the refrain was so easy and catching that all could sing along easily. "Several band members" join 'micher often to support with backing vocals which provides a great choir of warm male voices. Especially because it was Sunday they performed their version of 'Ave Maria. It was sung from the heart with intense purity, sometimes 'micher' was almost screaming it to the heavens above. Together with the lovely tunes from the harp this truly was a blessed song.
Performance
In Extremo filled the stage, not just with all instruments and for instance the large construction in which their drummer was playing and all band members but this was due to the fact that all members were moving around, making contact with the audience. They had fun amongst themselves but they were really performing for the audience. Speaking of moving around the stage, the ministry of funny walks (a familiar ministry to all Monty Python fans out there) could have picked up some new moves here. The band wore new outfits, which had some more modern colours such as bright yellow. 'as letzte Einhorn' had an Egyptian eye on the back of his jacket, so even when he wasn't facing the audience he was still staring at you. During several songs the audience was asked to clap along, and they joined in happily, there was a great atmosphere during the show.
The lights did support the show, adding extra energy, and there even were some fireworks lighting the stage, during 'Der Wind, der Wind' bright sparkles flew out of the stage. All in all it was a fun and energetic show.
Rating
Music 7
Performance 8
Sound 7
Light 7
Total 7 (7,3)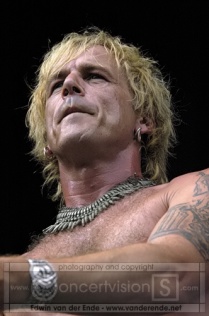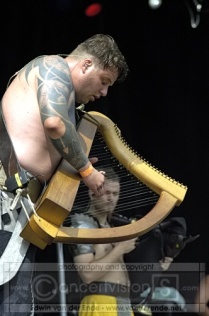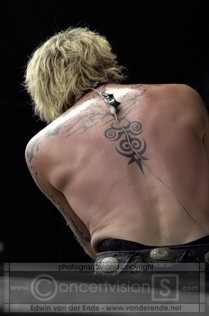 Mastodon


Going for the gold, Mastodon played loud! Not only is their music loud, but unfortunately the sound itself was very loud. The sound engineers didn't do the best job! I don't mind listening to loud music, or else I would not have become a rep. For this webzine. But for the quality of my review it is best that sound engineers do their jobs well. Anyway, knowing Mastodon they also play Full Throttle like all the bands I had seen this weekend!
Music

The band starts with a great intro, which crosses into a full throttle sound. They play like maniacs but still it sounds cool and even mellow sometimes. With much guitar work and of course the appropriate solo's. They get the tent going!
Sound remains loud all through the gig. Playing super Bass lines, with super transitions they do their job well!

Performance

Giving the audience what they want, like playing hit songs 'March Of The Fire Ants' and 'Where Strides The Behemoth' exchanged with the newer works like 'Iron Tusk'. One thing that I noticed is that they don't like to BS but just play. Which sometimes made it a bit boring to see, but better to hear (at least we could focus on the music). Stage lights were used well, maybe a bit too much strobes. But it suits the music. It was a great performance besides the technical issues by the sound engineers. Better yet I hope to see them on a main stage soon for a better chance to review them again!

Rating

Music
8

Performance
8

Sound
7

Light
7
Total:
7 (7.5)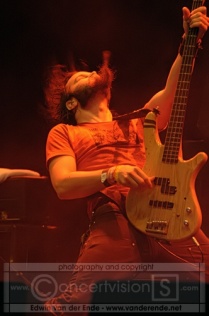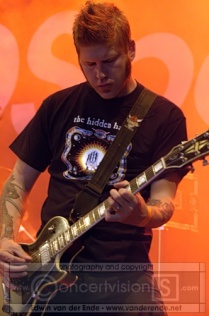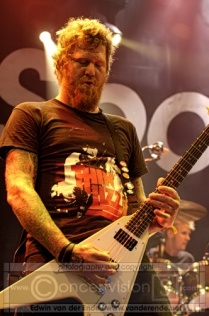 Masterplan


Not knowing what to expect we line up for Masterplan, I have seen many bands who started so long ago that unfortunately I did not grew up with them. But appearing on the metal day of Bospop I should expect a lot. Even though Masterplan wasn't formed until 2001, the band breathes the atmosphere of late 70's/80's Rock-band.
With four albums on the market, they bring us true old-school rock with various influences.
Music
With brilliant bass lines and an absolute great voice of the singer Jorn Lande, they know to persuade me during the gig. It's feel good rock with a touch of New Wave British Heavy Metal. During this performance they play a song of their new album 'Wounds' and it sounded good. The part singing was excellent!
Musically there were actually not much comments or critiques, technically the sound had a rough start but was pulled together later.

Performance
The show is quite basic, not much action on stage except for the singer Jorn Lande, who moves around a lot and sweeps up the crowd. Drummer Uli Kusch puts up a great show as well. On stage is a smoke machine and it is used well, it brings out the stage lights all though it's still daytime! During long intro's or intermezzo's Jorn pulls in the crowd. Being very active on stage we had something to look at, although I must comment that the rest of the band did not move a lot. Overall it was a great show!

Rating
Music
7
Performance
7
Sound
7
Light
7
Total 7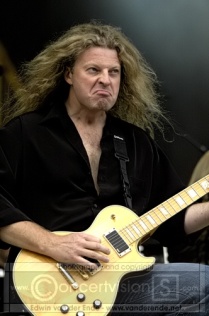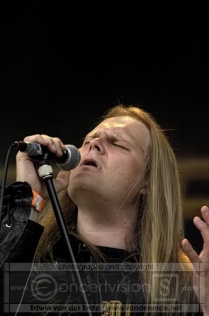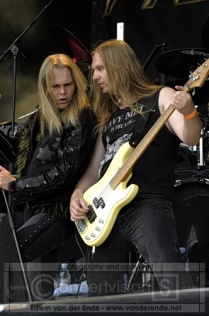 Overkill


Being in the tent you would get soaked even though you were not in the middle of any rain. This absolutely hot day in a tent! With Music that screams for a pit!
Standing in the back with a great view on stage Roos and I await for Overkill to start.
Music

With a hoarse voice yet with many high tones, the singer reminds me of the older rock bands of whom the singers have a similar voice. At first it sounded like AC/DC's singer, later I actually couldn't compare! With their absolute own sound they know how to persuade the crowd into throwing a great party! Not playing the same tempo all the time they know to keep this audience interested in this steamy tent! With great guitar solo's, bass solo's! They were well received by the audience.

Performance

What surprised me is the great use of lights! Using the strobes on the bass lines and keeping the colours dark and sinister, a lot of dark green and red! And yes they even had a backdrop! The singer Bobby Elsworth is a true stageman and knows how to play the crowd. And when he actually tries to speak a little Dutch, the crowd goes nuts! Having brilliant interactions between the crowd and themselves it was a great show! The music was good and the atmosphere brilliant even though it was hot!

Rating

Music
8
Performance
8
Sound
7
Light
7
Total
7 (7.5)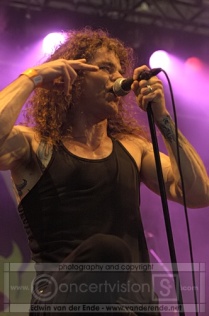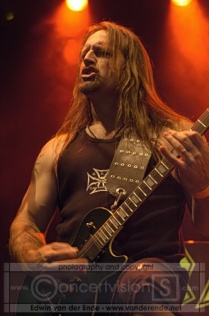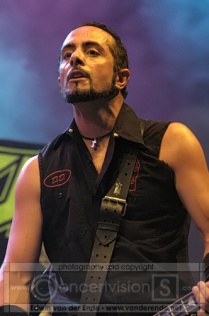 Within Temptation
The Dutch formation Within Temptation has conquered the world with their latest album 'The Silent Force'. Singer and Front lady Sharon den Adel empowers the crowd with her appearance and we are looking forward to see their show. With Stephen back on the stage (Congrats!) the band was complete!
Known for great spectacle and great interactions with the crowd and underneath the band this formation brings us many hit songs. Many from the album 'The Silent Force' but also from their former album 'Mother Earth'
Music
The music of Within Temptation is almost enchanting; with powerful bass lines and Sharon's High notes it almost carries you into another dimension. I must say I have seen more powerful performances of Within Temptation. And I don't know if it was done by the sound engineer or that the band was having a small off day. But as the show progressed the music and sound got better and Sharon's high notes became more pure.
Performance
The stage set was a bit petite for Within Temptation's doing, due to the fact they had a huge upcoming show in Spain not all of the props were present, which I regretted because their stage set always looks like a dream. They did bring the always faithful angels and two long banners to fill up the stage and the light technique was as always excellent. Using some pyrotechnics Sharon almost caught fire (again) and she had to wait for the end of one of the songs to be able to move from the left to the right. There was a lack of interaction between the band members and at some point it really looked like they were not having a good day. But for the crowd that didn't spoil the fun and the hit songs were taken in easily by them. Singing a long and enjoying Sharon's activity on stage. Yet again I am looking forward to see them again soon, while I know that they can do great shows!

Setlist
01. See who I Am
02. Jillian
03. Stand My Ground
04. Angels
05. Forsaken
06. Memories
07. Running Up That Hill
08. Caged
09. Mother Earth
10. Deciever of Fools
11. Ice Queen

Rating
Music 7
Performance 6
Sound 7
Light / Pyro 8
Total 7 (7.2)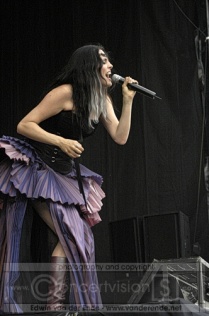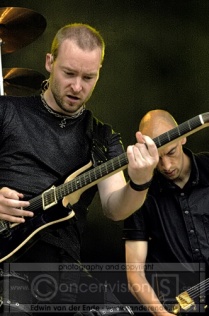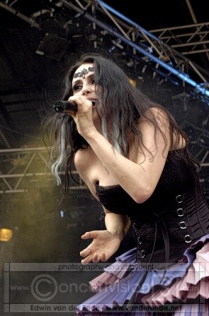 My Dying Bride
After having heard many friends speak about this British doom metal band in nothing but praising words I was very curious how they would be live on stage. Even though the tent was warm and sticky a crowd had gathered to see this performance, and I don't think any of them had regretted doing so.

Music
Aaron Stainthorpe is a multitalented front man he can sing with deep emotion in his voice, he can grunt and he can scream. My Dying Bride provided us with dark atmospheres, a tension in the music which is hardly released, only sometimes in a scream of their front man. The keyboards of Sarah Stanton give the music an extra dimension (at least in the songs in which she takes part). Sometimes the guitars provide high melodic tunes as well. The sound was very well adjusted; all instruments and the vocals were in the right balance. Somehow I had expected this doom to provide slow depressing music, but this music takes you on a wonderful trip of dark and intense dreams filled with an great tension.
Performance
Besides a great singer Aaron is also a wonderful performer. The tension heard in the music is to be seen in his hands and face. He is totally in to his own music and with a spot directed at his face you could see all the emotions passing by throughout the songs. The guitarists were mostly staying at their own spot on the stage, Hamish Glencross (guitar) just disappears behind his curling hair while Ade Jackson (bass) does make some contact with the audience. Aaron does this as well but he can be quite scary, he can take a position at the front of the stage and stare at the audience as if he is looking through each and every one of them. The lights were part of the show, covering Aaron in light blue light while he is half disappearing in smoke, setting just the right dark atmosphere without actually being dark. They have their own light technician with them and that shows!
Rating
Music 8
Performance 8
Sound 7
Light 9
Total 8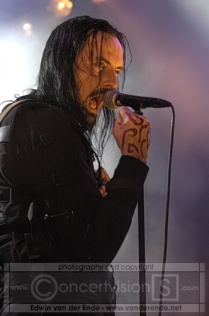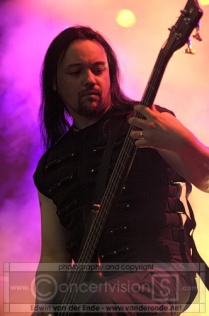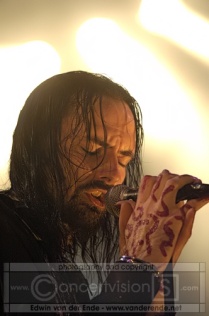 Y&T


Being unable to ignore the fans, they've returned to the stage. For years they were the most requested support act for bands like Ozzy Osbourne, AC/DC, and Motley Crüe. Even though their concerts are not filled with only the greatest hits they did play a few.

Music

Y&T has been with us for so long that taking a peek in their discography will shock your socks off! Of course lead singer and Guitarist Dave Meniketti knows what he's got to do. And by the third song I knew this was going to be a show with many solo's! Although I was very impressed by the drum solo! Quite a mellow pace this band has it took 5 songs to hear an upbeat song. Sound was good besides a few minor technical issues which were resolved during the show!

Performance

What I found a pity is that all of the band members were a bit static on stage. There wasn't much interaction between the band, not even with the audience. They don't use the stage lights much and this tuned the show a bit down. For such a well known band I expected a lot more.

Rating
Music
7
Performance
7
Sound
7
Light
7
Total 7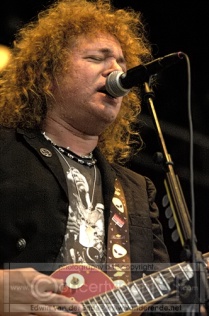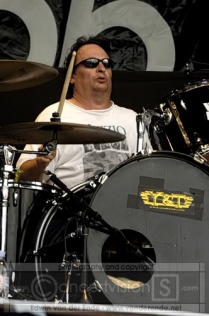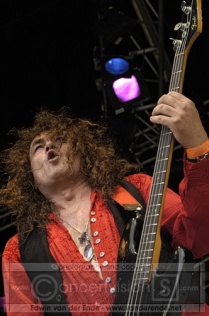 Porcupine Tree
Porcupine Tree normally plays a show of about two hours and with great projections on stage. However that was not possible today, they could only play for an hour and no projections. So they decided to put down a show which was a little more heavy than usual to thus grab the attention of this metal audience and take them into the world of Porcupine Tree. The songs of their new album 'Deadwing' were suitable for this show because these songs, based on the movie script for an unmade movie are some what heavier.

Music
As up front I was not expecting more heavy songs I was pleasantly surprised when entering the tent to hear this heavier sound. If I had to give a description I would say this is easy listening psychedelic music which shakes you up every once in a while with some nice heavy tunes. Mysterious guitar sounds filled the tent, together with the sweet soft voice of Steven Wilson. He sings some wonderful poetic lyrics. Once the sound of an acoustic guitar joined in adding an extra warm sound to the music, each time you think you have heard every part of their music a new feature joins in. They promised to come again next year with a new album and a new tour. I am curious to see what this will bring us.
Performance
Since the projections were missing there was little movement left on the stage. Each musician was in his own world, playing his music. The lights were tuned in to the music for when the music was slow the lights moved slowly as well, but there were huge clouds of smoke blocking my view, which was a pity of course. There was no interaction between the band members and contact with the audience was only scarcely made. This music just seems to be more suitable for a listening session.

Rating
Music 8
Performance 6
Sound 7
Light 7
Total 7 (6,9)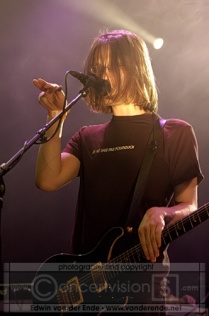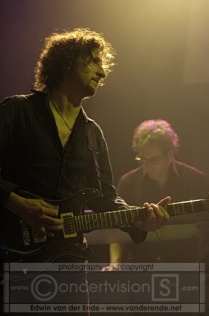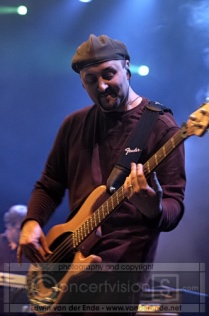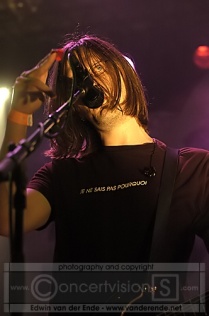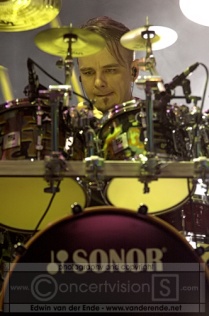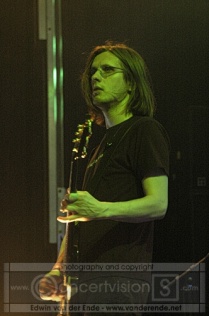 Iron Maiden
One of the most consistent factors in British New Wave Heavy Metal is Iron Maiden, with their great performances they reign the world. Still touring and creating one big show after another. On Bospop I have had the pleasure to see them perform live for the first time, and it was awesome! I have absolutely never seen a show as fantastic as this one.

Music
Of all the weekend the sound during Iron Maiden was the best, it wasn't too loud, perfectly in balance, especially for this time at night when most of the concerts are destined to be blown away by the wind. Of course I don't need to tell you all how great the band members are as musicians it was (to me) the perfect show and I hope they will remain with us for quite some more time!

Performance
With an incredible stage set, it also was the biggest stage set, they gave a performance hard to equal. With a bridge on stage, and multiple backdrops which changed approximately every three songs. The Band was headed for the best final I've had seen ever. This band lead by singer Bruce Dickinson, gave all they had on stage. Supporting the songs with suited backdrops and props like a huge devil and light-display of the numbers 666 in the middle of the top bridge, supporting the feel on the song:'666,The Number Of The Beast', or a patriotic "Eddie" backdrop and Bruce waving a huge Union Jack on the top Bridge running around like a little maniac, to support "The Trooper". And what about this Big "Eddie" head in the middle of the top bridge! Wow! Surprisingly that wasn't even the most spectacular prop they had, no, the most spectacular prop they had was an approximately four meters high walking "Eddie"! All of the show was in perfection! The stage lights were perfect and the sound was great! It all just clicked! The audience loved it and sang along with their greatest hits like 'Run to the Hills'.
Rating
Music 8
Performance 8
Sound 8
Light 8
Total 8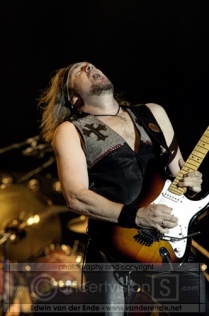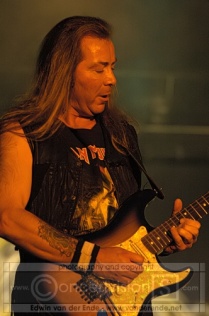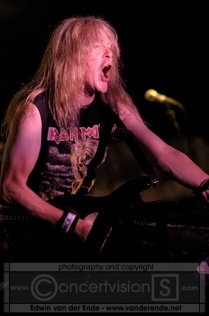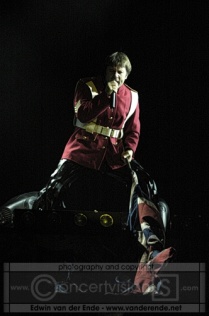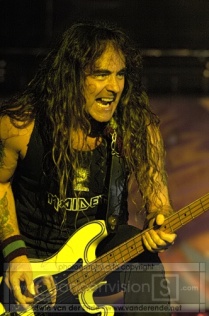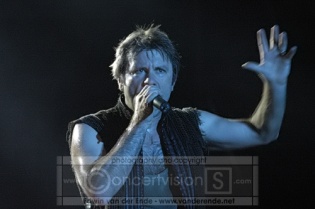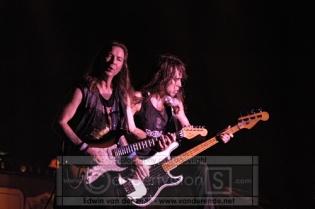 See also (all categories):