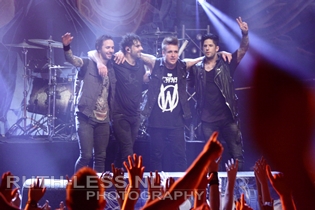 013, Tilburg, The Netherlands
26th June 2013
Papa Roach & Glamour of the Kill

Tonight will be the seventh time for American rock band PAPA ROACH to climb the stage at 013 in Tilburg. Initially ESCAPE THE FATE was supposed to play as support. About a week ago however, the band cancelled stating: "Unfortunately some personal matters have arisen that need our immediate attention back home". GLAMOUR OF THE KILL from the UK will replace them.



Glamour of the Kill

GLAMOUR OF THE KILL are an English post-hardcore formation from York, the UK. The band started out in 2007 and made their debut with 'The Summoning' in 2011. GLAMOUR OF THE KILL, or GOTK, is influenced by bands such as KISS, IRON MAIDEN and THIN LIZZY. GLAMOUR OF THE KILL is Davey Richmond (Vocals / Bass), Chris Gomerson (Guitar/ Vocals), Mike Kingswood (Lead Guitar/ Vocals) and Ben Thomson (Drums / Vocals). www.myspace.com/glamourofthekill / www.facebook.com/glamourofthekill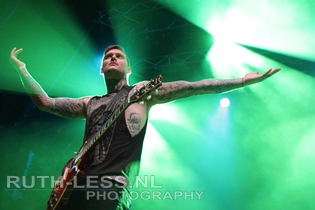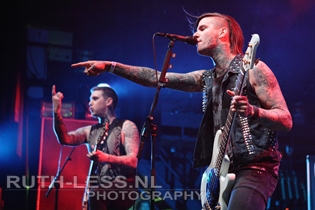 Music & Performance
The cancellation of ESCAPE THE FATE led to quite a few disappointing reactions on social media, which made me draw the conclusion that a considerable part of the audience did not buy tickets specifically for the main act PAPA ROACH. Fortunately for replacement band GLAMOUR OF THE KILL, the audience still seemed very enthusiastic and crowded up in front of the stage right from the start. As Davey, Chris, Mike and Ben take off however; it appears as if they didn't have any sound check beforehand. Sound is absolutely terrible the first few songs, which is a pity as GLAMOUR OF THE KILL only has half an hour show us what they've got. The audience is very easy going tonight, and it doesn't take long for them to start moving in front of the stage. The fact that the vocals are not always exactly 'spot on' doesn't seem to bother anyone as well. Front man Davey even manages to get a mini-wall-of-death.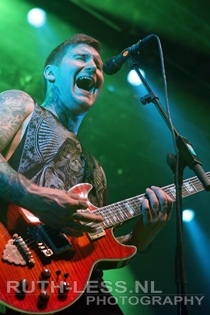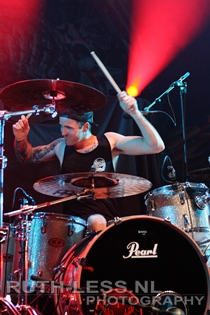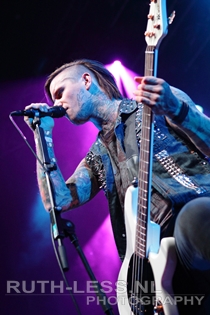 Though I'm quite sure that fans of bands like BULLET FOR MY VALENTINE will love GLAMOUR OF THE KILL, for me personally their sound misses something personal and unique, songs sound too much alike. Their KISS cover 'love gun' is a nice alteration though. As GLAMOUR OF THE KILL finishes their short set with 'Feeling Alive', 013 is literally warmed up quite a few degrees.

Setlist (incomplete)
Love Gun (Kiss cover)
Feeling Alive

Rating
Music: 6
Performance: 7
Sound: 4
Light: 7
Total: 6 / 10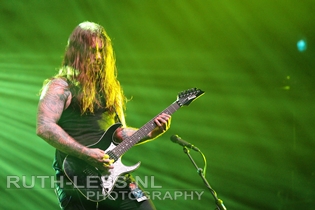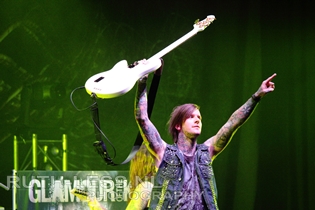 Papa Roach

PAPA ROACH is an American rock band from Vacaville, California. The band started out in 1993 at the Vacaville High School football field with singer Jacoby Shaddix and drummer Dave Buckner. Their first major-label release was the triple-platinum album 'Infest' (2000). The group's success continued with their gold album 'Lovehatetragedy' (2002) their platinum album 'Getting Away with Murder' (2004), 'The Paramour Sessions' (2006), 'Metamorphosis' (2009) and Time for Annihilation (2010). Their latest album 'The Connection' was released in December 2012. The band has sold over 18 million album copies worldwide and are known for their songs 'Last Resort', 'She Loves Me Not', 'Getting Away with Murder', 'Scars', '...To Be Loved', 'Forever', and 'Lifeline'. PAPA ROACH is Jacoby Shaddix (vocals), Jerry Horton (guitar), Tobin Esperance (bass) and Tony Palermo (drums). www.paparoach.com / www.facebook.com/paparoach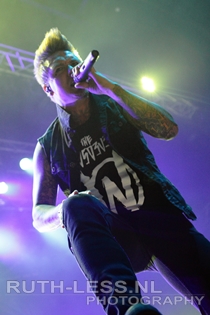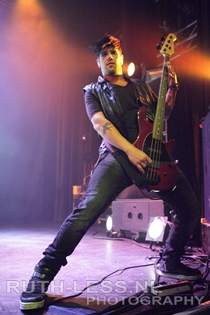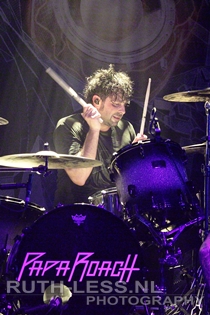 Music & Performance
Although not completely sold out, venue 013 is already seriously crowded and steamy even before PAPA ROACH enters the stage. While the crowd yells their name, Jacoby, Jerry, Tobin and Tony climb the stage and take off with 'Still Swingin' from their latest album 'The Connection'. Their energy radiates trough the venue as the crowd immediately starts jumping and singing along. PAPA ROACH continues with a balanced set list of old and new work such as 'Blood Brothers', 'Give me back my Life' and 'Between Angels and Insects'. The men from PAPA ROACH are obvious pros who have earned their position as a well-known rock / metal band in the scene. They want the audience to scream – they scream; they want the audience to jump – no problem; a circle pit – just give us a sec. Even some boobs were flashed during the song 'Forever', although the men on stage didn't seem impressed by that. The atmosphere at 013 is just great and the temperature is rising even further.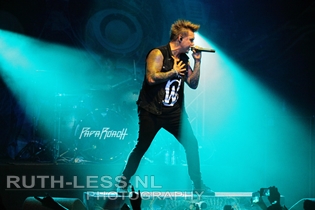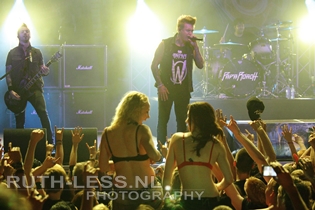 We continue the show with a broad selection from their repertoire: 'Burn', hit song 'Getting Away With Murder' and 'Silence is the Enemy' where the audience screams their heart out together with the band. It must be said that Jacoby's voice is not in perfect shape this evening and he repeatedly apologizes for this during the show. But also: he promises to give us all he's got and that's exactly what PAPA ROACH did absolutely convincing tonight. Their appreciation for the audiences support seems truly sincere, which is a big plus for this famous American band! At the end of the show, their energy seemed to wane a little, and PAPA ROACH finishes their full set without a break for the encore. With 'Dead Cell' and one of their biggest hits 'Last Resort' they leave each and every one fully satisfied of this enjoyable evening. Well, almost fully satisfied that is; I would've loved to hear 'Leader of the Broken Hearts' tonight, but fortunately there's always a next time! PAPA ROACH will be back in The Netherlands again this November, as they enter the line-up of Distortion Fest in Eindhoven.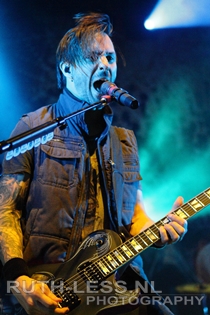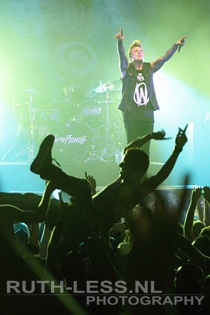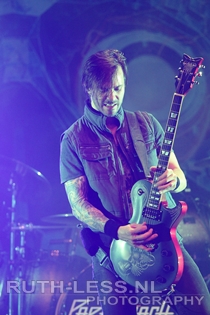 Setlist
01. Engage
02. Still Swingin'
03. Blood Brothers
04. Give Me Back My Life
05. Between Angels and Insects (there's no money)
06. Where Did the Angels Go?
07. Forever
08. Before I Die
09. Burn
10. To Be Loved
11. Getting Away with Murder
12. Silence Is the Enemy
13. Scars
14. Hollywood Whore
15. Lifeline
16. Dead Cell
17. Last Resort

Rating
Music: 8
Performance: 9
Sound: 8
Light: 8
Total: 8 / 10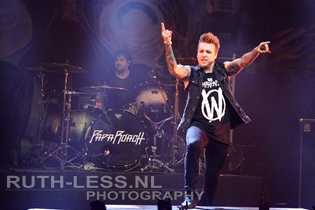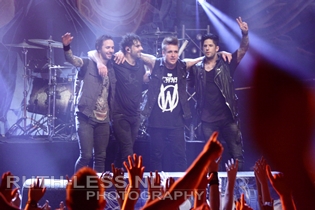 All pics by Ruth Mampuys (www.ruth-less.nl)



See also (all categories):