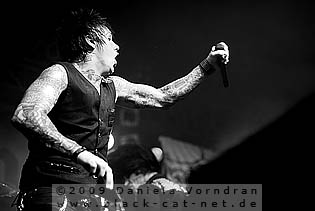 Live-Music-Hall, Cologne, Germany
20th April 2009
Papa Roach, Filter, In this Moment

PAPA ROACH were opening their German tour on Cologne. The concert was sold-out and when I arrived at the venue - quite early I must add - people were queuing up down the whole street and even around the corner. Somehow I did not expect these masses at that time. Knowing that a sold-out Live Music Hall will turn into a sauna soon, I was prepared for anything. As special guest (and I was really looking forward this band) PAPA ROACH brought FILTER with them. But before those started, the evening was opened by IN THIS MOMENT.
In this Moment
Singer Maria and guitarist Chris met in 2005 in Hollywood and started writing songs together. With drummer Jeff, they were entering the studio to record a first demo. Exceeded by guitarist Blake and bassist Jesse, the band IN THIS MOMENT was born. Soon, they were signed by Century Media, the debut album 'Beautiful Tragedy' was recorded and released later in June 2007. A tour with 3 INCHES OF BLOOD followed. Constantly touring brought them a good reputation as great live act. In October 2008, the second album 'The Dream' followed. IN THIS MOMENT is Maria Brink (vocals), Chris Horworth (guitar), Blake Bunzel (guitar), Jesse Landry (bass) and Jeff Fabb (drums).
http://www.myspace.com/inthismoment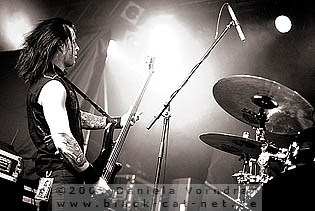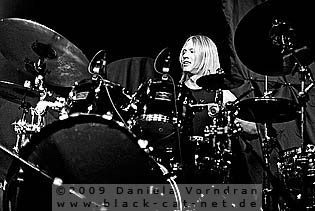 Music & Performance

When the band entered the stage, you firs spotted singer Maria in a yelling yellow baby-doll dress. The rest of the band was simply dressed in black. The lady was drawing most of the attention with her constant run across the stage and pushing up the audience for permanent shouting and moving. With their refreshing mix of Metal and Hardcore, they immediately had the audience on their side who were heavily celebrating the first act of the evening. Maria just screamed of the top of her lungs. She might not be the best singer, but every now and then she gave an impression of the variety of her vocal talent. But most of the time, she was just screaming (which not always is my cup of tea).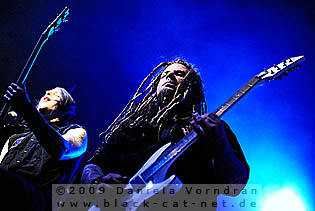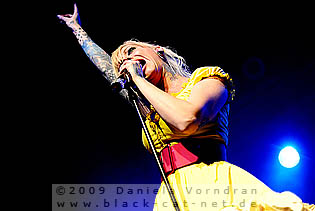 The sound was not very good though; it seemed anything was just well adjusted for the headliner and the other bands had to suffer from bad sound. Anyway, the audience loved to be warmed up the way the Californian band was doing it. So, I would say IN THIS MOMENT was the perfect choice of an opener.
Setlist

01. Intro
02. Prayers
03. All for you
04. Violet Skies
05. Forever
06. Mechanical Love
07. Beautiful Tragedy
Rating

Music: 6
Performance: 8
Sound: 5
Light: 6
Total: 6.5 / 10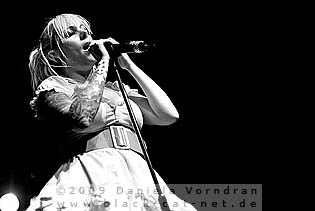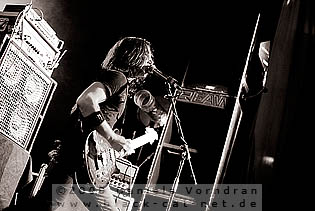 Filter

This renowned Alternative Rock band was founded in 1993 by Richard Patrick and Brian Liesegang. The first album 'Short Bus' appeared two years later and was commercially successful including the hit single 'Hey Man, Nice Shot'. Now they needed a live band to tour the album and additionally recruited a drummer, guitarist, and bass player. All of these positions are subject to personnel changes throughout FILTER's existence. The only constant member at all times was and is Richard Patrick. The sophomore album 'Title of Record' was launched in 1999 which moved away from the industrial rock sound of their first album and includes the band's biggest hit 'Take a Picture'.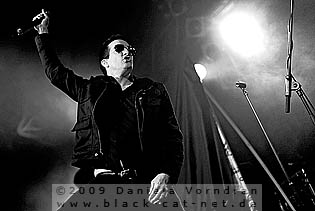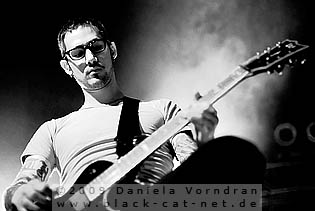 2002 saw the release of the third instalment 'The Amalgamut' featuring another hit single with 'Where do we go from here?' The band's hiatus lasted long 5 years during which Patrick pursued various side projects, one of them being the super group ARMY OF ANYONE. After they wounded down he began writing new material for a new FILTER album to eventually be titled 'Anthems for the Damned' which was unleashed in May 2008. The next album's already in the works and Patrick already revealed it would be "way more heavy industrial". FILTER is Richard Patrick (lead vocals, guitar), Mitchell Marlow (guitar), John Spiker (bass) and Mika Fineo (drums, percussion).
http://www.officialfilter.com/
/
http://www.myspace.com/filter1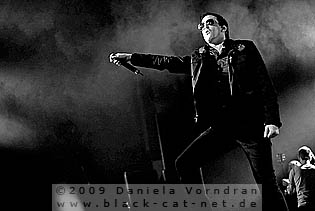 Music & Performance

I must admit that this was the band that I was waiting for even more than for PAPA ROACH. I love the latest album 'Anthems for the Damned' but also the earlier releases are something special. Well, my fave from the latest release, 'Soldiers of Misfortune', has not been played, but it still was a damn cool show… except the fact that also FILTER suffered from very bad sound. When I was in the photo pit I really first had problems to understand the words, just felt the deep bumming if the bass drum; later on when I was out there, it sounded a bit better but still not really good. The guitar and bass were not very well audible either. Really disappointing such a sound. As read about other shows, it was everywhere the same, the sound was rubbish. Seems anything was just well adjusted for PAPA ROACH. Anyway, back to the show. 'Anthems for the Damned' was the latest release. But the band only played 'The Take' out off it. Instead they opted for playing a very new song - 'Drugboy' was written on the setlist - and some old stuff including the "poppy" tune 'Take a picture' where Richard played some guitar as well, or the mega hit and still the favourite of many fans, 'Hey Man, nice Shot'.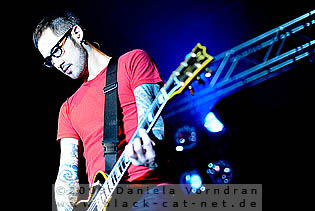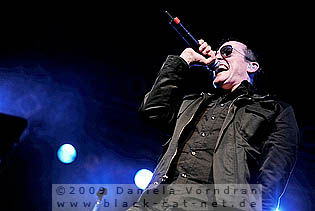 The audience was quite young and lots of them seemed not even to know the band. So, maybe they should have chosen a faster set for this support slot to please the PAPA ROACH fans. Well, it was my very first FILTER show after the last one I wanted to see was cancelled, and I was really happy about it. I think they just deserved some more…hm… educated fans maybe. At least they got quite a little applause even though I would say they deserve much more. Hope to see FILTER some day as headliners presenting all the songs I like and with an audience that really cares.
Setlist

01. Welcome to the Fold
02. The Take
03. Drugboy (New Song)
04. (Can't You Trip) Like I Do
05. Take a Picture
06. So I quit
07. Jurassitol
08. Hey Man, Nice Shot
Rating

Music: 9
Performance: 8
Sound: 5
Light: 6
Total: 7.7 / 10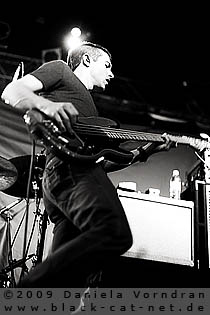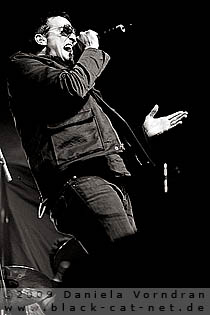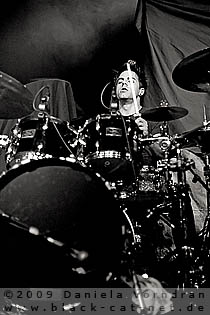 Papa Roach

The roots of PAPA ROACH also date way back to 1993 when Jacoby Shaddix and Dave Buckner met during a football match and ended up talking about music. The vacant jobs for a full band line-up were filled quickly and PAPA ROACH was born. The band recorded their first album 'Old Friends from Young Years' in 1997. During that time they supported bands of the likes of POWERMAN 5000, HED PE, SNOT, FAR AND STATIC-X on tour. During the next two years they record two EPs the latter of which, titled 'Let 'Em Know' which would become their last independent release before signing a record deal with the major Dreamworks Records in October 1999.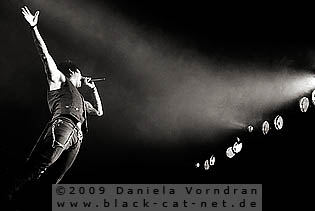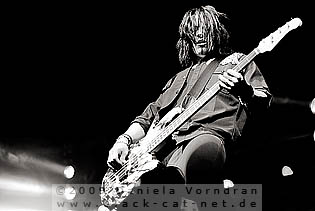 Their major label debut 'Infest' (2000) ended up being their mainstream breakthrough and was certified three times platinum. Their two following long players 'Lovehatetragedy' (2004) and 'Getting away with Murder' (2006) both didn't outsell 'Infest' but catered for a considerable increase of popularity. 2006 saw the release of their 4th major label album 'The Paramour Sessions' named after the mansion it was recorded at and which is said to be haunted. Their most recent effort is named 'Metamorphosis' and after a little delay was released in March 2009. PAPA ROACH is Jacoby Shaddix (lead vocals), Jerry Horton (lead guitar, backing vocals), Tobin Esperance (bass, backing vocals), and Tony Palermo (drums, backing vocals).
http://www.paparoach.com/
/
http://www.myspace.com/paparoach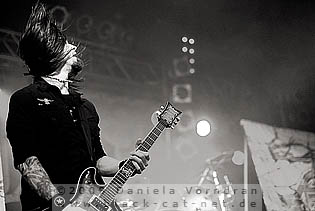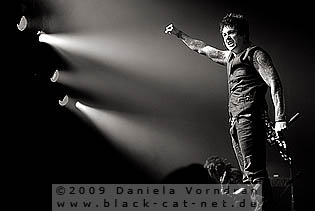 Music & Performance

Even before the show started, it was so damn hot in the hall. Several people, no, not only girls, had to be thrown out of the masses where anyone was nearly smashed. During the show it became much more. Security should serve some water under such circumstances. Short past ten, the show started with 'Days of War Intro' from the current album 'Metamorphosis' and the band entered the stage singer Coby being last. All you heard from the audience were very loud screams and all you could see were raised arms. It was staying like this through the whole show, a show where the band played a lot of new material which sounded pretty good, but also some older smashers. I am not the biggest fan of the band (Am I too old?) and the biggest part of the audience was too your for my taste with lost of screaming girlies, but you have to admit that PAPA ROACH delivered a really good show.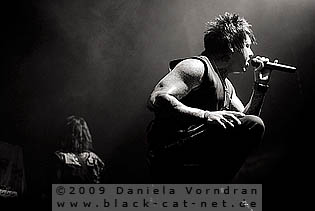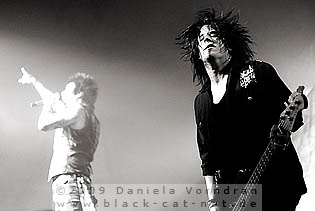 It was for sure that they wanted people to move with their typical beat. And now, the sound was so much better than during the support bands. What a shame when anything is only well adjusted for the headliner and the support acts are not allowed to do what they deserve. But back to the PAPA ROACH show. There was a great amount of energy on stage. Jerry and Tobin were moving from one side of the stage to the other one, posing on two podiums on each side of the stage or were head banging. Tony was maltreating the drums with constant power. For some it might be sad that Dave is gone, but Tony is a real good drummer and did a great job! Well, and Cody was already bathed in his own sweat during the very first song. As you might guess, it did not become any better during the evening. The entire audience was as well bouncing to the beats immediately; they were very enthusiastic, as was the band. Surely a great show for all who love that kind of music and the band.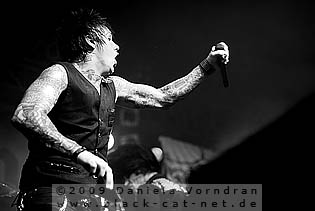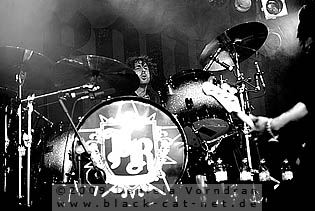 Setlist

01. Days of War Intro
02. Change or Die
03. Broken Home
04. To Be Loved
05. Getting away with Murder
06. World around you
07. Forever
08. Lifeline
09. Crash (was erased short before the start)
10. Hollywood Whore
11. Had Enough
12. Time is running out
13. She loves me not
14. Alive
15. Dead Cell
16. Between Angels & Insects
---
17. Scars
18. I almost told you that I love you
19. Last Resort
Rating

Music: 7
Performance: 9
Sound: 8
Light: 8
Total: 7.9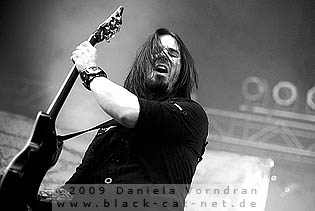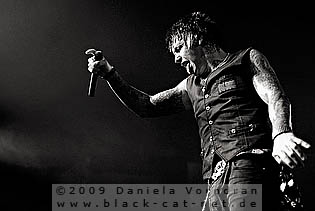 All pictures by Daniela Vorndran (
http://www.vorndranphotography.com/
/
http://www.black-cat-net.de/
/
www.myspace.com/vorndranphotography
)
{jos_sb_discuss:17}
See also (all categories):