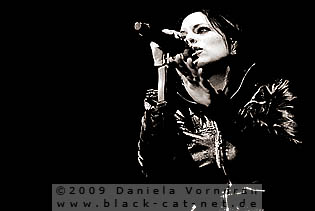 Halle Münsterland, Münster, Germany
9th May 2009
Silbermond, Colors that blend well

With hits like 'Durch die Nacht' or 'Symphonie', German band SILBERMOND gained an enormous popularity and just recently the band cemented their standing with their third album 'Nix passiert'. The accompanying tour on this Saturday evening led them to Münster to play in front of a sold-out house.
Colors that blend well

This project was created in 2008 by the two songwriters Tim Edler and Thomas Lehmkühler to realize their musical ideas off the beaten tracks of kilometre high walls of amplifiers, drums and brittle guitar solos.
http://www.myspace.com/colorsthatblendwell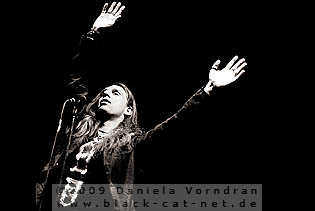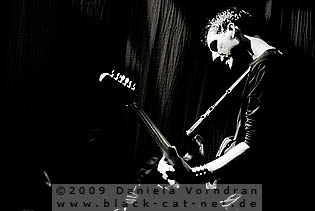 Music & Performance

In an effort to support young, local bands SILBERMOND send out a call to send in submissions and they would sort out which one would make the race in the respective cities. For Münster it was the young duo COLORS THAT BLEND WELL offering the audience impatiently waiting for the main act a nice blend of electronics, reverb-drenched guitars and a raw voice that still has potential for improvement but all in all sounded pretty pleasant. Not everyone thought so and some even demanded to get the guys off the stage but the largest part of the audience - as far as I could see that - enjoyed the music very much, got along with the music and bestowed the band with a thundering applause. A huge boost for such a young project and especially as rather unknown support for a pretty popular band! Singer Tim underscored the presentation of his lyrics additionally with gestures and mimics and - for me and many others - made up for an entertaining start of the evening.
Rating

Music: 6
Performance: 6
Sound: 7
Light: 6
Total: 6.2 / 10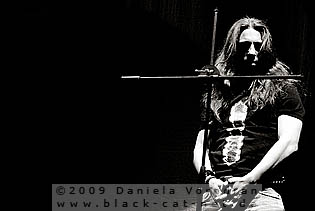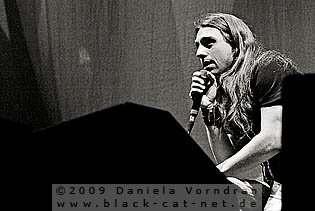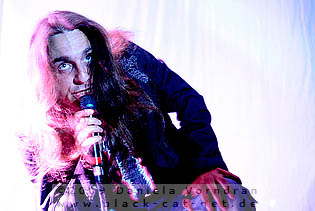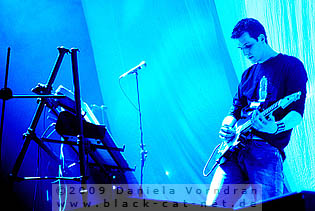 Silbermond

SILBERMOND (German for "silver moon") are brothers Johannes Stolle (bass) and Thomas Stolle (guitar), Andreas Nowak (drums) and front woman Stefanie Kloß, who came together in 1998 in East-German small town Bautzen under their first band name JAST, which is simply derived from the first letters of the band members' names. After they started with Rock music with English lyrics, the band decided to use German lyrics exclusively and changed their band's name to SILBERMOND in 2001. SILBERMOND made their breakthrough as the opening act for German Pop starlet Jeanette Biedermann, and they became increasingly popular in Germany and Austria last but not least by constant touring as well as by massive airplay on German radio and German music television.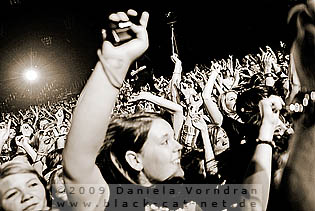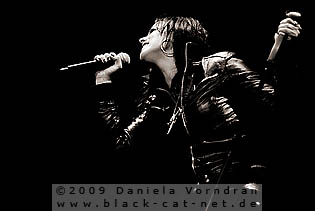 Their debut album 'Verschwende deine Zeit' (Waste your time) (2004) spent unbelievable 69 weeks in the German Media Control charts. When in April 2006 the second album 'Laut gedacht' was released it continued their victory march and bestowed them even more fans than before. After being away for a while the third album 'Nichts passiert' hit the streets on 20th March 2009 and directly entered #1 of the album charts in Germany, Austria, and Switzerland.
http://www.silbermond.de/
/
http://www.myspace.com/silbermond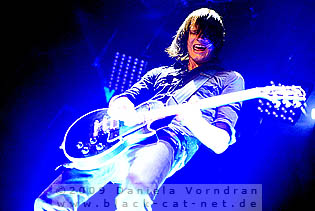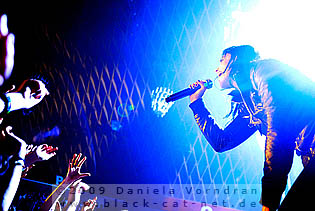 Music & Performance

Before anything happened it was time for a little waiting. 30 minutes to be precise which for some was too much. But eventually the intro sounded and everything seemed forgotten at once. At the end of this little instrumental the band would walk - under frenetic applause - down the catwalk to the little front stage and perform 'Alles Gute' the opener of their recent hit album 'Nichts passiert' that impressed with massive drum power. The song had barely faded when the band made their way back to the main stage where the curtain finally fell and revealed the stage design with some sort of tubes hanging down from the ceiling colourfully illuminated. The backdrop comprised huge LED blocks either just sending out plain-coloured lights or showing various patterns according to the respective song. To top it all off a big video screen was hung up optionally displaying the action on stage or in the crowd recorded by cameras. The show went on with 'Bist du dabei' and 'Meer sein' frenetically celebrated by the crowd but nothing against the mental temper that took hold when the first chords of 'Durch die Nacht' started floating around.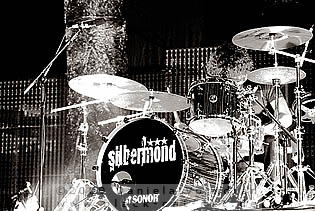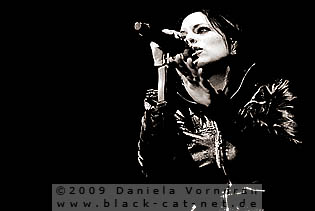 SILBERMOND are known for being a band very close to their fans so after 'Verschwende deine Zeit' spread a little holiday feeling in a special reggae version and an excellent bass solo, Stephanie took a foray into the farther ranks to do some songs purely acoustic in the midst of the crowds and a Mexican wave through the entire hall. Next event coming up in fact was a little weird. Drummer Andreas performed some "poems" comprising a variation of one word and the other one had a few numbers in store and I wasn't sure either to break out in laughter or to doubt his mental condition. For 'Nix passiert', singer Stephanie wanted to do a little crowd surfing to the middle of the hall and back. Crowd surfing and SILBERMOND? Nothing that really fits together from my point of view! But everyone else freaked out about it and had fun watching it. When it was time for us to leave I still was no bigger SILBERMOND fan than before but poised to admit that they very well know how to entertain a big audience.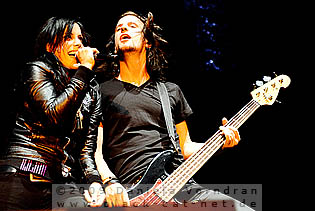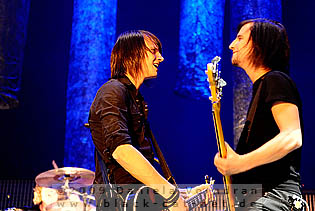 Setlist

01. Alles Gute
02. Bist du dabei
03. Meer sein
04. Tanz aus der Reihe
05. Durch die Nacht
06. Ich bereue nichts
07. Keine Angst
08. Wenn die anderen...
09. Verschwende deine Zeit (Reggae-Version)
10. Die Liebe lässt mich nicht (in the audience)
11. Zeit für Optimisten (in the audience)
12. Andreas' Poem
13. Nicht mein Problem
14. Unendlich
15. Symphonie
16. Krieger des Lichts
17. Nichts passiert
18. Irgendwas bleibt
---
19. Instrumental-Solo of the guys
20. In Zeiten wie diesen
21. Das Beste
22. Ich wünsch dir was
Rating

Music: 7
Performance: 8
Sound: 9
Light: 9
Total: 7.9 / 10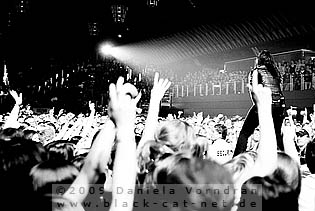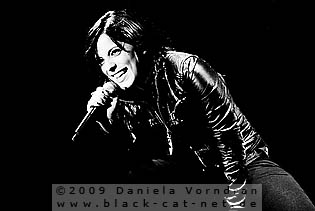 All pictures by Daniela Vorndran (
http://www.vorndranphotography.com/
/
http://www.black-cat-net.de/
/
www.myspace.com/vorndranphotography
)
{jos_sb_discuss:17}
See also (all categories):