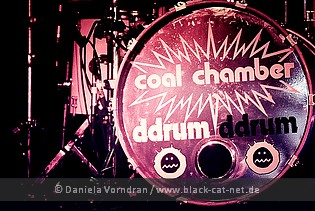 Matrix, Bochum, Germany
12th June 2013
Coal Chamber, In This Moment, Nekrogoblikon & Huntress

What a package! COAL CHAMBER, a band many thought that would never play live again after they split, was coming to the Matrix and with them, there were three more high-class bands waiting for the audience. This was promising to be a long and loud night…



Huntress

Melodic Heavy Metal band HUNTRESS hails from Highland Park, California. The debut album 'Spell Eater' was released in April 2012 vial Napalm Records and was called by Metal Hammer "a magical debut from the hottest new act of 2012". It was recorded in January 2012 in Los Angeles and produced by Chris Rakestraw (Danzig, Children of Bodom and Skeletonwitch). There is also a music video for the album's title track available. A second album, 'Starbound Beast', will be released end of June in Europe and a few days later in USA. HUNTRESS consists of Jill Janus (vocals), Blake Meahl (lead guitar), Anthony Crocamo (lead guitar), Ian Alden (bass) and Carl Wierzbicky (drums). http://www.huntresskills.com / https://www.facebook.com/HuntressKills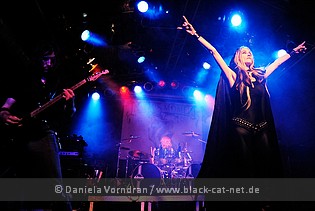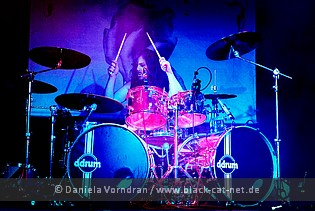 Music & Performance
The beginning of the HUNTRESS show was kind of theatrical. The band had already entered the stage along with the intro, the stage was kind of dark, covered with smoke. Slowly, singer Jill walked in, wearing tight black outfit and being hidden in a long black coat with a big hood. She slowly marched to the front of stage to start the set with 'Destroy Your Life'. The band could convince from the beginning with thundering drums, heavy riffs and songs with catchy choruses. The voice of Jill is somehow special, in one moment, she convinces with perfect chant just to turn to kind of witch-like screaming. Since the band will release a new album end of the month, the set of course contained several new songs out of it. Interesting is surely the story to one song. Jill told us that she once met Lemmy Kilmister and asked him if he might write a song for her. And Surprisingly he agreed and came back a two weeks later with some sheets of note paper and the lyrics for one song… 'I Want To Fuck You To Death'. According to Jill, this was "the most romantic thing a boy had ever done for her… and who does not wanna die that way?". Sure, there are worse ways to die.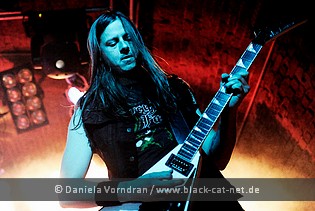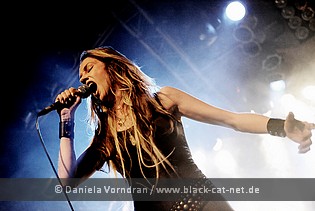 The set of melodic heavy metal with some pinches of thrash, death and black metal ended with 'Eight of Sword' and if you liked, you could meet the band after the show at the merch where you could get some hugs from Jill, since she said she wanted to give anyone a biiiiig hug!

Setlist
01. Intro
02. Destroy Your Life
03. Spell Eater
04. Starbound Beast
05. Zenith
06. I Want To Fuck You To Death
07. Eight Of Sword

Rating
Music: 7
Performance: 8
Sound: 7
Light: 6
Total: 7 / 10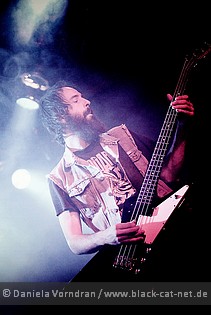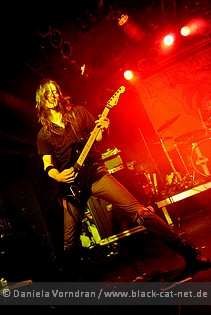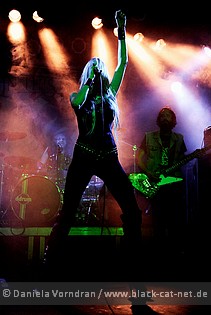 Nekrogoblikon

Goblin Metal band NEKROGOBLIKON is also coming from USA, from Santa Barbara, California. The band was starting just as a summer side project of Nicky and Tim, but soon grew quickly and soon recorded its debut album, 'Goblin Island', during summer and fall 2006. The album was finally self-released in January 2007. After playing numerous shows over the years, the band released a second album, 'Stench', being produced together with Zack Ohren at Castle Ultimate Studios and the Goblin Fortress. NEKROGOBLIKON is Nicholas Von Doom (vocals, keyboards), Tim Lyakhovetskiy (guitars, backup vocals), Alex "Goldberg" Alereza (guitars, backup vocals), Brandon "Fingers" Frenzel (bass), Eddie "Drifty" Trager (Bready – drums) and Aaron "Raptor" Minich (keyboards). http://nekrogoblikon.bandcamp.com / https://www.facebook.com/nekrogoblikon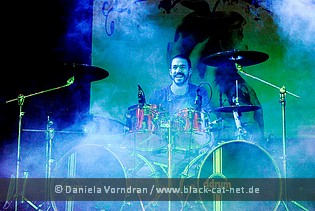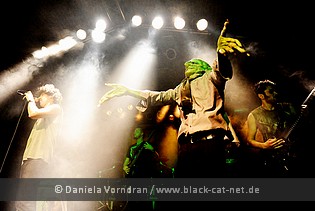 Music & Performance
"We are a Goblin band… and we sing about Goblins". With those words, singer Nicholas introduced the band after two songs. But before we came there, the band was announced in a special way before entering the stage. And yeah, you might guess it, a Goblin – means a man with green Goblin mask, long green Goblin fingers and a hunchback – entered the stage to welcome the band and heat up the audience. When the band entered stage, there seemed to be some technical issues and the show could not start, so the Goblin entertained the audience with some games to bridge the time. Finally, the show could start with 'Feast'. Also NEKROGOBLIKON will release a new album soon and so, the set contained some new songs. During the whole set, the band really freaked out, the Goblin was constantly running across the stage and heating up the audience while Nicholas was consuming lots of beer. Right after second song, 'Bears', he asked the Goblin to get him more beer from backstage.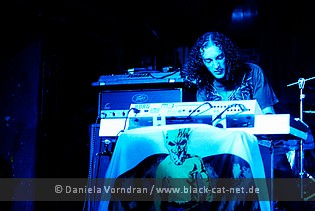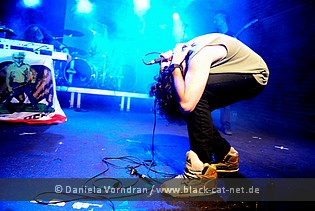 The concert was really a big Goblin party, guess this happens when you put a bunch of bloodthirsty music-loving goblins together. You just get a lot of disembowelment… but also some catchy tunes and some real bone-crushing songs like new one, 'Powercore', where you could even spot a crowd surfer. Nice show!

Setlist
01. A Feast
02. Bears
03. Goblins Ahoy ("A Pirate Song")
04. Prince of the Land of Stench
05. Powercore
06. No One Survives

Rating
Music: 7
Performance: 8
Sound: 7
Light: 6
Total: 7 / 10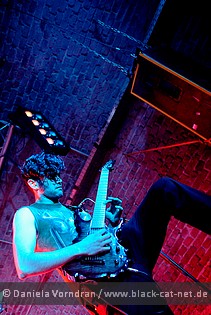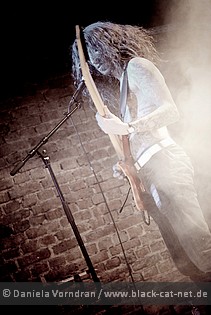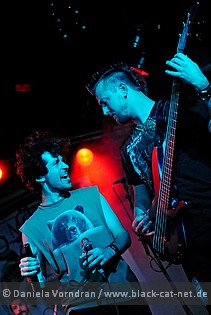 In This Moment

And yet we have the third bands from California here, IN THIS MOMENT from Hollywood. Singer Maria and guitarist Chris met in 2005 in Hollywood and started writing songs together. With drummer Jeff, they were entering the studio to record a first demo. Exceeded by guitarist Blake and bassist Jesse, the band IN THIS MOMENT was born. Soon, they were signed by Century Media, the debut album 'Beautiful Tragedy' was recorded and released later in June 2007. A tour with 3 INCHES OF BLOOD followed. Constantly touring brought them a good reputation as great live act. In October 2008, the second album 'The Dream' followed. Their third album, 'A Star-Crossed Wasteland', was released in 2010 was their highest-charting album up to then. The band's latest album is called 'Blood' and was out in August 2012 via Century Media. IN THIS MOMENT is Maria Brink (vocals), Chris Howorth (lead guitar), Travis Johnson (bass), Randy Weitzel (guitar) and Tom Hane (drums). http://www.inthismomentofficial.com / https://www.facebook.com/officialinthismoment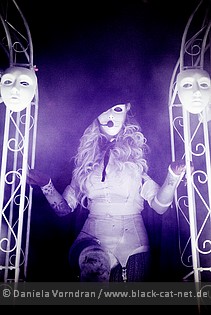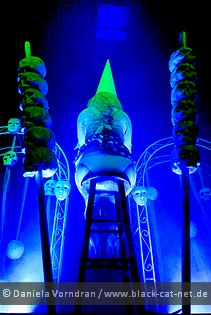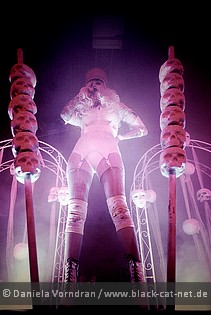 Music & Performance
I remember, last time I saw IN THIS MOMENT (ITM) – in 2009 supporting PAPA ROACH in Cologne – I was not really convinced by the show, I especially had problems with singer Maria's voice. So I was really curious how the band had developed over the years. Before the show started, the stage saw a big change. ITM really had a fantastic stage design. There was a big podium placed in front with ventilators and two big sticks decorated with white sculls. Behind this podium, there were two white arches, also decorated with lots of white sculls and also white carnival masks. ITM had not more than 35 minutes time but they delivered an amazing show! It was not only that Maria could vocally convince me this time. Her voice sounded much better trained. It was also her stage presence that I enjoyed a lot. Between all songs, she changed her clothes, sometimes it was a glittery jacket and a steel helmet with bunny ears, then it was a white curtain she used like angel wings, at the end it was a long silver coat combined with a white crown. And there were several more.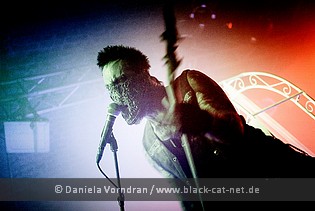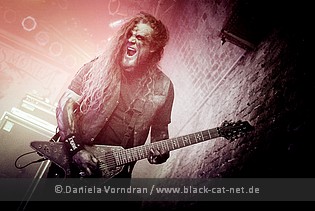 From her whole stage acting and her way of singing, she several times reminded me of the latest Marilyn Manson show I saw, but somehow in a better way. It was just a little sad during the show that there was too much smoke used an you could hardly see the other band members performing on stage. Just like during the last show I saw, it was the lady that drew most of the attention and people in front of stage literally freaked out, enjoying the show a lot. With their refreshing mix of Metal and Hardcore, they immediately had the audience on their side who were heavily celebrating the second-last act of the evening. During 'Beast Within', Maria was accompanied on her podium by a man dressed in a fine suit wearing a bunny mask and having a sexy dance choreography with her. During the whole set, Maria just was commanding the audience and during this mentioned song, anyone was waving the arms together with her. It seemed that quite a bunch of people only showed up because of ITM and were going for autographs and small talk with the band in front of their bus just when COAL CHAMBER were still on stage.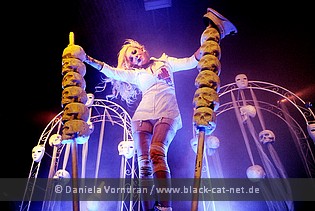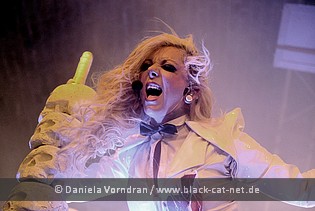 Setlist
01. Intro
02. Adrenalize
03. Blazin'
04. Whore
05. Burn
06. The Gun Show
07. Beast Within
08. Blood

Rating
Music: 8
Performance: 9
Sound: 7
Light: 6
Total: 8 / 10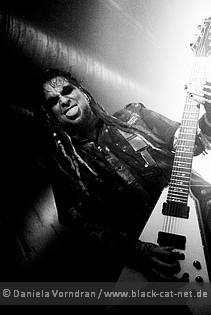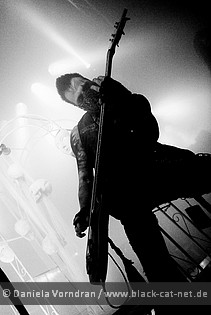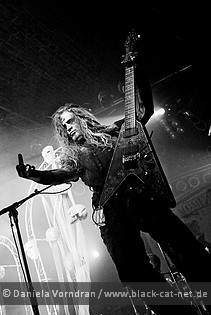 Coal Chamber

American Nu-Metal band COAL CHAMBER from Los Angeles, California, was founded back in 1994. Besides KORN or LIMP BIZKIT, the band can be called one of the forerunners of the Nu-Metal scene, but still the band was not as successful as the two mentioned bands. After three demos, the band signet a record deal with Roadrunner Records in 1996, releasing a first single, 'Loco', in 1997 out of the self-titled debut album. The second album, 'Chamber Music', was out 1999 and contained guest appearances of Ozzy Osbourne and Aimee Echo. In the following years, differences between the band members became more and more obvious, also on stage, and after the 2003 album 'Giving the Devil His Due', the band officially split up. But in September 2011, there was a new sign of life and the band announced a planned reunion and a show at 2012 Australian Soundwave Festival. Now in 2013, the band is confirmed for several festivals and club shows in Europe. New studio material is currently not planned. COAL CHAMBER consists of Bradley James "Dez" Fafara (vocals, also singer of the band DEVILDRIVER), Miguel "Meegs" Rascon (guitar), Chela Rhea Harper (bass) and Mike "Bug" Cox (drums). http://www.coalchamberofficial.com / https://www.facebook.com/pages/Coal-Chamber/193391390710648 (Fan Page)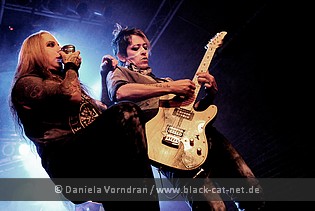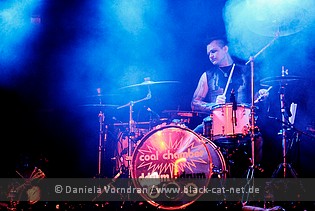 Music & Performance
It was about ten years ago when the band was touring Germany last time and many people did not really believe that the band is back again. Maybe this was the reason why the Matrix was not filled up more. But the people being present were eagerly awaiting COAL CHAMBER. Who finally entered the stage at quarter to eleven. As I said, it would be a long night. In comparison with IN THIS MOMENT, the stage looked quite empty, but there was no need for a big stage setup. The band could convince with their songs and pure stage presence. Along with the classic 'Helloween' movie them as intro, the band entered the stage and when Meegs started the first sounds of 'Loco', the crowd freaked out from the very beginning. There was a lot of screaming, jumping and head banging. Those people were really happy to see COAL CHAMBER back on stage again. The band really made a good impression. Anyone on stage was very vivid, moved a lot, was posing and obviously having a good time up there. And so, singer Dez thanked the audience for showing up. He said "it doesn't matter if thousands or just two hundred show up. Most important… you have a good time!". And people really had.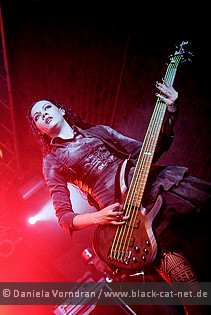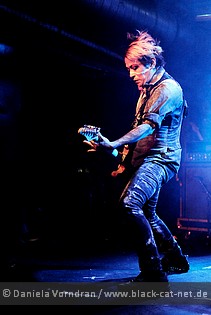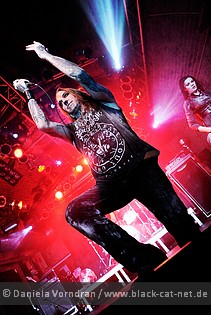 People got crazy during 'Big Truck' and 'Fiend', being played just after 'Loco'. It was really amazing how the band worked together on stage, especially after they were not being together for such a long time. Dez commanded the audience during the whole show any anyone sang along, they still knew the words even though the last album is also more than ten years ago. You can only hope that such a response convinces the band and they decide for working on new songs even though this is currently not planned. After those three old hits, the band continued with more "recent" material. 'Rowboat' and 'Something Told Me' were following and from the back you could see an unison jumping crowd. 'Rowboat' was presented by Dez singing though a megaphone. Next up on the set were 'Clock', and 'Drove', followed by 'Not Living'. Those three songs sound as they would belong together, even though they are taken out of three different albums. Not only along with these songs, guitarist Meegs was delivering great work on the strings, but also added some electronic sound effects here and there or was exploring the whole stage or climbing on the speakers.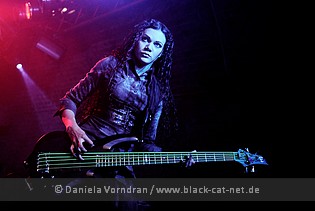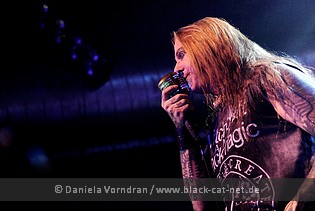 The crowd was already loudly singing along to 'dark Days', but following 'I' got them even more engaged. With 'No Home' from the 'Chamber Music' album we were already moving towards the end. With a fantastic 'Oddity', they were closing before 'Maricon Puto' was blaring in the dark and the band came up with a final song, 'Sway', sing the fans loudly screaming "Burn!". This was a fantastic and powerful show and you can only hope they will play more shows in near future.

Setlist
01. Intro
02. Loco
03. Big Truck
04. Fiend
05. Rowboat
06. Something Told Me
07. Clock
08. Drove
09. Not Living
10. Dark Days
11. I
12. No Home
13. Oddity
---Maricon Puto---
14. Sway

Rating
Music: 9
Performance: 8
Sound: 8
Light: 8
Total: 8.5 / 10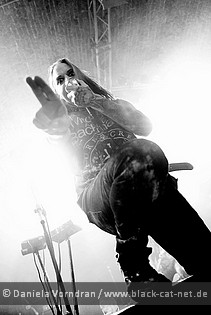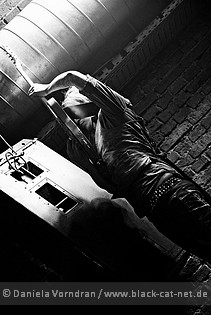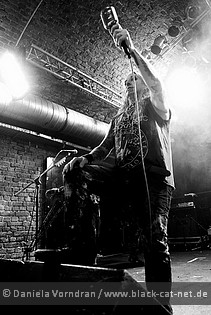 All pictures by Daniela Vorndran (http://www.vorndranphotography.com / http://www.black-cat-net.de/ / http://www.myspace.com/vorndranphotography / http://www.facebook.com/blackcatnet)



See also (all categories):