The Roaches That Didn't Get Squashed - Interview with

Jacob Shaddix (Papa Roach)

Once upon a time there's a series of bugs and insects that lived together; some worked and some stayed at home with their families while others wanted to fulfil their lives with the joy of music. Many of the talented music bugs/insects were unsuccessful except some set of four roaches that were just determined to not want to give up: Jacob Shaddix (vocals), Jerry Horton (guitar, vocals), Tobin Esperance (bass, guitar, vocals) and Tony Palermo (drums). Thus the form of alternative rock band known only as PAPA ROACH was born in 1993 from the warm depths of the California sunlight.


The heat and brightness of the hot misty air shined down above the hundreds who lived in California and the four members of PAPA ROACH knew how to keep everyone all nice and cool. By playing some rock music? The band broke into the music scene unleashing upon the masses 'Old Friends from Young Years' (1997) and soon after 'Infest' (2000) that lead towards three more accomplishments, 'Lovehatetragedy' (2002), 'Getting Away with Murder' (2004) and 'The Paramour Sessions' (2006), but then the tragedy and disappearance of the band was in the air and we hadn't heard or seen PAPA ROACH for some time…
Until the arrival of the year known as 2009 the arrival of "NEW" and this time everyone is back up on their feet creating what they love to do most in the music world which is music and by all means may I present to you PAPA ROACH's sixth and foremost newest addition to their rockiest collection yet 'Metamorphosis'. Originally being named 'Days of War, Nights of Love', the band decided to switch it up a notch with something more edgy and catchy that draws you in wanting to know the meaning behind the name.
Vocalist and front man Jacob spoke to me about the band's current touring schedule and upcoming plans for the next couple of months and what to expect to see them come the summer and fall terms. Jacob also went into discussing about how their newest record 'Metamorphosis' came into effect and how is currently being reacting to the media and fan base.
Reflections of Darkness (RoD):
How is the current tour going? You guys recently did a set of dates right here in Los Angeles having celebrated what was the occasion?
Jacob (J)
:
The tour is going great, everything is going good, we've been out with Buckcherry and Avenged Sevenfold for the last eight months and we've played in front of a million people by now and is a record for us and that's great; and the shows out in Los Angeles did one in Los Angeles and one in New York small, small club dates and those were for the 10th anniversary shows, and we did one at the Troubadour and that's where we got our start in Los Angeles and that's actually the club we got signed out of it was great to play back there and just throw down.
RoD
: What are your upcoming plans for the 2009 year?
J
:
We're gonna be touring our asses off. We're finishing this tour on the 11th and then the 12th going to Europe for two and half weeks and kicked the shit out of Europe for a couple of weeks and looks like all the dates are sold out which is great; and then after that and then come back to the states playing a few shows and then this summer go out with Nickleback and just working our asses off touring, touring, touring we have a great time.
RoD
: Could you briefly summarize the time spent in the recording studio and the how the ending result of 'Metamorphosis' came about?
J
:
For us we went back to the Paramour in Los Angeles in the process of that we have a new drummer and a huge change for us. We had a blast writing this record we didn't have any issues with each other just four men in the studio jamming having a good time. Since this is for the fans of PAPA ROACH and have a statement and really say something we were paying attention to the world around us and the song 'Lifeline' was inspired on what's going on right now in the United States and in particular my hometown Sacramento and the leading places homes for home foreclosure and a lot of desperation people losing their homes is a tragedy and for me I the first year of my life; my family was homeless I can identify and being poor and growing up and stuff like that and 'Lifeline' is a song that relates to the desperate times we live in and the war in IRAQ and everything that's going on over there. We're centred in on that and wrote a song called 'Had Enough' and how violence is penetrating our lives and every aspect of our lives and we've had enough of it and we're basically making a record about the world around us than just a record that's totally personal.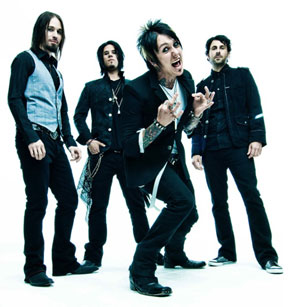 RoD
: How were you guys chosen to play the "Guitar Center Drum Off" event, I was there by the way, tried setting up an interview with you guys then but didn't know who to contact.
J
:
That's the case of us every records we put out either a new record company or new president of the company. But the drum-off was great man, and seeing we got a new drummer and showcasing him and showing him as a kick-ass drummer and it was a great show and the drummer of Iron Maiden was there and the guy from Shadows Fall was in the house and it was a really fun show, it was a great night.
RoD
: How does it feel to have some of your songs being playable for the Rockband video game, are you fan of it?
J
:
Oh yeah I think it's great and really gotten the kids heads into rock and roll and for us to be involved in that is great. It helps us really make our band name an out- sold name because that game is a fucking hotcake and really helps get our music out to the people.
RoD
: You guys played last year's Crufest, and also was a guest on Mötley Crue's 'Saints of Los Angeles' tune. How was that experience?
J
:
For us, we were sitting at the Paramour, and our manager called and asked us "would you wanna go out with Mötley Crue this summer?" We didn't even have to think we were like "FUCK YES" and then they asked me to sing for the song and I was like I'd love to they're one of my favourite bands. After that being in the video and going out on tour and singing 'Saints of Los Angeles' every night, it was off the chain and it was a blast that will be a summer I will always remember.
RoD
: Are there any 2009 plans you want fans to know about or do you want to be secretive?
J
:
For us really is about touring for this record and supporting it and we're trying to get involved for some charity work and do some stuff for our community and anybody out there that needs help or wants to help people go volunteer at a soup kitchen or a shelter ya know and give back to the less fortunate in our communities because people really need right now.
RoD
: What are the largest and smallest crowds you've played in front of?
J
:
The smallest crowd like back in the day when we first started was those back yard parties and garage parties and shit like that and the biggest crowd we played in front was Rock-n Rio with Guns-n-Roses and Oasis in 2001-2002 and that just blew me away I was tripped out.
RoD
: Do you remember the first show PAPA ROACH ever played?
J
:
The first show we ever played was the high school talent show in 1993 and we thought we were the coolest thing since slice bread but we fucking sucked. We were having fun so that's what it was all about.
RoD
: Why the name-change of the recent record from 'Days of War, Nights of Love' to this title?
J
:
'Metamorphosis' is just more fitting and what we've gone through firing management and getting a new booking agent and also with the sound of the band; really progressing and pushing ourselves in a new direction and I think where we're at as a band, the evolution and progression is what keeps this band pushing us forward and our goal as a rock and roll band and take our fans on a new ride and take them to new places I think it's our reasonability.
RoD
: Is there going to be a new DVD in the works?
J
:
I'm sure over the cycle of this record we are definitely going to do another live DVD and when we get on stage and throw done that is the best element of our band. Also recently we went into the studio in Nashville and cut a couple of acoustic songs, 'Lifeline', 'Carry Me' and 'Had Enough', three songs off the new record, and had a good time doing that so look out for those somewhere, somehow, somewhere.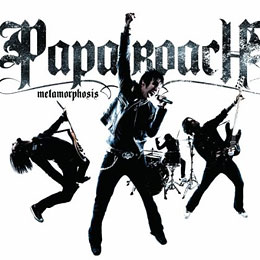 RoD
: As I mentioned before I had seen you guys perform back in January of this year, and noticed you have a lot of tattoos spread around you, is there one that has a special meaning?
J
:
I would say the tattoo of a microphone on my forearm and my X-Drummer drew it up for me and that was back in the mid-90's and I had a day-job and I was like "FUCK IT" and I was committed this is my life and my passion and went and got it tattooed and where everybody can see it and that was the moment where I was like this is my life and I want to play music and what I want to do.
RoD
: You obviously have toured all over since the beginning of your career, but has there been a spot that PAPA ROACH hasn't been too?
J
:
We've never been to Antarctica and I would like to go to Alaska and going to Russia for our first time in June and probably go play North Korea sometime. *Laughs* There are a lot of places we have yet to go.
RoD
: Do you ever get tired of hearing the same questions from journalists?
J
:
Ya know for us it's our opportunity to get our message out and it comes with the job and try to make the best of any situation.
RoD
: You just released your latest video 'Lifeline'. Did you work with the same people that did 'Hollywood Whore'?
J
:
No we worked with a different guy, Chris Sims, and we wanted to express the reality of the world around us in that video and I think we wanted to make a video with a message and I think we did a great job on that video I'm really proud of it. We're going to go work again who directed and produced 'Hollywood Whore' and going over to the U.K. and stopping in with him and shooting videos for 'Days Of War' and 'Change Or Die', we really like working with him it's going to be combat, rock and roll death cult it's gonna be awesome.
RoD
: Can you take a guess as to how many interviews you've done in the past 24 hours?
J
:
4.
RoD
: Are we going to be seeing you guys perform on Jimmy Kimmel Live anytime soon?
J
:
We would love to do that show I'm sure over the course of this record and we did Jay Leno over a month ago and we did 'Lifeline' and I think for us that was our best television performance to date. It just sounded right and felt right and we went back and watched it and we like "We did it". TV is hard to do sometimes because you're under the microscope, but we nailed it this last time.
RoD
: I'm curious to know what does the name "roach" in PAPA ROACH refer too, does it refer to the insect or something else?
J
:
PAPA ROACH it came from my great grandfather last name and we called it Papa Roach and once we became the band we grabbed the cockroach as our motto and mascot and the thing I love about the cockroach when everything is done and over with the cockroach can survive anything.
RoD
: Anything else you'd like to add?
J
:
For us we feel blessed and humble to still being doing this for so many years now, and get an impact on people's lives and getting support from our fans and we are nowhere near from ending this we have so much more to say and so much more to say and write about. So bewared!

Interview by Natalie Perez
{jos_sb_discuss:21}
See also (all categories):