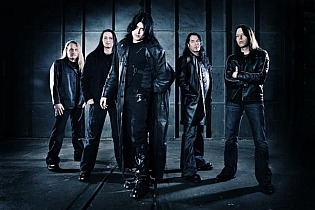 Interview with

Thomas Muster (guitarist of Shakra)

With the releases of their first attempts 'Shakra' (1998) and 'Moving Force' (1999) and touring with GREAT WHITE and URIAH HEEP the early span of SHAKRA was doing quite well. But their breakthrough period didn't invade until 'Power Ride' (2001). From then on SHAKRA has never been the same but become much better with their latest instalment 'Everest', an easy to handle rock and roll ride with a dash of heavy metal mix-ups in between. We had the chance to talk with the band about the latest album release.


Reflections of Darkness (RoD)
: What's new with you guys? What's going on in Switzerland lately? You've been playing a handful of shows.
Thomas
:
I would say 'Everest' is new! It was released on April 17. Well, we played the last shows in summer 2008 in Europe. Then we right entered the studio working on the new album. It took us about five months until everything, the mixing and mastering was done.
RoD
: 'Everest' is your newest instalment from the albums you've released, what can you tell me is different from this album compared to your older material?
Thomas
:
I think the main difference is the production. 'Everest' has a better sound than any other album before. It sounds much warmer though it's still heavy! And the songs, well, what can I say; it sounds like SHAKRA and I like all of them! Maybe everything is a bit more mature this time, it sounds perfect in a way. We created the perfect SHAKRA-style on 'Everest'.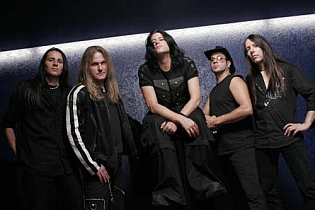 RoD
: Who came up with the title, artwork, lyrics, for this album?
Thomas
:
Well, we came back from a show in Germany last summer when Mark was talking with our sound engineer about the album title. They both said the title should sound just big! Big as the Mount Everest! And we all go: EVEREST, that's it, just EVEREST! Hehe, that really sounds big! I think for most the people 'Everest' means giant, huge, great, things like that. For me it means constant, unshakable, resistant, indestructible, because we went through good times but also very bad times in the past. But nonetheless we were able to release a new album every two years. That's what I call constant! It was also Mark who came up with the album artwork. Ok, it was my idea to have a white cover with a symbol in the middle, but Mark worked it up until we were satisfied. He also wrote all the lyrics.
RoD
: How do you still manage to write original material without repeating yourself?
Thomas
:
Hmm, I don't know…. There are some periods when I work almost every day on new material. So in the end we can choose from about 30 song ideas and we put those on the album we think they are good enough and a bit different compared to the former releases.
RoD
: What does the name SHAKRA mean and symbolize?
Thomas
:
It comes from the Indian mythology and describes the seven energy spots in the human body. Thom's wife came up with that name back in 1995. I know it sounds a bit esoteric, but who cares, it has to do something with energy and it just sounds good!

RoD
: How are things with the label AFM? They seem to be really psyched!
Thomas
:
I don't know… hey, they did a great job in the past and I hope they will also do a good job with 'Everest'! Well, I think just everyone in this business is a little bit, psyched this day.
RoD
: What have you been your favourite bands to play with?
Thomas
:
If you talk about bands that have been supported by us, well, then I would say DREAM THEATER! It was just fantastic to watch them warming up in the backstage. I also have good thoughts about our shows with NIGHTWISH a few years ago. That was a completely different audience for us, but since then we got a lot of new fans here in Switzerland.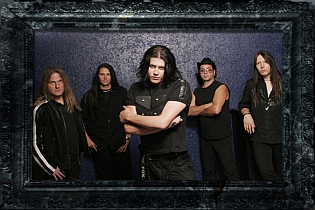 RoD
: Where does the band draw influence from?
Thomas
:
Hmm… I just compose… and it happens! Or not. Usually it doesn't matter if I'm in a good mood or not. It doesn't matter if there's another financial crisis or if the global warming goes on. It doesn't have any influence to me. I just write song, sometimes I write good ones and sometimes not. It just happens. I guess for Mark it's a bit different. He writes all the lyrics and for him it really matters if things go well or not. It's all about love & pain.
RoD
: What bands have SHAKRA been compared too?
Thomas
:
Well, because were a Swiss band some people said that we're the new GOTTHARD or KROKUS in our early days. That's ok; every band is being compared with other bands in the beginning. But in the meantime we're mainly SHAKRA, a band with its own, strong trademarks.

RoD
: What separates you from other bands of this genre?
Thomas
: There's no other band with an album called 'Everest'.
RoD
: What is the band's favourite SHAKRA song?
Thomas
:
Concerning the new album, Thom and I have the same opinion: 'The Journey'! We love this song because it's everything in there that SHAKRA stands for! Driving guitar riffs, strong vocal lines and outstanding guitar solos! Though it's actually not a typical SHAKRA song because it's almost 8 minutes long.
RoD
: Do you think it's more important to play music for enjoyment or for a purpose?
Thomas
:
When you start making music as a young kid I think you do it just for fun. Later when you get more and more successful it's just like a job. But a job you really love to do!!! That's a perfect combination!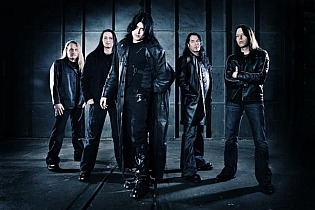 RoD
: What are the plans for 2009?
Thomas
:
What do you think? We go on tour now. After such a long time in the studio we're hungry for the stage. First we'll do this tour now through Germany, Holland, Belgium and Italy. Then we'll play a big show in Zurich/Switzerland followed by some summer festivals. A second part of European shows is planned for September/October. And maybe at the end of the year we'll release a best of album. Our Swiss record label Sony Music is interested in that. We'll see.
RoD
: What is the music scene like in Switzerland any bands you'd recommend?
Thomas
:
Yes, SHAKRA! You know, I'm not watching the scene around that much. Well, what can I say? There are 2 Swiss bands I really like: PURE INC. and LUNATICA. Check them out!

RoD: Do you have any announcements or last words you'd like to say?
Thomas: See you all on tour this year! Cheers!!!

{jos_sb_discuss:21}

See also (all categories):