Tavastia, Helsinki, Finland
1st November 2013
Omnium Gatherum & Dark Tranquillity

DARK TRANQUILLITY are currently on an extensive tour to promote their new album 'Construct' that was released earlier this year. The tour will lead them through Europe and also to USA next year. On 1st November, the band had its appearance in the Finnish capital Helsinki.



Omnium Gatherum

Unlike the case when warm-up band is more or less random, OMNIUM GATHERUM is very relevant as a warm-up. It does not feel like a warm-up at all, usually, this band, despite not being too big, has its audience and plays masterful melodic death metal. Its guitarist Markus Vanhala also is a part of somewhat bigger name, INSOMNIUM, but OMNIUM GATHERUM has their own loyal fan base. On TUSKA 2012, they were ought to start the open-air. They were playing at around noon and as they were first band of a three-days event, the visitor number expected to be somewhere very low. But the whole tent (a club-sized stage where OG were playing) turned out to be packed. Promoters also like the band, as they appeared already on the same stage with e.g. ARCH ENEMY. They also went to US with DARK TRANQUILLITY recently http://www.omniumgatherum.org / https://www.facebook.com/omniumgatherumband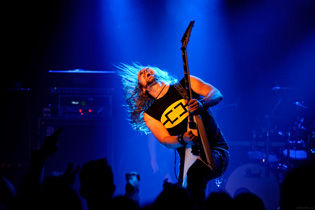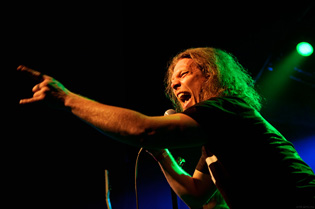 Music and Performance
I cannot say anything bad for OMNIUM GATHERUM, they were one of my show favorites for years. Vocalist Jukka Pelkonen knows how to show off, he was unstoppable as usual, and with Markus they make a most admirable stage presence. The level of performance of the quite experienced band was on a high level, and provided kind of immersion into melodic death metal style. The band got a full hour of playing time.

Setlist
01. Luoto
02. New Dynamic
03. New World Shadows
04. The Sonic Sign
05. Spiritual
06. In the Rim
07. Soul Journeys
08. Living in Me
09. Everfields
10. Nail
11. The Unknowing

Rating
Music: 8
Performance: 8
Sound: 8
Light: 6
Total: 7.7 / 10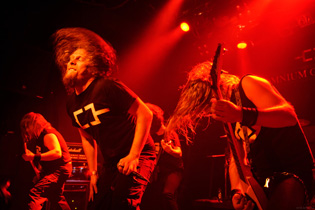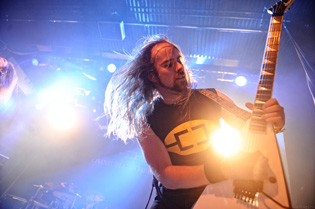 Dark Tranquillity

Swedish melodic death metal band DARK TRANQUILLITY, representing noted 'Gothenburg metal scene' (that has some music distinction) is a well-established old-school band, pioneer of the genre, that is sought after by MDM fans and making new material just fine. The current tour circulates around release of 'Construct' album (See our Review). http://www.darktranquillity.com / https://www.facebook.com/dtofficial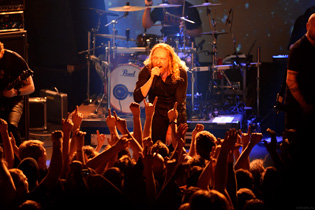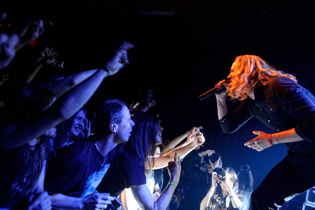 Music and Performance
Unlike OMNIUM GATHERUM, DARK TRANQUILLITY musicians remain on stage much more calm, almost all band seemed to be really focused on playing and did not showed a "presence". Except, of course, furious front man Mikael Stanne, who was the focal point of attention. The pit before stage was unusually narrow, apparently in order to let crown and Mikael communicate, which he did very well through the show. Another major thing was a background screen, that showed either DT videos or stylish computer graphics connected to the current song. As Mikael proclaims some chorus lines, they were dubbed on screen in a manifest-like way. I like these videos, as they really added production value to the show.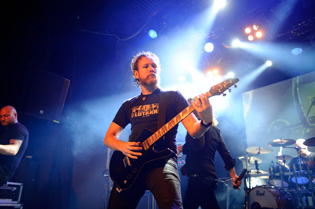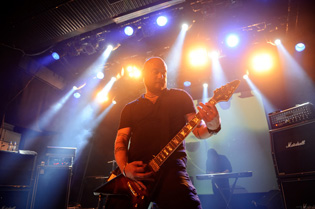 Nothing also to nag in terms of the set list: a mixture of new stuff and their best known songs. All at all, evening was sold out, as apparently local audience grew somewhat hungry for a good melodic death metal-packed evening.

Setlist
01. The Science of Noise
02. White Noise/Black Silence
03. What Only You Know
04. Lost to Apathy
05. The Fatalist
06. The Silence in Between
07. Zero Distance
08. The Mundane and the Magic
09. Monochromatic Stains
10. The Wonders at Your Feet
11. Indifferent Suns
12. Silence, and the Firmament Withdrew
13. Terminus (Where Death Is Most Alive)
14. State of Trust
15. Endtime Hearts
16. ThereIn
17. Misery's Crown

Rating
Music: 8
Performance: 7
Sound: 8
Light: 7
Total: 7.5 / 10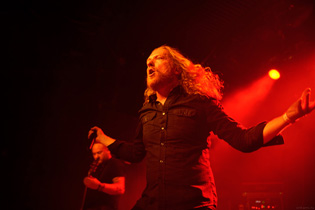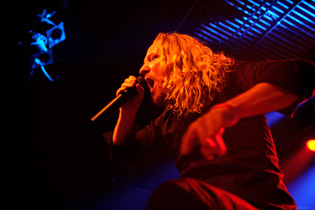 We thank Fullsteam for the accreditation.

All pictures by Askar Ibragimov (https://www.facebook.com/askar.ibragimov.photo)



See also (all categories):