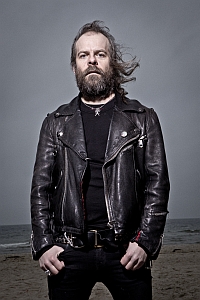 Interview with

Janne "JB" Christoffersson (guitar/ vocals) of Grand Magus

GRAND MAGUS from Sweden, formed in 1996 under the name SMAK, play heavy metal with doom elements and classic rock influences. In these days their seventh studio album is released and the heavy metal scene is holding his breath again because the last three records really showed many bands the ropes. The release of the new record 'Triumph and Power' is reason enough for us to engage JB into a little Q&A game…


Reflections of Darkness [RoD]: At first, as a GRAND MAGUS fan myself, I need to know whose idea was it to use the Conan Movie soundtrack as your intro?
Janne Christoffersson [JB]: Mine! Haha. I've loved that movie and the music since 1982 and I think it's perfect for starting our gigs.

RoD: How are you and where are you at the moment?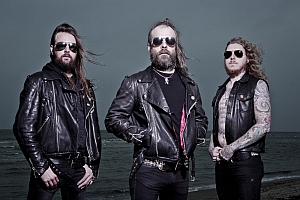 JB: I'm at home, trying to work my way through what feels like a million interviews, haha. I'm doing fine, it's a labour of love and it's great that there's so much interest in the band and this new album.

RoD: Reckoning your musical approach there is a clear line of refining and slightly changing your style over the years, is GRAND MAGUS' sound in 2014 the definite final aim or is there still an evolution and a betterment to come?
JB: Of course there is. If we felt it wasn't we might as well stop. I'm very happy about things right now though and I think that 'Triumph and Power' is our most accomplished album so far.

RoD: Where are you heading at with your band? Are you satisfied with the bands status?
JB: I'm never satisfied, I think we could be a lot bigger than we are and we're working hard on it.

RoD: What was it like to headline a tour with bands like BULLET, STEELWING SKULL FIST and VANDERBUYST?
JB: It was a great tour and we had a lot of fun and I think the other bands had as well. It was a really good package that had something for everyone who's into metal and hard rock.

RoD: Do you and the guys enjoy touring and what has changed since the formation of GRAND MAGUS?
JB: I enjoy touring when things are working the way you want them. A tour always has ups and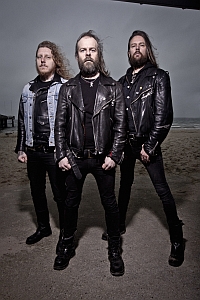 downs, but as long as the organization is good and there's a good vibe surrounding the tour, I enjoy it. The actual gigs are always the big thing and it always makes up for the boring parts of touring.

RoD: You once said that you cannot write new music during tour, how come that there is only one record of GRAND MAGUS for which the band needed more than two years to record?
JB: We are very disciplined. When it's time to do an album, we work our asses off. We don't sit around waiting for inspiration; we just turn it up and get to work.

RoD: Are there any plans to tour in the USA in the near future?
JB: Hopefully yes! We've been doing this for fifteen years now and never been to the US, it's about time.

RoD: What music do you and the band listen to on tour and at home? Any new bands out there that get you excited?
JB: SAXON, JUDAS PRIEST, MANOWAR, ACCEPT, RAINBOW, IMMORTAL, BLACK SABBATH and BATHORY but new bands? No.

RoD: Humankind's relation to nature is a recurring theme in your lyrics, how do you live this relation aside going for walks in the woods?
JB: I'm into fishing and also bird watching and generally keep track of the wildlife where I live. It just gives me a lot of pleasure and joy to be around animals and plants in the wild.

RoD: In connection with the Norse mythology at times referenced in your lyrics you often mentioned that the Swedish heritage is important for you, how does this heritage manifest itself in your life?
JB: First of all I think the nature here in Sweden, Norway and Finland is very special and something I connect to very strongly. Also the Scandinavian history to me is very interesting and it triggers my imagination.

RoD: The artwork of your new album is once again a milestone, who did it and what is its meaning?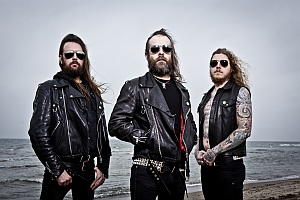 JB: The art was done by an artist called Anthony Roberts who has also done stuff for a band called Conan, where I saw his work first. It was actually through our manager who also manages Conan. He suggested Anthony and he was just perfect for us. It obviously projects the feeling of triumph and power we are talking about. The power and triumph of nature.

RoD: When listening to GRAND MAGUS the legendary old days of MANOWAR in their full glory come to mind, in the last Years GRAND MAGUS really got ahead of MANOWAR maybe the two bands should tour together maybe they would taste blood and go epic again.
JB: Haha, well I still think that MANOWAR is great and I love all their albums. They've been very influential to me for many, many years. I would of course love to tour with them that would be fantastic.

RoD: You were involved with the latest AYREON album, and I must say the songs you sing are the clear high points of the record. How was it to work with Arjen?
JB: Thank you! It was great to work with Arjen; we had a lot of fun recording my vocals. I was quite nervous about doing this for many reasons, but he put me at ease very quickly. It was a pleasure.

RoD: Can you please outline the new record and the new songs?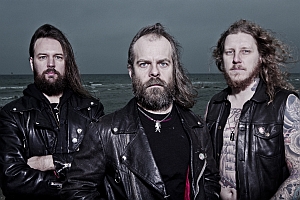 JB: Well, we have tried to make the ultimate heavy, majestic metal album with a northern feel and atmosphere. In short: GRAND MAGUS. I don't think I can be much clearer than that. The album has variation and dynamics, but it's very much a head banging album I think.

RoD: Can you explain "Asatron" to us? Every article I found is in Swedish so that my investigation was a bit difficult.

JB: Haha, yeah I can imagine! It would be very hard to put down in a few phrases. I look at Norse tradition or Asatron as a philosophy rather than a religion. It's a philosophy that puts a lot of weight into the respect for nature and also the importance of honour.

RoD: If you would have to name your one single favourite vocalist who would it be?
JB: Wow… well if I have to choose just one it would probably be Ronnie James Dio.

RoD: Thank you very much for this interview!


Pre-order the new album here:




Promotional pictures by Severin Schweiger



See also (all categories):