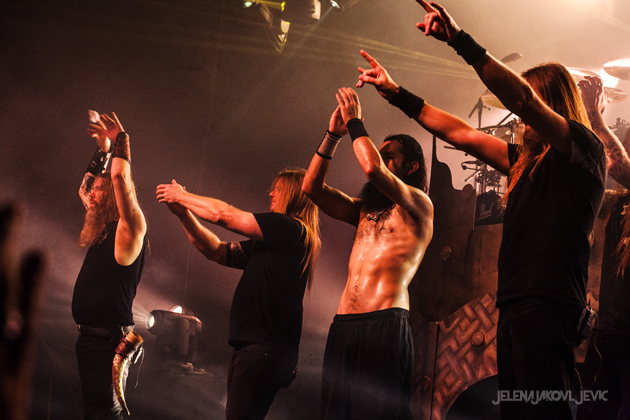 Rock Cafe, Tallinn, Estonia
12th December 2016
Amon Amarth & Grand Magus - Jomsviking European Tour

The black wind, Jomsvikings on the shore, the silence before the storm... AMON AMARTH is resting in Tallinn during the "Jomsviking European Tour" the day before the historic event when AMON AMARTH will play in Estonia for the very first time! Melodic Death Metal of Norse mythology is bringing back the Viking Age with AMON AMARTH's new album 'Jomsviking'. The album was ready in March and the Jomsviking tour started 2016, and is continuing through 2017. Check the new dates!
Grand Magus

The Rock Cafe stage is covered in black and GRAND MAGUS is the opening act. The venue is fully packed and the response of audience is great, though there is not much room to move on the stage. Luckily, GRAND MAGUS is just a trio and it is cool to see drums in the first place in front of hidden AMON AMARTH's set up. Suddenly, the emotions explode and everyone in the venue is singing along with GRAND MAGUS' 'Hammer of the North' chorus - a perfect welcome for the first visit ever! GRAND MAGUS is JB (vocals, guitar), Fox (bass) and Ludwig (drums).
http://www.grandmagus.com
/
https://www.facebook.com/grandmagusofficial
Amon Amarth

There was total darkness in front of our eyes and anyone was waiting Vikings to come... light beams are drawing mystical silhouettes of the drums on the top of the giant Viking helmet. Jocke is there, the others are coming... and it starts! The whole stage is now lit up and it seems that a Viking boat stayed on the shore, instead the Viking helmet is here tonight. The Rock Cafe stage is usually perceived as a bigger one, but it is not big enough for the "Jomsviking tour" props, so the Viking helmet is without horns. As it is a closed venue, pyrotechnic works are forbidden as well, anyway a great show is ahead! Johan is teasing the fans if that's the best they can do, making jokes and provoking them to open up and bring out the warriors. The atmosphere got hot, powerful and loud, now all are united as one from young till the old ones! (The concert will finish before 23:00 so there is no age limit tonight).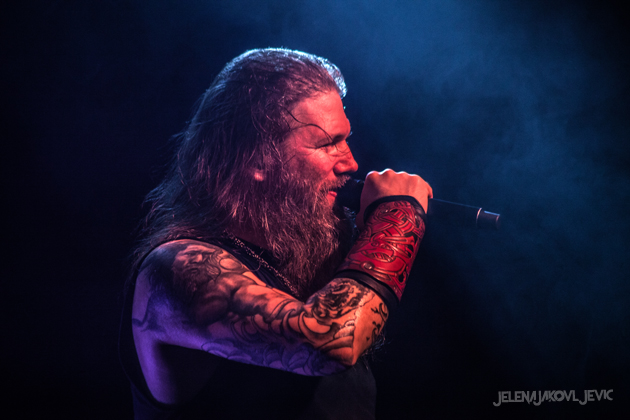 The setlist is the same during all December shows, an awesome mix of well-known albums: 'Fate of Norns' (2004), 'Deceiver of the Gods' (2013), 'Jomsviking' (2016), 'With Oden on Our Side' (2006), 'Surtur Rising' (2011), 'Versus the World' (2002), 'Twilight of the Thunder God' (2008). Tonight, six of seventeen songs are from the new 'Jomsviking' album, and the highest peak of the evening is an instant reaction of all fans to raised horns during 'Raise Your Horns' encore song. AMON AMARTH is Johan Hegg (vocals), Ted Lundström (bass), Johan Söderberg (guitar), Olavi Mikkonen (guitar) and Jocke Wallgren (drums).
http://www.amonamarth.com
/
https://www.facebook.com/OfficialAmonAmarth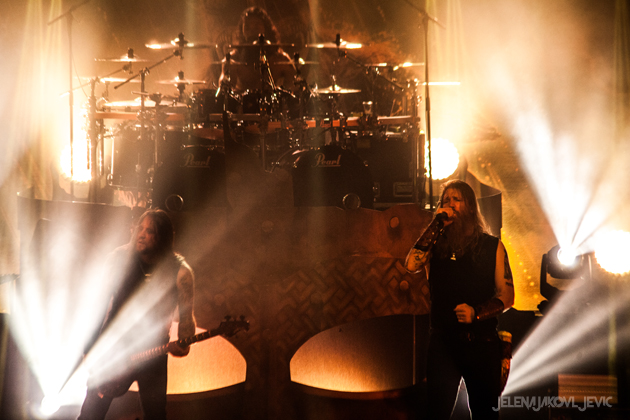 Setlist

01. The Pursuit of Vikings
02. As Loke Falls
03. First Kill
04. The Way of Vikings
05. At Dawn's First Light
06. Cry of the Black Birds
07. Deceiver of the Gods
08. On a Sea of Blood
09. Destroyer of the Universe
10. Death in Fire
11. One Thousand Burning Arrows
12. Father of the Wolf
13. Runes to My Memory
14. War of the Gods
---
15. Raise Your Horns
16. Guardians of Asgaard
17. Twilight of the Thunder God
All photos by Jelena Jakovljevic (
www.facebook.com/JelenaJakovljevicPhotography
)
See also (all categories):