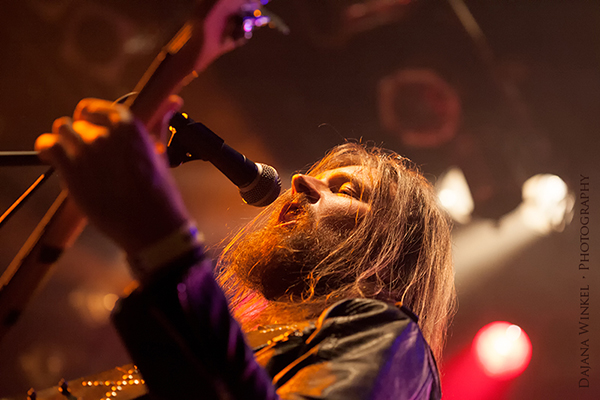 Turock, Essen, Germany
29th March 2014
Rock Revelation Tour: Grand Magus, Audrey Horne, Zodiac, The Vintage Caravan

This Saturday is going to be retro and I mean full-blown retro, from true metal a la MANOWAR to 70s revival classic rock everyone with his heart in the musical past is going to be happy as a king. The bands had the opportunity to play in a sold out house.
The Vintage Caravan

This very young outfit from the greater Reykjavik area debuted on Nuclear Blast this year and these guys sound very old school and massively hungry, I reviewed their last record (see THE VINTAGE CARAVAN – The Voyage
review
on this site) and had only good words for them. Very nice for me that shortly after that review I got the chance to see them with GRAND MAGUS one of my favourite bands ever. The Vintage Caravan are: Óskar Logi Ágústsson (Guitar and vocals), Guðjón Reynisson (Drums) and Alexander Örn Númason (Bass).
https://www.facebook.com/vintagecaravan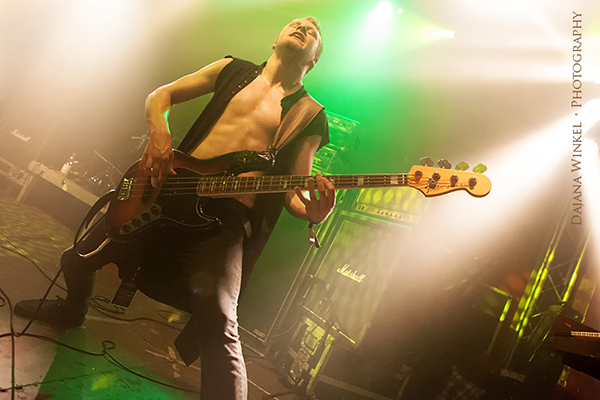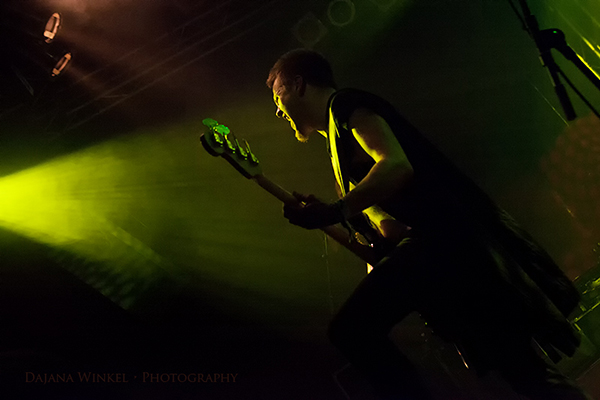 Music & Performance

At the very first I have to say that the sound wasn`t in their favour all the time but hey I also have to say that even a one armed sound tech wouldn`t have a chance to cock this show up. The guys had a lot of fun on stage and the crowd loved every minute of it. Óskar Logi Ágústsson (vocals and guitar) wasn`t as good (voice wise) on stage as on record but he compensated with a massive amount of energy he gave his performance. Sound wise the band served every classic rock fan boys wet dreams so all I have to say is: "case closed". I will see these guys again for sure (and I have to buy their awesome record 'The Voyage').
Rating

Music: 7
Performance: 7
Sound: 5
Light: 5
Total: 6 / 10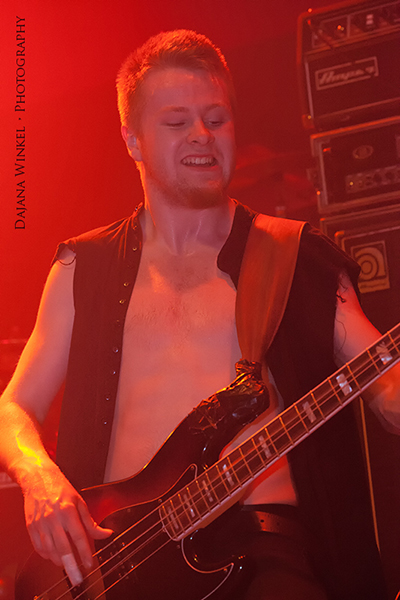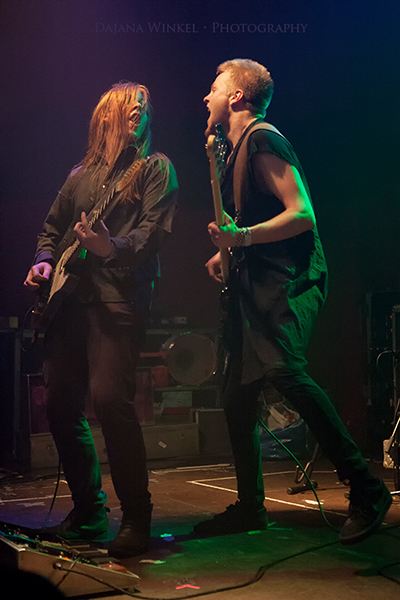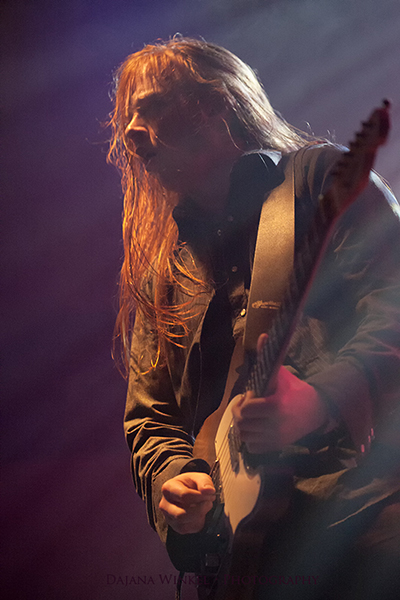 Zodiac

These four guys from Münster, Germany are one of the biggest German classic rock hopes according to the German critics. ZODIAC was founded in 2010 and since then this talented bunch has released two records that were very well received by critics and the metal community itself. ZODIAC are Nick van Delft (Vocals / Guitar), Stephan Gall (Guitar), Ruben Claro (Bass) and Janosch Rathmer (Drums).
https://www.facebook.com/Zodiac.Rock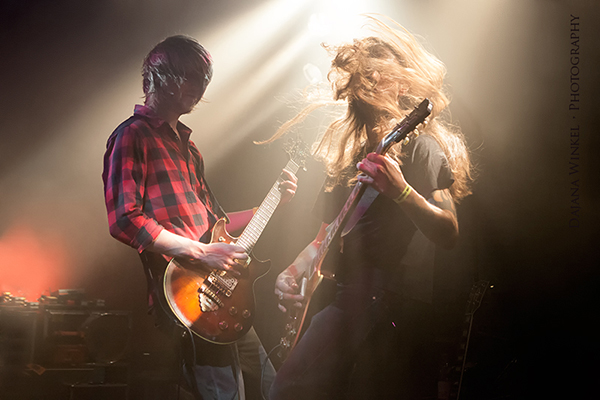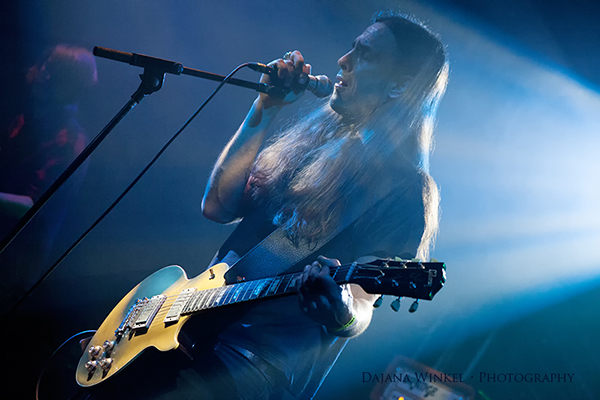 Music & Performance

ZODIAC from Münster had hit the stage only shortly after THE VINTAGE CARAVAN and man, the crowd was hungry for more classic rock. As the second band of the evening and the second band with a rather short set ZODIAC just did their thing and they did very well too. All in all their musical approach is less wild than that of the CARAVAN dudes but they play it tight from the heart and you can hear it. Nick Van Delft`s voice is used in the middle ranges and rather smoky at times but it fits the band`s sound very well. The crowd gets a bit more quiet and girls start to dance (well done ZODIAC).
Setlist

01. Intro
02. A Bit of Devil
03. Free
04. Cortez the Killer
05. Moonshine
06. Coming Home
Rating

Music: 7
Performance: 7
Sound: 8.5
Light: 7
Total: 7.2 / 10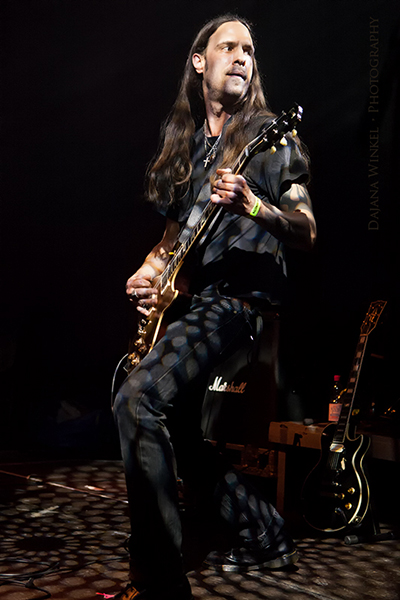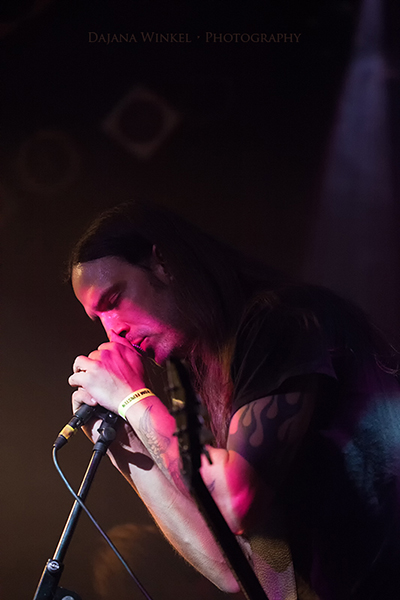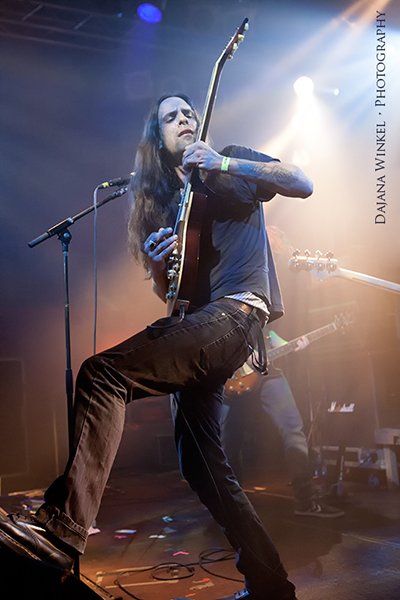 Audrey Horne

This Norwegian hard rock outfit from Bergen, Sweden was formed in 2002 and is named after a character of the TV Show Twin Peaks. Originally founded as a fun project the musicians soon realized that they share the same Rock and Roll roots which was reason enough to get down to business and consider the project a more serious issue. The band recorded their debut 'No Hay Banda' at Tuba Records. The follow up, 'Le Fol', was recorded at Indie Records and from that LP on the sky was the limit. They played the Rock Hard Festival in Germany and played as support for MÖTLEY CRÜE. After that they recorded 'Audrey Horne' in 2010 and the follow up 'Youngblood' in 2013. AUDREY HORNE are Toschie (Vocals), Ice Dale (Guitar), Thomas Tofthagen (Guitar), Kjetil Greve (Drums) and Espen Lien (Bass).
https://www.facebook.com/AudreyHorneOfficial
/
http://www.audreyhornemusic.com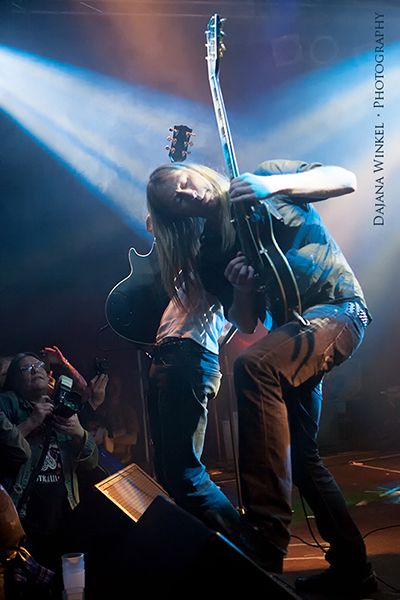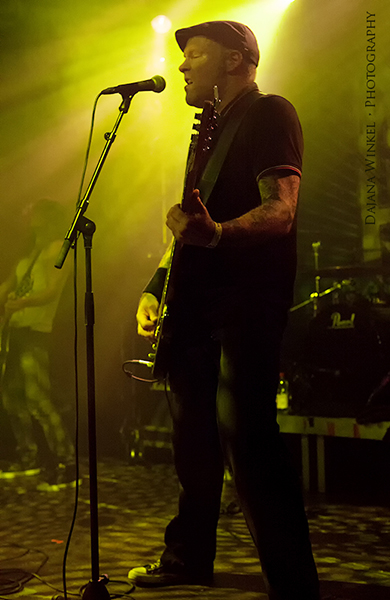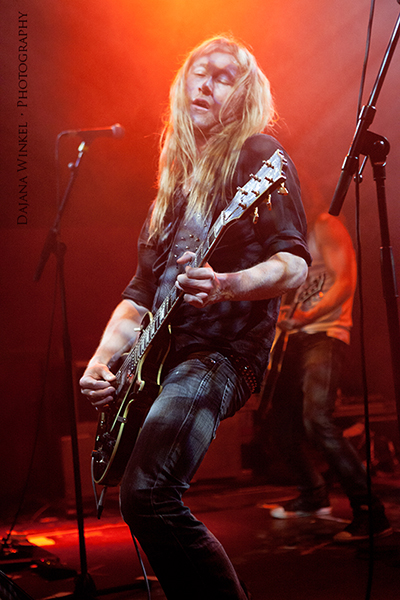 Music & Performance

I bought 'Youngblood' blind and unheard and I have to say that record is a fucking space rocket… its riff and hook line laden to the limit and over it too. I expected a great gig but what I got from those crazy Norwegian guys was a gift of the rock and roll gods. Every guitar solo and every riff did strike home. Toschi`s voice is a matter of taste(I really like it) but one thing can`t be argued the sound, the band and his voice it just harmonizes greatly and almost every song of this awesome band is a friggin sing along. If I had known how damn great they play I would have saved my money for merch… I will be back and I will see them again (and of course buy merch and cd`s and, and, and…).
Setlist

01. Redemption Blues
02. Bridges and Anchors
03. Youngblood
04. There goes a Lady
05. Pretty little Sunshine
06. Cards with the Devil
07. Gravity(New Song)
08. This ends here
09. There is a Wolf in my Heart(New Song)
10. Show and Tell
11. Blaze of Ashes
12. Straight into your Grave
Rating

Music: 8
Performance: 8
Sound: 8
Light: 8
Total: 8 / 10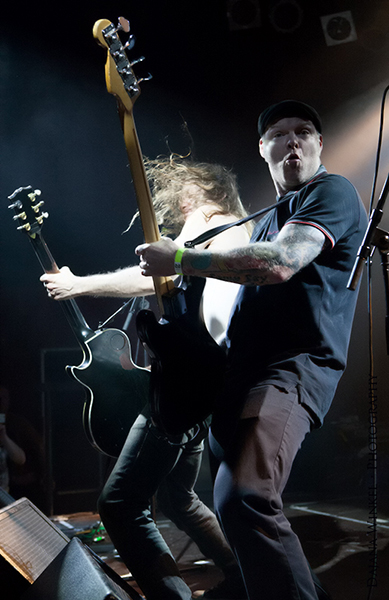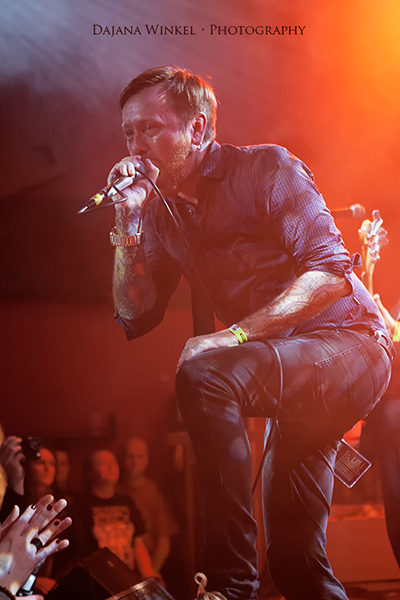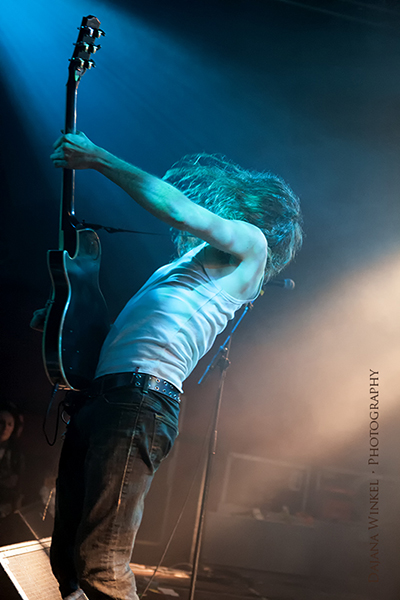 Grand Magus

Very little is there to say about GRAND MAGUS that I haven`t already said, they are great, they are epic and they are from Sweden. The band was founded under the name SMAK in 1996 and the recorded ten records since then, getting better and bigger with every record. Their sound is bone crushing, face melting intense true metal and they give MANOWAR a good dressing down with the epic records… GRAND MAGUS is JB (Vocals, Guitar), Fox (Bass) and Ludwig (Drums).
http://www.grandmagus.com/
/
http://facebook.com/grandmagusofficial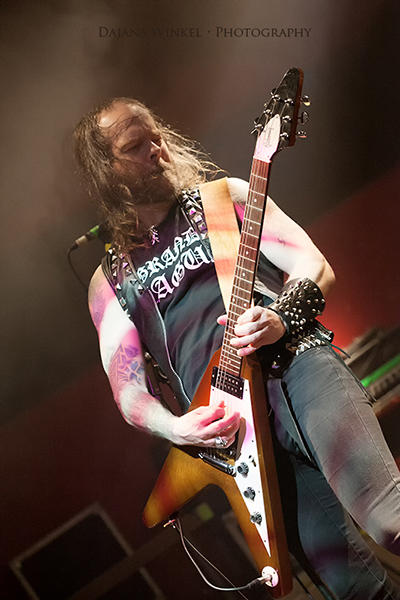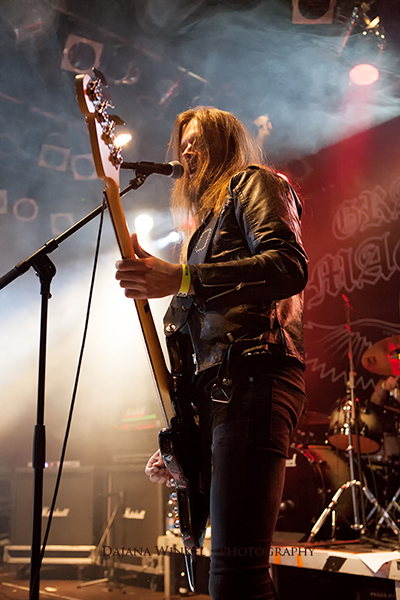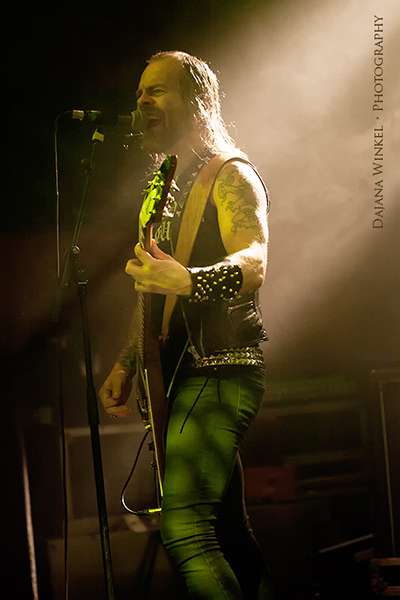 Music & Performance

Just the day before the gig I heard the rumour that JB is having the flu, and it seems the buzz was real. JB tried to avoid the high screams through the whole gig (sometimes he tried to sing them and failed, sometimes he managed to hit them). His disadvantage aside he just rocked the damn house to shreds!!! He entered the stage and smiled at us and everyone knew that this was a happy man, happy to play for us and share his music with us. The whole set was like a best of for the hard core fans and every riff tore holes into the space-tine continuum(no harm done) I was very happy to be there and I will treasure this gig for a long time.
Setlist

01. Conan Intro
02. I the Jury
03. Sword of the Ocean
04. Hooves of Gold
05. Ravens guide our Way
06. Like the Oar strikes the Water
07. Drum solo
08. Steel versus Steel
09. Valhalla rising
10. Iron Will
11. Triumph and Power
12. Hammer of the North
Rating

Music: 8.5
Performance: 7.5
Sound: 9
Light: 8
Total: 8.2 / 10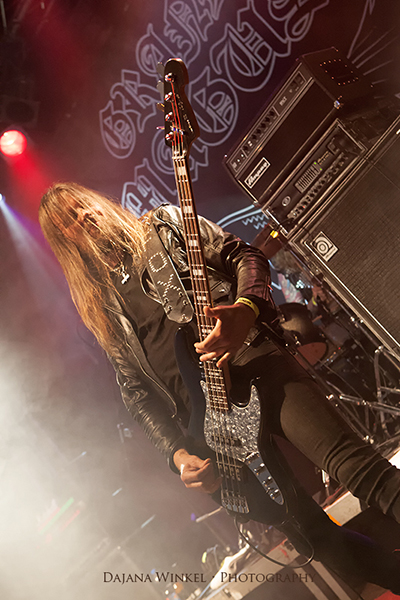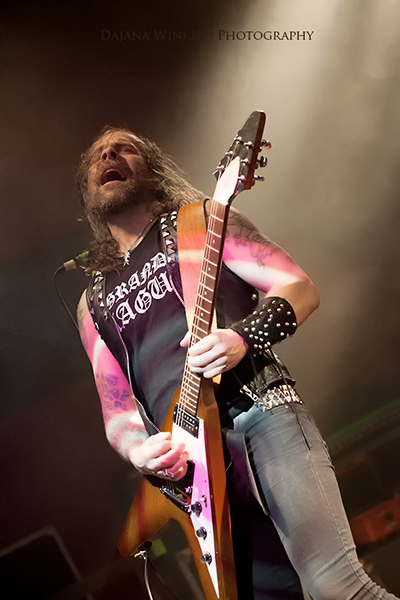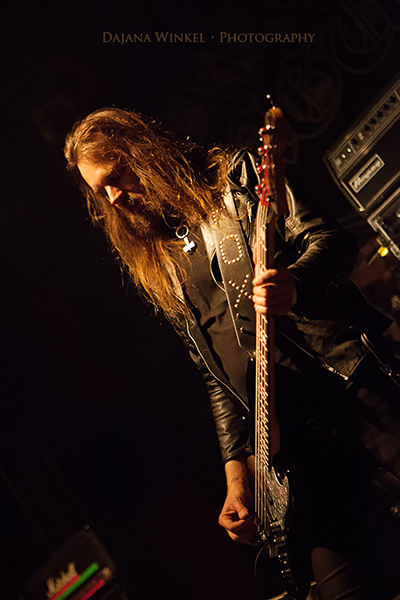 Full Gallery

All Pictures by Dajana Winkel (
http://www.dajana-winkel.de
)
See also (all categories):