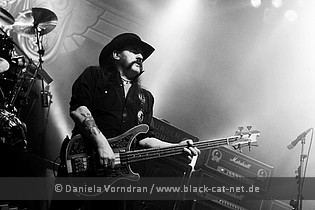 Mitsubishi Electric Halle, Düsseldorf, Germany
29th November 2011
Motörhead, Duff McKagan's Loaded, Graveyard

Preferably in winter it seems that MOTÖRHEAD love to come to Germany. Could be a coincidence as well. Anyway, the guys are back in town again up to play some Rock'n'Roll to the huge audience at the venue, including us.



Graveyard

GRAVEYARD formed in 2006 and quickly after their formation recorded a demo and played one or the other live show. The self-titled debut album followed in 2008. Might be worth to mention that all band members have been involved in other bands long before anyone did even think of GRAVEYARD and by no means are to be considered noobs. GRAVEYARD isJoakim Nilsson (guitar & vocals), Jonathan Ramm (guitar), Rikard Edlund (bass) and Axel Sjöberg (drums). http://www.graveyardmusic.com / https://www.facebook.com/graveyardofficial / http://www.myspace.com/graveyardsongs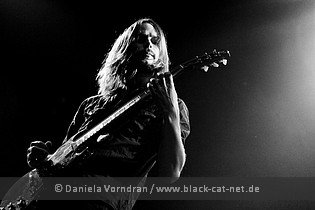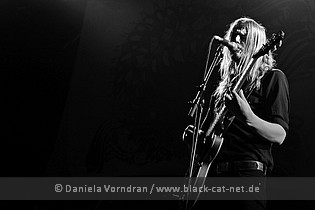 Music & Performance
Quite honestly I didn't know what to expect from GRAVEYARD so I approached it with an open mind. Musically, everything was absolutely flawless and you could really see, moreover hear that all those guys on stage were seasoned musicians. Their style incorporated heavy blues elements, melodic solos and mostly clean vocals. Add to it classic metal stuff and you get an idea of what I sounded like. The downside to the music was that many of the songs sounded alike. As for the performance, it lacked some movement to get the crowd moving. So all that's left for them was to clap if at all!

Rating
Music: 7
Performance: 5
Sound: 7
Light: 6
Total: 6.3 / 10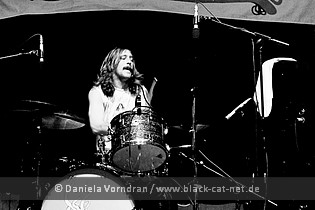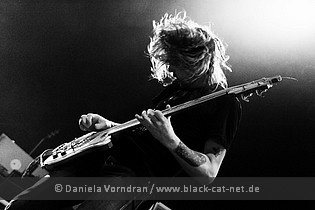 Duff McKagan's Loaded

DUFF MCKAGAN became well known by his job as bassist for GUNS'N'ROSES and VELVET REVOLVER. His newly formed band LOADED would have their debut album 'Dark Days' out by that time. The band would subsequently be put on hiatus over various other projects until 2008 when they'd be returning with a new EP, entitled 'Wasted Heart', followed by the second studio album 'Sick' after the release of which they embarked on various tours. 2011 sees them returning with their third instalment 'The Take'. LOADED consists of Duff McKagan (vocals & guitar), Mike Squires (guitar), Jeff Rouse (bass) and Isaac Carpenter (drums). https://www.facebook.com/DuffLoaded / http://duff-loaded.com/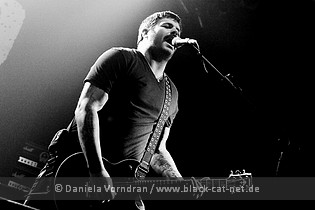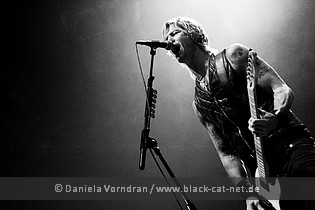 Music & Performance
It's been a while since we've seen DUFF MCKGAN's LOADED for the last time. Was in June I think. Anyway, this promised to become much more of an energy-packed performance than the one before. The band was introduced by the well-known "Knight Rider" theme to start the show right off with a fair doze of rock in a rather classic fashion. McKagan and his band have a habit of not standing still for too long when they're performing and they kept true to that here as well. Even if you saw Duff standing behind the microphone to sing he was constantly in action. Travelling mainly the upbeat road, he gave you not a chance to cool down really. But let's be honest. Who's come here to cool down? Anyway, the audience granted him a deserved applause and he left them waiting now for the main act.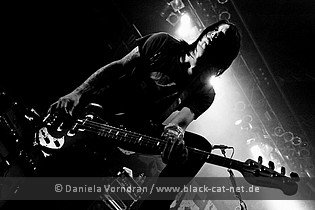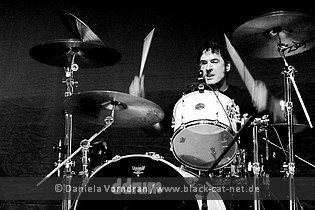 Setlist
01. Sick
02. Seattle Head
03. Sleaze Factory
04. Good News
05. Ex Song
06. We Win
07. Dead Skin
08. Cocaine
09. New Rose
10. Your Name
11. LOA
12. Attitude
13. It's So Easy

Rating
Music: 7
Performance: 7
Sound: 7
Light: 7
Total: 7 / 10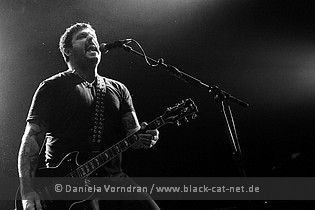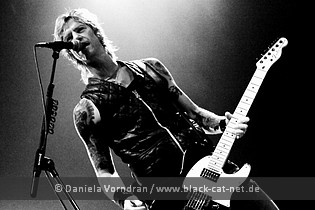 Motörhead

MOTÖRHEAD was formed in 1975 by Ian "Lemmy" Kilmister, who has remained the only constant member. Usually a power trio, MOTÖRHEAD had particular success in the early 1980s with several successful singles in the UK Top 40. The albums 'Overkill', 'Bomber', 'Ace of Spades', and particularly 'No Sleep 'til Hammersmith' have been catering for their enormous reputation that is lasting until the present day, where they have released a total of 19 full-length releases with the next one, entitled 'The World Is Yours' released just a few days ago. MOTÖRHEAD is Ian "Lemmy" Kilmister (vocals, bass), Phil Campbell (guitar) and Mikkey Dee (drums, percussion). http://www.imotorhead.com/ / http://myspace.com/motorhead / https://www.facebook.com/pages/Motörhead/8079594657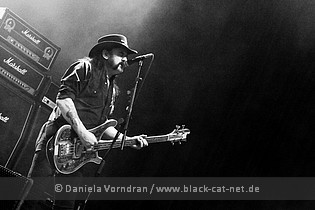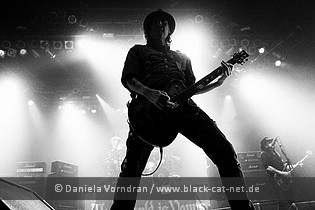 Music & Performance
There's been a few differences between the MOTÖRHEAD shows I've witnessed so far. Firstly, that characteristic microphone of Lemmy was missing and he stood actually at the front. Secondly, the trademark call to open a show was left by the wayside this time around. So the band went for a straight to the point approach in kicking the show off right away with 'Bomber' and 'Damage Case' with not a notable break in-between. The fans did what they always did when the band started to play: they cracked up completely. The one's sitting literally jumped up and suddenly everyone was in a hurry to get as much of a free view on stage as possible. Not that there was much more to see than usual. Even though the position had changed, Lemmy only occasionally moved away from the microphone for a melodic solo with Phil, who was the only one scouring the stage constantly.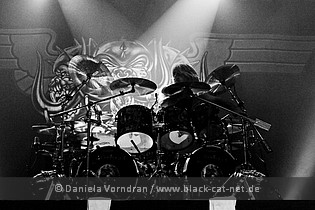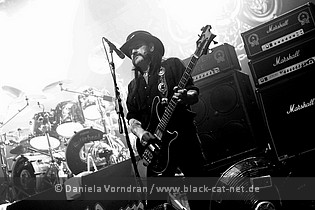 The band has a new album out called 'The World Is Yours' of which surprisingly only two songs were played: 'I Know How To Die' and 'Get Back In Line'. The rest was filled with classic tracks like 'Metropolis', 'Over The Top' or 'Orgasmatron' as one would expect. The mandatory screaming contest was part of the show again as well during which the band is trying to find out which city was the loudest. After the second attempt they seemed quite satisfied. Of course there was an encore included after the main set has ended, featuring three more tracks and ending with 'Overkill'. MOTÖREAD laid down a solid if unsurprising show.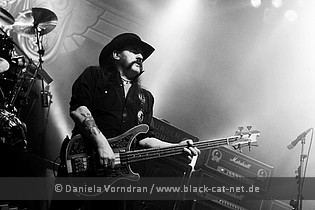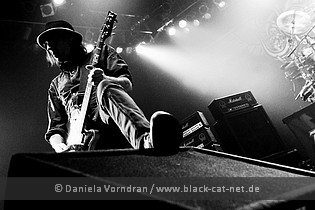 Setlist
01. Bomber
02. Damage Case
03. I Know How to Die
04. Stay Clean
05. Metropolis
06. Over the Top
07. One Night Stand
---Guitar Solo---
08. The Chase Is Better Than the Catch
09. Get Back In Line
10. I'll Be Your Sister
11. The One To Sing the Blues
12. Orgasmatron
13. Going to Brazil
14. Killed by Death
15. Iron Fist
---
16. Whorehouse Blues
17. Ace of Spades
18. Overkill

Rating
Music: 7
Performance: 7
Sound: 7
Light: 8
Total: 7.2 / 10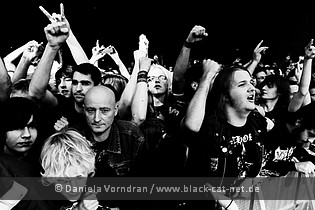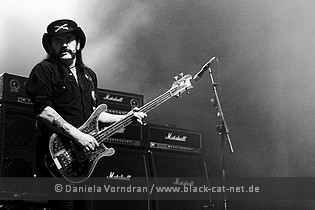 All pictures by Daniela Vorndran (http://www.vorndranphotography.com / http://www.black-cat-net.de/ / http://www.myspace.com/vorndranphotography / http://www.facebook.com/blackcatnet)


See also (all categories):