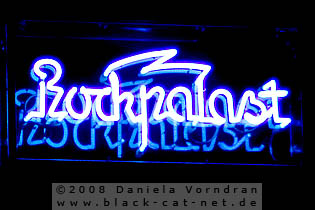 Palladium, Cologne, Germany
29th March 2008
22nd Rockpalast Rocknacht: Velvet Revolver, The Hives, Good Charlotte, The Futureheads, Jolly Goods


For the already 22nd time, the Rocknacht took place to please all the Rock fans out there in Germany and beyond - German TV channel WDR filmed this event for the "Rockpalast" series - with some of the finest artists this genre has to offer. This time we had the opportunity to experience this event at first hand and it should contain a few surprises…



Jolly Goods

No one really knows, when those two girls from Germany decided to found the JOLLY GOODS. Fact is they were just there at a festival in Berlin in summer 2007 and didn't quite fit to what the audience there had expected. Unadjusted and raw, they're spitting the people their kind of music in the face. The girls already have released several EPs, one live and two regular studio albums with 'Her.Braium' being the latest one released in November 2007. The JOLLY GOODS are: Tanja Pippi (guitars, vocals) and Angy (drums, backing vocals).
http://www.jollygoods.net/
/
http://www.myspace.com/jollygoods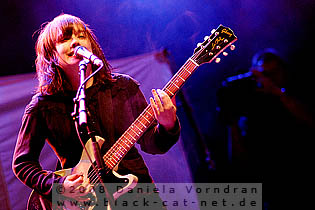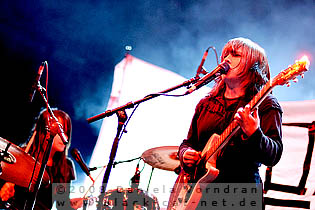 Music & Performance

So there they were those two girls from Germany playing, what they call "Lo Fi Garage Beat Punk Trash Fuck". Angy was sitting at the drums most of the time, maltreating that instrument and just starting into the void, while her bigger sister screamed and shouted into the mic and played her guitar. The stage decoration was a bit "purist"; a cloth with the band name and a sign on it had been spanned over metal construction. I can't say that I liked what I saw there. To me it seemed as if those two frantically tried to fulfil all the rock clichés. This resulted in Tanja smashing the guitar away and disassembly the drums after Angy already left the stage with an angry expression on her face after throwing her drumsticks away.
Setlist

01. Crackin' Up
02. Tomboy
03. Foreign Mountain
04. Hideaway
05. Girl Move
06. Surplus People
07. Do you now know why?
08. Ghosts
09. Fuck
10. Worry
Rating

Music: 4
Performance: 4
Sound: 5
Light: 5
Total: 4.5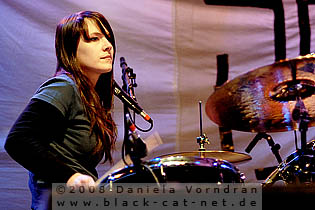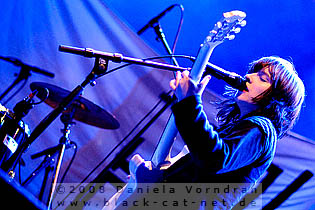 The Futureheads

THE FUTUREHEADS formed in 2000 in Sunderland or more specifically in Barry's Garage. After playing a million and one shows in their hometown, the guys hit the road. A tour of Squats and Youth Centres in Central Europe came in summer 2001, due to which the band switched out drummers and so, Mr. David Hyde took the place formerly filled by David Brewis. After releasing several singles, the debut 'The Futureheads' was released in summer 2004 followed by a tour. The second album 'News & Tributes' was then released in 2006 followed by what those guys seem to like most: a tour; but 2006 also was the year the band split with their label 679 annoyed and frustrated too many times by the bureaucratic nightmare that music had become and took their destiny into their own hands by founding their own label "Nul Records" and being their own bosses. 2008 sees the return of THE FUTUREHEADS with their new album 'This is not the World' which has been recorded in just three weeks. THE FUTUREHEADS are: Barry Hyde (vocals, guitars), Dave Hyde (drums, vocals), Ross Millard (vocals, guitars) and Jaff (vocals, bass).
http://www.thefutureheads.com/
/
http://www.myspace.com/thefutureheads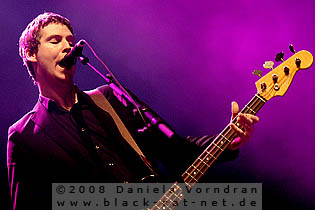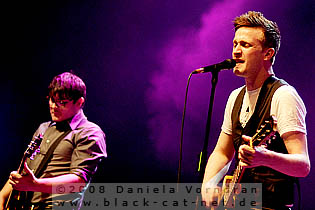 Music & Performance

After the strange performance by the JOLLY GOODS it could only get better and luckily it got better. The first thought I had in mind, when seeing them entering the stage, was "Somehow they're looking like a school band" and they appeared even younger as they probably really are, but the show they laid down on stage was full of energy and I guess they wanted to set a new record regarding speed. This applies on every aspect of their music. I better try to describe that type of music, so you know what the hell I'm talking about here. As mentioned before "speed" was a very important part in their music I would describe as a mixture of Indie Garage Rock with a pinch of Psychobilly and a male choir because of the way they intonated the songs. The mood in the band was very good too. They were moving on stage and encouraging the people and so the mood of the audience became much better, still being a bit restrained but, there were much more people clapping their hands than before.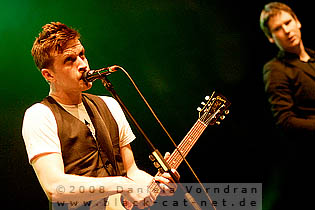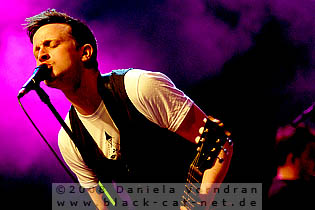 Setlist

01. Decent Days
02. Broke Up..
03. A to B
04. Area
05. Think
06. Skip
07. Everything's Changing
08. Meantime
09. S+Shallow
10. Hard to Bear
11. Hounds
12. This is not the World
13. Radio Heart
14. He Knows
15. Twist
16. Carnival Kids
17. Man Ray
Rating

Music: 7
Performance: 7
Sound: 7
Light: 6
Total: 6.7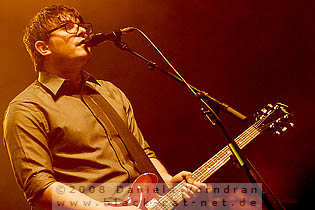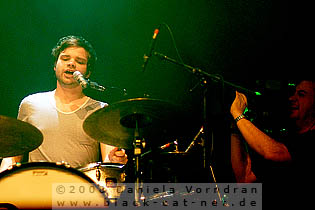 Good Charlotte

The dream of being famous and a bit rich should become reality for the two brothers Benji and Joel Madden. In 1996 with 16, they founded their band later named after a fairy-tale GOOD CHARLOTTE. Their first gig, together with their high-school mates Paul and Billy, took place in a cellar in front of about 20 people in 1996 and the number of fans grew and grew and after winning a newcomer's competition and with the support of a local radio station and to demo tapes, they released their first self-titled album via Sony. This was only the beginning of a hopeful career. The guys can now look back on four very successful albums, countless live shows and a devoted fan base all over the globe. GOOD CHARLOTTE is: Joel Madden (vocals), Benji Madden (lead guitar, vocals), Billy Martin (guitar, keyboard), Paul Thomas (bass) and Dean Butterworth (drums).
http://www.goodcharlotte.com/
/
http://www.myspace.com/goodcharlotte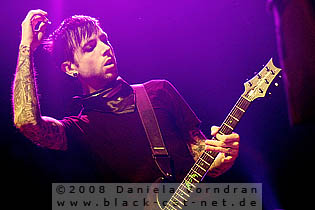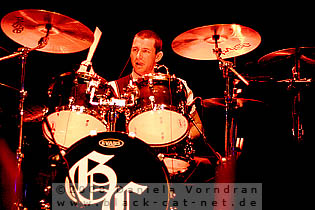 Music & Performance

I only knew the band from some videos, they played in music television quite a long time ago, but never actually seen them playing live but one time is always the first time. More and more people gathered in front of the stage during the reconstruction break, but when it was finally time for GOOD CHARLOTTE to hit the stage accompanied by an electronic intro they've been loudly welcomed by the audience at the Palladium and started to rock the venue right away. GOOD Charlotte play a very catchy kind of Rock with lots of melodic sing-a-long choruses being one of the trademarks and their fans all over the globe love them for that.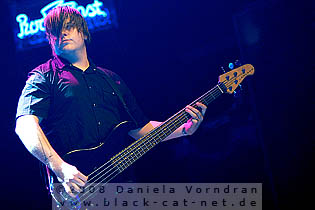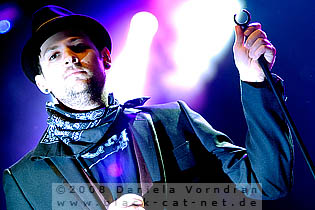 The crowd in Cologne was no exception here. It wasn't even necessary for Joel to animate everyone to sing with him or clapping their hands. All the people knew what they had to do to create an incredible mood. Every song was rewarded with a thunderous applause. Colourful scanners illuminated the scenery with a dark light perfectly matching the often not happy lyrics dealing with the problems of the brother's childhood and also American politics. Contrary to that, everyone in the band had a lot of fun and it was an all but static show. The fans demanded an encore of course but unfortunately their calls remained unheard…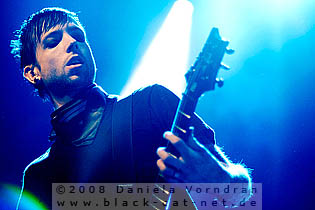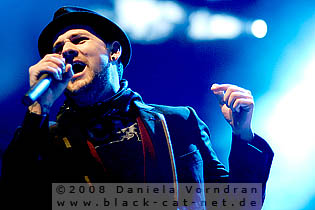 Setlist

01. Intro
02. River
03. Anthem
04. Chronicles
05. Bloody Valentine
06. KYHOMG
07. Girls & Boys
08. Victims of Love
09. Predictable
10. Young & Hopeless
11. Hold On
12. Love Song
13. Dance Floor
14. Just Wanna Live
15. Lifestyles
Rating

Music: 8
Performance: 8
Sound: 8
Light: 8
Total: 8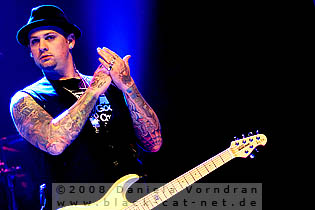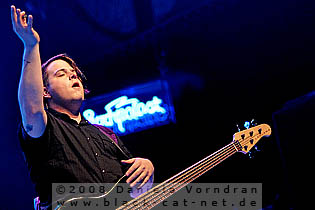 The Hives

The history of THE HIVES began in 1993, when the band was founded in the Swedish city Fagersta. The band claims to be brought together by a mysterious person called Randy Fitzsimmons, who is also claimed to be responsible for writing all the songs. Nicholas Arson, the brother of singer Pelle Almqvist is registered in the archives of the STIM, which is the equivalent to the German GEMA under the exact same name, what implies him to be the sole songwriter even though the band still denies that this is the case. The HIVES are "Howlin" Pelle Almqvist (vocals), Nicholaus Arson (guitar, vocals), Vigilante Carlstroem (guitar, vocals), Dr. Matt Destruction (bass) and Chris Dangerous (drums).
http://www.hives.nu/
/
www.myspace.com/thehives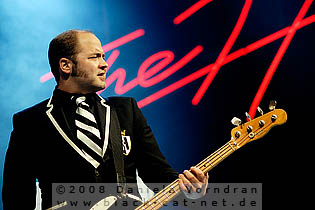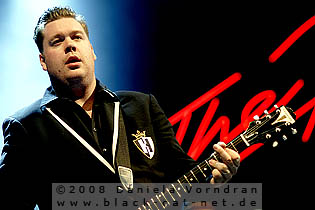 Music & Performance

In 1996 the band released their first EP 'Oh Lord When? How?' on Sidekick Records followed by the first album 'Barely Legal' in 1997. In the early days the four guys toured the clubs in Sweden later tours in the US followed. The two following albums 'Veni Vidi Vicious' and 'Your new favourite band' gave them their break in the US and Europe. The two singles 'Main Offender' and 'Hate to Say I told you so' became hits. The band released two more albums with 'The Black & White Album' being the latest one.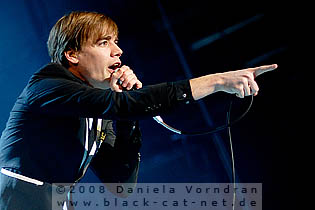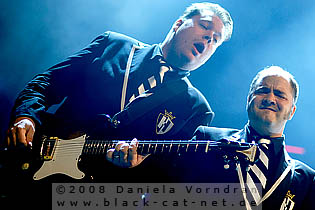 A small optical detail already distinguished THE HIVES from the other bands performing at that night in Cologne. They were wearing stylish and elegant suits in black and white (which are specially-tailored for them by the way). In the background a red neon sign was hung up reminding a bit of the ones in Jazz clubs you can often see in older movies. I already heard the band would be delivering a cool show but that couldn't prepare me in any way for what should happen there on stage in the following 90 minutes. As soon as the band started their set, the whole venue turned into a madhouse with the band leading the way. I've never seen a band playing a show a t that level of energy, especially Pelle was absolutely incredible. I could have sworn he wouldn't be able to hold that level all the way through but he proved me wrong.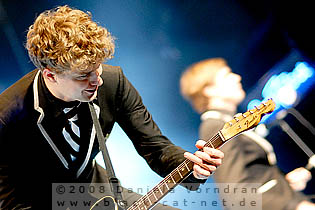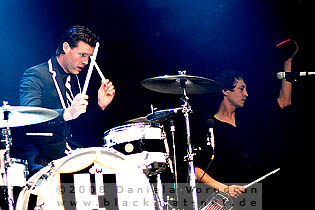 He was moving and jumping over the stage like a whirlwind and spinning around his microphone. Soon the stage became too small for him and so he just "extended" it a tiny bit stepping onto the stage rim or the speakers. Several times he jumped off the stage to get to the fans as close as possible. In fact so close, that the security had to hold him and keeping him from falling into the screaming crowd even though I think the audience would have liked it a lot. But also his brother Nicholaus couldn't resist moving a lot and showed some awesome tricks with his guitar. Pelle proved to be a master in controlling the whole crowd as well. If he addressed the "ladies" all women screamed and if he called the "gentleman" they did it as well. Usually it's the duty of the band at a rock show to do some stage diving but that wasn't possible and so you saw several people out of the audience doing that instead. I would also tell you something about the light but to be honest, I was too fascinated by the action on stage.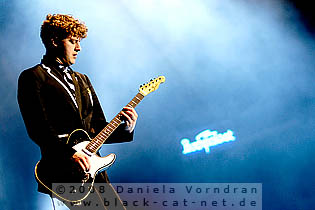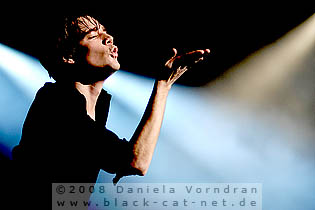 Setlist

01. Hey Little World
02. Main Offender
03. Try it again
04. A Little More for Little You
05. Walk Idiot Walk
06. No Pun Intended
07. Square One Here I Come
08. Die All Right
09. Won't be Long
10. Diabolic Scheme
11. You dress up for Armageddon
12. You got it al…Wrong
13. Two Timing Touch
14. Hate to Say I Told You So
---
15. Bigger Hole To Fill
16. Tick Tick Boom
17. Return The Favour
Rating

Music: 8
Performance: 10
Sound: 8
Light: 7
Total: 8.3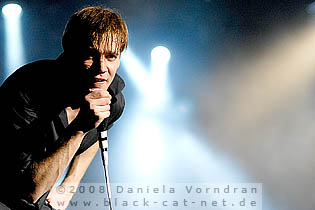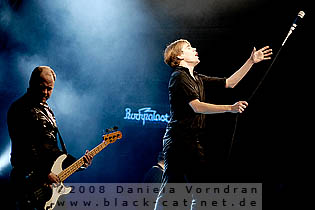 Velvet Revolver

It all started, when Slash, Duff McKagen and Matt Sorum (all former members of Guns 'n' Roses) performed at a charity concert in remembrance of Randy Castillio, who was the drummer of Ozzy Osbourne, which took place in October 2002. After the concert they met again several times and finally decided to found a new band. Dave Kushner joined the line-up as guitarist in October and last but not least Scott Weiland became the official lead singer in June 2003 and VELVET REVOLVER was born. The first VELVET REVOLVER release was the single 'Set me Free' which was the title song for the Hulk motion picture in 2003. The debut followed in June 2004 entitled 'Contraband'. The current album 'Libertad' followed in July 2007. VELVET REVOLVER is: Scott Weiland (vocals), Slash (lead guitar), Dave Kushner (guitar), Duff McKagan (bass) and Matt Sorum (drums).
http://www.velvetrevolver.com/
/
http://www.myspace.com/velvetrevolver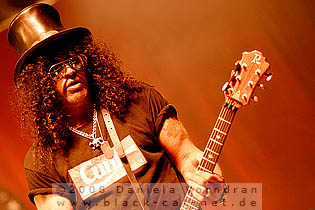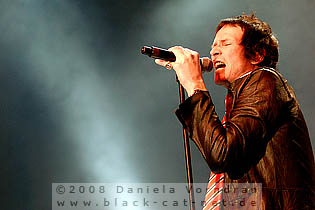 Music & Performance

What else could you expect from such a band as honest and pure rock music. But one thing stewed the excitement of the people. The people had to wait about 45 minutes before the band came on stage and the more time passed the angrier everyone got. Actually there was enough time to go and eat something outside. Cups of water were thrown on stage and I was wondering, when the point was reached, where people would leave the venue but that didn't happen but for the last concert of a band who would officially quit after that gig, they didn't cover themselves with glory.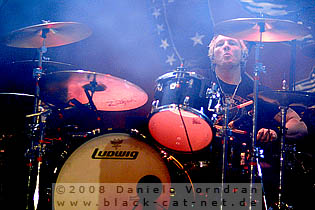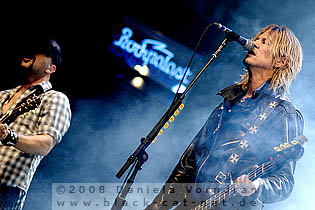 Enough bashing. The band finally appeared and everything seemed to be forgotten and VELVET REVOLVER has been welcomed loudly. The eye catcher of the show was surely Slash who was almost gliding over the stage from left to right and last but not least because of his big hat and glasses. During the show, Duff had a little accident. I just saw him falling and then he disappeared for a while just to emerge soon after again. Even though the band started very late; they played the full set (except the first song of the planned encores) and pleased all the people, who had to wait so long.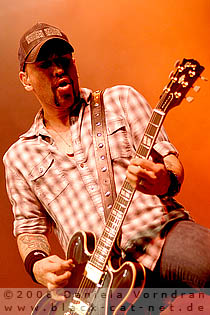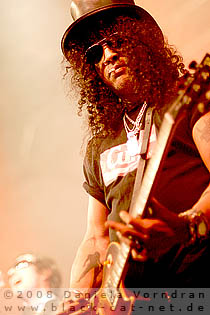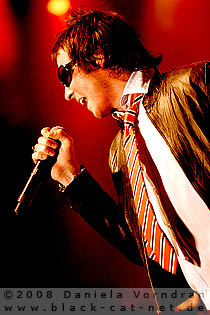 Setlist

01. Let it Roll
02. She Mine
03. Suckertrain
04. Do it for the Kids
05. Just 16
06. Big Machine
07. American Man
08. Vasoline
09. Last Fight
10. Interstate
11. Patience
12. Quick Machines
13. Get Out The Door
14. Fall To Pieces
15. It's so Easy
16. Set me Free
---
17. Brownstone
18. Sex Type Thing
19. Slither
Rating

Music: 8
Performance: 8
Sound: 7
Light: 8
Total: 7.8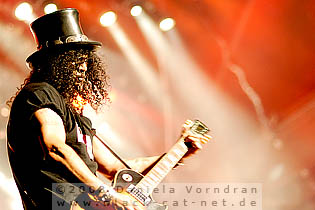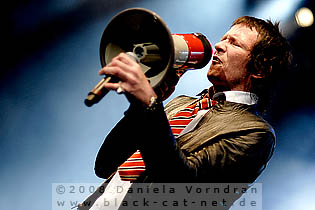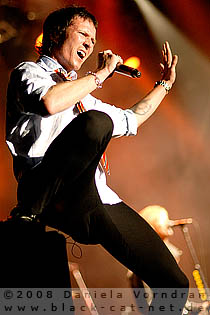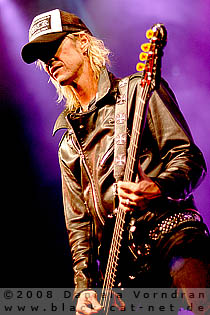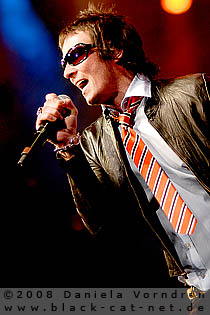 See also (all categories):