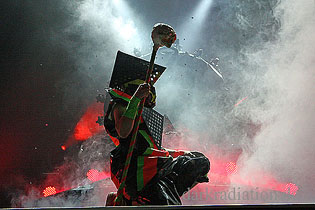 Airfield Borkenberge, Lüdinghausen, Germany
19th - 21st August 2011
Area4 Festival 2011 Day 3: Deichkind, Face To Face, The Kooks, The National, Underoath, White Lies, Yellowcard, The Mighty Mighty Bosstones, Skindred, Johnossi, The Computers, Young Rebel Set, Mini Mansions, The Menzingers, vs. Rome, Royal Bangs

The third festival day came with the promise to become one of the best with some of my favourite bands playing that day. Starting with nice summer weather, Sunday also had a surprise in stock for us. More on that later though...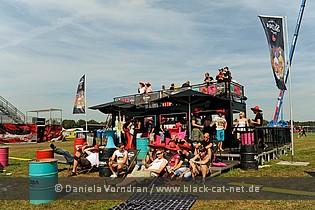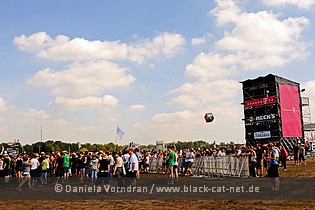 Royal Bangs

ROYAL BANGS from Tennessee came alive in 2005. The first album 'We Breed Champions' then came out in 2008; The second album 'Let It Beep' followed in 2009', released to favourable reviews. 'Flux Outside' is the latest one in line being released this year. ROYAL BANGS are Ryan Schaefer (vocals, keyboard, guitar), Chris Rusk (drums) and Sam Stratton (guitar). http://www.facebook.com/royalbangs / http://www.royalbangs.com / http://www.myspace.com/royalbangs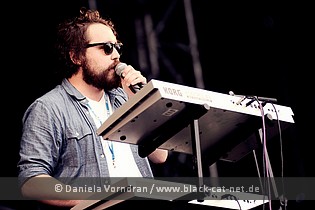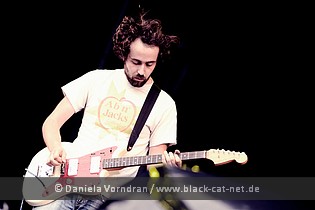 Music & Performance
While the sky was still covered in clouds and the wind send a fresh breeze over the grounds ROYAL BANGS opened the Sunday with a fresh mixture of Southern, Indie, and Alternative rock with a little drunken flavour. The compositions being as varied as it can get it was a pleasure to watch. The vocals were a bit hard to catch though. Might be that the microphone wasn't tuned correctly or their singer was just mumbling too music. Anyway, the Tennessee accent and the raucous timbre made you easily forget that little detail.

Rating
Music: 7
Performance: 7
Sound: 7
Light: - (daylight)
Total: 7 / 10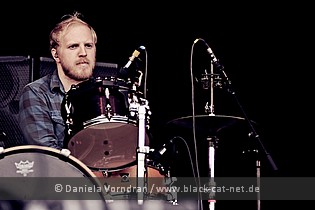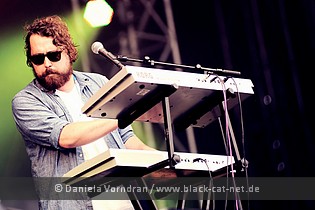 vs. Rome

Since 2008, German band VS.ROME are spreading their cocktail amongst interested music lovers and finally in 2011 those acquired fans could get their hands on the debut album 'The End Is Important In All Things' this April. VS.ROME is Benni (vocals), Philipp (guitar), Arne (guitar), Menny (bass) and Eike (drums). https://www.facebook.com/vsrome / http://www.vsrome.de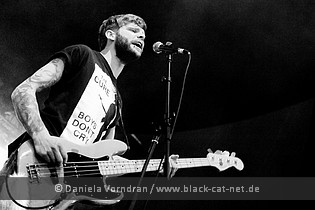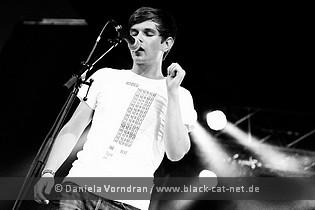 Music & Performance
While heading towards the tent, the band's show had already started and gruesome growls were sounding over to me. Quite honestly I feared that I would have to suffer from another of these Hardcore outfits that I love so much. Well, in the aftermath I'm happy to say that I was wrong. That young band up there on stage knew quite well how to mix different genres together which included clean vocals and actual, cool melodies. With that they reached the little audience and made them, dance or, some of them, jump around extensively. The band visibly and audibly appreciated what they saw. Hopefully this wasn't the last time we've seen them on a festival. Thumbs up!

Setlist
01. Dead Hands
02. All ending
03. Home
04. Weather the Storm
05. Shake
06. A Landslide
09. I'm thinking: No!
10. You can see me fall

Rating
Music: 6
Performance: 8
Sound: 6
Light: 7
Total: 6.8 / 10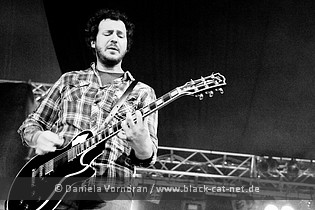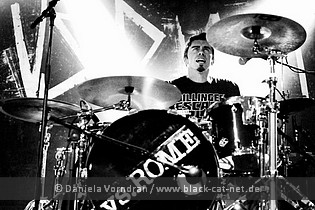 The Menzingers

THE MENZINGERS formed in 2006. The punk outfit released their first album 'A Lesson In The Abuse Of Information Technology' in 2007, followed by a couple EPs in 2009 and 2010, the same year when their second and latest album 'Chamberlain Waits' was released on legendary Epitaph Records label. THE MENZINEGRS are Tom May, Joe Godino, Eric Keen and Greg Barnett. http://www.facebook.com/themenzingers / http://www.myspace.com/themenzingers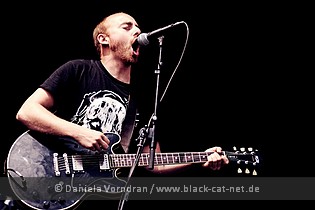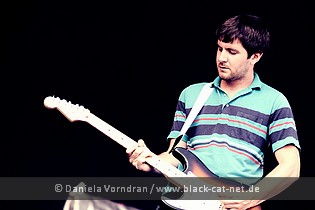 Music & Performance
With THE MENZINGERS we were travelling back a little into the punk direction. For the band from Pennsylvania it was the first time playing in Germany and even if I have to say that I can hardly listen to all the pop punk any more they did very well in delivering an entertainment set that spared no melodies and upbeat structures to get a crowd under their spell. The crowd came and not a little one I'd like to add, because dancing is admittedly the best was to show ones appreciation for what was going on up there on stage. The band in turn was showing theirs with giving it even more energy, rewarded with a considerable applause at the end of the little show.

Setlist
01. I Was Born
02. Who's Your Partner
03. Deep Sleep
04. Home Outgrown
05. Sunday Morning
06. Lilith Avi
07. Rivalries
08. So It Goes
09. Chamberlain Waits
10. A Lesson in the Abuse of Information Technology

Rating
Music: 7
Performance: 9
Sound: 7
Light: - (daylight)
Total: 7.7 / 10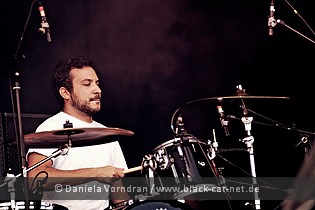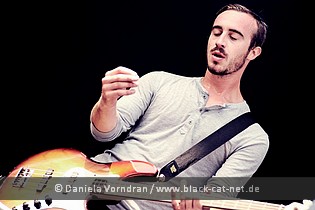 Mini Mansions

MINI MANSIONS were founded as a side project of QUEENS OF THE STONE AGE bass player Michael Shuman after the band took a break from touring and promoting. Their first, self-titled album has been released on November 2nd via Rekords Rekords. MINI MANSIONS are Zach Dawes (bass, keys, vocals), Tyler Parkford (vocals, keys, guitar) and Michael Shuman (vocals, guitar, drums). http://minimansionsmusic.com/ / https://www.facebook.com/theminimansions / http://www.myspace.com/minimansionsmusic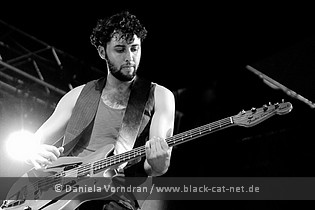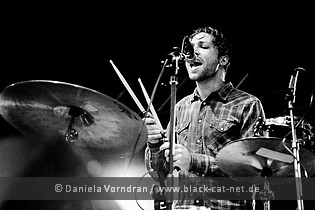 Music & Performance
The style you were coming to hear if you decided to enter the tent with all its thick air was a whole lot of seventies and a little bit of sixties with the organ sounds included. But most of all what the MINI MANSIONS were doing was spreading absolute power wrapped in upbeat compositions mostly. Doesn't mean they didn't throw in some calm moments as well. Those were in a minority though. What was reigning hear was a condensed form of rock that just had little use for breaks. The audience also didn't really look like they were needing one already. Interesting little set.

Rating
Music: 7
Performance: 7
Sound: 6
Light: 6
Total: 6.7 / 10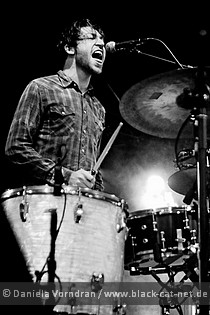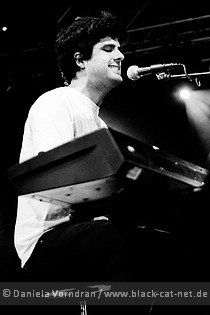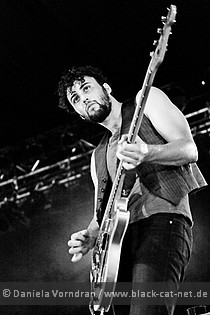 Young Rebel Set

Following a few solo shows, Matty Chipchase met some guys who were supposed to form the YOUNG REBEL SET with him. The formation released their first album 'Curse Our Love' not so long ago after they had already sold-out several clubs. The band consists of Matty Chipchase (guitar, vocals), Mark Evans (mandolin, piano), Andrew Parmley (electric guitar), Chris Parmley (bass), Luke Evans (drums), David Coombe (harmonica, sampler) and Paddy Jordan (producer, additional instruments). http://www.youngrebelset.co.uk/ / https://www.facebook.com/youngrebelset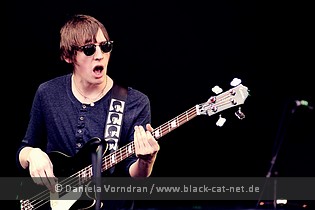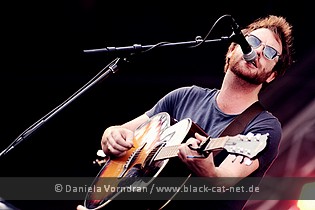 Music & Performance
'Down The Line' was the first teaser of what the YOUNG REBEL SET had in stock for t hose willing to watch. Tight Rock'n'Roll mixed with some folk in the form of some harmonica grooves that immediately mesmerized everyone around and spreading a good mood at the same time. 'Measure Of Man' continued in the same vein afterwards. 'Precious Day' initially fooled you into thinking there was a calm moment coming up. So if you were thinking you could catch a breath no you suddenly saw yourself confronted with an upbeat monster thrown at you. Later 'Fall Hard' was following' bringing some melancholia into the set and 'Red Brick' continued to walk the soulful path before 'Lion's Mouth' brought you an opportunity to celebrate again.

Setlist
01. Down The Line
02. Measure of A Man
03. Precious Day
04. Cruel? (New Song)
05. Fall Hard
06. Red Brick
07. Lion's Mouth
08. If I Was

Rating
Music: 8
Performance: 7
Sound: 7
Light: - (daylight)
Total: 7.5 / 10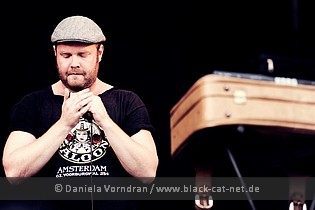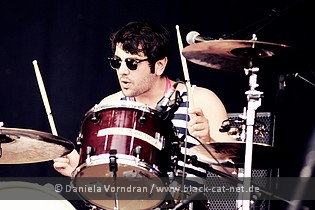 The Computers

The genesis of THE COMPUTERS is quite a short one. At some point Alex Kershaw just wanted to form a band that would combine the best of Hardcore, Rock'n'Roll and Garage. The band's debut album 'This Is The Computers' came out in this year's July. http://thisisthecomputers.com/ / https://www.facebook.com/thecomputers / http://myspace.com/thisisthecomputers

Music & Performance
I admit it that initially I thought I'd be actually hearing some computer sounds with THE COMPUTERS, but that band works at the other end of the spectrum in a bad ass rock mannerism that leads to extreme reactions on and off stage and made you wonder why the hell you could ever jump to the conclusion of hearing any electronics in their music. I mentioned the word extreme before which was no exaggeration here. As soon as the first song got fired into the audience the guys put down a switch and went completely crazy including a performance off the top of a speaker for a while. Alex has been really lucky not to fall down from there. Not much space to move up there, really. Maybe that's the reason why he went back up later and looked a bit relived being back on solid ground again.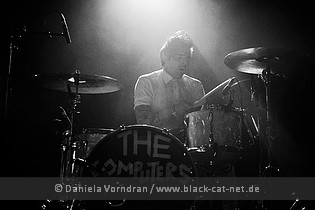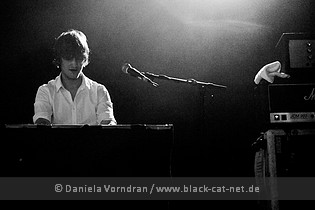 Later on the stage's borders couldn't hold him back any longer and he decided to go on performing from amongst the audience. Undoubtedly one of the best shows this far and one they surely won over some new fans with.

Setlist
01. Where Do I Fit In
02. Lovers
03. Track 4
04. Group Identity
05. Teenage Tourettes
06. Blood Is Thicker
07. Rhythm Review
08. I've Got What It Takes
09. Music Is Dead
10. Please Drink Responsibly

Rating
Music: 9
Performance: 9
Sound: 8
Light: 8
Total: 8.7 / 10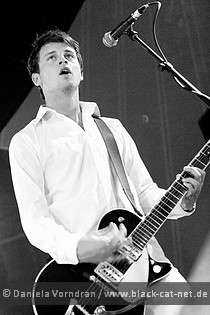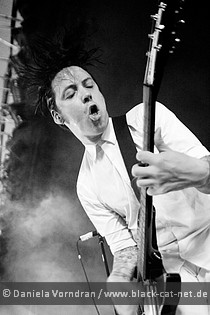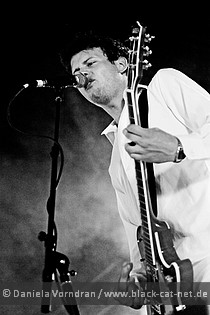 Johnossi

JOHNOSSI from Stockholm / Sweden is the band of close friends John and Ossi who just combined their first names to form the name of their musical project. The band started playing together a couple of years ago. So far, things have come easy to the band. Just after a handful of gigs they signed the first record deal and afterwards toured Scandinavia with SOUNDTRACK OF OUR LIVES and released the first self-titled album. After a headlining club tour through Sweden the band changed its record company to get their music spread also across Swedish borders. JOHNOSSI are John Engelbert (guitar, vocals) and Ossi Bonde (drums, vocals). http://www.johnossi.com/ / http://www.myspace.com/johnossi / https://www.facebook.com/johnossi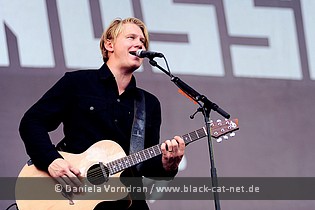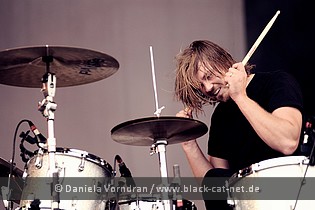 Music & Performance
JOHNOSSI now were going to show the Area4 festival once more how powerful a duo can act on stage after the BLOOD RED SHOES the day before, starting with the fine 'Dead End' introducing me who had never seen JOHNOSSI live before up to that point with a grand voice atop a straight Indie rock body. Amongst the audience there seemed to be a lot of fans of the Swedish duo clapping happily along already. The powerful 'Bobby' followed. With 'Party With My Pain' arising, John decided to perform a little from the top of Ossi's drum kit. 'No Last Call' and '18 Karat Gold' pushed the envelope further in regards of speed and adrenaline-drenched rock music that there was no escaping from its order to dance even f your body would burn up in the heat over it. 'The Execution Song' showed up what variety of sounds you can get out of an acoustic guitar if you just know one or the other trick before 'Man Must Dance' and 'Roscoe' wrapped up a blistering show that could have been a little longer for me. If the Area4 returns next year maybe they should consider JOHNOSSI for a later slot.

Setlist
01. Dead End
02. Bobby
03. Party With My Pain
04. No Last Call
05. 18 Karat Gold
06. What's The Point
07. Execution Song
08. Man Must Dance
09. Roscoe

Rating
Music: 8
Performance: 8
Sound: 8
Light: - (daylight)
Total: 8 / 10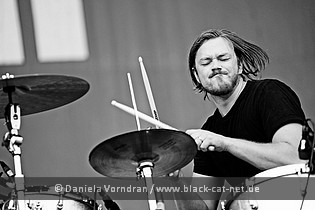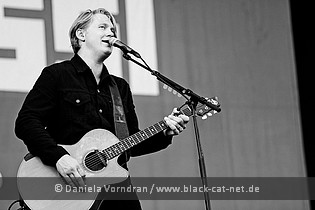 Skindred

SKINDRED formed in 1998 and it took them four years before the world would get to see the first album 'Babylon' in 2002. The second album 'Roots Rock Riot' followed in 2007. To the present day the band has released four albums holding their uncommon mixture of music, earning them a large fan base. Latest album 'Union Black' was released earlier this year. SKINDRED is Benji Webbe (vocals), Mikey Demus (guitar), Dan Pugsley (bass) and Arya Goggin (drums). http://www.skindred.net/ / https://www.facebook.com/skindredofficial / http://www.myspace.com/skindred

Music & Performance
The first thing you'd get to see when entering the stage where SKINDRED already had started playing was singer Benny Webbe who appeared like a giant at first. Already at this early stage of the show the guy completely controlled the audience completely getting them to do whatever he wanted, riling them up if it lacked the intensity he wished for.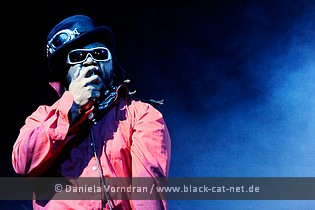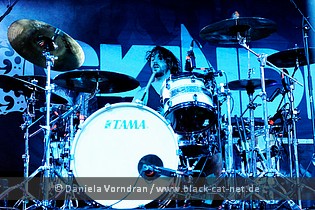 The music could be described as a crude mix of Reggae, Metal, Hip-Hop and Punk that above all was driving people to the max. To 'Trouble' Benny commanded everyone to sing along while on 'Pressure' the hip hop became a major influence and you were just fascinated how he threw out the words. 'Cut Dem' was a rather awkward track. Couldn't say why exactly, but there was something to it that made it a little hard to get into it. At this point I logged myself out of the show to head over to the main stage for the next band.

Setlist
01. Stand for Something
02. Rat Race
03. Trouble
04. Doom Riff
05. Pressure
06. Cut Dem
07. Destroy The Dancefloor
08. Nobody
09. - prodigy -
10. Warning

Rating
Music: 5
Performance: 9
Sound: 7
Light: 6
Total: 6.7 / 10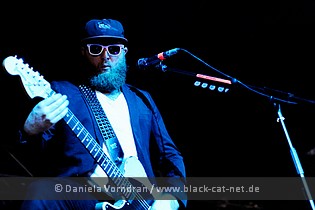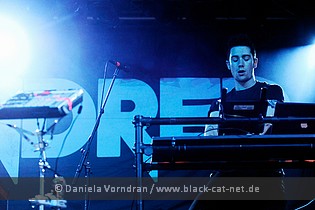 The Mighty Mighty Bosstones

THE MIGHTY MIGHTY BOSSTONES were founded as early as 1985. The first CD released was an untitled record in 1989 selling quite quickly and which is a rarity nowadays. The first official record 'Devil's Night Out' followed in 1990. The breakthrough didn't come before 1995 when the band had a guest appearance in the movie Clueless. In 1997 they'd release the album 'Let's Face It# including one of their biggest hits. The band released their latest album with 'Pin Points and Gin Joints' in 2009. The band consists of Dicky Barrett, Joe Gittleman, Chris Rhodes, Tim Burton, Joe Sirois, Kevin Lenear, Ben Carr and Lawrence Katz. http://www.bosstonesmusic.com/ / https://www.facebook.com/themightymightybosstones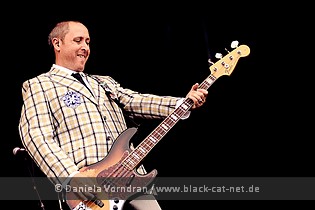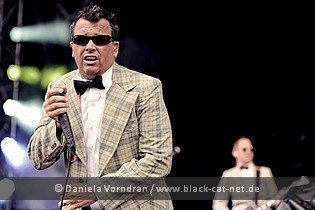 Music & Performance
In the heat of the day THE MIGHTY MIGHTY BOSSTONES had already started playing to a continuously growing crowd, their most striking visual attribute being chequered suits fitting the stage backdrop. Considered the inventors of a genre called Ska-Core you can make an educated guess how that sounded to me. The ferocity of any core there is out there, coupled to the instrumental richness there is in Ska. Equals a dancing party that you wouldn't wanna miss for the world if you were a fan of one or the other genre. The gentleman knew perfectly how to enthuse a crowd and to integrate the environment. For a change I'm not taking about the audience but a guy who was just about to do some bungee jumping farther away. I'd have love to see his face when he realized that speech was about him. Anyway, back to the enthusiasm part which was becoming bigger and bigger by the minute and bestowed the bosstones an acclaimed performance.

Setlist
01. The Old School Off the Bright
02. The Rascal King
03. Kinder Words
04. Nah Nah Nah Nah Nah
05. Someday I Suppose
06. You Gotta Go!
07. Dr. D
08. All Things Considered
09. Graffiti Worth Reading
10. Where'd You Go?
11. Don't Worry Desmond Dekker
12. Rudie Can't Fail (The Clash cover)
13. Devil's Night Out
14. The Impression That I Get
15. Holy Smoke

Rating
Music: 5
Performance: 7
Sound: 7
Light: - (daylight)
Total: 6.1 / 10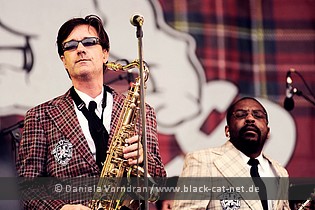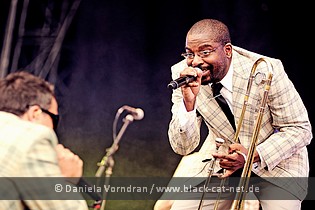 Yellowcard

YELLOWCARD were founded in 1997 in Jacksonville. The same year they released their first album 'Midget Tossing', followed by a few line-up changes. The second album 'Where We Stand' followed in 1999. After relocating to Florida in 2000 the EP 'Still Standing' was released. The anticipated success followed with the release of their fourth album 'One For The Kids' in 2001. Ever since the band could continuously enlarge their audience. Meanwhile they've released eight albums. YELLOWCARD is Ryan Key (vocals, guitar), Sean Mackin (violin, vocals), Ryan Mendez (guitar, vocals), Longineu Parsons III (drums) and Sean O'Donnell (bass, vocals). http://www.yellowcardrock.com/ / https://www.facebook.com/yellowcard / http://www.myspace.com/yellowcard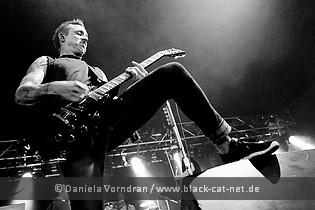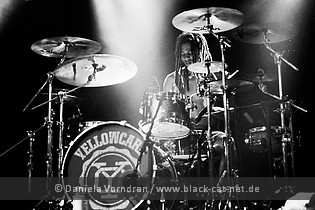 Music & Performance
You gotta give those pop punk outfits one thing: they know how to attract lager crowds. YELLOWCARD were no exception here, especially because it's been six years since they were playing Germany live last. Right with the first cut 'Lights and Sounds' they were blowing the roof of the tent, with a hi-speed composition driving their audience to go mental all at once. 'Way Away' didn't leave much time to breathe and with 'Five Becomes Four' coming up it was time for some audience action, because a circle pit was demanded. The calming songs of 'With You Around' were the last I've head before leaving the tent for the main stage.

Setlist
01. Lights and Sounds
02. Way Away
03. Light Up The Sky
04. Rough Landing, Holly
05. Five Becomes Four
06. Hang You Up
07. With You Around
08. Only One
09. For You, And Your Denial
10. Ocean Avenue

Rating
Music: 7
Performance: 7
Sound: 7
Light: 7
Total: 7 / 10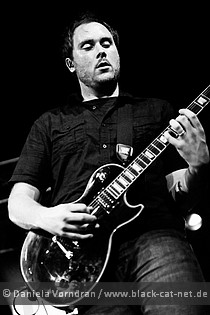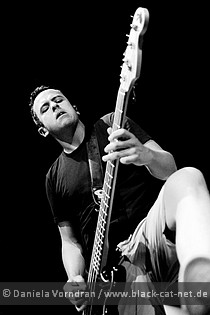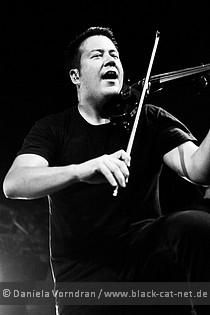 White Lies

WHITE LIES came into being in 2007. On their first live appearance in 2008, they immediately attracted the attention of a record label, going on to sign them eventually. In 2009 the young trio WHITE LIES landed one of THE album hits with their debut 'To Lose My Life', rewarded with favourable reviews all over the place. Now it's 2011 and the three-piece has just released their sophomore 'Ritual' which proved it's able to fill the footsteps of its predecessor. WHITE LIES is Harry McVeigh, Charles Cave and Jack Brown. http://www.whitelies.com / http://www.facebook.com/WhiteLies / http://www.myspace.com/whitelies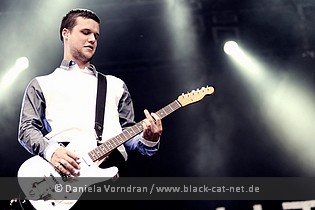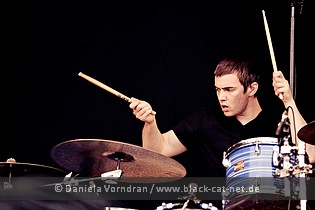 Music & Performance
This was one of the bands I was looking forward to all day. We were speculating earlier if a rock festival was the best environment for the WHITE LIES to play at and indeed the audience wasn't exactly big when the guys started playing their melancholy-filled and post-punk inflicted sound to the people. The band must've had similar thoughts when coming out and at least Harry McVeigh had a slightly irritated look on his face when the band started their set with 'Farewell To The Fairground'. At least some fans seemed to have turned up, judging by them knowing the lyrics, singing and dancing around. Quite the opposite of what Harry did. In stark contrast to his voice, spewing emotions his face showed no sign of them. 'To Lose My Life' off the band's debut album could even lure some more people into dancing. 'Holy Ghost' unleashed a wall of sound onto the people with majestic layers atop humming basses and driving rhythms, before 'The Price Of Love' slowed everything down for a while until gearing up eventually and 'A Place To Hide' and 'Death' would be going down that road as well.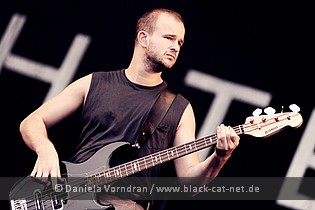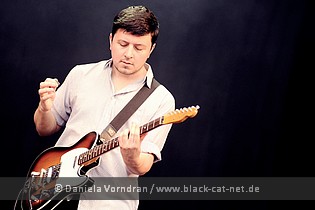 The band closed the show with the first single of their latest album, called 'Bigger Than Us' in an impressive way. Even if it wasn't the a perfect fit for the festival, the band laid down a great show.

Setlist
01. Farewell To The Fairground
02. Strangers
03. To Lose My Life
04. Holy Ghost
05. The Price of Love
06. A Place To Hide
07. Death
08. Unfinished Business
09. The Power & The Glory
10. Bigger Than Us

Rating
Music: 9
Performance: 8
Sound: 8
Light: - (daylight)
Total: 8.5 / 10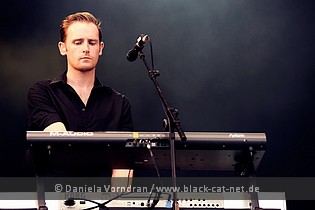 Underoath

UNDEROATH were formed as a duo but soon more members would complete the line-up. After playing a few local gigs the band signed a contract and released their debut 'Act of Depression'. With the release of the album 'The Changing of Times' the band's sound shifted into a metalcore direction. But the direction of the sound would be changing several times throughout the band's career, sometimes completely different form the last one, other times back to the roots. In 2010 the band released their 7th album 'Disambiguation'. UNDEROATH is Spencer Chamberlain (vocals), Daniel Davison (drums), Timothy McTague (guitar), James Smith (guitar), Grant Brandell (bass) and Christopher Dudley (keyboards). http://www.underoath777.com/ / https://www.facebook.com/underoath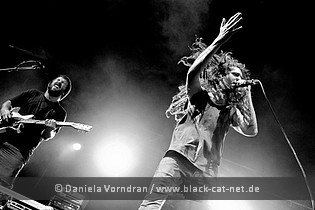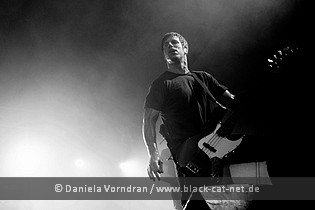 Music & Performance
The only thing guaranteed with the performance of UNEROATH at the tent was an inferno of shouting. Other things were in a complete state of flux. The rhythms being mostly upbeat the band's movements on stage were equally erratic. The audience followed them suit and became a surging mass. That UNDEROATH were and are considered part of the Christian Metal movement didn't come out as clearly as I expected it to, and it's not like anybody inside the tend really cared. They all just went frickin mad. I couldn't watch that spectacle to the end though because THE NATIONAL were already waiting at the main stage.

Rating
Music: 6
Performance: 7
Sound: 6
Light: 6
Total: 6.3 / 10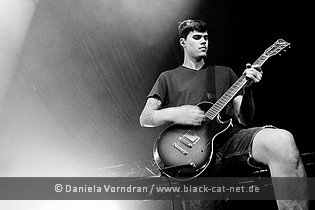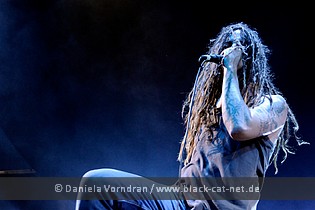 The National

THE NATIONAL genesis goes back to 1999. Preceding the eponymous debut album's release, the band played a few live shows. In 2003, the second album 'Sad Songs For Dirty Lovers' would follow' and, receiving great recognition being named "Album Of The Year" by Chicago Tribune. Afterwards they signed a record deal with Beggars Blanquet. The first release on the new label would be 'Alligator', exposing THE NATIONAL to a bigger audience. Two years later the band would release 'their fourth album 'Boxer' which made the band more popular than ever before. Amongst others they did a performance at David Letterman's late show. IN 2008, a rarities and b-sides release would come out with 'The Virginia EP', including one new song as well. May 2010 saw the band's latest release with the album 'High Violet'. THE NATIONAL is formed by Matt Berninger, Scott Devendorf, Bryan Devendorf, Bryce Dessner and Aaron Dessner. http://www.americanmary.com/ / https://www.facebook.com/thenationalofficial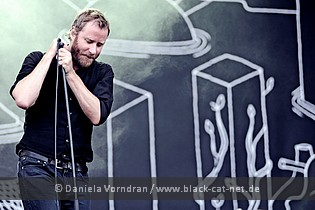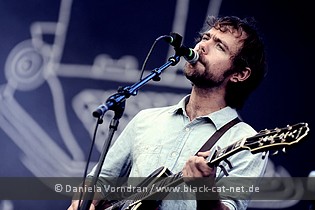 Music & Performance
It is not so long ago that I discovered THE NATIONAL through a review in a German magazine of 'High Violet'. I bought the album on the spot and didn't regret it. In fact I became a big fan of the band. A piece of that very album opened the set after the band around Matt Berninger entered the stage. It was the groove-laden 'Anyone's Ghost', backed by alienated shots and artful video sequences. That THE NATIONAL weren't the audience's favourite you could see by how little it was again. Seems like hardcore is still on top of the list. The thumping 'Bloodbuzz Ohio' followed it up. One of my favourites off the latest album with a compelling groove subtly guitars and wind instrument support by trumpet and trombone players on stage. With 'Slow Show' the band delivered a slow one indeed but a track with sheer beauty. A marching rhythm announced 'Squalor Victoria' followed by 'Afraid of Everyone' which is about Matt Berninger's kid. One thing that drew me to THE NATIONAL was his chant. He's like a narrator telling encrypted tales but with an honesty in his voice that you'll hardly find elsewhere.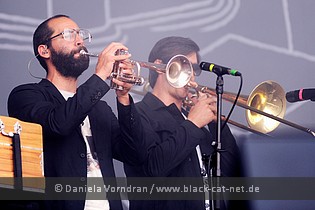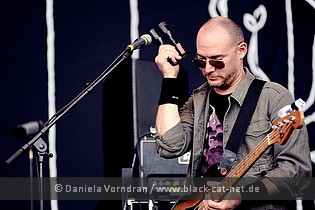 'Conversation 16' was announced with "This is about marriage and cannibalism" I'm leaving it up to you to connect the dots. It is a song putting you in a dream-like state somehow, swinging between melancholy and hope. Following 'Little Faith' there came one song off the first album with 'Son'. One of the few songs in the set I didn't know because I've not heard the first album yet. 'England' again scored with majestic wind instruments and wonderful vocals before 'Mr. November' kicked everything up a few notches again. The latest album's opener was meant to close THE NATIONAL's set with 'Terrible Love'. Next time I wanna see a longer set, please. Loved it.

Setlist
01. Anyone's Ghost
02. Bloodbuzz Ohio
03. Slow Show
04. Squalor Victoria
05. Afraid Of Everyone
06. Conversation 16
07. Little Faith
08. Son
09. Abel
10. England
11. Fake Empire
12. Mr. November
13. Terrible Love

Rating
Music: 9
Performance: 9
Sound: 9
Light: - (daylight)
Total: 9 / 10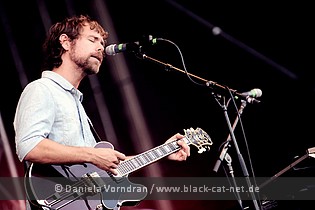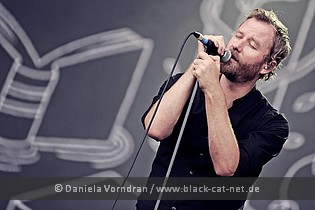 The Kooks

THE KOOKS Have been founded in 2004 in England. The first thing they did after signing their label deal was touring, touring, touring. They wouldn't enter the studio before June 2005. 'Inside In/Inside Out' became a multi-platinum selling record and brought them worldwide acclaim. The second album 'Konk' followed in 2008. Three years later, the next album 'Junk Of The Heart' is about to be released. THE KOOKS is Luke Pritchard, Peter Denton, Hugh Harris and Paul Garred. http://www.thekooks.de/ / https://www.facebook.com/thekooksofficial / http://www.myspace.com/thekooks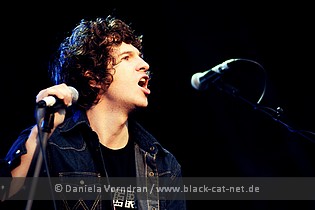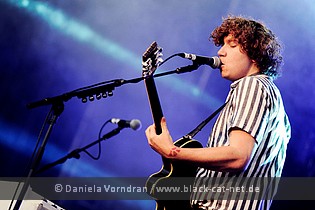 Music & Performance
Lots and lots of people had gathered to see THE KOOKS playing that Sunday evening, starting with the groovy 'Always Where I Need To Be'. Already in the early minutes of the song, raindrops started falling down which wouldn't normally be too much of a problem. First it didn't hold anyone back from dancing at all. After 'Ooh La' though Luke Pritchard announced the rest of the show would be cancelled due to an extreme weather warning and indeed some extremely dark clouds were moving towards the festival grounds and it would've been an unnecessary risk to keep everything going in light of what happened at Pukkelpop. It wasn't clear at all if the festival would continue or not. Eventually everything was put on hold telling the people to wait for further instructions. Many, including me, decided to leave the festival earlier than planned to escape a possible disaster. Still you won't have to miss out on reports of the two remaining bands.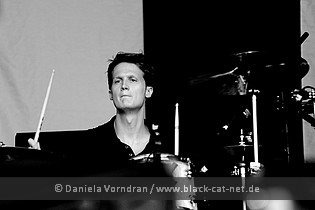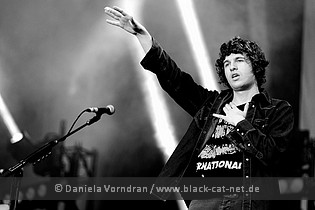 Setlist
01. Always Where I Need To Be
02. See The World
03. Matchbox
04. Is It Me?
05. Ooh La

Rating
Music: 7
Performance: 7
Sound: 7
Light: 6
Total: 6.9 / 10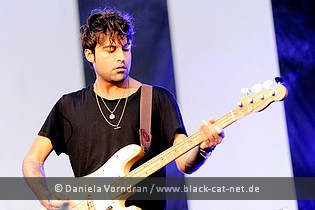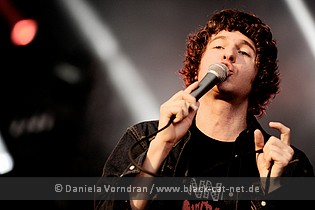 Face To Face

FACE TO FACE formed in 1991. The band has gone through constant line-up changes. Their first album 'Don't Turn Away' was released in 1992. The release of their second album 'Big Choice' brought them mainstream success. Up to 2004 when they disbanded, they'd released 7 albums in total. The band reunited in 2008 and ever since released one new album with 'Laugh Now Laugh Later' this year. FACE TO FACE IS Trever Keith, Scott Shiflett, Chad Yaro and Danny Thompson. http://www.facetofacemusic.com/ / https://www.facebook.com/facetoface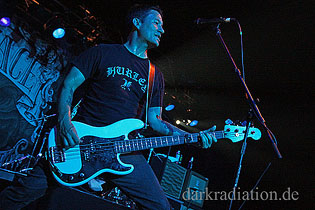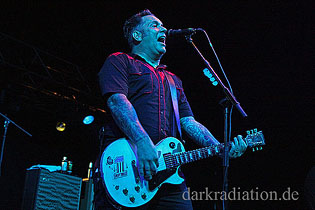 Music & Performance
Against what everyone was expecting, the organizers decided that the two remaining bands would be playing and FACE TO FACE presented their punk rock as headliner of the tent stage. The tent was half-filled with people. Many of them likely not to have any clothes for the mud game on the outside. But a few of them supposedly just wanted to do the pogo dance for one last time and did that extensively during the show.

Rating
Music: 7
Performance: 6
Sound: 6
Light: 7
Total: 6.6 / 10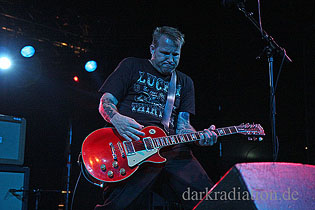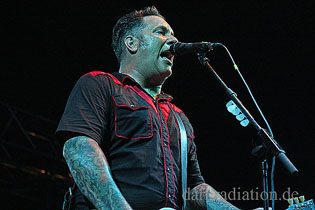 Deichkind

DEICHKIND is a German band formed in 1997. They are best known ever since the release of the single 'Bon Voyage' off their debut album 'Bitte Ziehen Sie Durch' from 2000. Ever since the band has released three more albums with 'Arbeit Nervt!' being the latest one, released in 2008. DEICHKIND is Kryptik Joe (Philipp Grütering - MC, beats), Ferris Hilton (Ferris MC - MC), DJ Phono (DJ) and Porky (bass, MC). http://www.deichkind.de/ / https://www.facebook.com/Deichkind / http://www.myspace.com/deichkind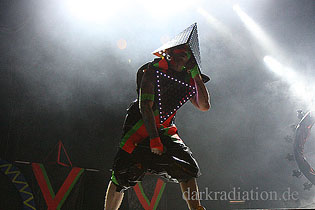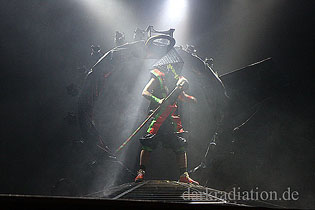 Music & Performance
About 10,000 people stayed and were bearing witness to DEICHKIND's performance. Being from Hamburg the guys are experts at bad weather conditions and couldn't care less about it of course. It had stopped raining anyway and at the end of a festival weekend there's objection against puddle dancing at all. Also DEICHKIND brought their hovercraft, utilized during the eponymous song. The boat was also used for some extensive crowd surfing. The hovercraft got used one more time during the show before paper chips started raining down alongside feathers.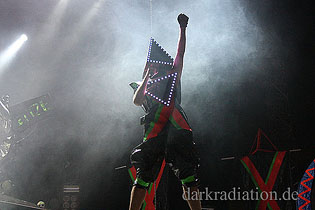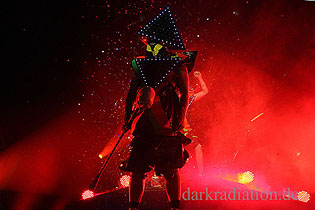 Rating
Music: 7
Performance: 9
Sound: 7
Light: 8
Total: 7.8 / 10

With a delay of 30 minutes, the Area4 festival came to an end then. Despite weather problems the 20,000 attendees could enjoy a great weekend of music and 49 bands of various genres. If something like that is going to happen again next year is still unknown over hard regulations. So let's all hope we ill see an Area4 2012. If so, we'll be there again of course.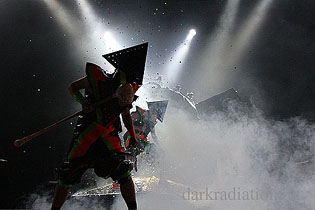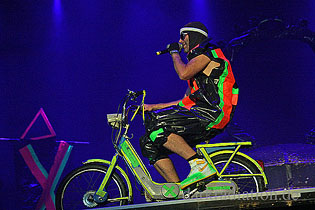 All pictures by Daniela Vorndran (http://www.vorndranphotography.com / http://www.black-cat-net.de/ / www.myspace.com/vorndranphotography / www.facebook.com/blackcatnet) except Face to Face and Deichkind by Uli Klenk (www.darkradiation.de)

Written by Sebastian Huhn, Daniela Vorndran & Ulrike Meyer-Potthoff



http://www.myspace.com/royalbangs
See also (all categories):