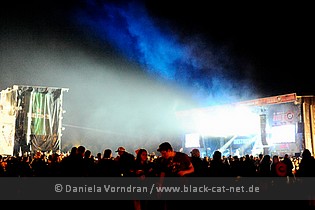 Airfield Borkenberge, Lüdinghausen, Germany
19th - 21st August 2011
Area4 Festival 2011 Day 1: 30 Seconds To Mars, Hot Water Music, Jimmy Eat World, Ignite, Danko Jones, Karnivool, Madsen, Disco Ensemble, Royal Republic, The Black Pacific, Turbostaat, The Ocean, Veara, Title Fight

One of the last summer festivals was going down in Germany on this sunny weekend in Lüdinghausen "somewhere at the end of the world". About 20,000 of people were looking forward enjoying three days of rock music and good weather; the latter unless the weather god decided otherwise. Fortunately he was in a good mood and the majority of the first Area4 festival day went by sunny and warm.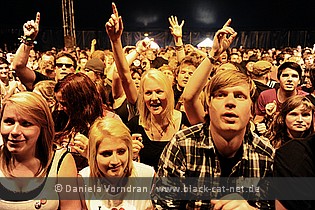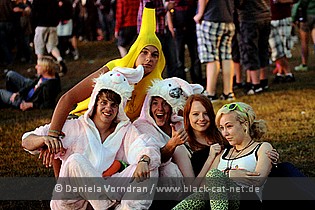 Title Fight (Tent Stage)

The band formed as a three-piece in 2003 but soon would add another guitarist to their line-up, completing them until today. First recordings were made in 2005 and 2006. Their debut full-length got released with 'The Last Thing You Forget' in 2009 that was followed up by a US tour. 'Shed', their new album, was released in this year's May. http://www.titlefight.tumblr.com / http://www.facebook.com/titlefight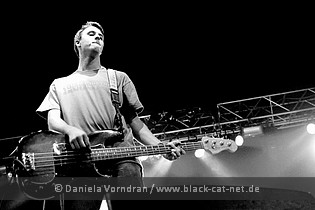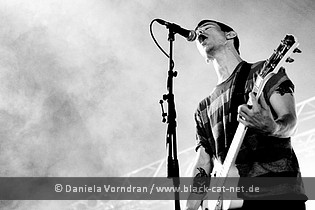 Music & Performance
The three days spectacle started with TITLE FIGHT at the newly introduced tent stage. The young four-piece offered hardcore punk for starters which suffered a bit under technical insufficiencies during the opener 'Shed'. That way the vocals sounded as if the combo could still use some practising, but I was assured that on CD the guys would be delivering flawlessly! So I decided to give them a second chance on the track 'Symmetry', but the needed punch was still missing so I decided to make my way to the main stage where VEARA were about to open the day there.

Rating
Music: 6
Performance: 6
Sound: 7
Light: 6
Total: 6.2 / 10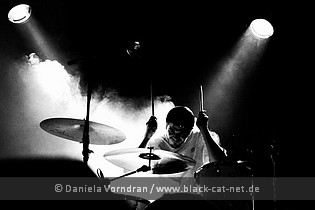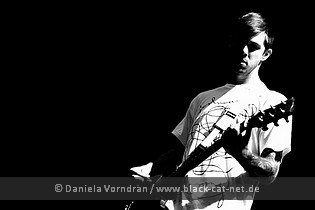 Veara (Main Stage)

VEARA are a relatively young outfit formed in 2005 that quickly gained some recognition by playing a few live shows. In 2008 the band released their debut album 'The Walls Have Ears' and turned some heads with that. In 2010 they eventually signed a record deal and 2011 has seen the release of their newest record 'What We Left Behind'. http://www.vearaband.com / http://www.facebook.com/vearaband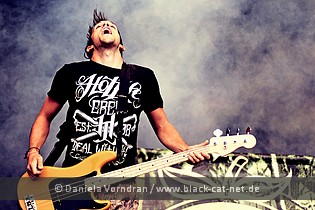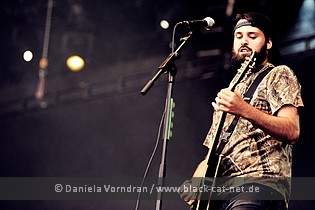 Music & Performance
VEARA offered "Peach State Pop Punk" and that's what you got of the group, touring with SUM 41 in 2010. 'Better Off Without You' then had all there is to expect regarding pop-punk, and 'Pull Your Own Weight' already had several people doing jolly dancing and first circle pits weren't long in coming either. Their catchy melodies, accompanying their polyphonic vocals were dedicated by the four-some to the victims of Pukkelpop before leaving the stage 15 minutes earlier than they'd have to.

Setlist
01. We Have A Body Count
02. Waste My Time
03. Better Off Without You
04. Pull Your Own Weight
05. Role Model
06. Only Famous People Get Famous
07. Getting Kicked In The Face Has Never Been So Much Fun
08. My B-Side Life

Rating
Music: 7
Performance: 7
Sound: 7
Light: - (daylight)
Total: 7 / 10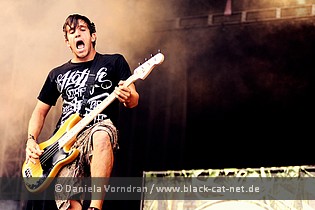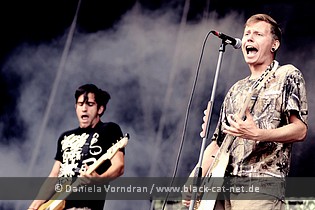 The Ocean (Tent Stage)

THE OCEAN started in 2000 when main founding member Robin Staps relocated to Berlin. The first release was a self-produced record named 'Islands/Tides' in 2002, almost immediately followed by the first official album 'Fogdiver' in 2003. The next evolutional step would be the release of the two album cycle made of 'Fluxion' and 'Aeolion', both exhibiting an increased harshness and complexity in sound, compared to their predecessor. After completing the second part 'Aeolian', the band spent several months on the road to promote the album properly. Works for the next effort 'Precambrian' started at the end of the same year. The last two albums 'Heliocentric' and 'Anthropocentric' continued the concept of two thematically entwined records. http://www.theoceancollective.com / http://www.facebook.com/theoceancollective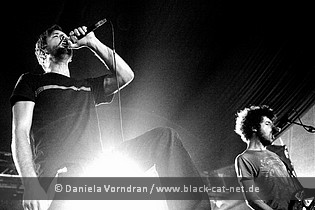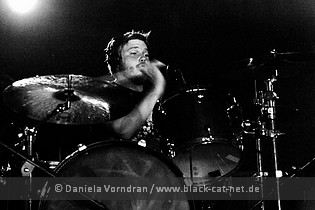 Music & Performance
Time to head back to the tent for some fair growling with THE OCEAN. Post hardcore with nods towards the prog metal and classical music was on the bill of the Swiss artist collective and the audience met with a lot of "noise" accordingly. Some fair action was going on with the band having two singers on stage simultaneously and looking back on an impressive list of former members, growing over the years. Anyway, after that highly energetic little gig even the last attendee should have been fully awake now, and following extensive contact with lengthy instrumental parts, generating lovely melodies and coupled with hard shouts and riffs it was about time to return to the main stage, experiencing German rock music.

Rating
Music:6
Performance: 8
Sound: 7
Light: 7
Total: 6.9 / 10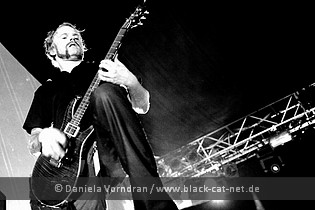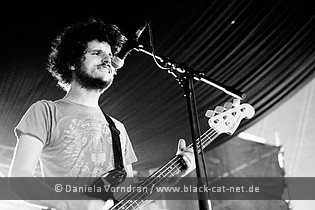 Turbostaat (Main Stage)

TURBOSTAAT rose in 1999 from several less known Punk bands and in 2001 released their first album 'Flamingo' to be followed by the second album 'Schwan' in 2003. Meanwhile, the band's popularity has grown constantly and their touring radius widens. Through a collaboration with the BEATSTEAKS on a German version of the FU MANCHU song 'Hell on Wheels' called 'Frieda und die Bomben' the band could eventually secure a deal with the Warner Music label, they would release their third album 'Vormann Leiss' on in 2007. Following the tour the band entered the studio already in 208 to begin working on the new album 'Das Island Manöver', released in 2010. http://www.turbostaat.de/ / http://www.myspace.com/turbostaat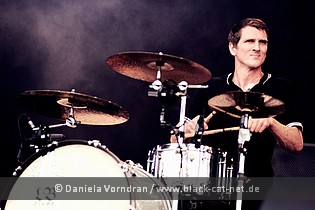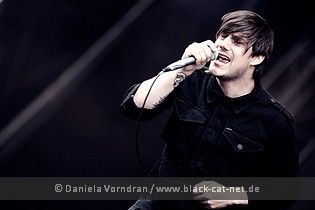 Music & Performance
For that TURBOSTAAT had travelled to the festival from the high north. The foursome from Husum was in line with a long list of punk bands performing at this weekend's festival, and after all it was the band's third performance at an Area4 festival. Having released four albums within their 12 years of existence the band had more than enough material on their hands to throw into the festival audience by whom it was much appreciated. Lots of people were gathering already in front of the main stage and due to the straight nature of the band's music they enough reasons to shake their bones. TURBOSTAAT were rewarded with a tumultuous applause and calls for an encore which couldn't be granted anymore to this point.

Setlist
01. Intro
02. Das Island Manöver
03. Haubentaucherwelpen
04. Prima Wetter
05. Surt & Tyrann
06. Insel
07. Fraukes Ende
08. Bossbax
09. Pennen bei Glufke
10. Nach fest kommt ab
11. Oz Antep
12. Harm Rochel
13. Urlaub auf Fuhferden
14. Kussmaul
15. Vormann Leiss

Rating
Music:6
Performance: 8
Sound: 7
Light: - (daylight)
Total: 6.9 / 10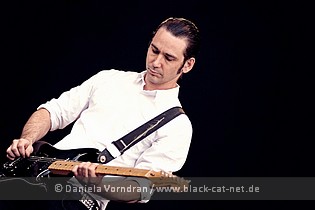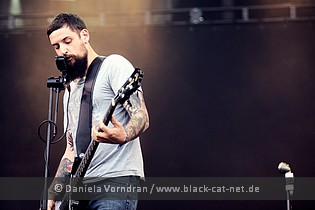 The Black Pacific (Tent Stage)

Jim Lindberg, the former PENNYWISE vocalist, brought THE BLACK PACIFIC to life in 2010. Their eponymous debit album was released later that year. Quite quickly after the release the band put the word out they had already enough material for a new album ready to be recorded. Since February the band is said to be working on it already in the studio. http://www.theblackpacific.com/ / http://www.facebook.com/pages/THE-BLACK-PACIFIC/122098367823588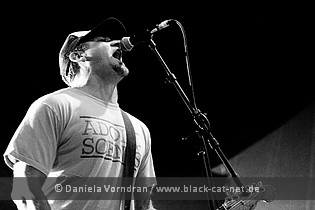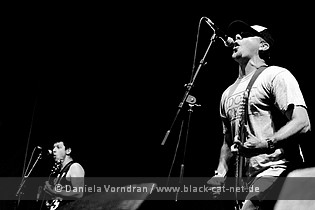 Music & Performance
Those who think to have seen the face of THE BLACK PACIFIC singer somewhere before were completely right. Jim Lindberg for 20 years fronted PENNYWISE. With his new band, Jim sticks to delivering melodious punk rock music with a fair pinch of hardcore added. So the light-speed opener 'The System' went just from zero to hero and on the following 'When It's Over' there was some serious thrashing involved as well. During the RAMONES cover 'Blitzkrieg Bop' the audience inside the tent were going completely berserk, not interrupted by the fact the song sopped abruptly and needed the restarted. Somebody pulled the wrong strings it seemed. Anyway, this had not the slightest effect on the energy level and with the track 'Put Down Your Weapons' they offered another full power assault.

Rating
Music: 7
Performance: 7
Sound: 7
Light: 7
Total: 7 / 10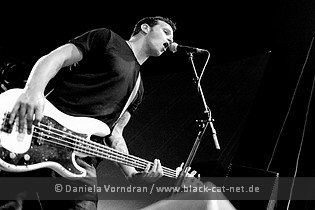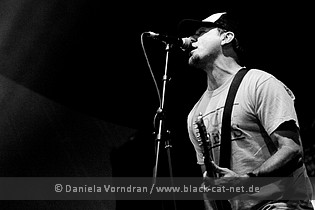 Royal Republic (Main Stage)

The band came together in 2007 and advanced to a degree in an amount of time that is surprising. 2010 is the year for them to conquer audiences with their debut album, simply titled 'We Are The Royal'. ROYAL REPUBLIC is Adam Grahn, Hannes Irengård, Per Andreasson and Jonas Almén. http://www.royalrepublicband.com/ / http://www.myspace.com/royalrepublic

Music & Performance
Many were waiting in front of the main stage ROYAL REPUBLIC were entering soon enough. Good decision not to have them playing inside the tent. That little place would've run out of space in no time. Upon entering the stage the band were loudly welcome by the audience and in return said hello with the opener 'President's Daughter' which provided already the full package of straight beats and swirling riffs to get the party started, and hell year the audience knew how to party as did the band themselves, hardly ever standing still over the entirety of the show that featured further serious ass-kicking rock music tunes like 'Cry Baby Cry' or 'Full Steam Spacemachine' Adam let follow a little Chuck Norris joke of his endless repertoire.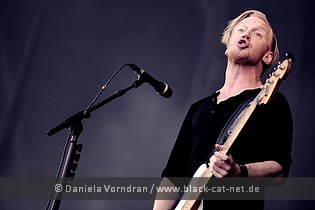 "Chuck Norris will never get a heart attack because…" oh come on I bet you know the answer already. His heart isn't nearly foolish enough to attack him of course. Didn't exactly hit well with the audience. So the band better continued with what they could do best. Blow roofs off, if there are any, with their music, and they did that very thoroughly and left an excited audience.

Setlist
01. Intro
02. President's Daughter
03. Walking Down the Line
04. All Because of You
05. I Must Be Out of My Mind
06. Cry Baby Cry
07. Full Steam Spacemachine
08. Underwear
09. Tommy-Gun
10. Vicious
11. 21st Century Gentlemen
12. The Royal

Rating
Music: 9
Performance: 9
Sound: 8
Light: - (daylight)
Total: 8.7 / 10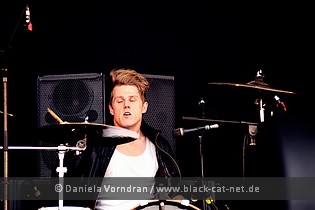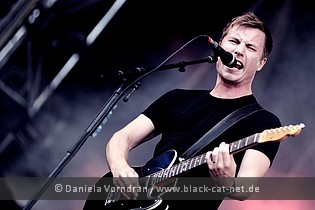 Disco Ensemble (Tent Stage)

Mikko Hakila and Jussi Ylikoski came up with the band under the name DISCO in the late 90s. Later on they extended the name to DISCO ENSEMBLE due to the name equity with the finish pop duo DISCO. In 2000, Miikka Koivisto joined in as singer and keyboardist. Following the release of the first album 'Viper Ethics' which included a Top 20 chart hit in Finland with the single 'Videotapes' the band started touring intensively and in 2005, the second album 'First Aid Kit' was released. In 2006, they played on several European festivals like Rock am Ring / Rock im Park in Germany, Nova Rock in Austria or the Roskilde Festival in Denmark. In January, they supported LINKIN PARK on some gigs and at the moment they are on tour with the DONOTS. 'The Island of Disco Ensemble' is the newest album and was released in 2010. http://www.discoensemble.com/ / http://www.facebook.com/discoensemble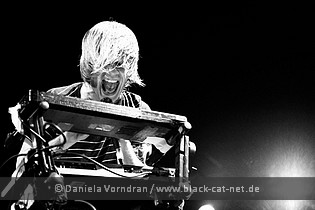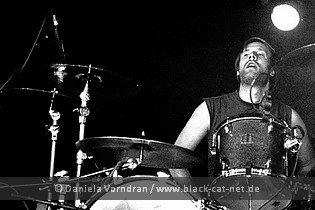 Music & Performance
So we quickly switched stages and headed back to the tent where one crowd pleaser was up with DISCO ENSEMBLE. I figured the tent would be packed with that band playing. Actually it wasn't nearly as full as I'd expected when the band were starting their set with 'Pitch Black Cloud' that kicked up the energy level inside a few notches instantly with Koivisto running around like mad, screaming or twiddling the knobs and dabbling the keys of his little synth rack at the front. What I found surprising he delivered some real impressing clean vocals this time. Can't remember hearing those in a similar fashion before! With the 'Threatletter Typewriter' coming up though the tent had filled up considerably as the band deserved it. A few songs later into the set the whole tent was like a surging wave of dancing people completely losing themselves in the energy-driven mood of 'Black Euro'. Always a big pleasure to watch those guys taking off and here's hoping they'll be getting bigger over here eventually with a live presence like that.

Setlist
01. Pitch Black Cloud
02. Drop Dead Casanova
03. Threatletter Typewriter
04. Semi Eternal Flame/Undo
05. Bad Lick Charm
06. Black Euro
07. So Cold
08. White Flag For Peace
09. Headphones
10. Stun Gun

Rating
Music: 8
Performance: 9
Sound: 8
Light: 6
Total: 8 / 10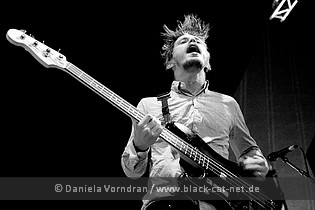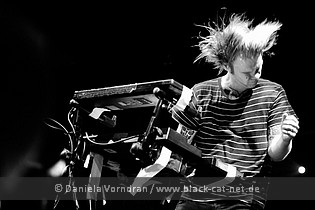 Madsen (Main Stage)

The Madsen brother began quite early to play music. In the early nineties each of them had a project ALICE'S GUN (Hard Rock) and HOERSTAURTZ (Hip Hop / Crossover). In 2004 the two joined forces under the moniker MADSEN and started to play lots of local gigs. Beginning of 2005, the first single 'Die Perfektion' was unleashed, followed by the self-titled debut full-length just a few months later. After touring all the big festivals like Rock am Ring and Rock im Park, the second album 'Goodbye Logik' saw the light of day in 2006 again followed by an intensive touring period. 'Frieden im Krieg', the third album was released in 2008, the latest one 'Labyrinth' following in 2010. MADSEN are Sebastian Madsen (vocals, guitar), Johannes Madsen (guitar), Niko Maurer (bass) and Sascha Madsen (drums). http://www.madsenmusik.de/ / http://www.myspace.com/madsenband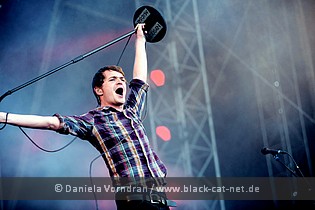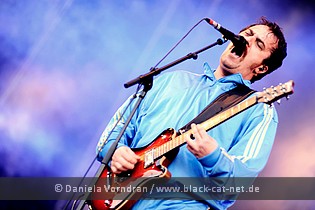 Music & Performance
When I realized MADSEN were going to play at the main stage and left the tent I got to see the show was already in full swing. Happens if you re attending such a compelling performance like the one before! But back to what's happening open air now. MADSEN who're playing almost every of the Area4 festivals can be considered a regular here and they completely controlled the crowd in front of the stage as they always do here. 'Ein Sturm zieht auf' had some melancholy filled moments for the crowd before 'Mein Herz bleibt hier' saw a crowd knowing the lyrics inside-out and showing that to the band loudly. Even more impressive when you're looking at it from the outside, seeing the expressions on the band members' faces and the audiences at the same time. ON the following 'Panik' Sebastian turned to his brother and they did some double drum action for a while. For 'Mit dem Moped nach Madrid', Sebastian decided it was time to get a little closer to the audience and jumped down into the photo pit while in the middle of the audience there was a circle pit forming. The rest of the songs of the set, being 'Du schreibst Geschichte' and 'Nachtbaden' were equally celebrated. Wouldn't be too bad giving the band a regular slot at the festival. Always a guarantor for a good mood and party!

Rating
Music: 7
Performance: 8
Sound: 8
Light: - (daylight)
Total: 7.8 / 10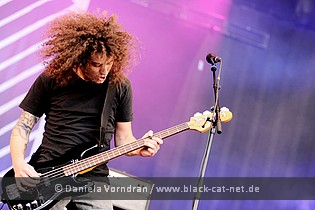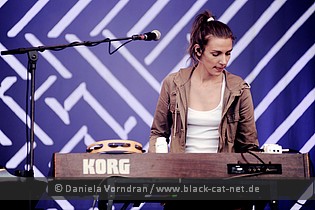 Karnivool (Tent Stage)

KARNIVOOL from Australia started their career as early as 1996. The first, self-titled EP was created in 1999. In the following years the bend went through quite some line-up changes with none of the initial line-up present except founder Ian Kenny. Starting in the wake of Nu Metal music, the band's style developed towards a more Progressive Rock oriented form in the course of releasing several EPS and their two albums 'Themata' and 'Sound Awake'. News says the band is currently hard at work on their third studio album. http://www.karnivool.com.au / http://www.facebook.com/karnivool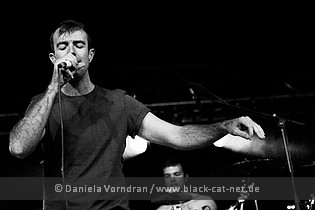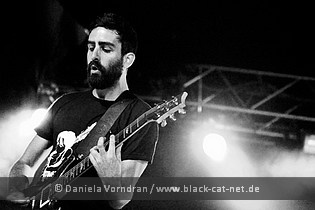 Music & Performance
That Australian band I had no expectations for honestly. Despite their 15 years of band history I had never heard anything or seen them being mentioned anywhere. That this isn't necessarily a bad thing was proven to me soon after they had started playing to a comparatively little audience. 'Simple Boy' gave the audience a first taste of what they could expect from this band, a technically flawless blend of progressive and straight elements with partly histrionic vocals of fronter Ian Kenny. I bet some would dream of a vocal range like that. Kenny knew very well how to play with the different timbres he has and impressed time and again. Unfortunately, as good as the band acted on stage it got very clear to me early that the audience inside the band wouldn't grow much anymore. That kind of sophisticated rock music doesn't draw a lot of people because it's not that easily digestible sound byte many are craving for. Here you'd have to work through the layers to get the reward. Just the right thing for me and I'm going to have a closer look at their stuff asap.

Rating
Music: 8
Performance: 8
Sound: 8
Light: 8
Total: 8 / 10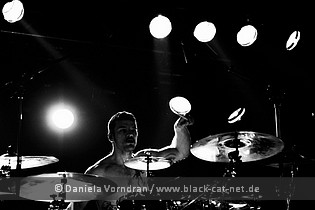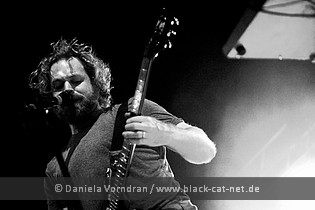 Danko Jones (Main Stage)

DANKO JONES is a three-piece hard rock band, formed in Canada in 1996. For the next two years they toured consistently through the Northern US and Canada, opening for a variety of acts. In 1999, they released their first self-produced EP 'My Love is Bold', nominated for a Juna Award for "Best Alternative Album" in 2000. In 2002, the first full-length followed, on the Bad Taste label. They enjoyed a growing popularity with every further release. Preliminary peak was their fourth album 'Never Too Loud', lifted in February 2008. With the 'B-Sides' album came one huge collection of 27 songs from the DANKO JONES archives. Songs from every period of the band's career are included, many of them having seen their first release on a record. In 2010, the trio now returned with a proper full-length by the name of 'Below the Belt'. DANKO JONES is Danko Jones (vocals, guitar), John Calabrese (bass) and Dan Cornelius (drums). http://www.dankojones.com/ / http://www.myspace.com/dankojones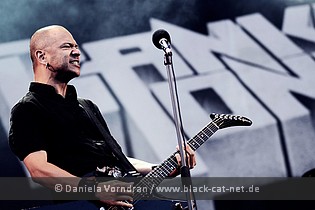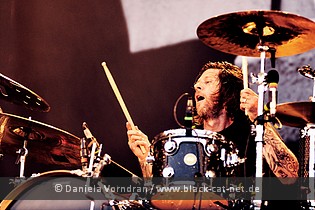 Music & Performance
Returning back to the wide main stage area after that demanding experience I could use some badass rock tunes, really. Chance had it that DANKO JONES were up next on the big stage. 'The Rules' was he first one to blast into the audience. The song is constructed in a way that you instinctively start tapping with your feet at the least. In its most extreme form it's going to make you act like mad. With the next tune Danko let us know that he's not willing to 'Play The Blues' any longer. Well, you can say that this was a clear statement. While we're already on the subject of clear statements: Danko usually isn't shying away from speaking his mind a lot about each and everything on a concert, mostly obscene and sexually charged, but rolling forward to the middle of the set with one of my favourite tracks 'I Think Bad Thoughts' he was still holding back talking. Quite honestly I thought he was sick or something, or had he lost interest in doing those things completely. Luckily he didn't at some point into the set he finally started.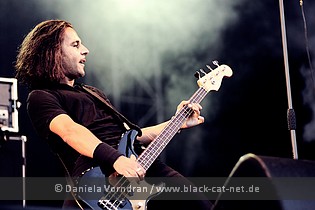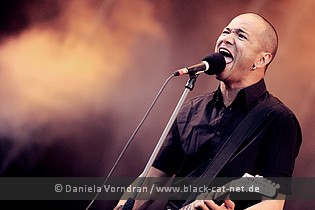 Expressing his thoughts on the girls in the first row who he suspected to be securing their places only for Jared Leto, not wanting to see him at all. His solution: They all should just close their eyes listen to the music, then open them again and pretend that he was Jared Leto. But the people doing the wave later convinced him they definitely were all here about him. As a reward they hammered out another batch of songs, including a phenomenal 'Full of Regrets', 'Lovercall' and last but not least a blistering 'Mountain'.

Setlist
01. The Rules
02. Play The Blues
03. Active Volcanoes
04. Forget My Name
05. Sticky Situation
06. First Date
07. I Think Bad Thoughts
08. Full of Regrets
09. Sugar Chocolate
10. Sugar High
11. Lovercall
12. Had Enough
13. Cadillac
14. Mountain

Rating
Music: 8
Performance: 8
Sound: 8
Light: - (daylight)
Total: 8 / 10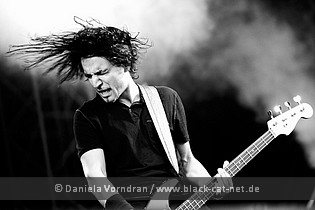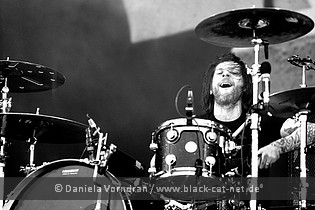 Ignite (Tent Stage)

IGNITE came to life in 1992 and with a complete line-up in place around 1993, they stated recording various demo tapes, eventually leading to the debut release of 'Scarred for Life' in 1994 and a tour in Europe with SICK OF IT ALL and SNAPSHOT in summer of that same year. Shortly thereafter, the EP 'In my Time' was recorded with Zoltan "Zoli" Téglás on vocals for the first time on one of their records and nobody would kick him off that position ever since. By the time, their record 'A Place Called Home' was out in 2000, the band had already gained a considerable reputation and following alike partly thanks to constant touring. But this one was also their commercial breakthrough and exposed their sound to an even bigger audience. They shouldn't be releasing a new album before 2006 with 'Our Darkest Days' still being the bands most recent material. IGNITE is Zoltan "Zoli" Téglás (vocals), Brian Balchack (guitar), Nik Hill (guitar), Brett Rasmussen (bass), Craig Anderson (drums) and Kevin Kilkenny (touring guitarist). http://www.igniteband.com/ / http://www.myspace.com/ignitemusic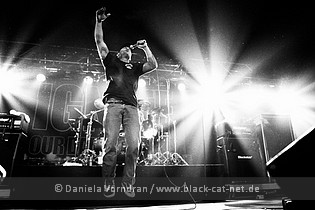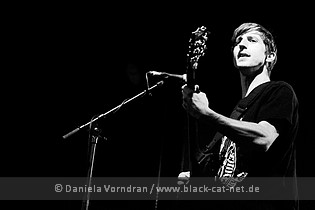 Music & Performance
The time leading up to the IGNITE show people had used to flood the tent. In the end it was hardly possible anymore for anyone to get in actually. Everybody seemed to have thought that they could pay the tent a visit now to get a piece of the performance. Didn't make the air inside better I tell you. So they started rocking the tent with absolute precision. It didn't even take 3 minutes before anyone who made it inside was feeding from their hands. At times it felt they were acting like one intelligence. Going crazy they were to songs like 'Veteran' with its catchy yet dramatic chorus while front man Zoltan was pushing them further and further. The following 'Burned Up' just picked up where its predecessor left up, getting everyone into action, moshing and stuff like that. In-between rocking the tent to the ground they also found the time to include the Sea Shephard organization into their performance. Sea Shepherd is a militant marine conservation organization who they are supporters of. Many people of the audience visibly disliked that speech, others didn't. But in no way it did break the mood so the party went on afterwards and was closed to everyone's pleasure.

Rating
Music: 6
Performance: 8
Sound: 7
Light: 7
Total: 6.9 / 10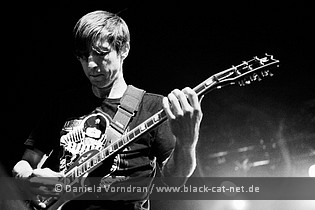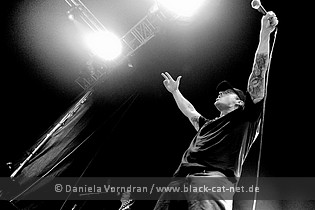 Jimmy Eat World (Main Stage)

JIMMY EAT WORLD formed in 1993 and just one year later already recorded their self-financed and eponymous debut album which is a collector's item and highly sought after by now. In 1995 they signed their first record deal with Capitol Records and released their second album 'Static Prevails'. Five more albums and countless tours around the world would follow making JIMMY EAT WORLD one of the high profile bands of the alternative rock genre. http://www.jimmyeatworld.com / http://www.facebook.com/jimmyeatworld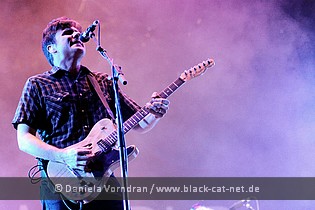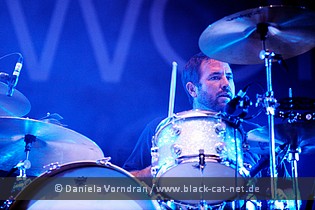 Music & Performance
While IGNITE were still rocking the tent JIMMY EAT WORLD were gearing up for their show at Area4 festival and right with the first tunes I have to say that this was much more up my alley than what IGNITE did, even though it was rocking like hell, admittedly. The focus of JIMMY EAT WORLD's music is placed with the melodic aspects of music. The set started with 'Salt Sweet Sugar' and initially caught me. 'A Praise Chorus' relied more on speedy rhythm and guitar parts and was the point to get the first people dancing, while the band showed significantly little movement to my eyes. Could've done a little more. Anyway, that shouldn't distract us from what was coming up next, which was 'My Best Theory' which reminds me of that cool video shot for that rather mid-tempo song, just like 'Lucky Denver Mint' with its melody covering everything in a sunset melancholia.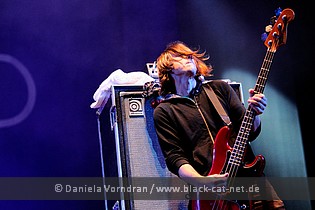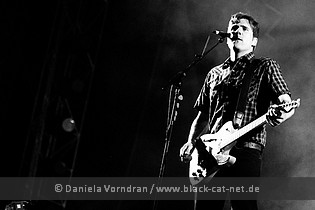 Actually, that's the way it went for the entirety of the set with the band switching from upbeat back to slower tunes with a hint of Electronica on '23' for instance. This was my first time seeing JIMMY EAT WORLD playing live and it was definitely no waste of time.

Rating
Music: 7
Performance: 7
Sound: 8
Light: 7
Total: 7.2 / 10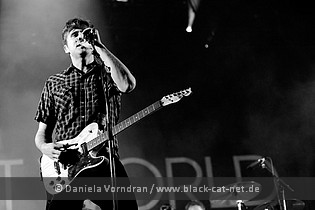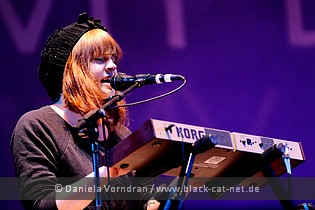 Hot Water Music (Tent Stage)

HOT WATER MUSIC formed in 1993. Before briefly disbanding they released several Eps and a full length album with 'Finding The Rhythms' in 1996. The second phase of HOT WATER MUSIC lasted for nearly 10 years and produced several albums amongst others being 'Forever & Counting', 'No Division' or 'Caution'. The end of that era was marked by one of the main members changing priorities to taking more care of his family, putting the band on hiatus permanently...or so it seemed. In 2008 the word about a reunion tour was put out, actually followed by a series of live shows. A new album is being worked on at the moment. http://www.hotwatermusic.com/ / http://www.facebook.com/hwmFL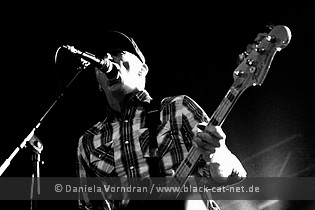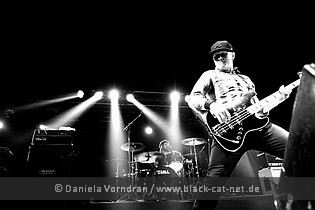 Music & Performance
Just like JIMMY EAT WORLD, HOT WATER MUSIC are looking back already on 17 years of band history, whereas they were having a little change of drummers in 2009. Chuck Ragan and Chris Wollard were sharing the vocal duties. Let's hope they didn't drink and smoke as much as their raucous vocals suggested. But undoubtedly that makes a significant part of the charm of the band's energetic post hardcore sound. Following a Mexican-ish intro, the band made a kickstart with 'A Flight And A Crash', finding its continuation with 'Giver'. 'Rooftops' came off a little bit calmer, not meaning there was lesser energy floating around. 'Paper Thin' then was dedicated to everyone whose work made the festival's success possible and just was a lot of fun, just like 'The Fire, The Steal, The Tread'. This way, HOT WATER MUSIC laid down a splendid performance for everyone, ending their regular set with 'Turnstile', adding two encores in the following, including 'True Believers' of course. After about 60 minutes of first class post hardcore music, the program at the tent ended and turned the aforementioned into a disco until dawn.

Setlist
01. A Flight And A Crash
02. Giver
03. Rooftops
04. Paper Thin
05. The Fire, The Steel, The Tread
06. Jack Of All Trades
07. All Heads Down
08. Trusty Chords
09. Posion
10. Adds Up To Nothing
11. Swinger
12. Our Own Way
13. Remedy
14. Wayfarer
15. It's Hard To Know
16. Turnstile
---
17. Manual
18. True Believers (The Bouncing Souls cover)

Rating
Music: 9
Performance: 9
Sound: 8
Light: 8
Total: 8.7 / 10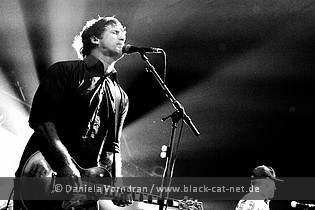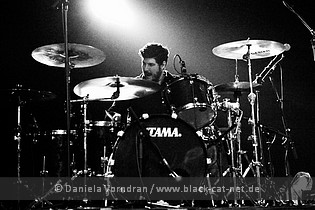 30 Seconds To Mars (Main Stage)

Jared Leto, to many known due to his work as actor in various movies such as 'Fight Club' or 'American Psycho', founded 30 SECONDS TO MARS together with his brother Shannon. The self-titled debut album was released in 2002. Even though Leto was already very well-known as artist, the album did not sell too well, but 100,000 copies sold in the US was also not a bad result. Second and my favourite album of the band, 'A Beautiful Lie', saw the light of day in autumn 2005, re-released by EMI in autumn 2007. In the course of the album, the band played hundreds of life show gaining by and by a lot of success. Third album 'This is War' was released end of 2009 involve the band's fans in several ways like different fan covers, choruses recorded by fans or in the video for first single 'Kings & Queens'. Sold-out shows everywhere are evidence of the major success of the band. 30STM is Jared Leto (lead vocals, rhythm guitar, keyboards), Shannon Leto (drums, percussions), Tomislav Miličević (lead guitar, violin, keyboards) and Tim Kelleher (E-bass, synthesizer, keyboards, background vocals). http://www.30secondstomars.de/ / http://www.myspace.com/thirtysecondstomars / http://thirtysecondstomars.thisisthehive.net/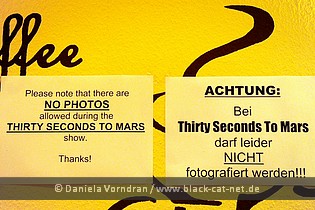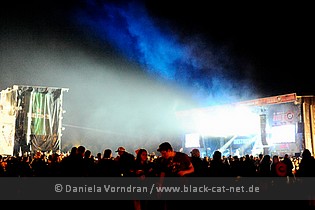 Music & Performance
Now, the time had come for what most of the people had been waiting for that day. The performance of Jared Leto and his 30 SECONDS TO MARS. In case you are wondering why there are no good pictures of this gig available: The reason is no photographer was allowed to take some. I still don't see the reason for preventing everyone from the press from taking pics. Maybe someone could enlighten me on that. Back to the show that started almost 15 minutes later for unknown reasons and kicked off with 'A Beautiful Lie' with crystal clear sound, screaming ladies and a Jared Leto who, for a change, had no weird coloured hair. Additionally, he did a terrific job on vocals this time which you couldn't really say about every performance in the past. A few gimmicks were included into the show as week like red balloons flying into the audience on 'This Is War' for instance. A really emotional moment came up with the band dedicating the song 'Alibi' to the victims of Pukkelpop. For 'Kings and Queens', huge amount of people was pleased onto stage.





We decided quite early to leave the festival grounds for this day, because the day was hard enough and we were pretty tired now. After all there was still two days of music ahead of us and we seriously needed to recharge our batteries.

Rating
Music: 8
Performance: 9
Sound: 9
Light: 8
Total: 8.9 / 10

All pictures by Daniela Vorndran (http://www.vorndranphotography.com / http://www.black-cat-net.de/ / www.myspace.com/vorndranphotography / www.facebook.com/blackcatnet)

Written by Sebastian Huhn & Ulrike Meyer-Potthoff



See also (all categories):