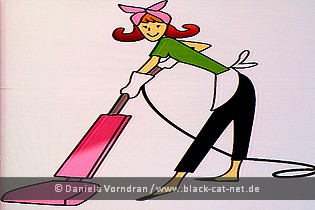 RuhrCongress, Bochum, Germany
7th October 2010
Porcupine Tree, Oceansize
How long have I been waiting to see this band live for the first time. So I was a little excited when I started my journey to Bochum to see PORCUPINE TREE this evening at RuhrCongress where a big crowd was queuing up already. But also the support OCEANSIZE was something to be very curious about. You might wonder why there's a comic housewife, doing the hovering next to this little text. The answer can be found in the article.
Oceansize


The British band formed in 1998 and through the following years would release 3 EPs until in September 2003 their debut album 'Effloresce' was released when it gained critical acclaim. The second album came around two years later with 'Everyone into Position' and once again it was generally praised while the band themselves have stated mixed views on the record. After the departure of their former bass player and the lucky find of their new one, the band started working on their next album 'Frames' that was issued in October 2007. With the 'Home & Minor' EP in 2009 they released a kind of chilly record before with their most recent recording 'Self-Preserved While The Bodies Float Up' some heavier stuff was put out. OCEANSIZE is Mike Vennart (guitar, lead vocals), Steve Durose (guitar, backing vocals), Richard Ingram (guitar, keyboards), Steven Hodson (bass, keyboards) and Mark Heron (drums). http://www.oceansize.co.uk/ / http://www.myspace.com/oceansizeuk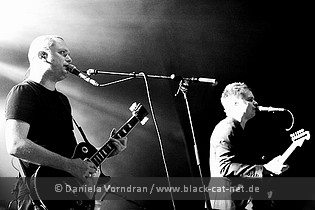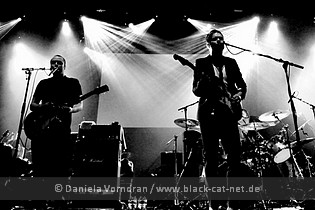 Music & Performance
Years ago, I had my first encounter with OCEANSIZE on their album 'Everyone into Position', but frankly, the spark wouldn't quite spring over back then. Now that band was entering the stage and directly with their opening 'Trail of Fire' amazed with instrumental proficiency. The song built from serene moods and an irregular timing on the drums towards a burst of harsh chords and made for an amazing start. 'It's My Tail And I'll Chase It If I Want To' followed it up, breaking into our conscience with intertwined guitar textures, creating a sudden momentum just as a feeling of desperation, coupling it with an interesting way of delivering the vocals by Mike Vennart. On the rocking 'Build Us A Rocket Then…' off the new album 'Self-Preserved While The Bodies Float Up' I felt nothing but admiration for drummer Mark Heron for being able to play that complicated stuff that fast as if it was nothing. Also we experienced a minor fuck-up with the first-ever breaking of a drummer's stool in the band's career. But then again, 12 years take their toll on everything.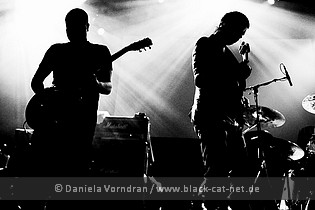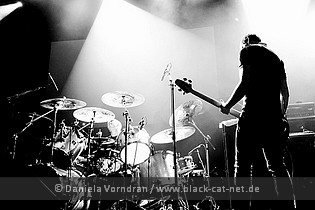 The last two songs of the set 'Unfamiliar' and 'Ornament / The Last Wrongs' impressed once again with enormous instrumental capabilities and great emotions, before the band had to walk off stage. The encore shouts were proof that the audience did like the stuff a lot and I wouldn't be surprised if some used the changeover to pay the merchandize booth a little visit. I for one was just excited.

Setlist
01. Trail Of Fire
02. It's My Tail and I'll Chase It If I Want To
03. Paper Champion
04. Build Us A Rocket Then…
05. Silent / Transparent
06. Unfamiliar
07. Ornament / The Last Wrongs

Rating
Music: 9
Performance: 8
Sound: 7
Light: 7
Total: 8.1 / 10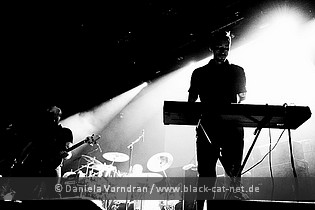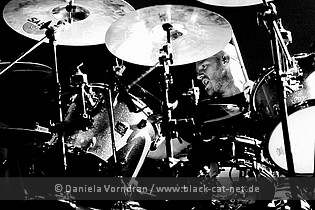 Porcupine Tree

PORCUPINE TREE might have started as a mere joke of Steven Wilson initially, but one that became one of the most important projects when it comes to high-class progressive music, and it became the most successful amongst the various projects Wilson is pursuing. 'In Absentia' was to become a major breakthrough for the band and by fans it is still regarded as being one of the best PORCUPINE TREE records and long-time it seemed there wouldn't be an album coming equally high in their perception. But 2007's 'Fear of a Blank Planet' did the trick and even received the full set of points at Rock Hard magazine, as well as other rave critics with magazines. Following album 'The Incident' proved to be another leap forward. Latest release is a re-issue of the much sought after 'Recordings' album from 2001. PORCUPINE TREE is Steven Wilson (vocals, guitar, piano), Gavin Harrison (drums, percussions), Colin Edwin (bass), Richard Barbieri (keys, synths) and John Wesley (backing vocals, guitar). http://www.porcupinetree.com/ / http://www.myspace.com/porcupinetree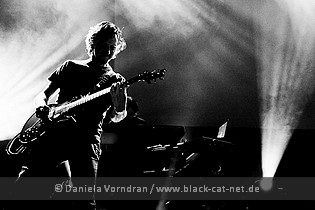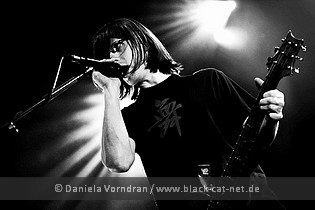 Music & Performance
During a changeover, you're normally expecting nothing else than the stage getting rebuilt for the next or the main band, but in case of PORCUPINE TREE there's something else happening as well, and that's the point where I'm clearing up why we chose that intro picture. Suddenly, a guy with a vacuum cleaner appeared on stage to clean the floor on stage, I suppose for Steven Wilson, always performing on bare feet. That looked so hilarious the people got all crazy about it and on the video walls in the venue this picture appeared and we thought it was too good not to use it. So now you know and we can start with the actual performance, starting with the band walking in, warmly welcomed and starting with the lengthy edition of 'Even Less', a sad trip through the past embellished with beautiful instrumentation of wide textures, wonderful guitar lines and rather subtle drumming. Quite a demanding start for the show! Well, but with the next one, 'Open Car', it got a little more compact. Already the first deep riffs made the audience scream.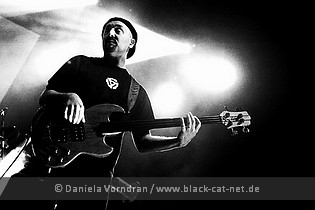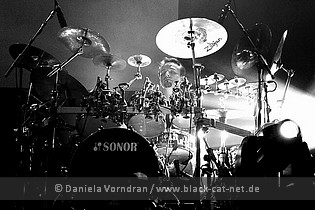 The chorus of that song, however, with the immense vocal performance really gave me goose bumps and the extended instrumental sections made me wish there was a studio version exactly like that. When Steven announced 'Lazarus', I was in complete bliss for it is one of my absolute favourites, and as a live version the feelings transported felt like multiplied a tenfold. Such a beautiful haunting track! But next up was something a little bit more bouncing with a part of the core track of 'Fear Of A Blank Planet', named 'Anesthetize: The Pills I'm Taking'. Metal guitars were cutting their way, Steven head banged a lot, and expanding soundscapes swirled. Also the video projections added a high level visual dimension to the track and temped time and again to focus completely on them. I didn't go as far back in the PORCUPINE TREE discography to have heard 'The Sky Moves Sideways'. Now I think I should run towards it. Psychedelic atmospheres, crystal clear drumming and epic guitar melodies made it a very special experience.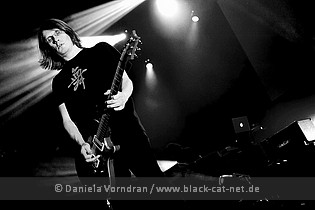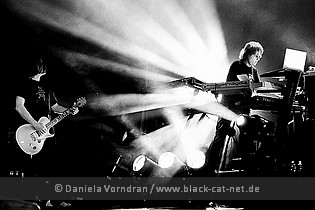 The ending part of 'The Incident' is named 'I Drive the Hearse' and marked the beginning of one of the last performances of stuff from this album. Good I was attending the show so I could at least one time drift away to the live version of this highlight which was followed by the enormously complex 'Bonnie the Cat' with Gavin Harrison displaying how good he actually is. Following this was a 10 minutes break, people used to buy merchandize or to get something to eat. A countdown showed how much time was left. After the band got some respite, the show could finally continue with a series of episodes from 'The Incident'. 'Drawing the Line' accompanied me on my way out. Yeah, I had to leave already and so I missed a few songs I'd have loved to hear. Anyway, I left with the knowledge of having attended a fabulous concert and maybe next time I will have the time to watch one of their shows in its entirety.

Setlist
01. Even Less
02. Open Car
03. Lazarus
04. Anesthetize: The Pills I'm Taking
05. The Sky Moves Sideways
06. I Drive The Hearse
07. Bonnie The Cat
---10 Min. Break---
08. Occam's Razor
09. Blind House
10. Great Expectations
11. Kneel And Disconnect
12. Drawing The Line
13. Blackest Eyes
14. Time Flies
15. Sleep Together
---
16. Arriving Somewhere But Not Here

Rating
Music: 9
Performance: 9
Sound: 8
Light: 8
Total: 8.7 / 10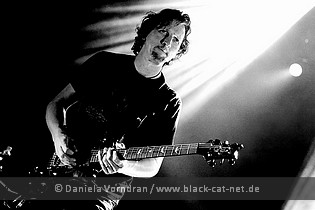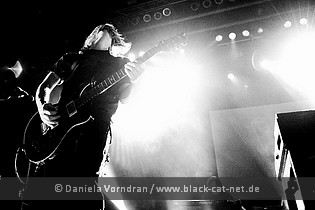 All pictures by Daniela Vorndran (http://www.vorndranphotography.com/ / http://www.black-cat-net.de/ / www.myspace.com/vorndranphotography)
{jos_sb_discuss:17}
See also (all categories):