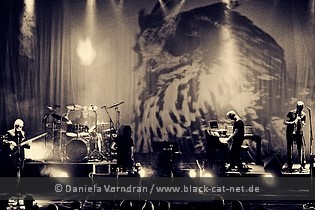 FZW, Dortmund, Germany
13th May 2012
Steven Wilson

Aside from being busy working with his main project, the Progressive Rock formation PORCUPINE TREE, Steven Wilson has always been branching out into different genres and under different monikers like the pop-rock oriented BLACKFIELD together with Aviv Geffen, the rather experimental ambient/noise sounds of BASS COMMUNION, or the eclectic pop of NO-MAN. Finally, in 2008 there was news about a solo album, later to be called 'Insurgentes' and released later that year. Encouraged by the success the album met with, work on a sophomore started. 'Grace For Drowning', a double album, dropped in late 2011 with which he branched out, incorporating elements of the classic prog rock possibly inspired by his work with KING CRIMSON and Jazz. http://www.swhq.co.uk / https://www.facebook.com/pages/Steven-Wilson-Official-page/114657261887878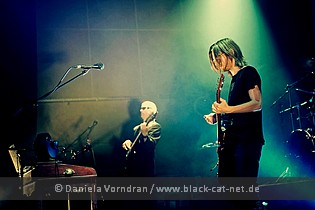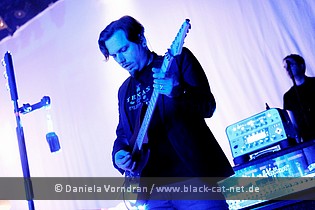 Music & Performance
Heading to Dortmund on a Sunday usually isn't too much of a problem. If the local football team just won a big trophy on the other hand makes things a little more difficult, better say, complicated in terms of getting where you want to be. Once that was settled, the fun part of the evening could start with STEVEN WILSON and band in Dortmund. Something I've been looking forward to a long time already. Instruments had all been setup already and the stage itself separated by a translucent kabuki curtain. Security let us know that there was going to be a movie prior to the actual show. This one turned out quite wearing and oppressing at the same time. A shape, maybe a ghost at sea under grey skies with almost no movement; a shadow slowly walking right up to you! All backed by I suppose BASS COMMUNION type of ambient music. While that was still running the first improvised drum figures of the opening track 'No Twilight Within The Courts of the Sun' became audible with a sound quality you rarely meet on concerts.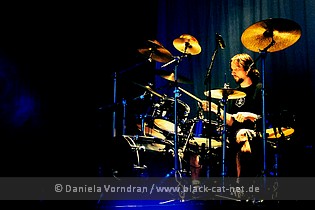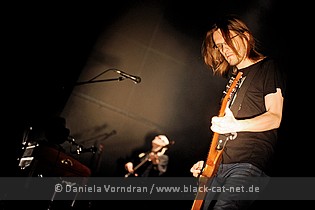 More and more of the band members became visible on stage to soon start the engaging track full throttle. You didn't want to miss a single moment of the ride. In the following a collector sent out greets to the audience before 'Index' hit. Video projections again covered the kabuki in front of the band which made for an outstanding effect. I couldn't help noticing the superior dynamics in the songs. A principle transformed into the live setting perfectly. You were blown away by some of the bursts occurring. 'Deform To Form A Star' was up next, introduced by a soulful and extended piano solo. It all felt so much more intense like multiplied a tenfold. We got no rest for the wicked with the following 'Sectarian' in the course of which the curtain fell and revealed a sparkling tableau of colourful lights. With 'Postcard' things were calming down a little and we were entering the remnants of a life that ended with a great loss. Surely one of the more catchy songs on the album but nevertheless a painful one!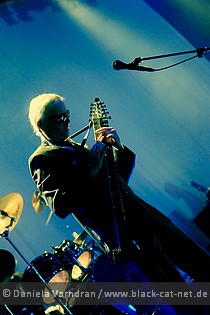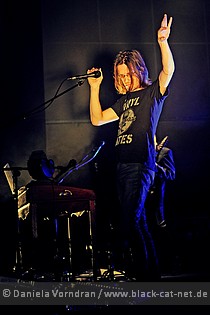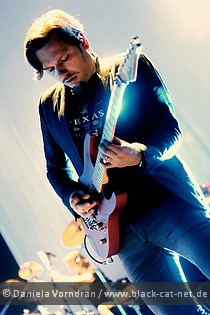 'Remainder The Black Dog' is one of those epics that seem long by duration but doesn't feel like it at all. In a live context you don't even recognize how time is flying. Actually, you're being kept quite busy with all the improvisations going on within and which are so well executed. With 'Harmony Korine' coming up next we got to see I think the closest thing to an ordinary rock track Wilson is able to produce. Somehow he always ends up in deep, complex waters. Of course you can't keep it all at bay in a live setting. But this was as far as it got. The ballad 'Insurgentes' was played for the first time if I got that correctly and it worked so well with all the warm melodies spreading out, reaching the audience. One major surprise of the set was the yet unrecorded track 'Luminol' that according to Wilson will be included on the next solo album. This one didn't make it easy to wait. Apart from its length, there are so many twists and turns built into it's hard to keep up.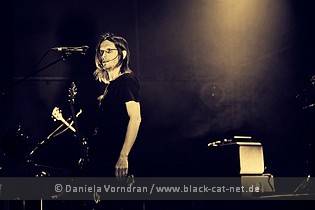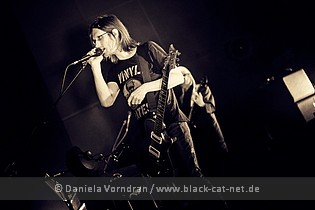 The by far longest track 'Raider II' was preceded by a discussion about the three categories Steven's track can be grouped into: Trains, obviously, women and let's not forget serial killers with a with a following explanation about the fascination of serial killers along with the question if there were any famous in Bulgaria. Don't think we are completely nuts it was more of an ironic game if you want. The reason he brought this up in the first place was because 'Raider II' was partly inspired by the deeds of Dennis Raider who they call the BTK killer. Over 20 minutes of jazz, prog electronics and stuff just made you realize completely what an amazing bunch of musicians he had with him on stage. Lastly, there had to be an encore, if only a short one with 'Get What You Deserve'. Seriously, I think this is one of the best shows I've seen this year so far.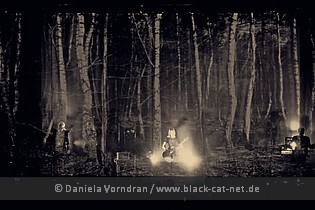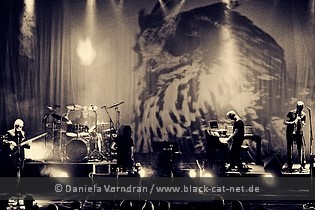 Setlist
01. No Twilight Within the Courts of the Sun
02. Index
03. Deform to Form a Star
04. Sectarian
05. Postcard
06. Remainder the Black Dog
07. Harmony Korine
08. Abandoner
09. Insurgentes
10. Luminol
11. No Part of Me
12. Raider II
---
13. Get All You Deserve

Rating
Music: 10
Performance: 10
Sound: 10
Light: 10
Total: 10 / 10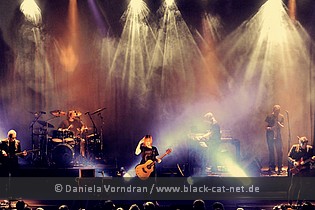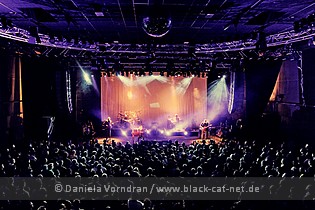 All pictures by Daniela Vorndran (http://www.vorndranphotography.com / http://www.black-cat-net.de/ / http://www.myspace.com/vorndranphotography / http://www.facebook.com/blackcatnet)



See also (all categories):