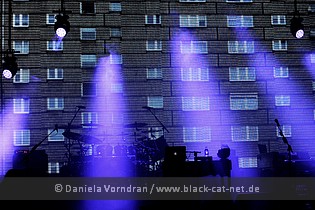 Ancienne Belgique, Brussels, Belgium
23rd January 2016
Steven Wilson

Barely a year after his last visit, Steven Wilson is back in Belgium, this time for a concert at the famous Ancienne Belgique in Brussels. The British artist is currently basking in the success of his latest album, 'Hand. Cannot. Erase', which has outsold all his other LP's, including those from his previous band, the legendary PORCUPINE TREE. In his luggage, he's also bringing us a brand new EP, '4 ½'. This mini-album brings together "orphan" compositions that had not found favour on the two previous releases and a cover of a PORCUPINE TREE song, 'Don't Hate Me'.
Four years ago, Steven Wilson had played in the Ancienne Belgique in a "Box" configuration, that is without balconies. This evening, on the contrary, the venue is full and the concert is sold out. A proof of the progress made by the "King of Prog". He has clearly succeeded in letting his music evolve, winning new fans without losing too many original fans of PORCUPINE TREE, disappointed by the new, much less prog/ metal, productions. Before the concert, a very "dark ambient" playlist installs a dark and meditative atmosphere. We recognize the famous instrumental 'Warzawa' from David Bowie, whose death deeply affected Wilson.
http://www.swhq.co.uk
/
https://www.facebook.com/StevenWilsonHQ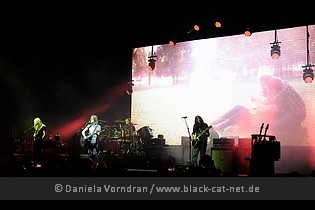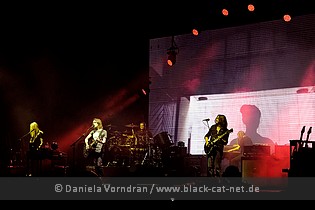 Music & Performance

The concert begins with the screening of the short film presenting the theme of 'Hand. Cannot. Erase': solitude in great cities. The artists take the podium and begin the full interpretation of this brilliant concept album. Wilson is accompanied by his faithful bassist Nicky Beggs (ex-Kajagoogoo, Steve Hackett) and by his keyboardist Adam Holzman (he worked with Miles Davis). Alongside them, two newcomers: the guitarist Dave Kiliminster (he participated in the 'The Wall' tour with Roger Waters) and the drummer Craig Blundell (a session musician). 'First Regret' opens the set gently. Adam Holzman draws arabesques on his keyboards. The guitar riff from '3 Years Older', very inspired by RUSH, cuts sharply through the atmosphere. What follows is a 10 minute "tour de force", alternating moments of soft, jazz and even folk, with frenzied flights of prog/ rock. A patchwork of influences evoking KING CRIMSON, PINK FLOYD, CAMEL, YES, RUSH, Todd Rundgren (UTOPIA) and VAN DER GRAAF GENERATOR. Steven Wilson is barefoot, as usual. He has his eternal college student look. Standing in the centre of the stage, he is the conductor of his super group.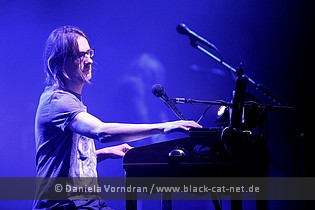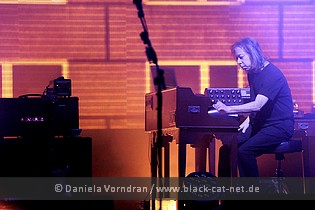 After '3 Years Older' Wilson greets the crowd and says he appreciates their enthusiasm. He explains that the first part of the concert will focus on his latest LP; and that in the second part there will be... "other things"... Everybody understands he's referring to PORCUPINE TREE songs, which his oldest fans are insistently calling for at every concert. But first, it's time to play the title track of 'Hand. Cannot. Erase', which again evokes RUSH, from the 'Hold Your Fire' period. Then, a change of style: trip-hop-ish drums serve as a backdrop to the female voice (in playback), which is telling the story of the character. She was listening to DEAD CAN DANCE and THIS MORTAL COIL, and in the video, she wears a JOY DIVISION t-shirt: very nice references! Then Wilson sings the simple and very touching melody: "We have got, We have got a Perfect Life". The vocal harmonies provided by Nicky Beggs here are amazing. "Are you ready to descend into the depths of misery and despair?", asks Wilson, with a smile. It's 'Routine', probably the darkest song he ever wrote. Unfortunately, the Israeli singer Ninet Tayeb is absent (because of the Shabbat). Her voice is in playback, shame because we were looking forward to see the duet live on stage. The stunning animated video directed by Jess Cope is shown on the video screen. A unique moment!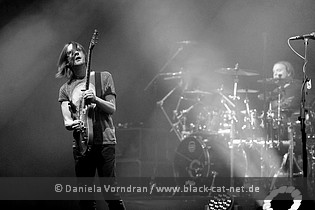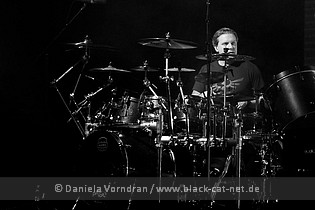 'Home Invasion' marks a return to rock-oriented jazz/ prog, to the delight of fans of the first hour. 'Regret # 9' allows Adam Holzman to display his virtuosity on the Moog keyboard. His solo reminds me of HAPPY THE MAN, the American band, which Holzman holds in great admiration. Dave Kiliminster takes over for an impressive solo. And finally, Wilson closes the composition smoothly over the strings of his Paul Reed Smith. After presenting his musicians, again "tongue-in-cheek", Wilson presents 'Transience', a song that would have fit perfectly on one of the first LPs from GENESIS. Both the acoustic guitar arpeggio's and the vocal melodies are reminiscent of "Selling England by the Pound". Finally, 'Happy Returns / Ascendant Here On...' takes back the original musical theme of the album and closes the first set in a solemn way, with just Adam Holzman on the piano. Superb!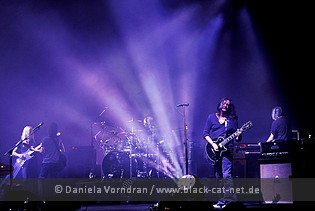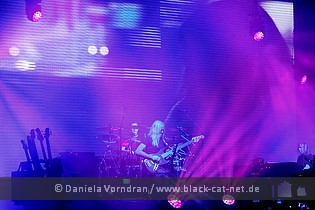 After a short break, the band comes back; and the first song is a very good surprise: a cover of 'Drag Ropes' (Storm Corrosion). Wilson brilliantly performs the vocals of Mikael Åkerfeldt (Opeth). And it is not the end of surprises. Then comes 'Open Car', one of the best titles of PORCUPINE TREE. Reactions again demonstrate the exceptional commitment of the public to this legendary band. In an interview, Steven Wilson said that the band might reunite for a last album, but it would be only a parenthesis, because his solo career has now become his priority. Then comes a first track from '4 ½'. Wilson explains he wanted to release this mini album to give a chance to these "orphan" compositions and also to add new titles to the tour setlist. He adds: "I'm like the bands from the '70s – '80s, that used to release one album every year. Today, some bands, like Tool, release an album every 10 years!" Laughter in the room. The track is 'My Book of Regrets': it perfectly holds water in the rich discography of the English musician.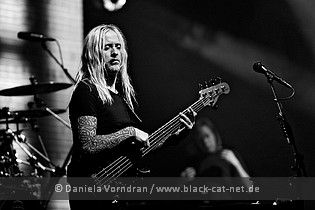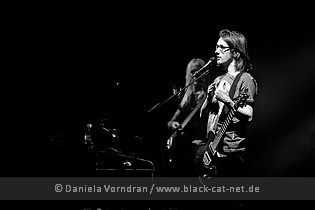 A snap of the fingers, in cadence, announces 'Index', one of my favourite Steven Wilson songs. It's off 'Grace for Drowning' and it represents a "darker" period, haunted by serial killers and darker, more hypnotic musical genre. 'Lazarus', another cover of PORCUPINE TREE, provides an excellent opportunity to pay tribute to David Bowie: indeed, there's also a track called 'Lazarus' on 'Black Star', Bowie's last album. And what is surprising, says Wilson, is that the character of "his" song 'Lazarus' is called... David! What a (L)hazard... Then, a transparent veil is stretched between the podium and the audience: it's 'Vermillioncore', another track from '4 ½'. This instrumental offers some heavier guitar riffs, which allows "metal heads" to practice a little head banging. The last song of the concert is particularly well chosen: 'Sleep Together', another masterpiece of PORCUPINE TREE, off 'Fear of a Blank Planet', probably the best PT album. The intro is very dark and electronic, it reminds me of NINE INCH NAILS. The chorus causes an explosion, "Let's sleep together... Right now". The final progression is irresistible and leads inexorably toward an orgasm with "kashmiresque" accents, punctuated by the very theatrical collapse of the transparent veil. A breath-taking final...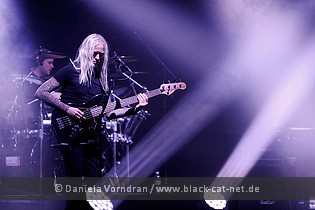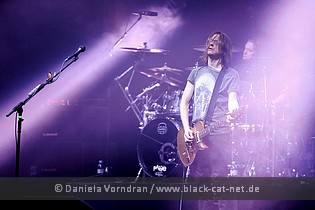 In the encore, no cover of 'Space Oddity', again because of Ninet Tayeb's absence. Wilson plays a last cover of PORCUPINE TREE: 'The Sound of Muzak' and as final song 'The Raven That Refused to Sing', probably Wilson's most beautiful composition. Sitting on a stool, he sings the heart-breaking melody, which is enhanced by the superb animated video of Jess Cope. You can't hear a pin drop throughout the song. You get goose bumps. You hear quadraphonic sound effects coming from the four corners of the venue, for a total musical experience. "I'm afraid to wake... I'm afraid to love..." In conclusion: a superb concert, perfect in every way: sound, lights, videos, contact and of course... the songs. Steven Wilson undoubtedly belongs to this category of versatile geniuses, just like Bowie, Reznor, Yorke,... who left an indelible mark on the alternative contemporary music. We are eager to find out what the Wilson King will produce in the future! Anyway, tonight we have clearly attended his coronation...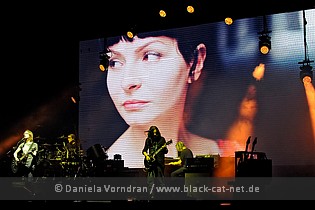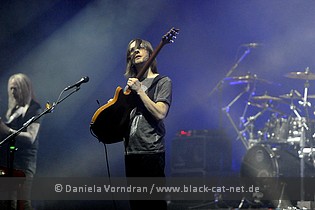 Setlist

-Set 1: album Hand. Cannot. Erase.-
01. First Regret
02. 3 Years Older
03. Hand Cannot Erase
04. Perfect Life
05. Routine
06. Home Invasion
07. Regret #9
08. Transience
09. Ancestral
10. Happy Returns
11. Ascendant Here On...
-Set 2-
12. Drag Ropes (Storm Corrosion cover)
13. Open car (Porcupine Tree cover)
14. My Book of Regrets
15. Index
16. Lazarus (Porcupine Tree cover) (Dedicated to David Bowie)
17. Don't Hate Me (Porcupine Tree song)
18. Vermillioncore
19. Sleep Together (Porcupine Tree cover)
---
20. The Sound of Muzak (Porcupine Tree cover)
21. The Raven That refused to sing
(Organisation : AB + Live Nation)
Rating

Music: 10
Performance: 9
Sound: 8
Light: 10
Total: 9.3 / 10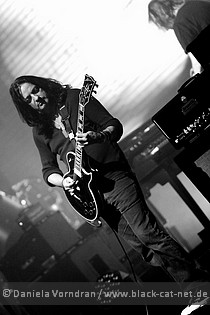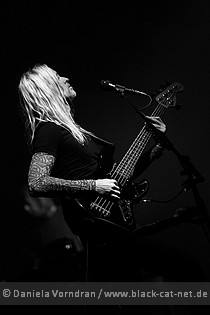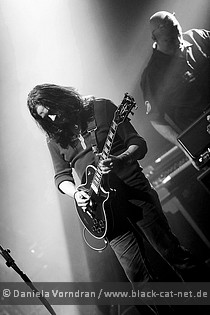 All pictures from Bochum by Daniela Vorndran (
http://www.vorndranphotography.com
/
http://www.facebook.com/blackcatnet
)
See also (all categories):