Colosseum Theater, Essen, Germany
6th March 2018
Steven Wilson – "To the Bone World Tour" 2018 – Special guest: Donna Zed

Progressive rock mastermind STEVEN WILSON has sold out the Essen Colosseum Theater two nights in a row. This certainly speaks volumes about the number of fans in the area eager to see their idol. Despite the fact that his latest solo album 'To the bone' from 2017 has ignited some controversy among his followers for being too "soft", the turnout of fans certainly was impressive.
Donna Zed
The self-described model, musician and alien from Switzerland, the twenty-year-old
DONNA ZED
, was the first to open the evening. Her first record release is an EP called 'Morphine' in 2017. She has accompanied STEVEN WILSON already on several tours. More information can be found via https://web.facebook.com/donnazed or www.donnazed.com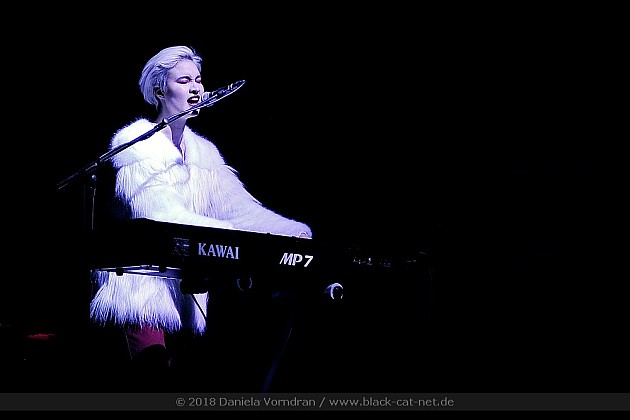 Music & Performance

Way before the indicated start time of 8pm, the singer DONNA ZED entered the stage of the opulent Colosseum Theater and started playing from behind a keyboard around 7:15pm. This clearly came as a surprise to most visitors, as most people still lingered in the theatre lobby over drinks. Those who arrived early saw an ambitious singer, who – despite her outlandish appearance – exuded a certain charm with her refreshingly simple arranged songs. DONNA played three songs from her EP, and one new song called 'Against the Rising Sun' and left the stage after 25 minutes of playing time.
Setlist

01. High on Desire
02. Morphine
03. Against the Rising Sun
04. Say it all
Rating

Music: 5
Performance: 5
Sound: 5
Light: 5
Total: 5 / 10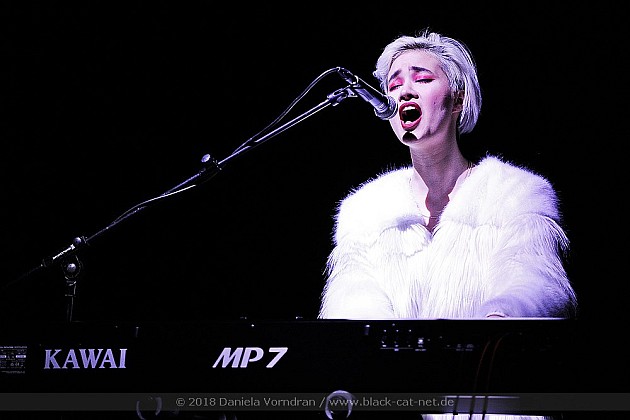 Steven Wilson
The front man and mastermind of the 90s psychedelic band
PORCUPINE TREE
,
STEVEN WILSON
has released his fifth solo album called 'To The Bone' in 2017, and embarked on a world tour, which led him to play two dates in Essen. Ironically advertised as "The most successful British musician most people have never heard of", STEVEN WILSON is in fact flying under the radar for most music fans. Maybe it is the label Progressive Rock, which is mercilessly attached to WILSON's music, and which represents a major turn-off for most people, as invokes the image of old musicians celebrating seemingly endless symphonic music pieces with a grand orchestra. However, those tens of thousands of fans coming to his sold-out shows seem to have graduated beyond that. For more about the singer go to http://www.stevenwilsonhq.com or https://www.facebook.com/StevenWilsonHQ.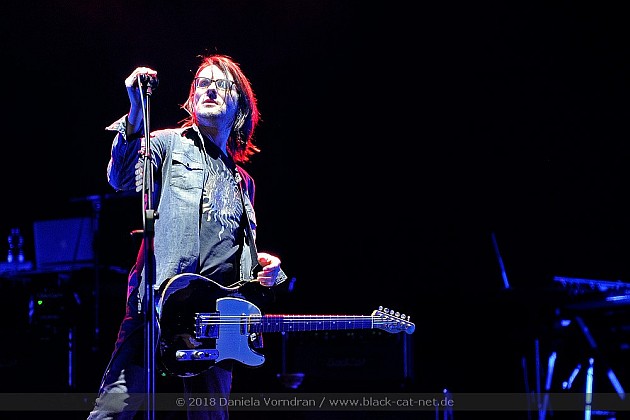 Music & Performance

At 8pm, a projection appeared on an almost invisible screen in front of the stage, showing a short film consisting of stock photos being associated with certain nouns in an accelerating. Combined with the surround sound effects, the projection almost had a futuristic, holographic feel. Then the first song 'Nowhere Now' made most concertgoers reach for their hearing protection, as the volume levels were a solid 7 on the MANOWAR volume level scale. In his first interaction with the audience, STEVEN WILSON mentioned that this evening's setlist would be completely different from the one of the night before – a move which underscores the exceptional talent assembled on stage. During the song 'Pariah', a projection of singer NINET TAYEB appeared once again in front of the stage, adding to the magical touch of the song. Steven and his band had played for a solid 70 minutes, when a twenty-minute break was announced, and people got up from their red upholstered theatre seats to get a drink in the lobby.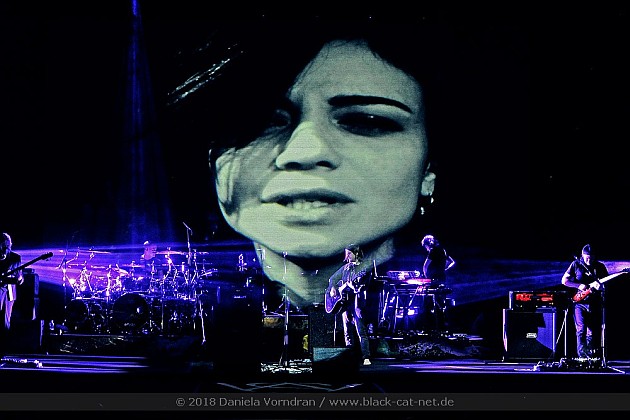 After the break, STEVEN WILSON began with 'Arriving Somewhere but Not Here', a song from his PORCUPINE TREE era. In this part he introduced the song 'Permanating', an unashamedly euphoric pop song, which got people off their seats to dance. This once again underscored the fact that STEVEN WILSON is definitely not letting himself be limited by musical categories, and that he disdains what he calls "musical snobbery". A three-song encore made sure that even the most eager fans got their musical send-off after more than 150 minutes of playtime. All in all, witnessing this STEVEN WILSON concert was an extraordinarily immersive experience. The sound, the light and the video projections all created carefully crafted atmosphere, which truly embodies art in its most advanced form. It also shows that STEVEN WILSON with his 50 years of age and almost 50 released recordings is at the height of his creativity. This bodes well for the future.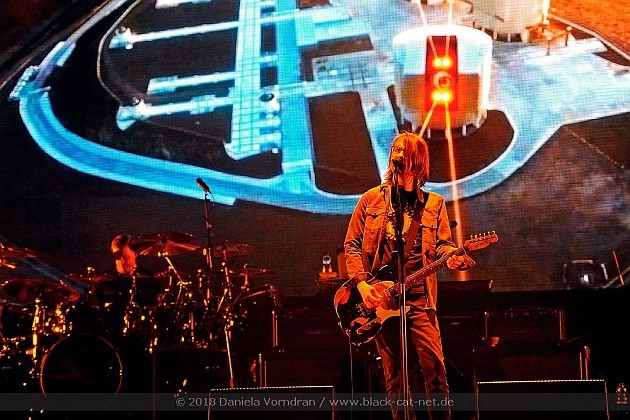 Setlist

'Truth' (short film)
---
Set 1:
01. Nowhere Now
02. To the Bone
03. Nowhere Now
04. Pariah
05. Home Invasion
06. Regret #9
07. Perfect Life
08. Routine
09. Hand Cannot Erase
10. Ancestral
11. Happy Returns
12. Ascendant Here On...
---
Set 2:
13. Arriving Somewhere but Not Here (Porcupine Tree song)
14. People Who Eat Darkness
15. Don't Hate Me (Porcupine Tree song)
16. Permanating
17. Song of I
18. Refuge
19. The Sound of Muzak (Porcupine Tree song)
20. Sleep Together (Porcupine Tree song)
---
Encores:
21. How Is Your Life Today? (Porcupine Tree song)
22. Harmony Korine
23. The Raven That Refused to Sing
Rating

Music: 8
Performance: 8
Sound: 9
Light: 10
Total: 8.8 / 10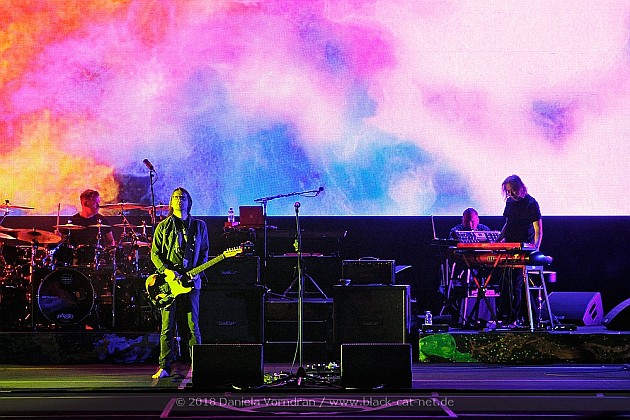 All pictures by Daniela Vorndran (
http://www.vorndranphotography.com
/
http://www.facebook.com/blackcatnet
)
See also (all categories):