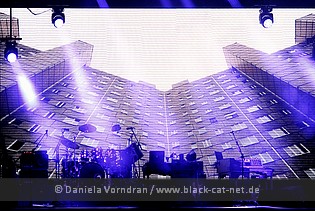 E-Werk, Cologne, Germany
20th March 2015
Steven Wilson

The current success of Steven Wilson, head of PORCUPINE TREE and BLACKFIELD is incredible. Having just released a new album, he is back on German stages. The show in Cologne's E-Werk was completely sold-out.
Aside from being busy working with his main project, the Progressive Rock formation PORCUPINE TREE, Steven Wilson has always been branching out into different genres and under different monikers like the pop-rock oriented BLACKFIELD together with Aviv Geffen, the rather experimental ambient/ noise sounds of BASS COMMUNION, or the eclectic pop of NO-MAN. Finally, in 2008 there was news about a solo album, later to be called 'Insurgentes' and released later that year. Encouraged by the success the album met with, work on a sophomore started. 'Grace For Drowning', a double album, dropped in late 2011 with which he branched out, incorporating elements of the classic prog rock possibly inspired by his work with KING CRIMSON and Jazz. 'The Raven That Refused To Sing (And Other Stories)' hit the stores on 1st March 2013. Currently, Wilson put PORCUPINE TREE on hiatus to concentrate on his solo project. The newest, fourth, studio album is called 'Hand.Cannot.Erase' and was out end of February 2015, followed now by an European tour in March and April. Steven Wilson (vocals, piano, guitar) is accompanied on stage by a live band consisting of Nick Beggs (bass), Marco Minnemann (drums), Guthrie Govan (guitar) and Adam Holzman (keyboards).
http://www.swhq.co.uk
/
https://www.facebook.com/StevenWilsonHQ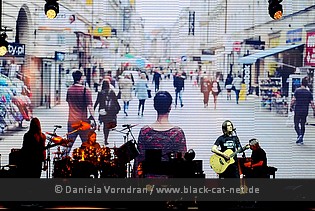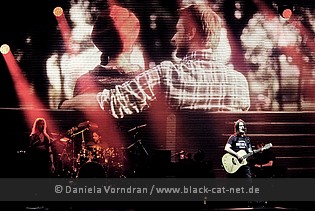 Music & Performance

As already said, the show was totally sold-out. This was the non-surprising fact. But I was a little surprised that it was a seated show (despite the places on the gallery). And later on during the show, security was pretty strict when people were standing… no option to stand in the hall, you had to sit or leave the main floor. But back to the show itself. Short past eight, the intro sounded through the speakers and the video showed a depressing industrialized apartment block. Not a nice place to live. This was a first hint to the overall topic of the newest album. 'Hand.Cannot.Erase' is a concept album about the cold anonymity and loneliness in a big city, based on the true story of a young woman, Joyce Carol Vincent, lying more than two years dead in her London apartment… in the middle of packed Christmas presents. This story made a deep impression on Wilson and the concert mainly presented songs from the new album which dealt with that story. Besides, the nearly two hours lasting show was an extraordinary audio-visual experience. Music, lyrics and videos were perfectly fitting together. Wilson indeed is a perfectionist and a fantastic musician! As perfectionist he even excused that the voice of singer Ninet Tayeb was played from tape for the song 'Routine'.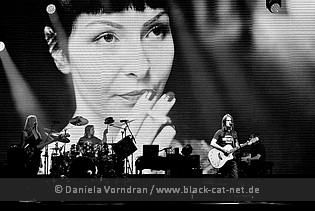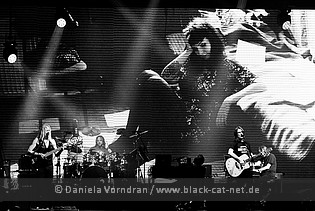 I in fact even dare to say he's a magician in writing surprising songs, songs that enthral you with various musical variances… with catchy and rousing beats, with soft melodies, with hard Metal riffs, with edges and unexpected movements. The audience was mesmerized. Between the new solo songs, there were also a few older ones and much to my pleasure also one or another PORCUPINE TREE song, like 'Lazarus' from the 'Deadwing' album, fitting perfectly into the set and the overall concept. I read somewhere that the show was also a little like watching a movie in a cinema (and maybe that's why the chairs) with all those partly disturbing videos. Music and video… that was a perfect match and for the overall concept no one of them could go without the other one. Videos and fantastic lights, together with the music, were making the show an audio-visual highlight... but I am repeating myself. With the emotional soundscapes of 'The Raven that refused to sing' as last encore, the set ended perfectly.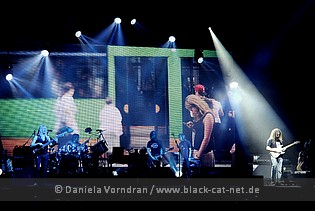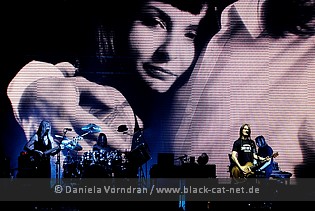 It seems, Wilson and his band never disappoint we experienced another concert highlight with this Cologne show. Simply amazing! If you missed the show or did not catch a ticket you might have another chance since the tour will be proceeded in autumn.
Setlist

01. Intro
02. First Regret
03. 3 Years Older
04. Hand Cannot Erase
05. Perfect Life
06. Routine
07. Index
08. Home Invasion
09. Regret #9
10. Lazarus (Porcupine Tree song)
11. Harmony Korine
12. Ancestral
13. Happy Returns
14. Ascendant Here On...
---
15. Temporal (Bass Communion song) (Watchmaker Intro Video)
16. The Watchmaker
17. Sleep Together (Porcupine Tree song)
---
18. The Raven That Refused to Sing
Rating

Music: 10
Performance: 10
Sound: 9
Light: 9
Total: 9.5 / 10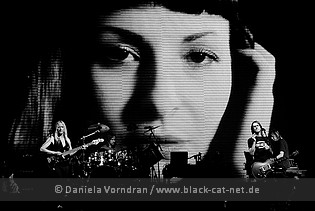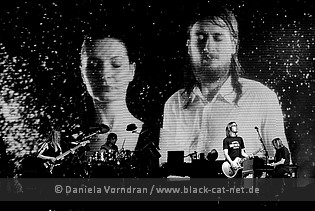 All pictures by Daniela Vorndran (
http://www.vorndranphotography.com
/
http://www.facebook.com/blackcatnet
)
See also (all categories):