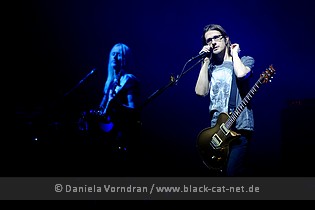 Jahrhunderthalle, Bochum, Germany
14th January 2016
Steven Wilson

The current success of Steven Wilson, head of PORCUPINE TREE and BLACKFIELD is incredible. After touring already with the 'Hand.Cannot.Erase' album last year, he is now back with a re-worked show where he presents the mentioned album completely. Besides there are new projections, new setlist and a new live-line-up. Like many other shows, the show in Bochum was sold-out.
Aside from being busy working with his main project, the Progressive Rock formation PORCUPINE TREE, Steven Wilson has always been branching out into different genres and under different monikers like the pop-rock oriented BLACKFIELD together with Aviv Geffen, the rather experimental ambient/ noise sounds of BASS COMMUNION, or the eclectic pop of NO-MAN. Finally, in 2008 there was news about a solo album, later to be called 'Insurgentes' and released later that year. Encouraged by the success the album met with, work on a sophomore started.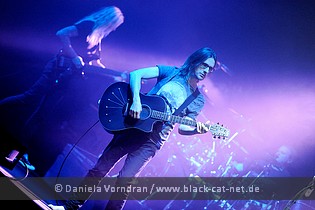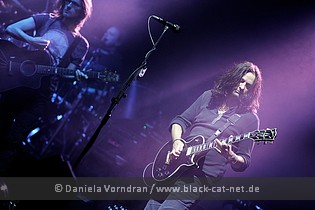 'Grace For Drowning', a double album, dropped in late 2011 with which he branched out, incorporating elements of the classic prog rock possibly inspired by his work with KING CRIMSON and Jazz. 'The Raven That Refused To Sing (And Other Stories)' hit the stores on 1st March 2013. Currently, Wilson put PORCUPINE TREE on hiatus to concentrate on his solo project. The newest, fourth, studio album is called 'Hand.Cannot.Erase' and was out end of February 2015, followed now by an European tour in March and April. On 22nd January, Wilson will release a mini album called '4 ½', the album between the fourth and fifth studio album. During the new shows, Steven Wilson (vocals, piano, guitar) is accompanied on stage by a live band consisting of Nick Beggs (bass, stick), Adam Holzman (keyboards), Dave Kilminster (guitar) and Craig Blundell (drums).
http://www.swhq.co.uk
/
https://www.facebook.com/StevenWilsonHQ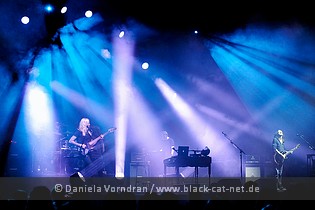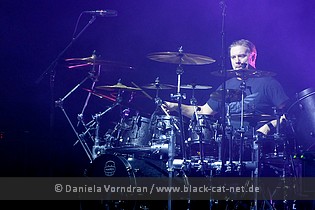 Music & Performance

LOUD ANGER MEETS SILENT MELANCHOLY. That's how you could headline the two shows on 14th and 15th January 2016 at the Jahrhunderthalle. We were at the first of them, which indeed was the additional show after the show on 15th was quickly sold out. And of course, also the second date was sold-out, showing the huge demand for Wilson currently. STEVEN WILSON´s catchy progressive art-rock attracted a mature, dignified audience. At the beginning of the evening the sympathetic Mr. Wilson asked the spectators: "Who is gonna be here tomorrow as well?" While arms went up, he added, facing his band: "Guys? We need to learn some new songs. Fast!" The concert was fantastic. Basically two concerts in a row. At first they performed the 'Hand. Cannot. Erase.' album, which, supported by a lot of nice videos, took us on a road trip and paid homage to everyday life. A very dynamic, powerful show. Loud anger meeting silent melancholy. The incredible voice of his Israeli guest vocalist Ninet Tabeyb turned the incredible stop motion video 'Routine' into a superfluity.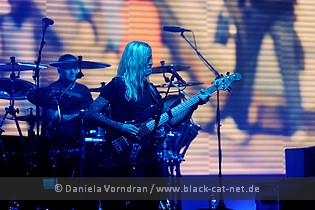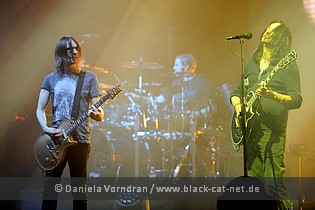 The second half featured songs from the upcoming '4 ½' mini album, was partly more aggressive, the song 'INDEX' for instance, a TOOLesk outburst, made child abuse its topic. The audience also celebrated some of his old, rearranged material from his former band PORCUPINE TREE and finally paid standing ovations to STEVEN WILSON and his incredibly talented musicians. His bass player even played the chapman stick, a rare string instrument, that is played by tapping only. As the final song of the show, Wilson paid tribute to DAVID BOWIE, who dies just a few days before, with his interpretation of 'Space Oddity'. Very touching!
Setlist

-Hand. Cannot. Erase.-
01. First Regret
02. 3 Years Older
03. Hand Cannot Erase
04. Perfect Life
05. Routine (with Ninet Tayeb)
06. Home Invasion
07. Regret #9
08. Transience
09. Ancestral (with Ninet Tayeb)
10. Happy Returns
11. Ascendant Here On...
-Set 2-
12. Drag Ropes (Storm Corrosion cover)
13. Open Car (Porcupine Tree song)
14. My Book of Regrets
15. Index
16. Lazarus (Porcupine Tree song)
17. Don't Hate Me (Porcupine Tree song) (with Ninet Tayeb)
18. Vermillioncore
19. Sleep Together (Porcupine Tree song)
---
20. The Sound of Muzak (Porcupine Tree song)
21. Space Oddity (David Bowie cover) (with Ninet Tayeb) (live debut by Steven Wilson)
Rating

Music: 10
Performance: 10
Sound: 10
Light: 10
Total: 10 / 10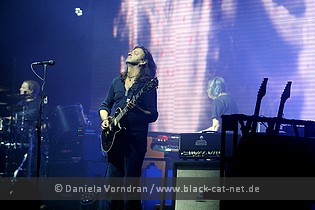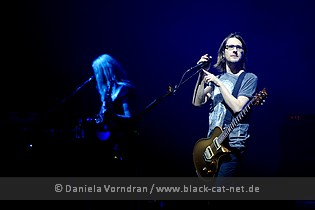 All pictures by Daniela Vorndran (
http://www.vorndranphotography.com
/
http://www.facebook.com/blackcatnet
)
See also (all categories):