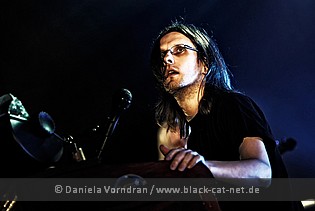 Live-Music-Hall, Cologne, Germany
10th March 2012
Steven Wilson

The current success of Steven Wilson, head of PORCUPINE TREE and BLACKFIELD is incredible. Having just released a new album, he is back on German stages less than a year after his latest tour. The show in Cologne's Live-Music-Hall was completely sold-out.


Aside from being busy working with his main project, the Progressive Rock formation PORCUPINE TREE, Steven Wilson has always been branching out into different genres and under different monikers like the pop-rock oriented BLACKFIELD together with Aviv Geffen, the rather experimental ambient/noise sounds of BASS COMMUNION, or the eclectic pop of NO-MAN. Finally, in 2008 there was news about a solo album, later to be called 'Insurgentes' and released later that year. Encouraged by the success the album met with, work on a sophomore started. 'Grace For Drowning', a double album, dropped in late 2011 with which he branched out, incorporating elements of the classic prog rock possibly inspired by his work with KING CRIMSON and Jazz. His newest work, 'The Raven That Refused To Sing (And Other Stories)', hit the stores on 1st March 2013. His live band consists of Nick Beggs (bass), Theo Travis (saxophone and flute), Marco Minnemann (drums), Guthrie Govan (guitar) and Adam Holzman (keyboards). http://www.swhq.co.uk / https://www.facebook.com/StevenWilsonHQ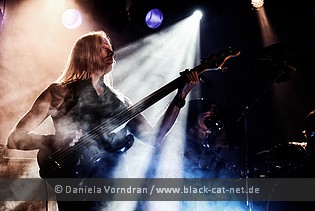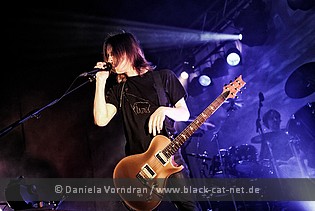 Music & Performance
Less than a year, STEVEN WILSON is back on Germany to promote his current release 'the Raven that refused to sing' live on stage. Different to last time, the show is partly seated today. Half an hour before the concert started, there was an intro video shown, projecting the moon with clouds onto the screen, leading at last to the new album's cover. During this 30 minute, spherical ambient music was played and sharp at eight, Wilson - barefoot as always -and his band entered the stage to start with fabulous 'Luminol'. The set was accompanied with video projections showing his love for the dark and macabre, and fantastic lights, both together with the music making the show an audio-visual highlight. The setlist turned out to be totally different to the last tour and in the course of the show, the whole new album was being performed. What followed now were about two hour of sheer musical joy leaving no one disappointed. Following 'Luminol' was 'drive Home' for which Wilson sat down on a chair with his acoustic guitar. Together with help of Nick Beggs, he delivered a fantastic vocal performance, accompanied by Theo Travis on flute.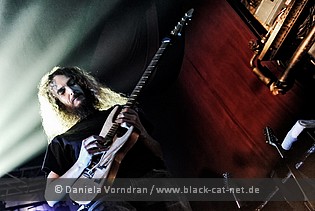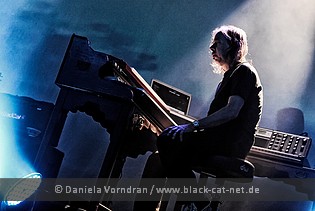 Even though we were attending a Steven Wilson show, the evening was not only about him, but also his musicians had room to show their musical abilities. So i.e. Minnemann's drum play made 'Pin Drop' so powerful. Next followed the first song of the evening not being taken from the latest album, 'Postcard', and things calmed a bit down and presented extraordinary keyboard play of Adam Holzman. For following song, 'The Holy Drinker', Wilson was grabbing the bass for a funky intro while Beggs grabbed his Chapman Stick. The song led into 'deform to form a Star', being introduced by a fantastic and soulful piano solo by Holman. It all felt so much more intense like multiplied a tenfold. After the song, there was another video shown to introduce the song 'The Watchmaker', surely being one of the show's highlights. Another powerful song, 'Index', followed and afterwards, we found Wilson seated again behind his mini Hammond to perform the ballad 'Insurgentes' and 'Harmony Korine'. 'No Part of me' and 'Raider II' followed when we enjoyed Govan's solos and the band's jazzy experimentation. With the motional soundscapes of the title track of new album, 'The Raven that refused to sing', the set ended perfectly and the musicians one after the other left the stage under thundering applause.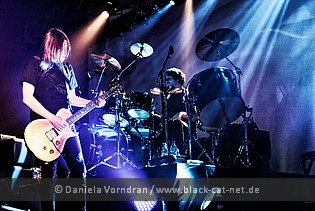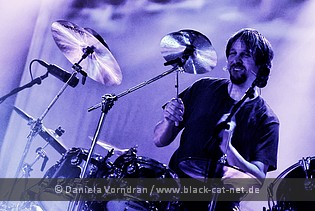 Already having played much more than 90 minutes, you should think this is enough for a concert, but no one would leave without encore. And of course, the band returned for an addition. As encore, the band presented a PORCUPINE TREE classic, 'Radioactive Toy', receiving standing ovations for a reason. It seems, Wilson and his band never disappoint and after last year's breathtaking show in Dortmund, we were experiencing another concert highlight with this Cologne show. Simply amazing!

Setlist
Raven Artwork Video
01. Luminol
02. Drive Home
03. The Pin Drop
04. Postcard
05. The Holy Drinker (Steven Wilson on bass guitar)
06. Deform to Form a Star
Watchmaker Intro Video
07. The Watchmaker
08. Index
09. Insurgentes
10. Harmony Korine
11. No Part of Me
12. Raider II
13. The Raven That Refused to Sing
---
14. Radioactive Toy (Porcupine Tree song)
Ljudet Innan (Storm Corrosion song)

Rating
Music: 10
Performance: 10
Sound: 8
Light: 9
Total: 9.4 / 10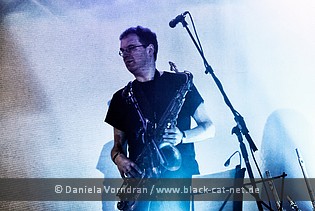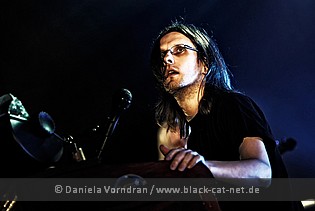 All pictures by Daniela Vorndran (http://www.vorndranphotography.com / http://www.black-cat-net.de/ / http://www.myspace.com/vorndranphotography / http://www.facebook.com/blackcatnet)



See also (all categories):