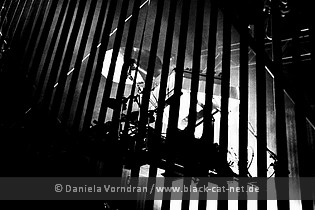 Live-Music-Hall, Cologne, Germany
10th October 2010
Trentemøller, Chimes & Bells
We were closing up the week with a show by an artist we do much appreciate but have never seen live before and thus we were quite curious about how TRENTEMØLLER would be transporting his electronic cuts to the live circuit, especially those of the new album 'Into The Great White Yonder' leaning towards a rather indie direction that could indicate a rocking live presentation. We would see...
Chimes & Bells
Cæcilie Trier is creative force behind CHIMES & BELLS, formed in 2008, after having been a contributor to the Danish indie scene for a long time. The debut EP 'Into Pieces of Wood' was released to favourable critics in February 2009 in Denmark and later in the UK. The eponymous debut album is available in their native since 4th October.
http://www.myspace.com/chimesandbells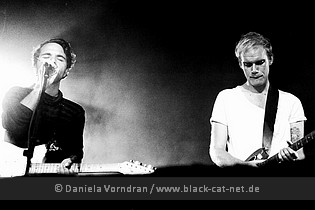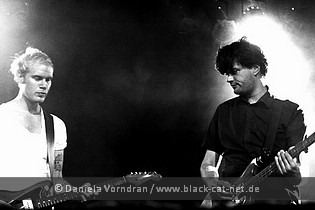 Music & Performance
Since I didn't knew that band before I opted for checking a few tracks on MySpace beforehand and got introduced to a very calm style of music. So I figured that would be the direction the evening would start, that is, very relaxed just like the interim music. When the five musicians entered, took their places, and started the first track, a jazzy and spherical piece carried by Cæcilie's soulful vocals, I was proven right I thought. Also the following track, even if coming with more voluminous drums, was constructed that way. But later songs would reveal a gradual shift towards a rather rocking style while the rhythms hardly ever went past the mid-tempo threshold. One track with a special sonic styling came up with 'Reasons', one of the tracks I've heard that same day during my listening session, bringing in Far-Eastern atmospheres and cello sounds. The show already came to an end after six songs and some I think might have gotten that much captivated to buy the debut album which still hasn't been released over here.
Rating
Music: 7
Performance: 7
Sound: 8
Light: 3
Total: 6.6 / 10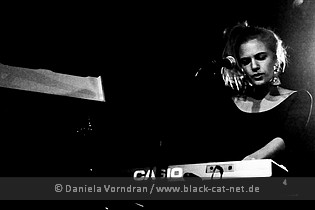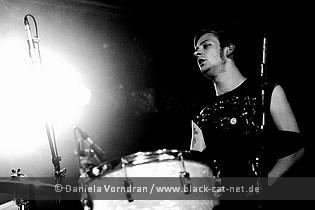 Trentemøller
The debut album of TRENTEMØLLER, 'The Last Resort' released in 2006, had many music lovers sit up with its subdued and playful electronics. It quite rightly gained favourable critics from every corner and it was just a question of time before Anders Trentemøller would return with the sophomore. But first of all there would be plenty of other projects to pursue since TRENTEMØLLER as we all know is a prolific and busy artist not only with own material; he really has a knack for delivering high-class remix work. Just take the remix of the RÖYKSOPP track 'What Else Is There' as an example. 2008 saw him setting out to do a live tour, performing songs off 'The Last Result' with a real band and accompanying visuals. A similar setup, plus vocalists, can be expected for the live shows he'll be doing in support of his second full-length 'Into The Great Wide Yonder' that elevated the sound to new heights, adding an aesthetic indie rock and blues tinge to the electronic soundscapes.
http://www.anderstrentemoller.com/
/
http://www.myspace.com/trentemoeller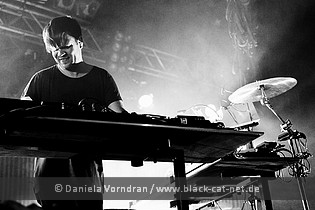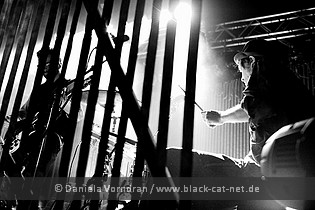 Music & Performance
Apart from the huge desk with various synths and a xylophone amongst others, the odd poles with a sort of paper stuff hanging down were the most striking optical features before the show started. When it did, something like a traverse was raised with the paper or whatever stuff on it - looked like a cage to be honest. A separate room was created with that while a constant droning sounded, coinciding with the band members coming in while what turned out to be 'The Mash & The Fury' slowly built up. Interesting already to hear the various drum sounds coming from the rear. Later on, the powerful acoustic versions would kick in and guitars would add a rock flavour and Anders twiddled the knobs creating a multitude of sounds with it. The cage shutdown some minutes into the song! Muffled melodies introduced the next song 'Shades of Marble' coupling the meld of acoustic/electronic rhythms with a vast array of strings, layers and analogue sound wizardry. But not only the songs, the performance was equally dynamic, and the people in front of the stage got dynamic here as well with dancing.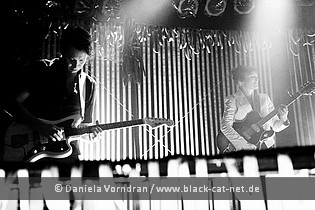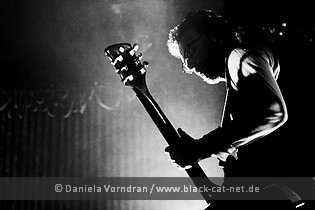 With a vintage-sounding backdrop of strings, the first vocal track of the evening started with '...Even Though You're With Another Girl' emphatically presented by an impressing voice, dissolving the emotions into sound, resounding inside the minds for quite some time. The track was followed up by another instrumental, called 'Past The Beginning Of The End' that started with a sort of glockenspiel to artful video projections, casting their images on one of these segmented walls suddenly raised in the back and a strange mood manifested. 'Sycamore Feeling' brought the next vocal track to us in an alternated, partly more minimalist version than known from the record, extended with longer instrumental sections for master TRENTEMØLLER to riot. On that track he even left his Synth desk to wander the stage with a tambourine. So far, all we heard was from the recent album, but with the dry bass chords, the 'Vamp' off 'The Last Resort' said hello. You could call it a minimal electronic blues mixture, whose thumping beat you could hardly resist.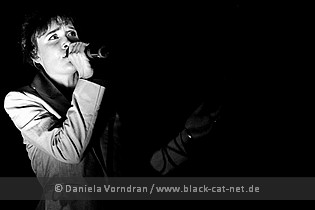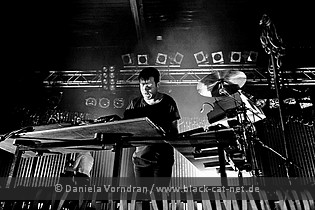 One track I really didn't have on the bill was 'Miss You', incorporating thick ambience with melodies immortalized with a xylophone. The stark contrast followed with 'Silver Surfer, Ghost Rider Go!!!' a bass driven fast-paced effort, bringing the crowd back to unrestrained dancing. All this was presented in an extraordinary clear sound, kudos to the sound guy, which apart from booming bass frequencies had nothing to complain about. Last but not least the show, which you couldn't really picture prior to its beginning but which had joy of playing, dynamic and fantastic musicians.
Rating
Music: 9
Performance: 9
Sound: 9
Light: 8
Total: 8.9 / 10
All pictures by Daniela Vorndran (
http://www.vorndranphotography.com/
/
http://www.black-cat-net.de/
/
www.myspace.com/vorndranphotography
)
{jos_sb_discuss:17}
See also (all categories):