Interview with

Richard Silverthorn of Mesh

The Bristol-based duo with an undeniable knack for catchy Synth Pop melodies is back with the new album 'A Perfect Solution' out on 23rd October 2009. By already introducing the single `Only Better´ in this year's September, Mark Hockings and Richard Silverthorn offered a foretaste regarding the full-length release `A Perfect Solution´. It was interesting to reckon which path Mark and Rich would now with the album that was enough reason for us to ask Richard a few questions.
Reflections of Darkness (RoD)
: According to your announcements, 'A Perfect Solution' is darker and tougher than previous releases. Was that intended right from the beginning?
Richard Silverthorn (Rich)
:
In all honesty, no, we never really have a masterplan when we start writing an album. With 'A Perfect Solution' we came up with the title quite early on in the recording process which is unusual for us, but this did actually help us shape the album to fit the title. I definitely think this album is moodier; maybe darker is too strong a word, it's not all doom and gloom it's trying to be positive in when all seems lost.
RoD
: Could you briefly summarize the working process of recording 'A Perfect Solution'?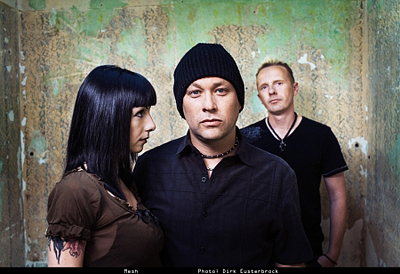 Rich
:
The way Mark and I work happens in several ways. I will give Mark a piece of music in a song format, verse, chorus etc. for him to write lyrics to. This way it is as if I set the mood to start with and his lyrical content matches that atmosphere. The other way is Mark will bring a song written in full to the studio but in a demo form then we rebuild it in the studio. On the last couple of albums we decided at the final stages to let someone else mix it to get their take on it. This time we used Olaf Wollschläger to do the mixing. I went over to his studio in Kerpen Germany for a week to complete the mixing.
RoD
: You recently signed at Dependent / Metropolis Records. How is it to work with this label?
Rich
:
When we finished 'We Collide' we were free from any record contract. We both decided that we didn't want to rush into signing a new one but was more interested in writing an album without any external influences. When we were nearly finished that's when we started talking to record companies. We had quite a few offers but we were looking for a label that was interested in us and the music not some company that just saw it as a business. Stefan Herwig from Dependent approached us and we had a meeting. From the outset we liked what he had to say, no bulls**t promises just ideas and an enthusiasm for it. Honesty goes a long way with us so we decided to work with him and Metropolis for the US.
RoD
: You will be on tour in November. Could you reveal some details regarding the show and the set list?
Rich
:
Every tour we like to try and do something different from the last, so this one is no exception. Previously we have used a video projection as part of the show but as more and more bands are doing this we thought it time to move on. We have been experimenting with using multiple screens in different places on the stage to give more movement. The funny thing is our videos got more and more complex and we could see people just watching the screen as we were playing... very strange. Musically we always like to set ourselves a challenge of playing more, most electronic bands tend to rely too heavily on their backing tapes but we are playing quite a bit which makes it more enjoyable for us. The set will obviously contain a lot of the new album as well as the old favourites some with a new twist.
RoD
: Who had the idea to choose the house motif for the album cover? Would you tell us something about the artist who created the CD-artwork?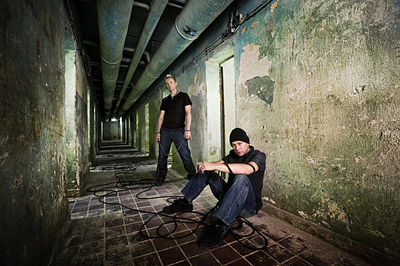 Rich
:
Dirk Eusterbrock was the photographer and the guy who came up with the concept of the building. We gave him a rough briefing of the things we had in mind and the mood we were trying to create and then left him to let his imagination flow.
To me the picture shows the calm exterior of a building which hides a multiple of peoples lives and their problems.

RoD
: What are your favourite songs on 'A Perfect Solution'? Were there any tracks you weren´t sure about whether they would make it onto the album?
Rich
:
I am sure Mark would have a different tracklist to me but mine would be a track called 'Want You' which is very sparse track that opens up into a huge chorus. Another track is 'If We Stay Here' which is the opening track of the album. Generally we don't write loads of tracks to pick and choose from for the album, but 'It's Gone' was only added to the album in place of 'Shattered Glass' just to give the album some breathing space and a mood change.
RoD
: Who is Mark´s female duet partner on 'Who says'? How did the collaboration with her come about?
Rich
:
With 'Who Says' I wrote a piece of music for Mark to write some lyrics to. When he played me what he had written, I instantly saw it as if it was an argument between two people. The fact that he was repeating the lines in the verses it was like another person replying, that's what gave us the idea of using someone else to sing the second line. We have known Julia (Beyer) for years and she has become a good friend. I also had recently remixed a track of TECHNOIR (her band). I knew if I asked her to do it she would do it quickly and professionally. I sent the track to her over the internet and 24 hours later it came back with her vocals on. It is the first time we have used another vocalist on our recordings but it really captured the mood we were trying to create.
RoD
: 'Shattered Glass', the 'Only Better' B-Side, is pretty different from previous Mesh-material. How did the fans respond to this thus far?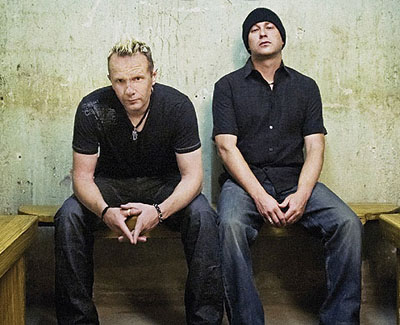 Rich
:
'Shattered Glass' has had a good response so far. To me it was quite different us, it never really had a big chorus or anthemic feel to it but it did have a dark soundscape. We layered guitars over the programmed synthesisers giving it a "rocky" feel to it.

RoD
: Do you have any plans to record a DVD of the upcoming tour?
Rich
:
At the moment we haven't talked about it although I am sure it will come up. It seems the normal thing to do these days, single, album, tour, DVD of the tour.
RoD
: What about the tour merchandise? What can we expect in this regard?
Rich
:
Yes, there will be some new merchandise for the tour along with a few new items. Any darkwave music fan without a mesh shirt by Christmas will be soooo out of fashion.
RoD
: What records did you buy in the last months?
Rich
:
I haven't bought a lot of records lately, I do buy occasional tracks from iTunes but they tend to be one off singles I like. I did buy and album by a new artist here called LITTLE BOOTS; she is a very talented singer and song writer using a lot of old keyboards and technology, very 80s sounding. Another band I bought was INNER PARTY SYSTEM which are an electronic rock band.
RoD
: What are your long-term musical goals?
Rich
:
With every release you want it to do better than the previous one. At the moment that is what we are focussed on. That tends to be as far ahead as we look. Every so often I look back at what we have achieved so far and realise that it has been a long journey but always upwards as long as it carries on in that direction we will be happy.
RoD
: Thank you very much for giving us the opportunity to do this interview. We wish you every success with your new album and the upcoming tour!
Rich
:
I'd like to take this opportunity to thank you guys for all the support over the years it is very much appreciated.

{jos_sb_discuss:21}
See also (all categories):