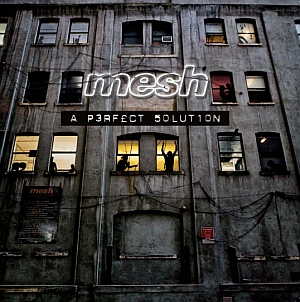 Title: A Perfect Solution
Artist: Mesh
Genre: Synth Pop, Rock
Release Date: 23rd October 2009
Label: Dependent
Album Review

The Bristol-based duo with an undeniable knack for catchy Synth Pop melodies is back. By introducing the single `Only Better´ in this year's September, Mark Hockings and Richard Silverthorn offered a foretaste regarding the upcoming full-length release `A Perfect Solution´ that will be available on 23rd October. It was interesting to reckon which path Mark and Rich would follow as `Only Better´ contained the very Synth Pop-like title track as well as the dark rock piece `Shattered Glass´. The previous album `We collide´ (2006) had been considered as a band's commitment to a rather mainstream-oriented and radio-ready soundscape resulting in some debates among the fans. Therefore, the formation's announcement concerning style and attitude of `A Perfect Solution´ gave an idea of rougher arrangements combined with dynamic guitar sounds and issuing interpersonal discrepancies like heartache, estrangement, pain and hopelessness. The new piece of work will also be available as a limited collectors box coming up with the album, 7" single, poster and a special size 48-page booklet.
After repeated listening it seems to me that the band didn't promise too much. Though its style has become raw-edged and more powerful, there are many examples of catchy arrangements. I noticed a further development making the label "Synth Pop" no longer significant as it doesn't hit the nail on the head anymore. Just listen to songs such as the opener `If We Stay Here´ and `Who Says?´ that are nearly Rock anthems. Contrary to that, the weird `Want You´ and the retro-like, melancholic `It's Gone´ are stunning Synth Pop gems that skilfully summarize how great Pop music should be. I didn't detect any noteworthy flaws; only `A Bitter End´ didn't meet my taste. Thus, `A Perfect Solution´ is one of those albums leaving the listener in a pensive and at the same time excited mood. As MESH will be on tour in November, I'm looking forward to hear the new material's live versions. To sum up: The long-player is a must-have for MESH fans and anyone who enjoys cleverly arranged, bittersweet Pop melodies with some Rock-appeal.
If We Stay Here

Already after I had listened to `If We Stay Here´ for the first time, I fell in love with this tough piece providing adjuring vocals in combination with hard guitar lines. The vivid chorus went right through me and I soon got hooked on it. I'm very curious about its live version. 10 / 10
Only Better

The single is a typical MESH song. Anthemic and danceable Synth Pop meets strings. 8 / 10
Everything I made

It's a dashing and extremely rhythmic up-tempo piece living on a catchy chorus you won't get out of your head. 10 / 10
Is It so hard
After an atmospherical introduction mid-tempo verses radiate a certain sadness until Mark´s vocals touched my heart and made me fall into a state of melancholic euphoria. Hit potential! 10 / 10
Hold It Together

Slightly distorted vocals and dominating drums turn `Hold It Together´ into a tough and expressive representative. 9 / 10
It's Gone

Pure Synth Pop including mournful vocals. A beautiful and pretty classical track. 8 / 10
How Long

Contrary to the verses, the chorus of this up-tempo piece appears nearly optimistic. 8 / 10
Who Says?

In my opinion, `Who Says?´ is one of the album's highlights. It's a rousing duet Mark intonates with powerful female support of Julia Beyer (Chandeen). A dark rock anthem with a multi-layered soundscape which is very catchy and danceable. The lyrics are in line with the album's topic. 10 / 10
Hope.Dreams

Feverish and pulsating keys are combined with sultry backing vocals. The chorus is a real blast. 10 / 10
Want You

It's lullaby-like and threatening at the same time. Somehow weird and nightmarish soundscape. 9 / 10
The Bitter End

At the beginning, the song features trance-like rhythms and distorted vocals. As measured by the previous tracks, it appears way too banal to me. 7 / 10
Tracklist

01. If We Stay Here
02. Only Better
03. Everything I Made
04. Is It So Hard
05. Hold It Together
06. It's Gone
07. How Long
08. Who Says?
09. Hopes.Dreams
10. Want You
11. The Bitter End
Line-up

Mark Hockings - vocals, guitar
Richard Silverthorn - keyboard
Guest Vocals: Julia Beyer (Chandeen) on 'Who Says?'
Plus Geoff Pinckney and Sean Suleman on stage
Website

http://www.myspace.com/meshwecollide
/
http://www.mesh.co.uk/
Cover-Picture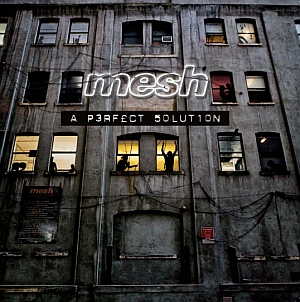 Rating

Music: 9
Sound: 9
Extras: -
Total: 9 / 10
{jos_sb_discuss:19}
See also (all categories):