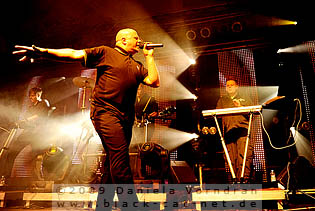 Essigfabrik, Cologne, Germany
26th December 2009
neuWerk Festival 2009: VNV Nation, S.P.O.C.K, Reaper, Straftanz, Solar Fake, Noisuf-X
Christmas time is a time of rest, a time of reflection, and for many years it's the time of the neuWerk festival(s) continuing to attract a large crowd with top acts of the scene. In 2009, the festival came up with no one less than VNV NATION as headliners, as well as Swedish Synth Pop legend S.P.O.C.K - amongst others of course.
Noisuf-X [SH]
NOISUF-X is a homonymous Industrial / Electro brainchild of mastermind Jan L. who is also responsible for the project X-FUSION. Jan L. started with Acid House tracks and a C64 in 1988. Three years later, he finished the first X-FUSION demo tape `Syndromic Noise´ and extended his equipment more and more. In proportion to that, his darker and rougher style displayed more EBM influences. After he had produced ten albums on his own, he signed a contract at Scanner / Dark Dimensions in 2003 and released the album `Dial D for Demons´. Inspired by a track's title on the album, the project NOISUF-X was born and signed at Pronoize / Dark Dimensions. The first long-player `Antipode´ (2005) was followed up by the EP `Tinnitus´ (2006). `The Beauty of Destruction´ (2007) even reached #2 of the German DAC-charts. This year, NOISUF-X released the recent album `Voodoo Ritual´.
http://www.noisuf-x.com/
/
http://www.myspace.com/noisufx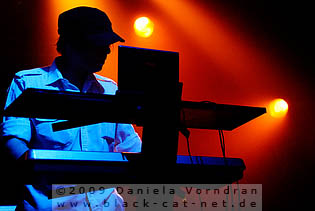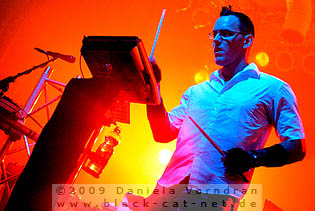 Music & Performance
First act of the evening, and what could be better than a little relaxing four to the floor electronic stuff with no lyrics whatsoever to disturb the dancing experience. The NOISUF-X live trio took place behind their synth desks quite quickly and started flooding the building with beats, beats and even more beats. However, contrary to my expectations of the usual effects of such music on a crowd, heavily dancing people were rare. Seemed like they were not exactly in the mood right now! On stage it's been tried several times to hype them up but it couldn't be helped, and neither songs like 'Hit Me Hard' nor the "hard-hitting" 'Hans Dampf' would change that, really. As for me, I've not been that impressed or excited either, musically or performance-wise.
Rating
Music: 4
Performance: 4
Sound: 7
Light: 5
Total: 4.6 / 10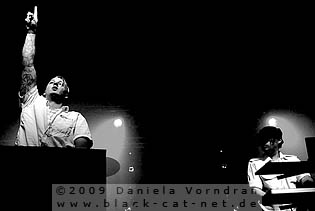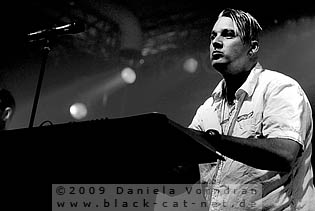 Solar Fake [SH]
Sven Friedrich, former member of the prolific DREADFUL SHADOWS and the singer and songwriter of the follow-up band ZERAPHINE, gave birth to SOLAR FAKE in 2007. However, the idea of a solo project already existed longer than that, but after the last ZERAPHONE album had been released he finally had the time to delve into it. He ended up having 12 songs finding their way on the debut album 'Broken Grid' out in February 2008. Soon, he would also play various live gigs at festivals and some clubs. SOLAR FAKE is Sven Friedrich (production, vocals, lyrics) who was supported live by Frank on keys.
http://www.solarfake.de/
/
http://www.myspace.com/solarfake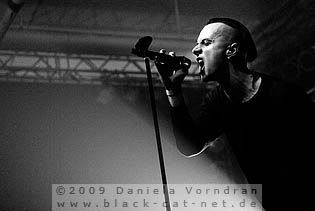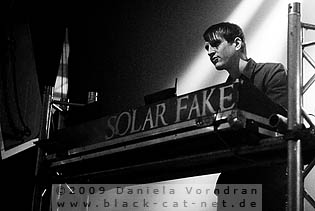 Music & Performance
The next act promised to be much more of a pleasure for me and many others. It was Sven Friedrich's newest project SOLAR FAKE that was on the bill next. The stage setup was basic as expected with an expansive keyboard on the left and a microphone in the middle leaving lots of free space to move for Sven. And he had plenty of opportunity to do that on the first track of the set 'Shield' to which both protagonists took the stage. Full beats got thrown against the crowd who were more responsive than with the opening act of the festival and partly danced and sang along. At the same time Sven did actually use the stage, danced around up there. You could say he unbent. More than he ever showed whilst being on stage with the DREADFUL SHADOWS or ZERAPHINE. A definite progression in that department!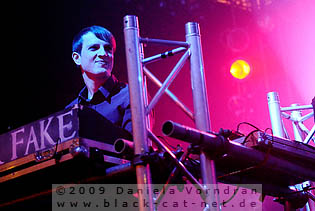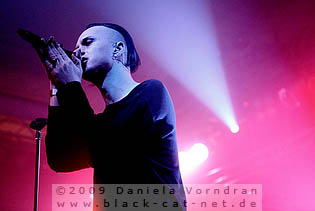 'Here I Stand' struck mellower tones and caused several people to close their eyes and just drift along and enjoy the dark, warm vocals. 'You Think (You're Radical)' snapped back into reality and pleased the limbs with industrial-tinged builds. Prior to starting the next song 'Resigned', Sven explained that this is one of a few new songs available exclusively on a new EP, especially produced for the neuWerk festivals, and only available there. 'Resigned' followed the tradition of tracks like 'Shield ' with a hard yet melodic mixture before it was time for another surprise with a cover of PLACEBO's 'Song to Say Goodbye', underlined by light, noisy beats. I loved the rendition of 'Creep' instantly but this one will take more getting used to. 'Sometimes' and 'Lies' finished off the set and afterwards the band left the stage under deserved applause.
Setlist
01. The Shield
02. Here I Stand
03. You Think (You're Radical)
04. Resigned (New)
05. Song to Say Goodbye (Placebo Cover)
06. Sometimes
07. Lies
Rating
Music: 8
Performance: 7
Sound: 8
Light: 7
Total: 7.6 / 10
Straftanz [SH]
STRAFTANZ is a German electro project which became known through the same-titled first single released in October 2006 and would become a huge success in German electro clubs. About two years later followed the next invasion of the dance floors with the name 'Tanzt kaputt was euch kaputt macht' but it was just a little vanguard for the full-length attack 'Forward Ever' released in June 2008. STRAFTANZ are "k-x", "j-l", "J-ing" and "Cyberdominator".
http://www.straftanz.de/
/
http://www.myspace.com/straftanzmusic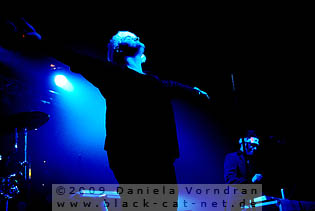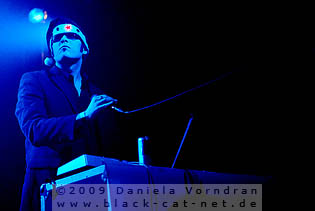 Music & Performance
One sample in a track of NOISUF-X mentioned "Germany Needs Help" and STRAFTANZ followed the call and offered some. The German project filled in on the festival on short notice for Belgian THIS MORN'OMINA who had to cancel their attendance at both festivals due to illness. I've never seen them live before but I've been told they were funny. On the other hand, what I heard when checking them out wasn't made to raise any excitement whatsoever. Then the time had come and STRAFTANZ took over the stage with the opener 'Out of Time'. The most prominent line out of that song which swings permanently between hard and soft is 'Lack und Leder' (Lacquer and Leather). Well, as much as I wanted to take that dead seriously and bash it as much as I can, the hilarious and deliberately cliché-laden way of performing this couldn't be anything else than a joke, a Goth persiflage.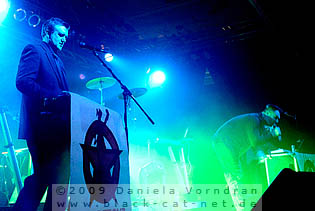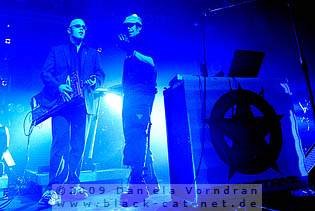 'Gummimann', a pun on AND ONE is likely to be intended here, whelmed us with nonsense lyrics and actually made a few people dance. The crowning event of the show for me, though not being the final song, was 'Tanzt kaput was euch kaputt macht', seeing a male and female Goth bunny entering the stage childishly dancing around to the beats. Completely over the top, intentionally over the top, showing a huge middle finger to a certain group of people! I think you can figure out which one that is by yourself. Now is the time to sum up everything I saw and musically it's definitely nothing I'd buy. Looking at the performance itself reveals they know exactly what there are doing. They're purposely making a mockery of themselves. But look at some of those sneering at them.

Setlist
01. Intro, ein Weihnachtlied
02. Out of time
03. Gummimann
04. Doubt
05. Tanzt Kaputt was Euch Kaputt Macht
06. DZE
07. Rotterdammer Zwischenspiel
08. Turbo V1.01
09. Straftanz
Rating
Music: 4
Performance: 7
Sound: 7
Light: 7
Total: 5.8 / 10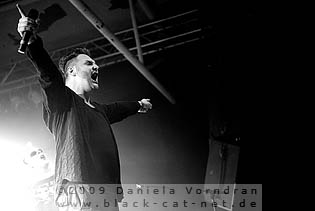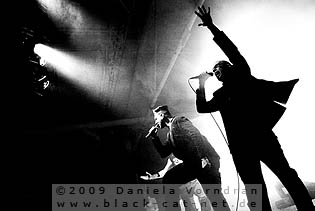 Reaper [CL]
REAPER is the industrial project of Vasi Vallis who is also known for his project FROZEN PLASMA and as a live keyboarder of VNV NATION. REAPER consists generally of mastermind Vasi Vallis, live on stage he is supported by Gregor "Gregsen" (keyboard), Se Hur Gorden (guitar) and Alisha Destiny (e-drums).
http://www.reaper-music.de/
/
http://www.myspace.com/reapermusic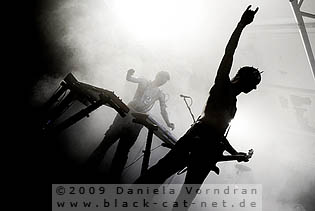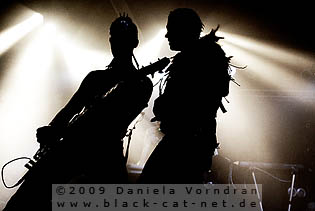 Music & Performance
At 9:15 PM, the light went out again and REAPER entered the stage hidden in the dark and smoke. They started the show with 'The Devil Is Female', followed by 'Twisted Trophy Hunter'. The band members in their martial outfit and painted with raggery did a powerful performance and animated the crowd to move and dance. Vasi screamed out the lyrics as usual and Gregsen on keys was as hyperactive as can be, so that you feared he'd pass out over complete exhaustion. The set list consisted of eight songs and included the new single called 'Dirty Cash' which will be another addition to the long line of club hammers of the project. After about 45 minutes the show finished with 'She Is A Devil And A Whore'.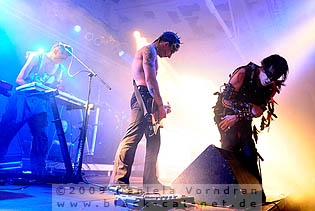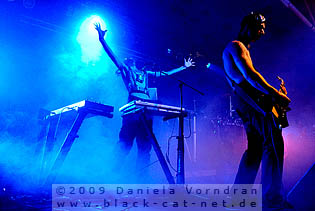 Setlist
01. The Devil Is Female
02. Twisted Trophy Hunter
03. Execution Of Your Mind
04. X-Junkie
05. Robuste Maschine
06. Weltfremd
07. Dirty Cash
08. She Is A Devil And A Whore
Rating
Music: 8
Performance: 9
Sound: 9
Light: 9
Total: 8.6 / 10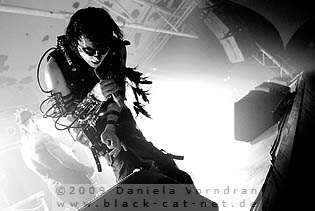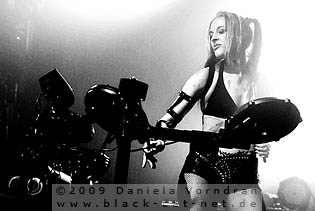 S.P.O.C.K [CL]
S.P.O.C.K. (aka Star Pilot on Channel K) is a Swedish synth pop band which was formed around 1988. Their commercial success began in 1990 when the Swedish record label Accelerating Blue Fish published 'Silicon Dream' as a limited-edition 7" single. The lyrical subject matter of S.P.O.C.K's songs frequently centres on science fiction stories, (in particular, Star Trek). Other topics include alien-human relations and life in space. Current members are Android - Alexander Hofman (vocals), Krull-E - Christer Hermodsson (keyboard) and Yo-Haan - Johan Malmgren (keyboard).
http://www.subspace.se/spock
/
http://www.myspace.com/spockorbit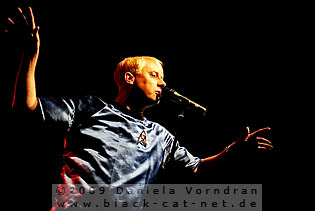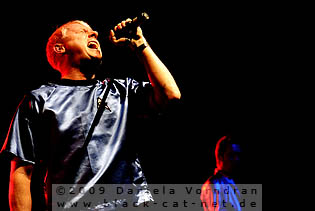 Music & Performance
At 10:15 PM, it was show time for the sympathetic "star pilots on channel K" who entered the stage in good temper and dressed in cyber suits. They did a funny performance, sang their old, well- known songs and had a lot of fun during their show. Between the songs, Android did some jokes and at the start of 'All E.T:s aren't Nice' he shot at the crowd with a big water gun. The temper in the crowd was good either and the people mostly enjoyed the show, but they only got really carried away with the last songs. After 'Out There', the band left the stage and the crowd thought the show would be finished. But Android came back quickly to instruct the crowd that they had to call for encores. The crowd followed his wish and requested an encore which was given with two more songs, and after their greatest hit 'Never Trust a Klingon' S.P.O.C.K. left the stage for good.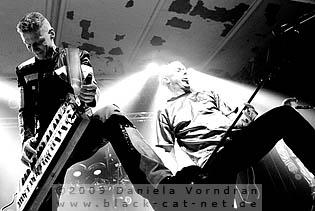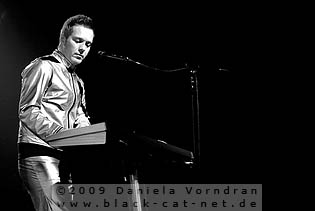 Setlist
01. Reactivated
02. Take Me To The Stars
03. E.T. Phone Home
04. Dr McCoy
05. Queen of Space
06. Astro Girl
07. Spacewalk
08. All E.T:s aren't Nice
09. Not Human
10.Astrogirl's Secret
11.Out There
---
12.E-lectric
13.Never Trust a Klingon
Rating
Music: 8
Performance: 8
Sound: 9
Light: 9
Total: 8.3 / 10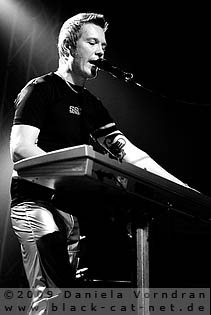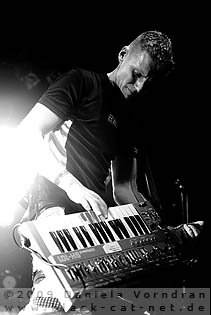 VNV Nation [CL]
VNV NATION are an electronic music band originally from Wexford and London, now based in Hamburg, that combines elements of industrial music, trance, synth pop and electronic body music. Earlier works also include some electro-industrial influences. The "VNV" in the name stands for "Victory not Vengeance". Over the years, VNV NATION developed to one of the most important bands of the electro / synth pop scene; the current album called 'Of Faith, Power and Glory' was released on 19th June 2009. VNV NATION is Ronan Harris (music, lyrics, vocals) and Mark Jackson (drums); on stage usually they are supported by two additional keyboard players, this time by Tom Lesczenski and André Winter.
http://www.vnvnation.com/
/
http://www.myspace.com/vnvnation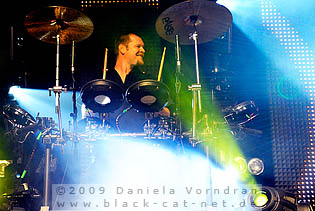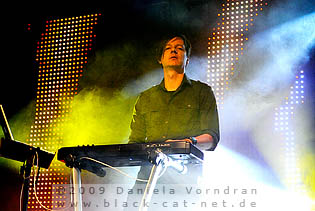 Music & Performance
11:30 PM, the night was advanced, the temper in the venue was great and the stage was ready for the headliner who was expected wishfully by the fans. Already with the first tunes, the mood of the crowd exploded and all people in the venue were moving, jumping, dancing, waving, screaming and singing along for the whole show. It was a special show tonight as the fans had some say regarding the set list, because at the German homepage of VNV NATION they could vote for songs they wanted to hear prior to the festival. Like usual, Ronan did a powerful and rousing performance, ran over the whole stage all the time, talked to the crowd and joked between the songs. A fantastic light show perfected the great concert experience and quickly the time was over and the main set finished after about one hour with 'Beloved', performed by Ronan and Mark alone.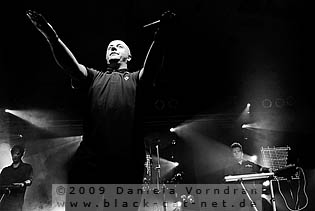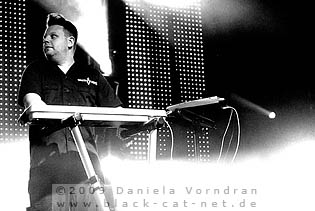 During the break before the encores, the stage hands arranged an additional keyboard on stage which was used later by Ronan. The first encore was started by 'Still Waters', which was #3 at the top 5 of the fan voting on the German website, followed by 'Where There Is Light' which was performed as a special version with included acoustic piano parts which were played by Ronan himself with the additional keyboard. The second encore was 'Perpetual', followed by the third and last encore 'Electronaut', performed alone by Ronan and Mark on keyboards. Altogether, a great rousing show and a fantastic live experience once again! When VNV NATION left the stage eventually, they left their fans satisfied.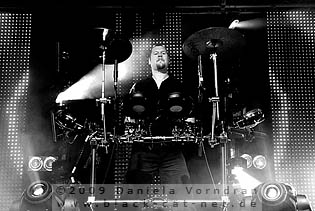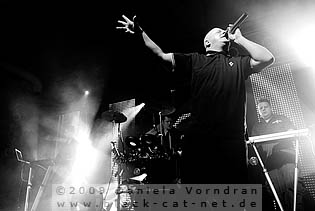 Setlist
01. Tomorrow never comes
02. Honour
03. Nemesis
04. Further
05. Sentinel
06. Chrome
07. The Great Divide
08. Illusion
09. Standing
10. The Farthest Star
11. Beloved
---
12. Still Waters
13. Where There Is Light
---
14. Perpetual
15. Electronaut
Rating
Music: 10
Performance: 9
Sound: 9
Light: 10
Total: 9.6 / 10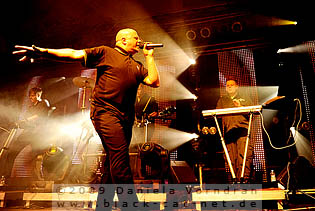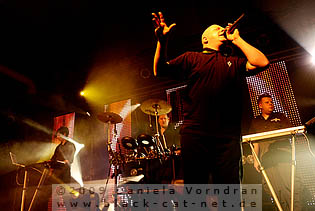 All pictures by Daniela Vorndran (
http://www.vorndranphotography.com/
/
http://www.black-cat-net.de/
/
www.myspace.com/vorndranphotography
)
{jos_sb_discuss:18}
See also (all categories):