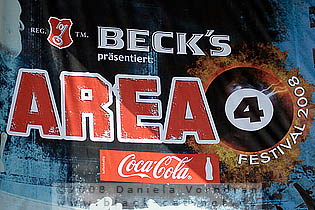 Flugplatz Borkenberge, Lüdinghausen, Germany
29th to 31st August 2008
Area4 Festival Day 1: Mikroboy
,
The Gaslight Anthem, Piazumanju, Cellard´or, Year Long Disaster, Kamikazekid, The Sounds, The Black Box Revelation, Blood Red Shoes, Plain White T's, The Futureheads, Bad Religion, I Am Kloot, Die Ärzte

From its very beginning in 2005, the AREA4 Festival was a big one among the variety of festivals out there. On its debut in Oberhausen, more than 10,000 people celebrated stars out of the Rock and Alternative scene like SYSTEM OF A DOWN and NINE INCH NAILS just to name a few. Since 2005 quite a few things have changed: The Area4 Festival has moved to the wide areas of Borkenberge Airfield, which not only provides lots of space for thousands of fans, eager to celebrate their idols and maybe discover new bands, surrounded by hills, forests and fields it is also situated in the middle of a beautiful landscape. About 15,000 fans made the way to the festival to see highlights like DIE ÄRZTE who were headlining the first festival day.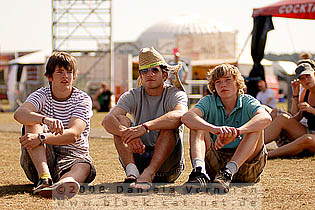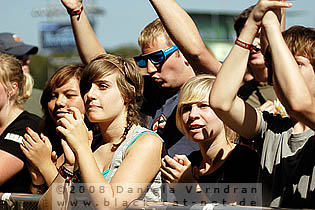 Different to the previous years, there was additionally a second stage, the Coca Cola Soundwave Tent, where newcomers had the chance to present their repertoire to the festival audience. And let me say… there were quite a few surprises within these bands; sometimes even better (in my opinion) than some acts on the main stage. [DV]
Mikroboy - Main Stage
The band was founded not so long a go by Michael Ludas in his quarter life crisis at that time. They attracted attention for the first time when their made their songs available to the public via MySpace and received positive feedback. Later they were even praised by friends and relatives. In 2007, they started their first tour followed by the second slightly bigger one in 2008. Now signed to Motor Records, the band releases their first EP as digital version in March of the same year. MICROBOY is Michael Ludas (vocals, guitar), Andi Weizel (bass), Anneli Bentler (piano, synths) and Dominik Müller (drums).
http://www.myspace.com/mikroboy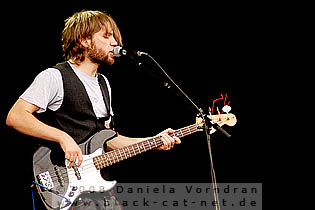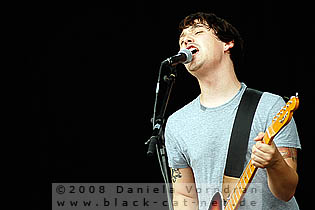 Music & Performance

Punctual at 2:30 PM, I arrived at the main stage on this sunny Friday afternoon to see a band who had won the Beck's music contest. Luckily I found some shadow close to the barrier to hide a bit from the sun. The band entered the stage and some of the few people who had come to the stage seemed to already know them, proved by their shouts. Back to the music, we saw a band with German lyrics about growing-up and everything in context to it. Sounded like indie rock with a slight melancholic note, oh almost forgot to mention the melodic synths and piano. Not much movement up there on stage, really, except for the bass player, who was always in the rhythm. The singer mostly stood behind his microphone to perform the songs. Half an hour and a few songs later, the show was already over; and accompanied by timid applause, the band left the stage. [SH]
Rating

Music: 6
Performance: 6
Sound: 6
Light: - (daylight)
Total: 6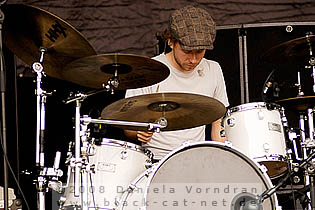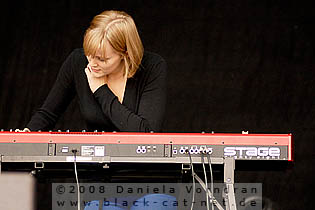 The Gaslight Anthem - Main Stage


This American punk rock band was founded in 2005 and debuted with 'Sink or Swim' in 2007 which was warmly received by sources ranging from independent over to mainstream music press. Their style surfs on a punk wave, while simultaneously incorporating other influences. One of the acknowledged heroes of the band is Bruce Springsteen. The follow-up EP to the album 'Señor and the Queen' hit the stores in February 2008; exclusively on vinyl. The band's second full-length album is due to be released in August, 2008. It will be titled 'The '59 Sound'. The line-up is as follows: Brian Fallon (vocals, guitar), Alex Levine (bass), Benny Horowitz (drums) and Alex Rosamilia (guitar).
http://www.gaslightanthem.com/
/
http://www.myspace.com/thegaslightanthem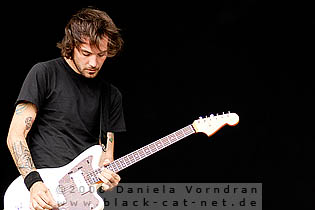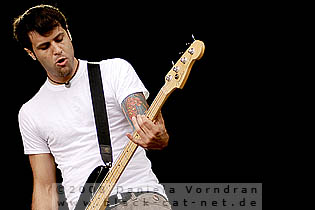 Music & Performance

So, the organizers just decided to let my current favourite band open the festival on Friday afternoon (apart from the Beck's winner band), so it was clear that I did everything to be in front of the main stage in Lüdinghausen at 15:30. But as chance would have it, I ended up in the evening rush-hour. A little delay here, another there; the usual procedural with the festival ribbons and zapp, THE GASLIGHT ANTHEM from New Jersey started without me. For this time, a considerable mass of people gathered in front of the stage. Several "Record of the Month" awards must have gotten about and the newest album 'The ´59 Sound' is truly a bit of all right.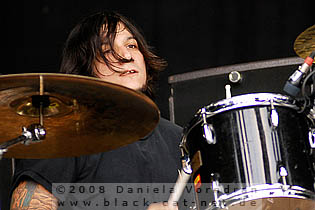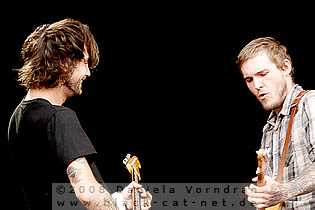 So, while I was rushing over the grounds, I at least witnessed all essentials audio-wise and right in time for the title track, I finally came to see the guys up close. With their Punk Rock and new wave infusion and singer/songwriter attitude, they rocked the house at more and more sunny weather and singer Brian Fallon later smiled like a Cheshire cat. No wonder with such great hits like 'Expectations' in the setlist. A wonderful start for this year's Area 4 festival. [TV]
Rating

Music: 9
Performance: 7
Sound: 7
Light: - (daylight)
Total: 8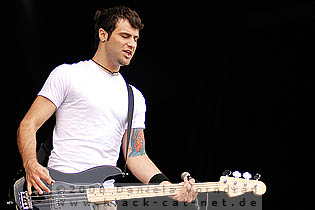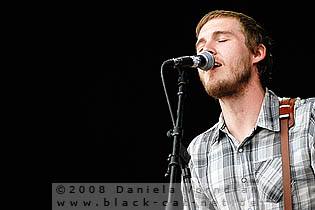 Piazumanju - Coca Cola Soundwave Tent


The band more or less came together by chance with Marcel and Felix, who met each other during their studies, as the core. Soon other musicians joined the line-up and together they started the journey through their sonic world. Besides many small gigs, they managed to reach the Top 20 "Quiksilver Quiksessions Battle of Bands", played gigs with the bands JAYA THE CAT and JAMARAM. The debut album, yet untitled, is still in the works. PIAZUMANJU is Marcel (vocals), Federika (backing vocals), Felix (guitar), Jonathan (saxophone), Niklas (bass) and David (drums).
http://www.myspace.com/piazumanju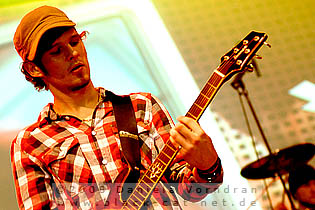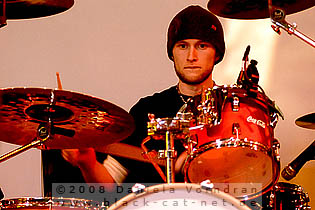 Music & Performance

After those two rocking representatives on the main stage, we slowly made our way to the Soundwave Tent, where the first of many newcomer bands on this weekend would appear. The guy hosting the show came on stage shortly after we've entered the tent to announce the first band of the evening…ehm…day here; and the band with the strange name PIAZUMANJU came to carry the fun with them on stage. A definition for the sound is a bit difficult, but it really had something of Beach Boys mixed with a bit of Reggae, a pinch of Funk and some Latin influences.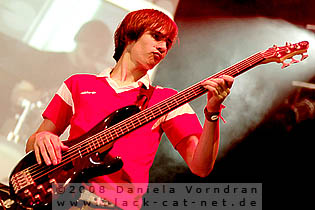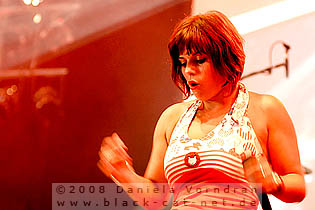 Hope you're not confused now. By the time they went on stage, the tent was barely crowded, but the band, even including a saxophonist, carried it off quite well and made the stage their playground for 25 minutes with very fluent and kind of relaxed movements, jumped all over the stage and always had a big smile on their faces. One song was sung was showcased with acoustic flair. A funny start at the tent! [SH]
Rating

Music: 7
Performance: 9
Sound: 7
Light: 5
Total: 7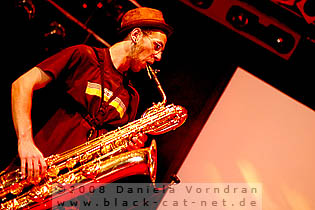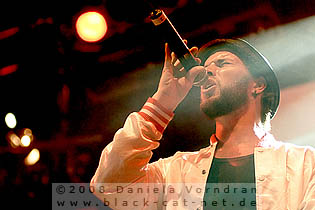 Cellard'or - Coca Cola Soundwave Tent


CELLARD'OR is an artist collective that came together in Frankfurt in 2006 and with their individual sound, they already could convince many people during various live gigs. After an intense studio work, they self-released their debut EP 'Wo ist der Funk?', end of 2007. CELLARD'OR is Crashkid Onegin (rap), John E (rap, trumpet), KLIT (rap), Norman Bates (rap), Chris 5000 (guitar), GuitarLu (guitar), JanFred (bass) and Rasta Bossmann (drums).
http://www.cellardor.de/
/
http://www.myspace.com/cellardormusic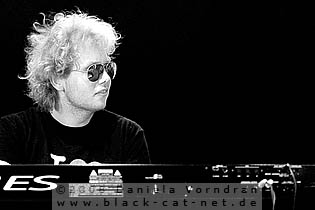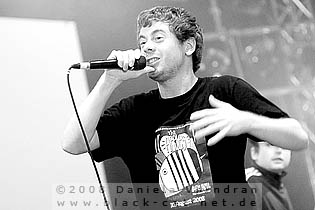 Music & Performance

Personally, I'm not a fan of hip hop music, but everyone has their own tastes in music. Musically, it was more like funk and that, on the other hand is something I can cope with and the trumpet and piano insets were very nice. Apart from that, those guys all knew very well how to handle their instruments. Most of the time, the raps were presented by three guys in German with the typical hip hop gestures and movements. On one of the songs, the trumpet player joined the others for a rap choir. [SH]
Rating

Music: 6
Performance: 6
Sound: 7
Light: 6
Total: 6.2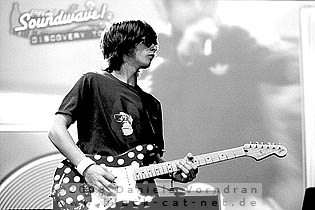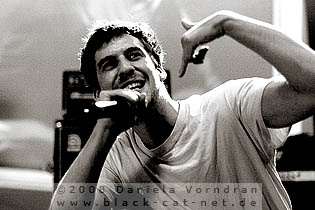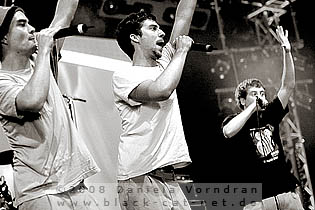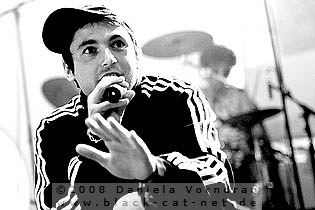 Year Long Disaster - Main Stage


The history of the band starts in 2003 when guitarist and singer Daniel Davies, met bassist Rich Mullins in a Hollywood grocery store. In November of 2004, they went to the Scene Bar in Glendale, California to see a band called HOURS AND MINUTES. Later after the gig they asked the drummer Brad Hargreaves to have a jam; he agreed and the result was YEAR LONG DISASTER. At first they played some local gigs where they aroused the attention of THE KILLERS producer Mark Needham. They recorded an EP and started touring nationwide. Their self-titled debut was released in October 2007. YEAR LONG DISASTER are Daniel Davies (vocals, guitar), Rick Mullins (bass) and Brad Hargreaves (drums).
http://www.yearlongdisaster.com/
/
http://www.myspace.com/yearlongdisaster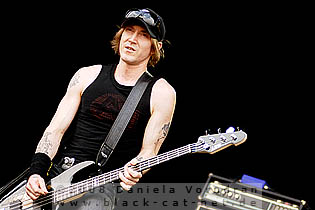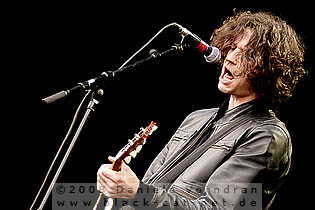 Music & Performance

That band from Los Angeles was just how you would imagine a rock band. Dressed in black leather and jeans, they were just fitting into the profile. Singer Daniel Davis surely was the one the meanwhile numerous eyes were focussed on for a big part of the show. That guy is a poser in the best sense. He was always eager to show the audience some new moves, maybe we can call that 'visualize' the spirit of the music and it was definitely better than seeing a guy statically standing behind his microphone. Speaking of the mic, if he was standing behind it, then you could hear his distinct voice. Actually it was more like a powerful squealing and at least for my ears it was quite hard to get used to it, but it out an unmistakable stamp on the compositions.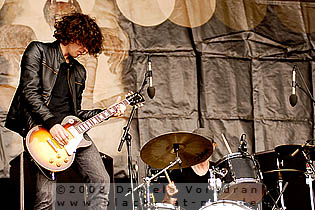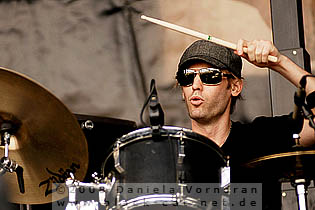 What brings us to the next point on the agenda. It was very earthy rock, free from any electronic sounds or similar things. It had something very pure. Davies is not a mere poser to make this clear, he's also an extremely good guitar player and did some amazingly playful guitar solos in combination with his moves. Rick Mullins on the other hand was a bit too static for my taste, standing there with his legs apart and playing his bass; nevertheless he was fully sunken into the music, you have to concede that to him. All in all this was a very good performance for this rather "young" band with happy faces in both the band's and the audience's side. [SH]
Rating

Music: 7
Performance: 8
Sound: 7
Light: - (daylight)
Total: 7.4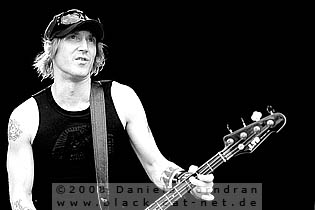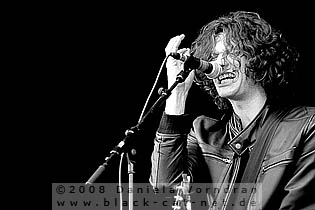 Kamikazekid - Coca Cola Soundwave Tent


The group, consisting of Jan (guitar, vocals), Maazl (bass, vocals) and Kalle (drums, vocals) deliberately strives against the stream, they don't like plastic music, but they do like pop and this year, they'll make the stages of this world tremble.
http://www.myspace.com/kamikazekidband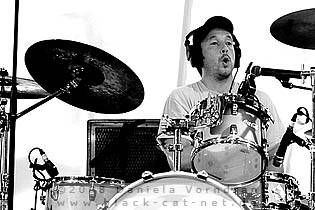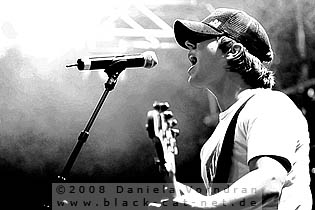 Music & Performance

Now it was time for some poppy indie rock songs that had a slight relation to "Neue Deutsche Welle". The band simply calls it "Punk with pop influences". The positions on stage were clearly defined: One left, one right and of course the drummer in the back, but these positions remained occupied for most of the time; they just didn't use the space they were given on stage. Doesn't mean that the show wasn't energetic or something; actually it was the opposite. The band literally broke sweat while plucking the guitars or hammering on the drums and also the audience was very fond of the music and started to rock here and there. Not the best act for me, but not bad either. [SH]
Rating

Music: 5
Performance: 6
Sound: 7
Light: 6
Total: 5.8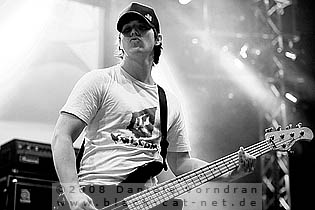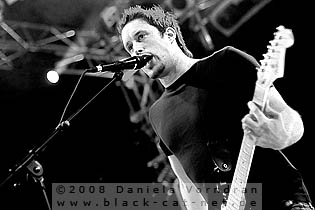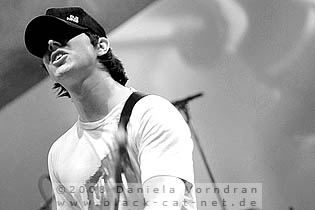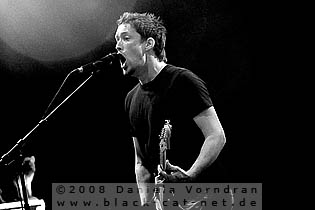 The Sounds - Main Stage


Felix Rodriquez and Johan Bengtsson founded the band in 1998. After drummer Fredrik Nilsson joined the band, it took a while for them to find a proper singer, which they eventually found in Maja Ivarsson who had already gathered some experience in various girl bands. On their debut 'Living in America', released in 2002, the bands sound was much more drawn to the genres New Wave and Synth Pop as it was later on their second album 'Dying To Say This To You'(2006) which is clearly more Rock oriented.
http://www.the-sounds.com/
/
http://www.myspace.com/thesounds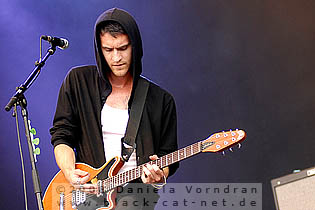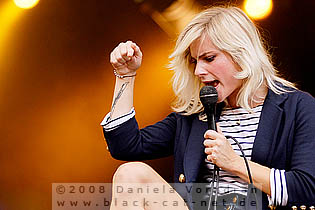 Music & Performance

If you think of Sweden, the first musical term that most likely comes to your mind is Synth Pop, but THE SOUNDS showed that Sweden's musicians not only can turn some knobs, but also can rock a lot. Even though there was more than one person on stage, there would later be persons - mostly male - who would sincerely doubt that. But you really have to say that Maja Ivarsson was an eye turner with her tight hot pants but that actually shouldn't distract you too much from the music and it would be unfair to reduce a band to an attractive singer. For instance there were Felix (guitar) and Johan (bass) on the left and on the right and Jesper on the keys and synths, bringing some fluffy 80s sounds into the mix, but in the end all comes back to Maja, directing the masses in front of the stage who could sing many of the songs and they danced wildly to them.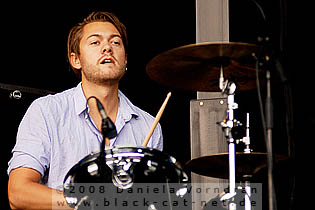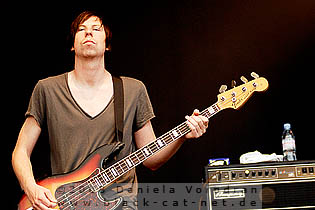 A big compliment for the German fans should have been Maja's statement that the band actually should be in Sweden right now and recording a new album, but when Germany called they just couldn't resist. A fine musical blend and a great show was what I would remember and I think most of the attendees too… [SH]
Setlist

01. Living in America
02. 24 Hours
03. Queen of Apology
04. Seven Days a Week
05. Mine for Life
06. Much too long
07. Hit Me!
08. Ego
09. Night after Night
10. Painted by Numbers
11. Fire
12. Hurt You
13. Song with a Mission
14. Rock'n'Roll
15. Hope you're happy now
Rating

Music: 8
Performance: 8
Sound: 7
Light: - (daylight)
Total: 7.8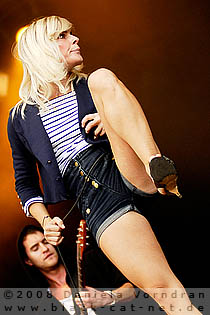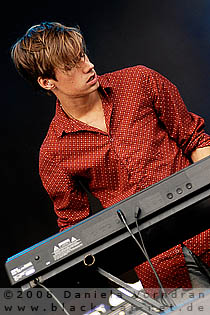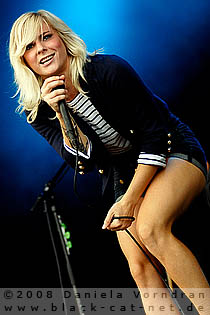 The Black Box Revelation - Coca Cola Soundwave Tent


Jan Paternoster and Dries Van Dijck, two friends from Brussels, formed THE BLACK BOX REVELATION in 2005 and in 2006 they became second in Belgium's influential Humo's Rock Rally contest. In 2007, the duo released its debut EP 'Introducing: The Black Box Revelation' and received enthusiastic reviews by the Belgian Press resulting in lots of club gigs. That same year, the debut album 'Set your head on Fire' got released and the duo started its first US tour in June 2008.
http://www.theblackboxrevelation.be/
/
http://www.myspace.com/theblackboxrevelation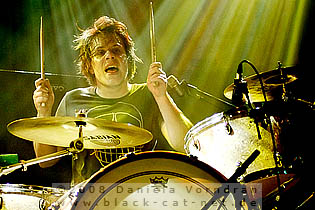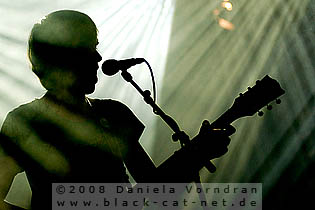 Music & Performance

Due to an overlap in the schedule, these two guys already had started to play when I was heading towards the tent and could hardly believe that two guys could make such "noise" before I went through the entrance, but I was wrong as it turned out. The first thing I saw was singer and guitarist Jan Paternoster rocking the stage, casually jumping on the boxes on the rim. The somewhat raw sound of his vocals added flair of this maladjusted attitude some of the earlier rock bands presented; a bit raw and unpolished, yet it's no pure rock the Belgian duo presents as they also seem to have a soft spot for the good old American Blues and they do signify that clearly in their music.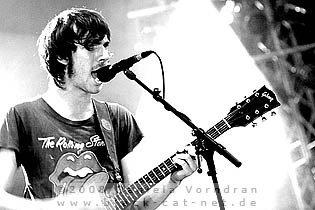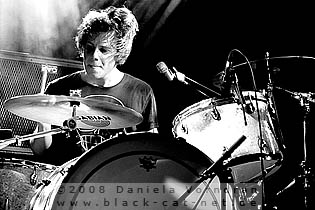 As I mentioned earlier the singer was very agile but even though a drummer is mostly restricted to one single place, that doesn't necessarily mean he couldn't catch up with that. That man put up some impressing drum solos, so you had to think that he had more limbs than usual. Apart from the two musicians, the light also deserves to be mentioned, drenching the stage in a moody ambience. I haven't seen the two before but after that, well-crowded, performance I would like to see them again at any time. [SH]
Rating

Music: 8
Performance: 8
Sound: 8
Light: 8
Total: 8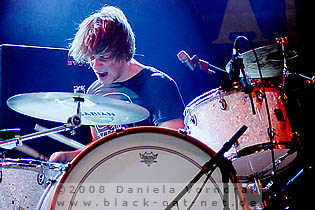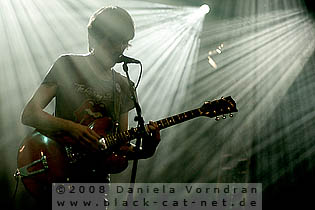 Blood Red Shoes - Coca Cola Soundwave Tent


Since its inception in 2005, the BLOOD RED SHOES have released 8 singles and played 300 live gigs, including shows at NME New Music Tour 2007 or at the Electric Gardens festival. According to vocalist and guitar player Laura-Mary Carter, the band's name was taken from a Ginger Rogers / Fred Astaire musical, in which Ginger Rogers had turned a pair of white dancing shoes red with blood because she had been practising dancing so much in them. 'Box of Secrets', the band's debut, saw the light of day in April 2008, hitting the UK Album Chart on position 47. BLOOD RED SHOES are Steven Ansell (vocals and drums) and Laura-Mary Carter (vocals and guitar).
http://www.bloodredshoes.co.uk/
/
http://www.myspace.com/bloodredshoes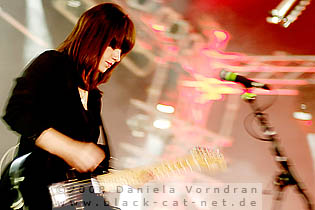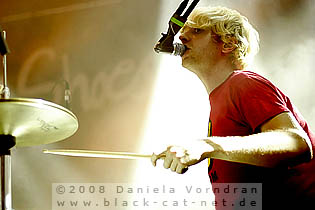 Music & Performance

Basically, this was the same constellation; I mean only two people on stage. Of course, there were some differences. They were British and instead of another man, a woman was at the front, dressed up in black with a skirt and armed with a guitar. On the right end of the stage was the drummer whose red shirt stood in stark contrast to her dress. However, what I found remarkable was that he was simultaneously singing while playing the drums blind. Might not be the same for you but I've never seen that before. But there was another person on stage as well and she was anything but static.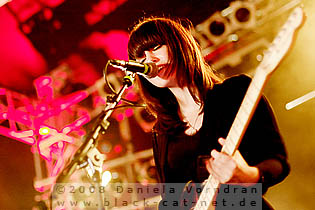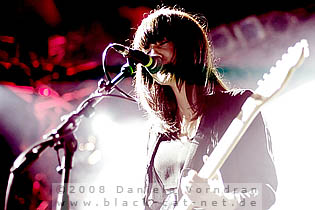 Swirling, dancing, singing and good looking as she was. she turned the whole performance into a real pleasure for both the ears and eyes. I just realized I forgot to say something about the music, but better late than never right? After the more blues-tinted variation of THE BLACK BOX REVELATION before, this was true-bred rock again with mostly faster songs, where the drummer could underline his skills. The tent was relatively well-filled, the audience in a good mood and so everyone had some fun. [SH]
Setlist

01. It's getting boring by the Sea
02. You bring me down
03. Doesn't matter much
04. Forgive nothing
05. Try harder
06. Take the Weight
07. Say something, Say anything
08. This is not for you
09. I wish I was someone better
10. ADHD
Rating

Music: 7
Performance: 8
Sound: 7
Light: 6
Total: 7.1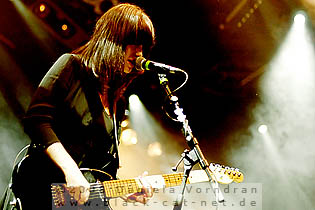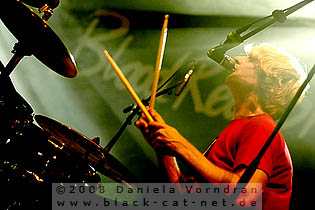 Plain White T's - Main Stage


Pumpkins, Ramones, Sonic Youth or New Order were very successful, the teenager Tom Higgensen wanted to become a musician himself and gives birth to the band PLAIN WHITE T's in 1997 with a bunch of school friends. In 2002 they sold a remarkable amount of their self-produce debut 'Stop', subsequent to which Fearless Records took notice of them. And three years later the follow-up 'All That We Needed' was in the stores. But the big breakthrough came with the re-release of the song 'Hey, there Delilah' about two years later, bestowing them high chart positions. 'Every Second Counts', their latest album, dates back to 2006. The PLAIN WHITE T's are Tom Higgensen (vocals, guitar), Dave Tirio (guitar), Tim Lopez (guitar, vocals), Mike Retondo (bass) and De'Mar Hamilton (drums).
http://www.plainwhitets.com/
/
http://www.myspace.com/plainwhitets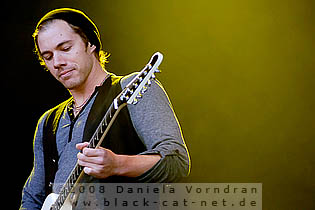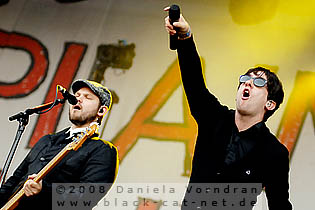 Music & Performance

Before the band even entered the stage, masses and masses of people had come from all possible directions to gather on the wide grounds in front of the main stage and at this time of the day, it was definitely the visitor's record. Actually you shouldn't winder about it as some of the band's songs regularly appear on the radio, even here in Germany. The nearer the time for the performance came the more uneasy the audience got, but then finally, they all came on stage. Tom came a bit later, but the applause was even louder when he arrived to start with the first song. The crowd was with him right from the start - and at least all around me - the people seemed to know all the lyrics, sang at the top of their voices, jumped or danced.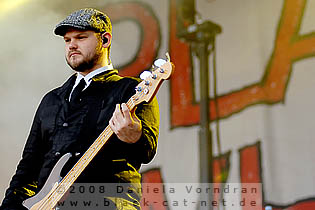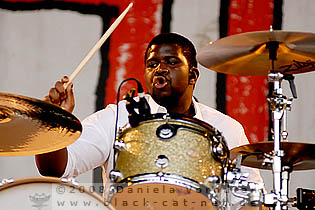 There was no need for Tom to do much verbal encouragement, so one gesture was enough and everyone knew what to do. I pretty much enjoyed looking at the spectacle even though I have to say that this kind of pop rock didn't catch me that much. With 'Hey Delilah' followed a song even I knew from the radio. Just didn't realize it being from this band. Anyway, it was a nice show, but the music just isn't exactly my cup of tea. [SH]
Setlist (from 20:00)

01. Big Bad World
02. Take Me Away
03. Write You a Song
04. Breakdown
05. So Damn Clever
06. Figure It Out
07. Natural Disaster
08. Hey There Delilah
09. Hate (I Really Don't Like You)
Rating

Music: 5
Performance: 8
Sound: 7
Light: 7
Total: 6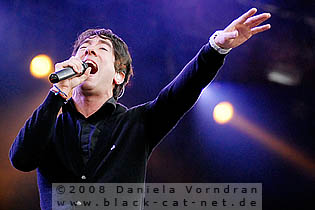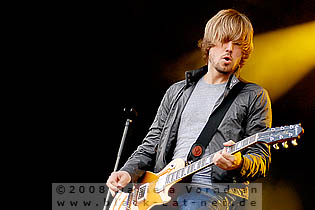 The Futureheads - Coca Cola Soundwave Tent


THE FUTUREHEADS formed in 2000 in Sunderland or more specifically in Barry's Garage. After playing a million and one shows in their hometown, the guys hit the road. A tour of Squats and Youth Centres in Central Europe came in summer 2001, due to which the band switched out drummers and so, Mr. David Hyde took the place formerly filled by David Brewis. After releasing several singles, the debut 'The Futureheads' was released in summer 2004 followed by a tour. The second album 'News & Tributes' was then released in 2006 followed by what those guys seem to like most: a tour; but 2006 also was the year the band split with their label 679 annoyed and frustrated too many times by the bureaucratic nightmare that music had become and took their destiny into their own hands by founding their own label - Nul Records - and being their own bosses. 2008 sees the return of THE FUTUREHEADS with their new album 'This is not the World' which has been recorded in just three weeks. THE FUTUREHEADS are Barry Hyde (vocals, guitars), Dave Hyde (drums, vocals), Ross Millard (vocals, guitars) and Jaff (vocals, bass).
http://www.thefutureheads.com/
/
http://www.myspace.com/thefutureheads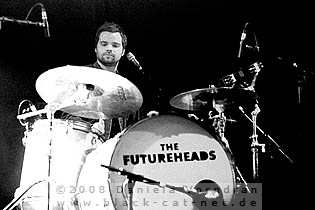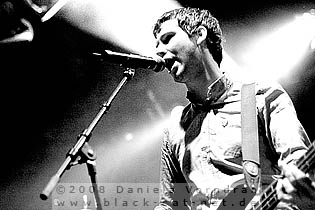 Music & Performance

The first thought I had in mind when I saw the band for the first time, was "Somehow they're looking like a school band" and they appeared even younger as they probably really are, but the show they laid down on stage was full of energy and I guess they wanted to set a new record regarding speed. This hasn't changed at all. It's still a very important aspect of their music. But now better tell you something about their musical style, so you know what the hell I'm talking about here. As mentioned before, speed was a very important part in their music you can describe as a mixture of Indie Garage Rock with a pinch of Psychobilly and a male choir because of the way they intonated the songs. And, to say something more, the songs were pretty short… and so, the setlist appeared really long!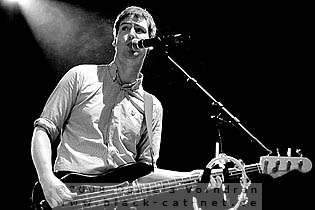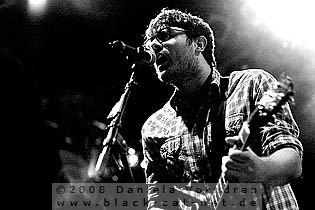 The mood in the band was very good too. They were moving on stage, mostly in the nearer environment of their microphones, and encouraging the people and so, the mood of the audience became much better still being a bit restrained but there were much more people clapping their hands than before. [SH]
Setlist

01. Yes / No
02. Decent Days and Nights
03. Robot
04. Radio Heart
05. Work is never done
06. The City is here for you to use
07. Cope
08. Walking Backwards
09. Meantime
10. This is not the World
11. Worry about It Later
12. Le Garage
13. Think Tonight
14. First Day
15. Skip to the End
16. The Beginning of the Twist
17. Hard to Bear
18. Fallout
19. Area
20. He Knows
21. Everything's changing today
22. Hounds of Love
23. Carnival Kids
26. Man Ray
Rating

Music: 7
Performance: 7
Sound: 7
Light: 6
Total: 6.8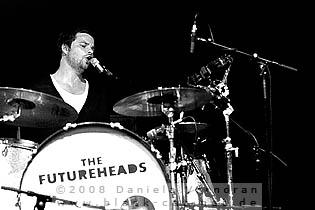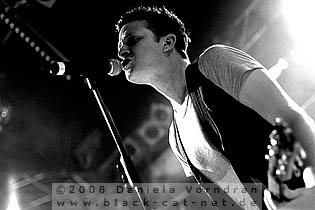 Bad Religion - Main Stage


The punk rock band was formed in 1982. They are often credited for leading the revival of punk rock during the late 1980s, as well as influencing a large number of other punk and rock musicians throughout their career. They are also known for their sophisticated vocabulary, totally unusual for a punk rock band. After a short dormant period of two years, the band reunited in 1986 and released 'Suffer' which is being regarded by critics as one of the most important hardcore punk albums of all time now. The next two albums, 'No Control' (1989) and 'Against the Grain' (1990), further increased the band's popularity, followed by 'Generator' (1992). The following years were literally filled with line-up changes, alongside the steady release of new albums which add up to an impressive catalogue of 14 works by now and a new album is expected for June 2009. BAD RELIGION are Greg Graffin (lead vocals), Brett Gurewitz (guitar, backing vocals), Greg Hetson (guitar), Brian Baker (guitar, backing vocals), Jay Bentley (bass, backing vocals) and Brooks Wackerman (drums, percussion).
http://www.badreligion.com/
/
http://www.myspace.com/badreligion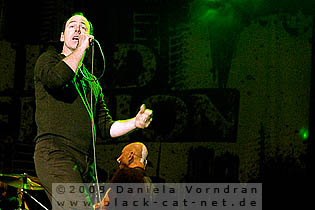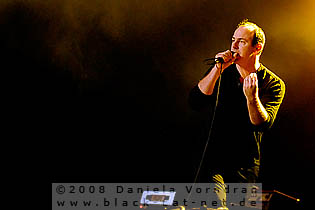 Music & Performance

This was probably the highlight for a shitload of people on the first day (apart from DIE ÄRZTE). BAD RELIGION had come to bless the audience at the Area 4 with their attendance and I was probably one of the very few people on the festival who hadn't dealt that closely with the work of a band that already existed even before I was born, but it's never too late and even I knew many songs they played, others I only knew the name of. Meanwhile, it has become very crowded in front of the stage. I haven't seen that much people the whole day yet I guess. One could be curious if the band would start as planned, because there had been some difficulties with the time table, but right in time at 21:15 they entered the stage and started their 90 minutes set with '21st Century (Digital Boy)'.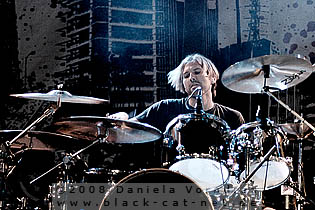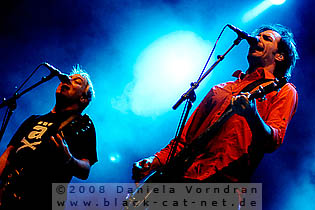 Mr. Graffin talked a lot to the audience between the songs. After 'I Want to conquer the world' he spoke a bit about the past German tour or he did some tongue-in-cheek statements like when he asked how many people actually came from Lüdinghausen (indeed very small). Some hands were raised and he said "Oh, the entire population. Ten people!" He also seemed to be the sort of guy who rather works with gestures than jumping all over the stage. 'Come join us' was dedicated to all the religious people out there, he mentioned. Prior to one of their most famous songs, he thanked all the rich people who made this performance possible and then came the 'Punk Rock Song' like he said, a song everyone could also sing in German but he would do it in English anyways. The crowd went totally nuts when that song started and really everyone could sing that song. 'American Jesus' concluded the regular set, but after a while and lots of encore shouts, the band returned to play songs like 'Infected' or 'Sorrow'. Before the headliner of the evening entered the stage, there was still one act left in the tent… [SH]
Rating

Music: 8
Performance: 8
Sound: 8
Light: 8
Total: 8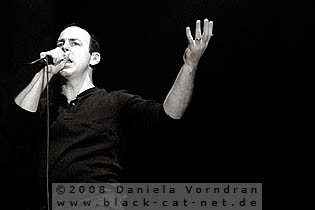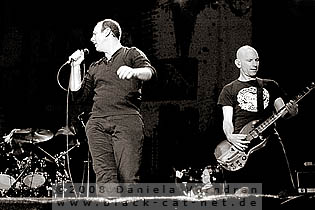 I Am Kloot - Coca Cola Soundwave Tent


The group was formed at the Night & Day Club in Manchester. John Bragwell (vocals, guitar) worked there as a concert organizer and there he met his fellow band members Andy Hargreaves and Pete Jobson. It was also in that club where the band played their first concert in 1999 and two years later, their debut 'Natural History' finally came out. The band is most notable for their interpretable and ambivalent lyrics. After releasing the following albums 'I am Kloot' (2003) and 'Gods and Monsters' (2003) the band played some session for deceased but famous BBC Radio host John Peel. I AM KLOOT's fourth and latest studio album, 'I Am Kloot Play Moolah Rouge', was available at gigs in November 2007 as a limited edition of 2000 copies, before going on general release on 14th April 2008. I AM KLOOT are John Bramwell (vocals, guitar), Pete Jobson (bass) and Andy Hargreaves (drums).The live setting was enriched by two keyboard players.
http://www.iamkloot.com/
/
http://www.myspace.com/iamklootmusic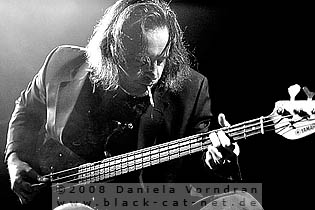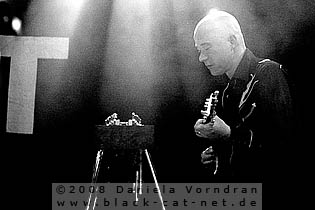 Music & Performance

A small musical surprise waited for us with the last band of the evening at the Coca Cola Soundwave Tent. It was an atmosphere like entering a darkened jazz club to get a proper comparison for it. So, what does that say about the music from that trio, basically nothing except for the fact that they like the more intimate way. I AM KLOOT is not about big gestures other bands are so famous for; they were the exact counterpoint of what would later come with DIE ÄRZTE. Very silently they came on stage and took their positions. Peter Jobson, who's playing the bass besides some other instruments, lit up a cigarette which is normally strictly forbidden at the tent, but just seems to belong to their style.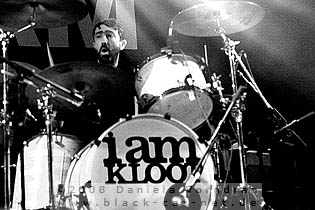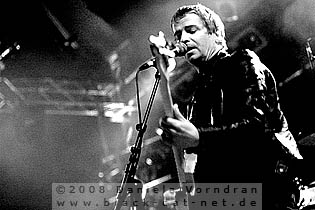 Regardless of their calmness and fragility of the arrangements, their songs harbour a certain power with eclectic drums and percussions over which the clear ant touching voice of John Bramwell was enthroned. I jus t would have wished for a few more people to see it. Not that the tent was empty, I just think they deserved a broader audience. It was a pity that we couldn't see the whole show because we had to get to the main stage, but they'll surely come to Germany again some time. A big surprise for me… [SH]
Rating

Music: 9
Performance: 8
Sound: 8
Light: 8
Total: 8.4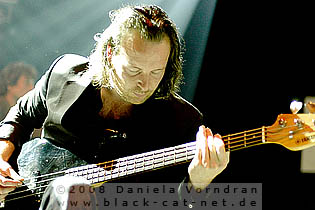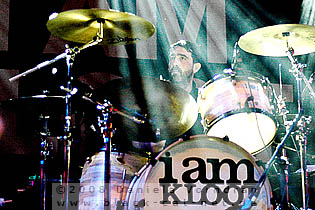 Die Ärzte - Main Stage
Amongst German Punk Rock fans you just have to mention the name of "The best band of the world" as DIE ÄRZTE call themselves and the people will go totally nuts. Since its inception in 1982, that band has released incredible 12 albums and still counting, not to mention the various singles, the live albums and some EPs. The first album 'Debil' (1982) is at the same time the album they've made their breakthrough with. It was intended to impress the record company which only wanted them to record an EP in the first place. In 1988 the band announced they would and the band and the highly acclaimed concert in Westerland on Sylt was to be the last concert, followed by a triple live album as the last release for the time being. But in 1993, Bela. B and Farin Urlaub decided to reform the band with the new man Rod Gonzalez who's a member of the band ever since. The most recent album of DIE ÄRZTE is called 'Jäzz ist anders', released in November 2007. DIE ÄRZTE are Farin Urlaub (guitar, vocals), Bela B. (drums, vocals) and Rod Gonzales (bass, vocals).
http://www.bademeister.com/
/
http://www.myspace.com/dieaerztesupport
/
http://www.myspace.com/aerzte
Music & Performance

I know it's hard to believe, but I haven't seen "The best band of the world" (as DIE ÄRZTE call themselves) before, but I was looking forward the concert and curious what would happen. Through the day you could already spot lots of people with one or the other fan item, mostly T-Shirts and each and every one of them now found their place in front of the stage. Compared to BAD RELIGION, the number of people had considerably increased.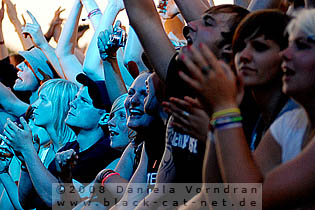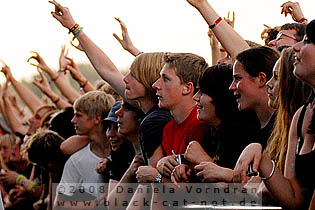 During the first song 'Himmelblau' the band was still hidden behind a curtain saying "Achtung Jäzz". A short time later that curtain was dropped and revealed all three band members. After the next two songs 'Lied vom Scheitern' and 'Hurra', the band introduction followed. Of course no usual introduction as you can expect with much ballyhoo and joking. After 'Angeber' an older song followed with 'Blumen', adeptly combined with 'Gehn wie ein Ägypter'. The first play followed some minutes later when Farin asked the audience to scream; first the gentlemen and then the ladies. In the end, he wasn't too satisfied with the result. For '1/2 Lovesong', Farin then switched places with Rod who intonated the song. This was the last song we've heard when making our way to the festival entrance. It was a long day for us and we really needed to get some sleep. [SH]
Setlist

01. Himmelblau
02. Lied vom Scheitern
03. Hurra
04. Angeber
05. Blumen (incl. Gehn wie ein Ägypter)
06. Heulerei
07. Deine Schuld
08. Anti-Zombie
09. Breit
10. 1/2 Lovesong
11. Lasse redn
12. Der Graf
13. Nichts in der Welt
14. Perfekt
15. Ignorama
16. Wie es geht
17. Rebell
---
18. Junge
19. Ist das Alles
20. Unrockbar
---
21. Wir sind die Besten
22. Schrei nach Liebe
23. Zu Spät
24. Vorbei ist vorbei (Playback)
Rating

Music: 8
Performance: 8
Sound: 8
Light: 8
Total: 8
In case you're wondering why there are no photos from the performance: This is because it wouldn't have been practicable due to some "minor" restrictions and so, only a limited number of photographers (only print press, no matter how big or important they were) were allowed to enter the photographer's pit. Even from the audience area it was not allowed to take a single shot.
Written by: Daniela Vorndran [DV] and Sebastian Huhn [SH] with friendly support of Terrorverlag [TV] (
http://musik.terrorverlag.de/
)
All pictures by Daniela Vorndran (
http://www.vorndranphotography.com/
/
http://www.black-cat-net.de/
/
www.myspace.com/vorndranphotography
{jos_sb_discuss:18}
See also (all categories):