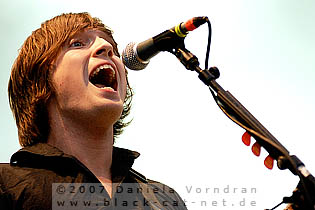 Flugplatz Borkenberge, Lüdinghausen, Germany
24th to 26th August 2007
Area4 Festival Day 3: The Draft, The Films, Jingo de Lunch, Madsen, Sparta, …and you will know us by the Trail of Dead, Mando Diao, Tool
Last festival started with another case of disease. This time, BOOZED, the opener of the day, were affected. Guitar player Marvin got an absolute ban to move at all because of an extreme persisting infection of frontal sinus which was not getting better even on heavy medication. So only thing we could do was wishing him to get well soon. The cancellation of the first band meant for us to sleep an hour longer and so, the day started with THE DRAF at 13:00.
The Draft (Daniela Vorndran)
That's what the official website has to say about this US band: "Jason Black, George Rebelo and Chris Wollard had ventured out of suburban Florida with a focused purpose- turn a few chords and a melody into the most alluring and innovative sounds you've ever heard. Often mentioned in the upper-echelon of post hardcore with Fugazi and Quicksand, this trio made raspy vocals, odd time signatures, and awkward melodies a thing of beauty. Jason, George, Chris and new addition, Todd Rockhill performing under a new moniker - The Draft, continue pleasing crowds with hard hitting, prideful vocals and intelligent melody. At the peak of musical integrity the new name has rejuvenated the trio to a level unrivalled by past projects." THE DRAFT are Jason Black (bass), Chris Wollard (guitar), George Rebelo (drums) and Todd "Wonderboy" Rockhill (vocals).
http://www.thedraftband.com/
/
http://www.myspace.com/thedraft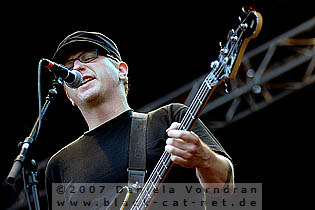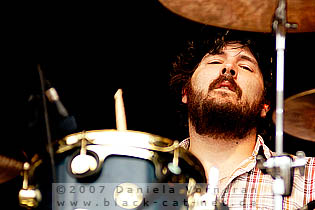 Music & Performance

If you were still sleepy, that feeling surely was gun after THE DRAFT started their set. The US band from Gainesville / Florida presented pushing Indie-Rock with Punk influences which got an Irish touch due to the slightly drunk sounding voice of front man Todd Rockhill. The other three guys, namely Chris, Jason and George, were active so far in HOT WATER MUSIC. But HWM's singer Chuck Ragan is pausing at the moment and so, this trio is going along with THE DRAFT. A first album - 'In a Million Pieces' - is already recorded and the band presented such wonderful songs out off it like the catchy 'Bordering' or the groovy 'Wired'. But also a cover version of 'Rock'N'Roll Is a Vicious Game' from Canadian Rock band APRIL WINE was presented. All songs were like a revelation at this early hour and earned well deserved applause.
Rating
Music: 8
Performance: 7
Sound: 8
Light: daylight
Total: 7.7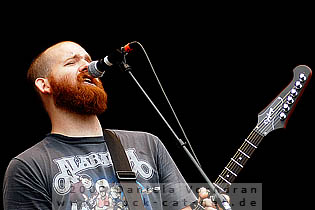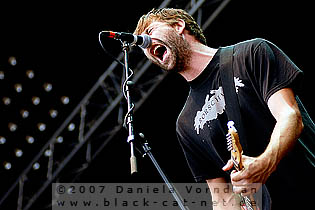 The Films (Daniela Vorndran)

THE FILMS came also from USA to the Area4; exactly the band comes from Charleston / South Carolina, now living in NY. At the beginning, the band was playing lots of cover songs (BEATLES, KINKS, OASIS) besides their own stuff while touring extensively through the South-East US. The first album 'Don't Dance Rattlesnake' brought them a deal with Major label Warner. THE FILMS are Michael Trent (vocals, guitar), Jake Sinclair (bass, vocals), Kenneth Harris (guitar, keys, vocals) and Adam C. Blake (drums).
http://www.the-films.com/
/
http://www.myspace.com/thefilms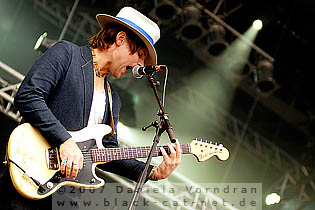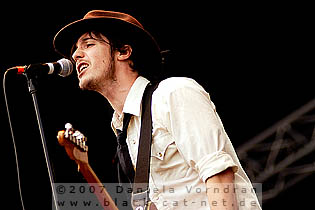 Music & Performance
Earlier this year, the band around singer and guitarist Michael Trent was playing the Hurricane festival and with that appearance some of the Area4 visitors might have seen them before. Each member of the band with a hat on, the four guys entered the stage to a characteristic "Tarantino" intro and started right away with 'Jealousy' from this year's debut album 'Don't Dance Rattlesnake'. Drummer Adam C. Blake was again dressed up with a "John Wayne" country shirt and also bass player Jake Sinclair accentuated his Confederation origin with a fitting shirt.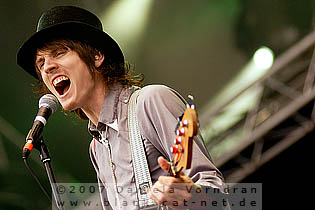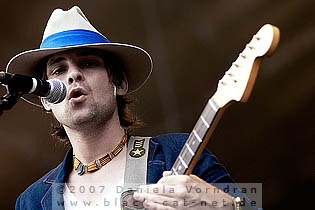 Musically, the Country you might have expected only happened marginally. Moreover, THE FILMS presented a colourful cocktail of 50s Rock, British Beat of the 60s as well as 70s Glam Rock, Punk, New Wave and Brit Pop. Sounds like a strange mixture, but is does work pretty well like 'Strange Hands', 'Being Bored' or the latest single 'Tabletops' proved. The audience seemed to be excited as well, the immediately came closer when asked for that, and at the end you could even hear loud "Call it off" yells, so that the requested song was presented as well. Besides that, several band T-shirts were thrown into the audience at the and what made it forgotten that there were technical problems at the beginning and the use of a crew driver on Michael's guitar was necessary who just was going in playing and did not care of that at all.
Rating
Music: 7
Performance: 8
Sound: 8
Light: daylight
Total: 7.5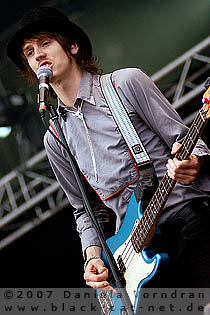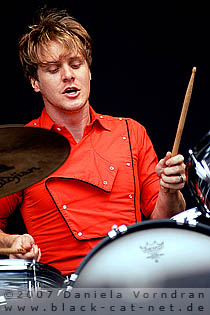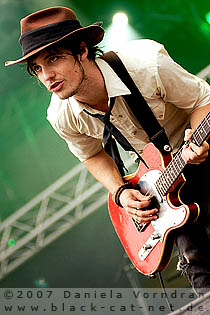 Jingo de Lunch (Daniela Vorndran)
This band, founded 20 years ago, is a legend not only in Germany. They released five albums, an EP and were touring with such bands as THE RAMONES. Ten years after the band had split up; there was a spectacular re-union in original line-up in August 2006. Area4 festival presented that band again live on stage. JINGO DE LUNCH are Yvonne Ducksworth (vocals), Sepp Ehrensberger (guitar) Tom Schwoll (guitar), Henning Menke (bass) and Steve Hahn (drums).
http://www.jingo-de-lunch.com/
/
http://www.myspace.com/jingodelunch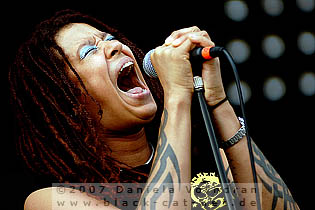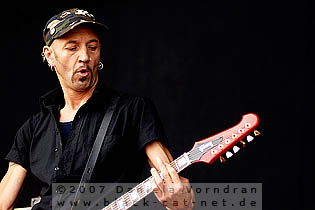 Music & Performance
Now, time has come for a journey into the youth. JUNGO DE LUNCH are currently celebrating their 20th anniversary and we were asked to celebrate with them. During the show of the Berlin based band, the average age in front of the stage has increased significantly. It seemed like the older semesters wanted to refresh memories of old days; but here and there also some people could be spotted who might not even being born when the band started to make music.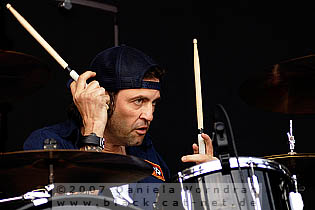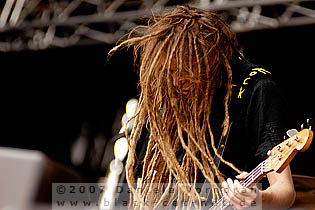 Songs, like the first ever song of JUNGO DE LUNCH, 'What you see', or 'Jingo', 'Seen and Done', 'Fate', 'Cursed Earth' and 'Thirteen', the time travel started. Hardcore, Punk and Rock were roughly brought to the audience like in the first days of the band and the dark-skinned singer Yvonne, born in Arizona, still is the same buzz-saw like twenty years ago. The band for that matter seemed to be happy for playing at Area4 just because of the varied catering alone, but they were also enjoying the small fan base present in front of the stage.
Rating
Music: 8
Performance: 7
Sound: 8
Light: daylight
Total: 7.7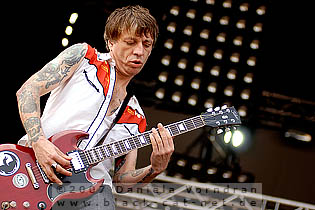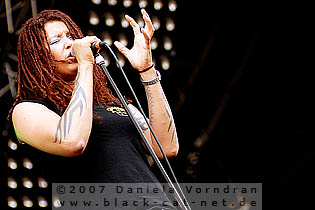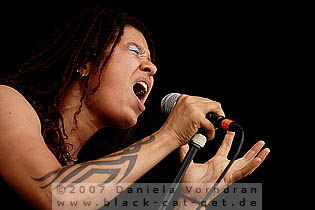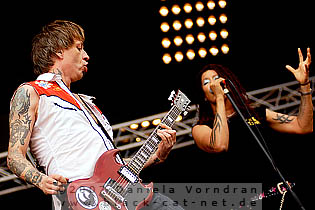 Madsen (Daniela Vorndran)
The Madsen brothers started in 1996 when they founded their first two Bands ALICE'S GUN (Hardrock) and HOERSTUATZ (HipHop/Crossover) in Clenze / Germany. Eight years later, in 2004, the three brothers decided to break new ground and called themselves MADSEN. The band consists of Sebastian Madsen (vocals, guitar), Johannes Madsen (guitar), Niko Maurer (bass), Folli Jahnke (keyboards) and Sascha Madsen (drums). Their first Single 'Die Perfektion' was released in March 2005 and only two month later their first Album 'Madsen' let the musical world listen attentively. Their second and current Album 'Goodbye Logik' followed in August 2006 including the single 'Der Moment' (released at February 2007).
http://www.madsenmusik.de/
/
http://www.myspace.com/madsenband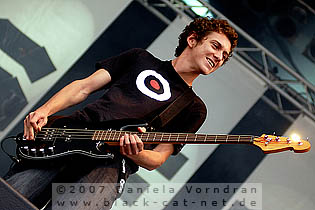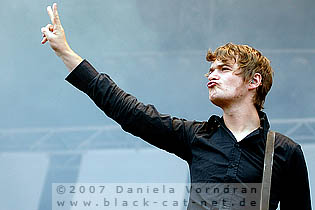 Music & Performance
For the MADSEN show it became much more crowded in front of the stage. After releasing two albums, the band probably played any club in the republic. Especially the girls were waiting for their show at Area4. The back of stage was decorated with big white banners presenting the band name in big letters. The band presented 45 minutes of good-mood "Madsenmusik", like they call their style - Germany tongued Indie-Rock that animates to dance and song along, what people heavily did.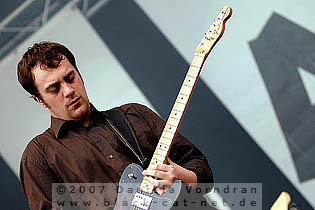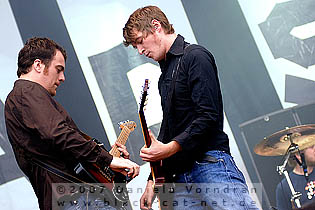 For the first highlight 'Goodbye Logik' from the album with the same name being released last year, spots were writing "Madsen" onto the stage ceiling while Sebastian expressed the fear that the audience might be a bit tired on the last of three festival days. During 'Vielleicht' people proved their lyric-skills which was expressed loudly also during the final 'Du schreibst Geschichte'. Heavy clapping and loud yells for an encore suggested that the joy on stage also went over to the audience. Sadly the strict curfew did not allow any encore.
Setlist

01. Ein Sturm
02. Diese Kinder
03. Immer wieder
04. Goodbye Logik
05. Vielleicht
06. Panik
07. Die Perfektion
08. Du schreibst Geschichte
Rating
Music: 6
Performance: 7
Sound: 8
Light: 8
Total: 6.9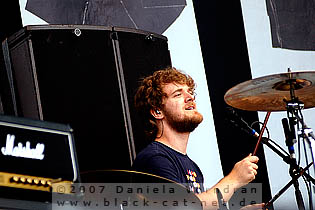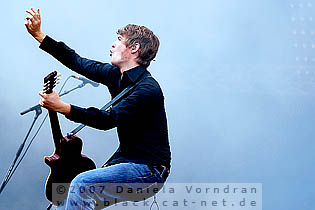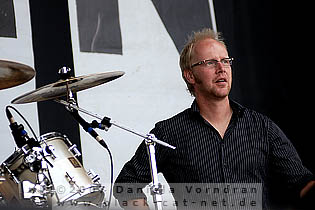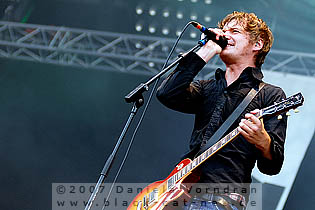 Sparta (J. "Niggels" Uhlenbruch)
Since 2001 some former members of the influential Hardcore band AT THE DRIVE IN produce and play music under the moniker of SPARTA. Founded in 2001 in El Paso, Texas, vocalist and guitarist Jim Ward joined with Tony Hajjar and Paul Hinojos to continue to make music after the demise of their mutual previous band AT THE DRIVE IN. The three recruited Matt Miller, also from El Paso, to fill the position of bass guitarist. In 2005 Paul Hinojos left SPARTA to join THE MARS VOLTA, another follow-up band of AT THE DRIVE IN, and was replaced by Keeley Davis to play the lead guitar. SPARTA has released three studio albums and a live album, and especially 'Porcelain' (2004) and this year's 'Threes' were critically highly acclaimed.
http://www.spartamusic.com/
/
http://www.myspace.com/sparta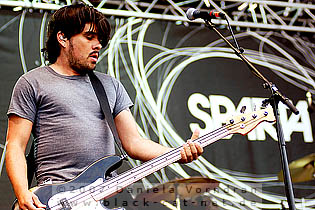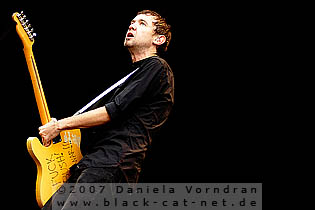 Music & Performance
I wasn't too familiar with SPARTA's music before the Area4 festival, although I was aware of the band's status and history. A good crowd turned up in front of the stage to see the offspring of one of the most legendary Hardcore / Post-Hardcore bands performing live. It was a long weekend for the band with two gigs in the UK at the high-profile open airs in Reading and in Leeds before the Area4 show, so they took things a bit easier apparently. But still they performed a very enthusiastic and energetic show, with most songs taken from the last two albums.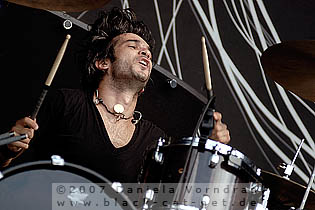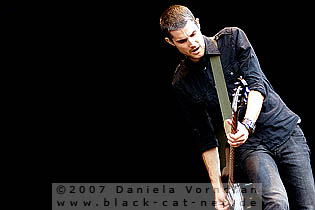 Guitarist Keeley Davis seemed to be a *little* drunk and he even stumbled over a tower of amplifiers and monitor boxes in the back, so that a roadie had to pick up both the artist and the equipment. Singer Jim Ward simply commented "sometimes Rock 'n' Roll gets a little messy, y'know?" and gave his band mate a big hug. SPARTA obviously had a good time on stage and this translated pretty well to their audience. Great Post-Hardcore with a soft spot for big melodies!
Rating
Music: 7
Performance: 8
Sound: 8
Light: 8
Total: 7.6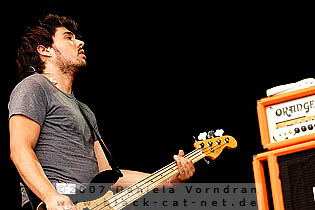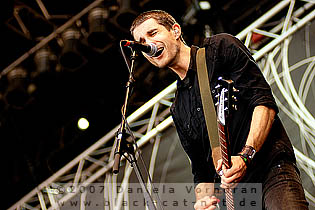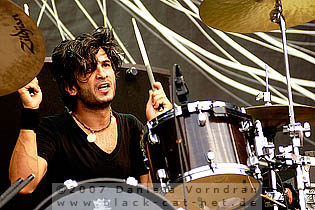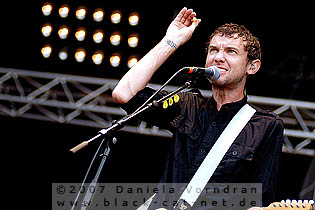 …and you will know us by the Trail of Dead (J. "Niggels" Uhlenbruch)
This band started as a duo, comprised of multi-instrumentalists Jason Reece and Conrad Keely. The two had originally met while living in Hawaii where Reece had made a name for himself by taking first prize in a local "best drummer" competition. After relocating to US mainland AND YOU WILL KNOW US BY THE TRAIL OF DEAD developed into a fully fledged band by recruiting Kevin Allen as well as bassist Neil Busch.
http://www.trailofdead.com/
/
http://www.myspace.com/trailofdead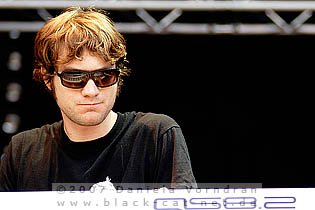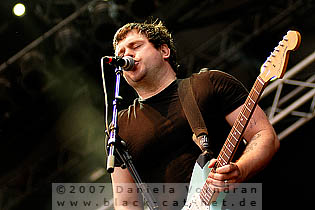 Music & Performance
In early 1998 the band released their self-titled debut on Trance Syndicate Records to mixed critical reception. The record hit the US Indie scene like a shockwave, however, and carried with it the track 'Richter Scale Madness' which remains a fan favourite even today. In 1999 AND YOU WILL KNOW US BY THE TRAIL OF DEAD moved to Merge Records for the recording of the album '
Madonna',
which, while not a completely departure from their earlier noise-based art-rock work, silenced much doubt about the bands ability to make something more commercially viable. Yet the biggest leap in the bands success didn't come until 2002 when they were signed by Interscope Records and released their most critically acclaimed and widely accepted album to date, 'Source Tags & Codes'.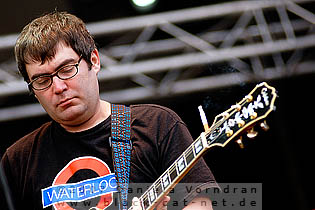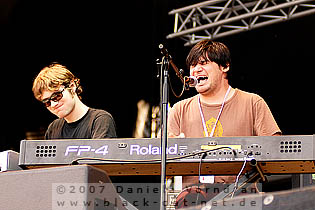 Their 2005 release, 'Worlds Apart',
was
greeted with much controversy over the delays, lacklustre sales despite huge critical acclaim, and a backlash from fans over the drastic change in direction. In 2006, with the future of the band in question, Keely and the now five-piece AND YOU WILL KNOW US BY THE TRAIL OF DEAD chose to channel their frustration into their newest album, '
So Divided'
, which was originally slated as an EP, rather than part ways as Keely threatened, and the band has since maintained a regular touring schedule.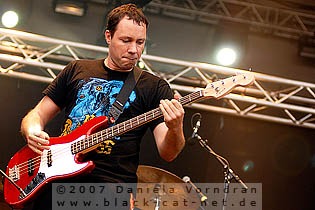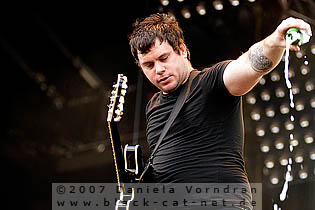 AND YOU WILL KNOW US BY THE TRAIL OF DEAD are not only fond of long band names but also for extra-long live songs and a challenging performance. As usual for their own standards, the band switched instruments repeatedly, with drummer
Jason Reece
coming up front to sing enthusiastically one of the songs. TRAIL OF DEAD, as they are often referred to in short, had two drum kits and two keyboard racks, which enhanced the sound a lot. A very artsy performance, pure top-notch musicality! And the fans were pleased to hear favourites like 'Naked Sun', 'World Apart', 'Will You Smile Again?' or 'The Rest Will Follow'.
Rating
Music: 9
Performance: 9
Sound: 7
Light: 8
Total: 8.6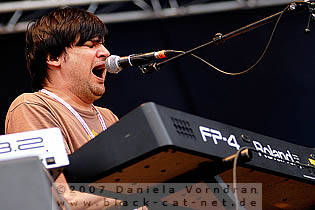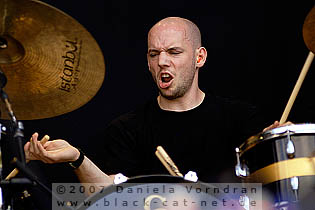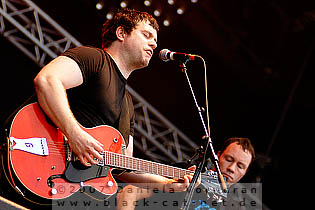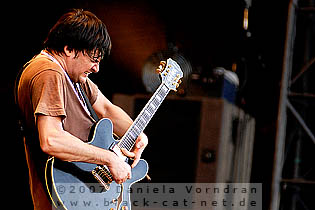 Mando Diao (J. "Niggels" Uhlenbruch)
Garage Rock with a touch of glam was on the schedule now with the Swedish boys of MANDO DIAO. The roots of MANDO DIAO date back to 1995 when Björn Dixgård was a member of a band called BUTLER. Band members came and went and four years later the rest of the current line-up decided to take that project more seriously. Björn Dixgård and Gustaf Norén locked themselves up in a summer house and spent 14 months writing songs. The Beatles is their original inspiration source and Björn and Gustav talked all night about it once, Gustav joined right after! The two renamed their band to MANDO DIAO. According to the band, the name "Mando Diao" has only one meaning, and it appeared to band member Björn Dixgård in a dream. The now-renamed band made their third public performances in the clubs of their hometown Borlänge in 1999.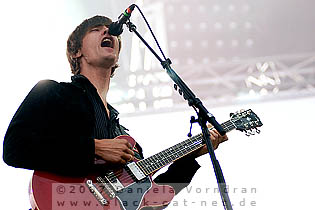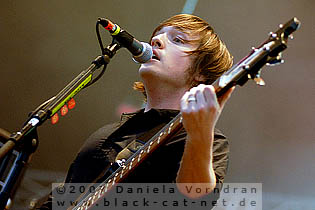 A local writer described them in an article as the worst unsigned band he had ever seen. This was soon followed by a record deal with EMI Sweden. In 2002 their first album 'Bring 'Em In' was released in Sweden. It contains early demo versions of their songs, partly recorded in the basement of keyboardist Daniel Haglund who left the band later in 2003. In 2003 the album was released internationally, along with their debut single 'Sheepdog'. As of 2004, the band is hailed enthusiastically by the music press as one of the most sanguine newcomer bands of the year, with raving reviews of the album 'Hurricane Bar', which featured the smash hit 'Down In The Past'. The follow-up and third album 'Ode to Ochrasy' was released in 2006 and generated another hit single, 'Long Before Rock'n Roll'.
http://www.mandodiao.com/
/
http://www.myspace.com/mandodiao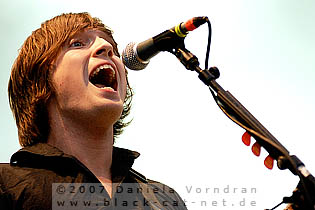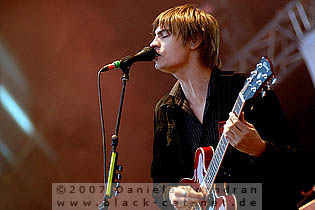 Music & Performance
MANDO DIAO have been loudmouthed and often claimed to be "the greatest Rock 'n' Roll band ever", or at least since THE BEATLES. A severe overestimation of their own capabilities, as the gig at the Area4 proved. MANDO DIAO were not bad, and they performed an experienced set of hit singles and album tracks - but the problem is that their songs tend to follow the same patterns, there's not too much variation and in fact they did not re-invent music at all, there are tons of similar bands out there.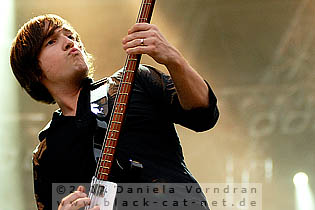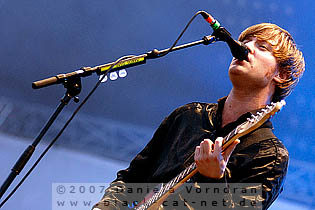 Basically there's nothing wrong with that, but from a bunch of guys who love self-praise so much one should expect a little more. You are surely not the "best Rock 'n' Roll band in the world" when you constantly sound like an OASIS b-side! That MANDO DIAO finished their set ahead of time and did not return for an encore although they still had ten minutes according to the schedule just adds to the impression that these guys are a little bumptious. The fans loved the gig and had a big party, I have to admit that I was rather annoyed by this simplistic but big-mouthed Garage Rock.
Rating
Music: 3
Performance: 5
Sound: 7
Light: 7
Total: 4.8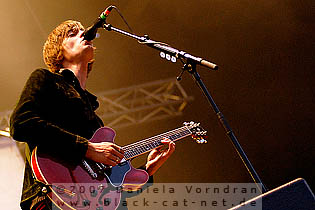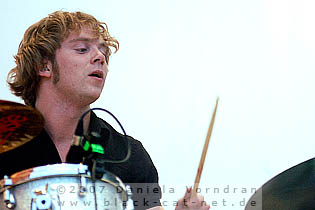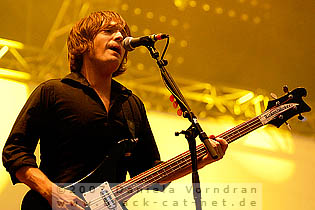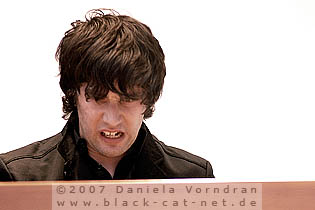 Tool (J. "Niggels" Uhlenbruch)
Finally it was time for the headliner of the last festival day - from many fans long awaited TOOL. Among the bands in Rock and Metal with an artistically extraordinarily high profile is surely TOOL, the Californian band featuring drummer Danny Carey, bassist Justin Chancellor, guitarist Adam Jones, and vocalist Maynard James Keenan. Since the middle of the 1990s, TOOL have been famous for epic tracks of an experimental nature, with lots of weird meter signatures, rhythm shifts and polyrhythmic sections and many other high-class musical traits. TOOL also combine visual arts (album covers and unusual video clips) and philosophical and spiritual issues with their experimental music.
http://www.toolband.com/
/
http://www.toolband.de/
/
www.myspace.com/tool
Music & Performance
A unique blend of metal, alt-rock, prog-rock and even psychedelic at times, TOOL was formed by vocalist Maynard James Keenan, guitarist Adam Jones, bassist Paul D'Amour and drummer Danny Carey. Their 1992 debut EP 'Opiate' showed a raw, straight-forward Alternative-Metal sound. In 1993, they exploded onto the with their full-length debut 'Undertow', which went platinum in the USA, thanks to their gritty, straightforward metal sound and eyebrow-raising videos directed by guitarist Adam Jones (who was involved with film before going into music). In 1996, TOOL came back with 'Ænima', an album which featured lengthier compositions, deeper lyrics and instrumentation, and a more ambitious approach. It proved to be their breakthrough, gaining them a huge following. After a long hiatus, the band finally released a follow-up, 'Lateralus', in May 2001 and which sold 3 million copies worldwide. After another long break '10,000 Days', TOOL's fourth album, was finally released. That album was decidedly more experimental than its predecessors. The songs were longer than ever (with all 8 of the non-filler tracks clocking in at over 6 minutes) and featured deep lyrics and extensively-layered, precise instrumentation.
As they already proved with their gig at the M'era Luna, TOOL are one hundred percent able to translate the ambitious sound of their studio work onto stage, and they even add a mind-blowing light and video show to it. As usual, Singer Keenan stays in the back of the stage and most of the time he's only visible as some sort of shadow-play on the screen behind him. TOOL left it to the music and the light show to make an impact, and the impact of this is immense! You get easily carried away during a TOOL gig, the lights, lasers and videos create a dark dream world of its own and the precise work of the musicians guarantee a special treat musically. Definitely one of the very best modern Rock bands! Sad enough, that they have such a strange media policy that it was again not allowed to take any pictures!
Setlist

01. Jambi
02. Stinkfist
03. Forty Six & 2
04. Schism
05. Rosetta Stoned
06. Flood
07. Lateralus
08. Vicarious
Rating
Music: 10
Performance: 10
Sound: 7
Light: 10
Total: 9.6
Final Note (Daniela Vorndran)

All in all, the Area4 festival was perfect with lots of interesting bands, even though not any day the BIG headliner was on the run (just want to remark the cancellation on SILVERCHAIR - a band lots of people were looking forward to). It was sad that also a second band had to cancel its appearance, but you cannot do anything against diseases. The other 25 bands impressed with quality and had the one or another positive surprise in stock. The whole festival took place at a very nice area granting fro short ways and a good view to stage from nearly any position. Also the fact that there was "only" one stage was very positive in my opinion. 30 minutes break in-between the gigs were quite relaxing if you really want to see every band of the festival.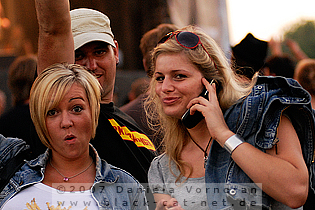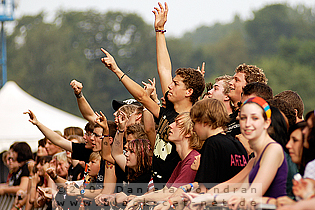 Here and there you could here some critical statements about the ticket price. Especially the price of 90EUR at the box office for the whole weekend was a bit high for several people what might also have taken its effect in the number of attendees. On the other side there are lots of work and money that has to put into such an event, just take a look at the pure facts: On the whole area (200k square metres as well as 72k Square metres camp ground and 71k square metres parking lot) 5,000 metres of fences had to built up. Besides that, 3,000 metres of cables for light power lights of 300k Watt and stage power of 2x350k Watt had to be available. Behind the stage (30x20x13 metres) 60 people were working plus 150 securities. And at the end, there were 120 mobile toilets and 50 water toilets built up.
Just like on so many festivals, one of the mobile toilets had been set on fire, as the fire department reported, besides that it was a very calm and peaceful festival. The police reported only a slight assault and some thefts. The medical crew counted until Sunday afternoon 134 efforts with only three heavy cases; all in all 18 people had to be brought to hospital. Besides the bad effects of too much alcohol especially bruises, sprains and insect bites had to be taken care of. Besides those facts, the good weather had its share in making the festival a success which hopefully will find its prosecution in the coming year.
Written by Daniela Vorndran and J. "Niggels" Uhlenbruch with friendly help of Ulrike Meyer-Potthoff (Terrorverlag)
All pictures by Daniela Vorndran (
http://www.vorndranphotography.com/
/
http://www.black-cat-net.de/
/
www.myspace.com/vorndranphotography
)
{jos_sb_discuss:18}
See also (all categories):