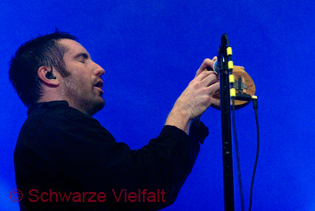 Koblenz/ Bodensee, Germany
1st September 2007
The Graduate, The Sounds, Mess, NOFX, Sportfreunde Stiller, Billy Talent, Nine Inch Nails

You could early see the masses travelling to the stadium and we travelled among them. The weather was comfortably warm, and we didn't have to wait very long at the entrance, that was really pleasant. The festival was set at the edge of the Bodensee, a large holiday area between the borders of Germany and Switzerland.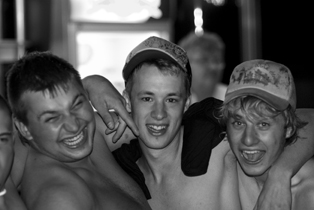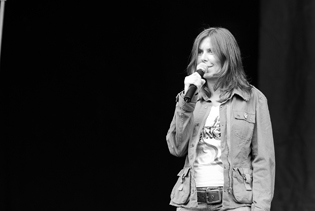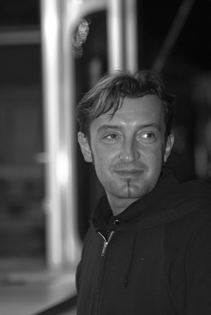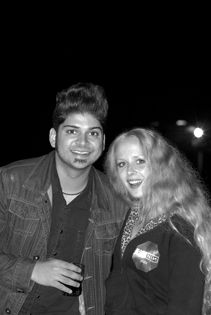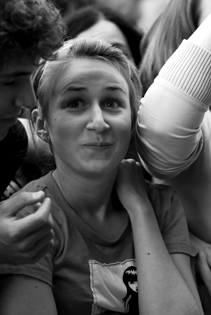 The Graduate


They were the first band playing at this festival. Formed in November 2005, THE GRADUATE is collaboration between the long-time friends Tim Moore, Corey Warning, Matt Kennedy, Max Sauer and Jared Wuestenberg. They have recently recorded their first real studio album, which will be in stores at October 4th. The quintet aims to surpass the success of their previous independently released album 'The Horror Show'.
http://www.wearethegraduate.com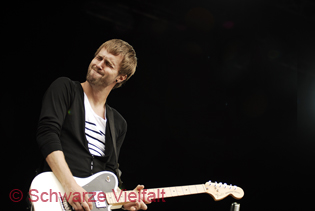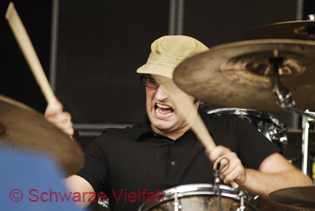 Music & Performance

For us, THE GRADUATE was a good opener for this festival, but nothing more. Suitable for any radio station, you could describe their sound as melodic rock music and nothing out of the ordinary. They seemed to be students from next door...
Rating

Music 4
Performance 4
Sound 6
Light - (daylight)
Total 4.4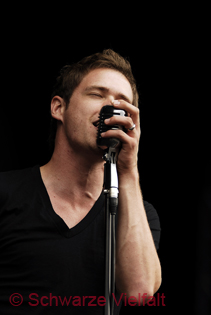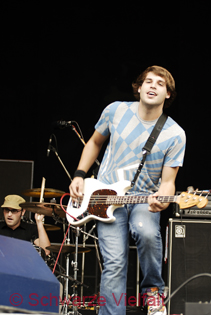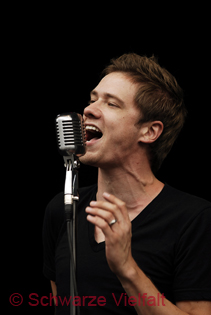 The Sounds

Coming from Helsingborg, Sweden, the quintet has released two studio albums until now. The second one was supported with real prominent help: They worked for example with Jeff Saltzman (THE KILLERS) and James Iha (SMASHING PUMPKINS, A PERFECT CIRCLE)! In Sweden they got the "Hit Music Award" as the best newcomers.
http://www.the-sounds.com/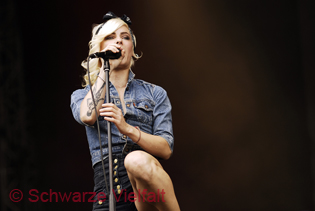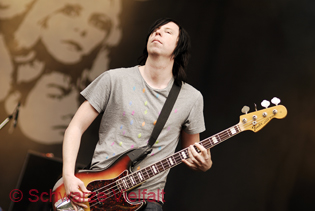 Music & Performance

Front woman Maja Ivarsson put a spell on the audience right from the beginning to the very end. All eyes were set on her due to her charisma and her performance on stage. She worked with the audience, looking at everyone with interest and making jokes. The name was the program: punk rock sounds were combined with classical piano elements. There were also influences of the waving 80ies.
Rating

Music 7
Performance 7
Sound 6
Light - (daylight)
Total 6.8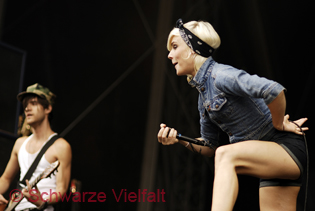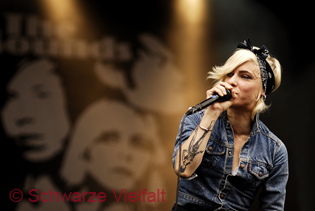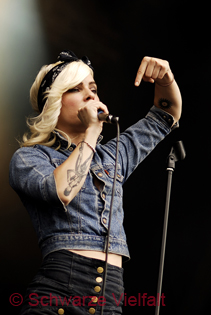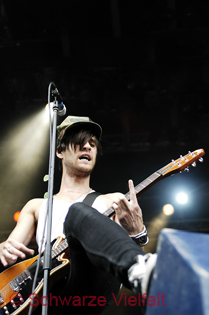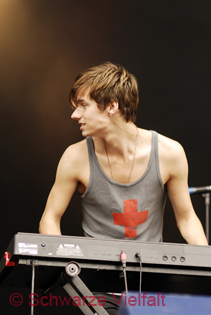 Mess

The five German friends started as a local punk rock band from Konstanz. In March 2007 they released their debut album 'Raus in die Welt' and they got already jobs as openers for the BEATSTEAKS.
http://www.mess-punkrock.de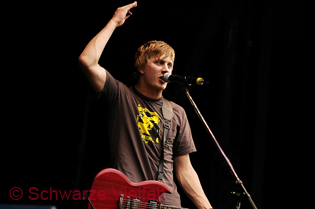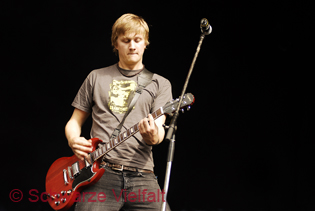 Music & Performance

The announced band RAZORLIGHT got into an accident on their way to the festival, so they couldn't play there. The local band MESS got a phone call just one hour before the festival should begin. So the very surprised and happy singer Beat told the audience, that they all were just hanging around at a lake, when they had to grab their instruments and race to the stadium. Although they could not practice for their audition they did a got job. Their melodic punk rock sounds met on an audience, which wanted to party hard and fast.
Rating

Music 6
Performance 5
Sound 5
Light - (daylight)
Total 5.5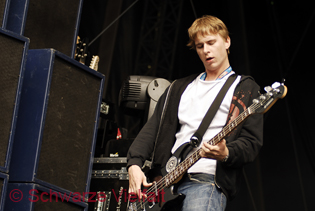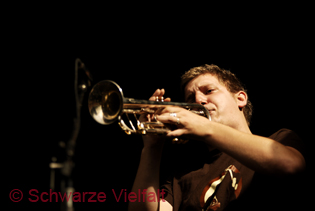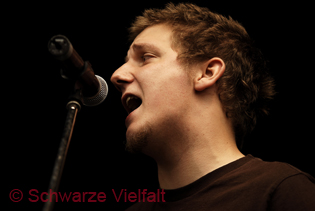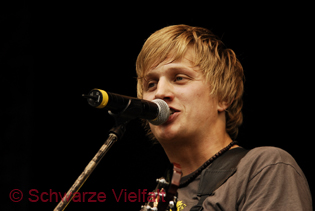 NoFX

It took a long way to success for the Americans. They started early in 1983 with an idea to build up a band, but without any songs or even enough musicians. It already lasted two years until they released their first EP (1985) and five years for their first album (1988). In 1994 their album 'Punk in Drublic' hit gold and they got their earned success. Until then every album hit the American Billboard Charts. Although there were several line-up changes during the years the band is still based on the founders Fat Mike (vocals, bass), Erik Sandin (drums) and Eric Melvin (guitar).
http://www.nofx.org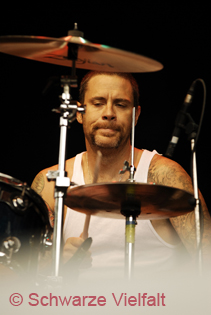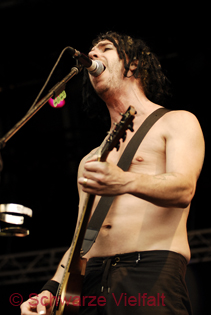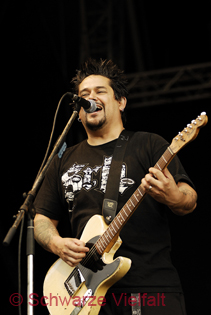 Music & Performance

They are doing their job for more than 20 years now and they know it quiet well. They are old-time punk rock heroes for not less people and this was seen in the audience. Their SKA and Reggae influence brought some interesting changes into the similar punk sounds. Together with their happiness and fun on stage this build a solid base for a good concert. They talked a lot between the songs and made jokes about and with the audience. Unfortunately there was a problem with the sound and so there was a complete breakdown for about 15 minutes.
Rating

Music 6
Performance 8
Sound 4
Light - (daylight)
Total 6.4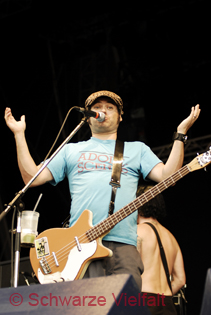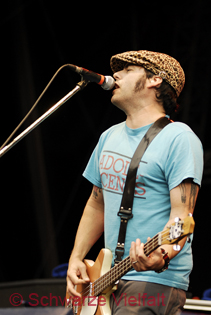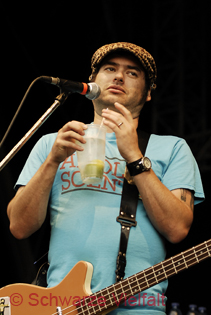 Sportfreunde Stiller

Everybody knows them in Germany, because they sang the hymn for the soccer world championship last year. Three friends formed the band in 1996 and they are still working together. Their last album 'La Bum' was released in August 2007 and hit the German charts at the top.
http://www.sportfreunde-stiller.de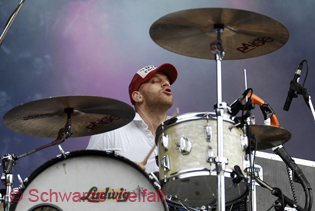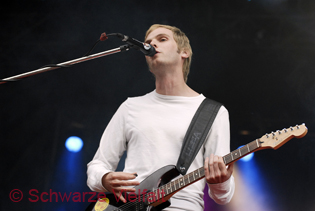 Music & Performance

What shall we say about a band, which is played on every radio stations in Germany? You will see them every time you put on a TV and you can year their songs every time entering a shop or a disco or a soccer bar. It's hard to be honest and fair. In our opinion they got a little bit too much publicity during the last years. It's not like they didn't serve it, but it was a little bit an overkill of interests. Because everybody knew their songs the audience partied and sang right from the beginning. They celebrated every song and the first rows were totally in motion. Both singers stood on little extra stages on every side. The drums were set in the middle. Maybe it was just our impression, but they seemed to be little bit tired and we missed some enthusiasm for the show.
Rating

Music 6
Performance 5
Sound 5
Light - (daylight)
Total 5.5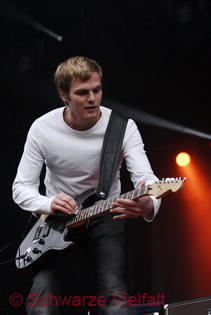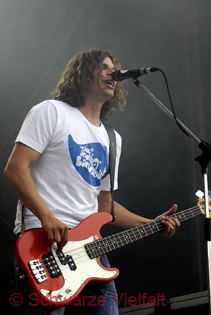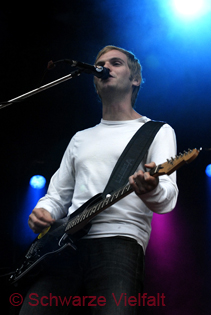 Billy Talent

The Canadian band started already in 1993 as PEZZ, but rested in the underground until 2001. Since then they are on the way to huge success. They won nine awards, the last one in 2007 for the best video in Canada and the Best Newcomer International at the German ECHO. Although everybody thought so, no member of the band is named "Billy Talent".
http://www.billytalent.com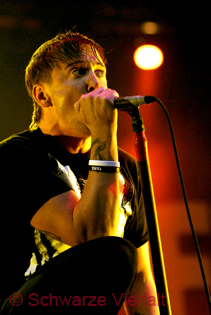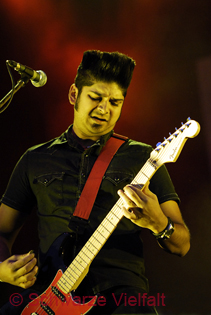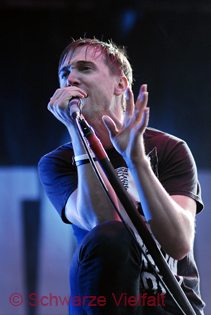 Music & Performance

Less than two weeks before finishing their 16month-world tour, they entered the stage of the festival. But "entering" is not the right term for it. They conquered it! We saw singer Benjamin Kowalewicz several times on TV, but it was still a surprise. He got so much energy, power and he could not keep his feet on a place for just one minute. This energy flooded the audience and it was nothing more than a huge mosh-pit.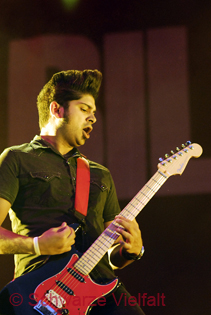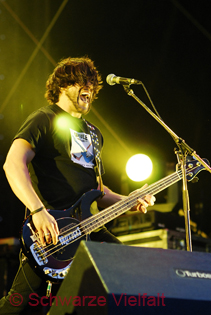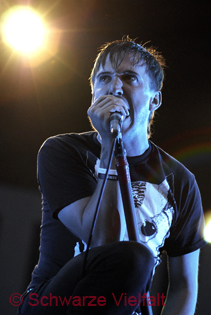 Their sound can be described as very energetic independent rock with punk and alternative influences. As we had expected the fans partied hits like "Fallen leaves" to the limit. Together with a fantastic light-show this was already worth a headlining position.
Rating

Music 8
Performance 8
Sound 8
Light 8
Total 8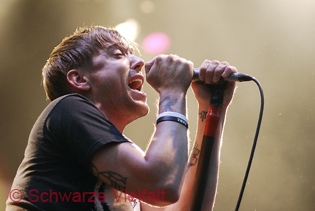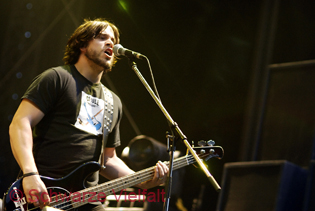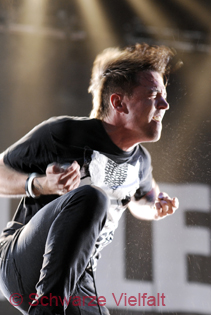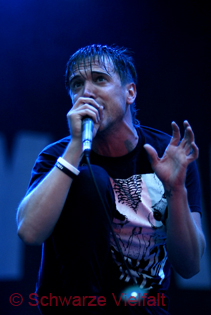 Nine Inch Nails

So this band is just one person: Trent Reznor. He is the father of industrial alternative music. He works as a producer, singer, instrumentalist and in many more positions in the background of the music business. He was responsible for the soundtracks of movies (i.e. "Natural Born Killers") and series, which got all famous and successful. Additional he took part on soundtracks and that songs became huge hits like 'The perfect drug', which was just recorded for the soundtrack of 'Lost Highway' and nearly everybody can remember his version of 'Dead Souls' in 'The Crow'. He founded NIN in 1988 and until now he is the only official member. He always works with live musicians, which are already famous and well-known (i.e. actually Jeordie White a.k.a. Twiggy Ramirez for his times with MARILYN MANSON), but they did not join the band officially.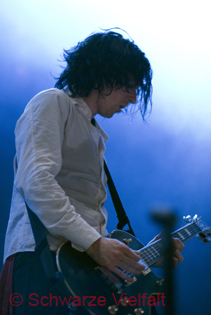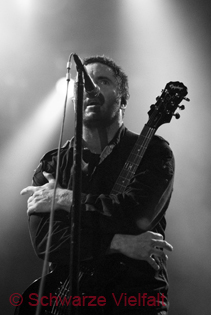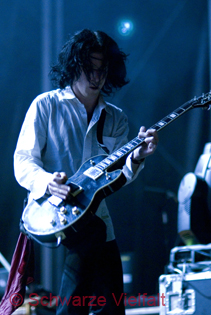 You can not count all his references and awards. ALL of his six regular albums got platinum status, some of them several times. The last album 'Year zero' came out in 2007 and got an immense media background and interest. He is known as the "father" and founder of MARILYN MANSON and it must have been strange and a special honour to hear the cover of 'Hurt' played by no one else than Johnny Cash.
http://www.nin.com/
/
http://www.nin-thespiral.com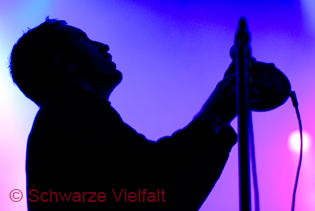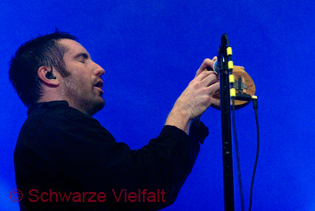 Music & Performance

The audition started about 40 minutes too late, although all other bands kept their time. Trent Reznor seemed to be very disappointed about something and he often showed it. The whole show was kept in strong fog and the lights changed mostly between red and blue. The whole stage was nearly kept in darkness, so it was sometimes hard to see the musicians at all.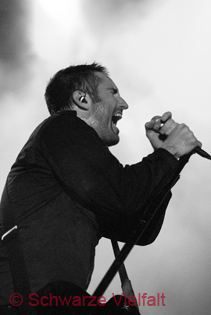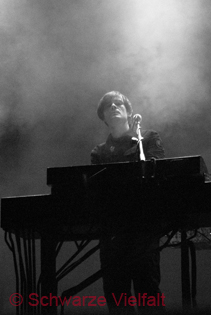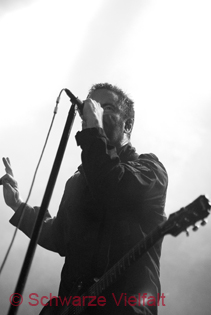 Based on a plenty of hits there were special musical highlights like 'The perfect drug', 'Closer', 'The hand that feeds' and of course the amazing 'Hurt'. For one song Trent went into the audience and they screamed and partied enthusiastically. Unfortunately this energy was missing on stage. Every song was technical fantastic. Trent Reznor is a fascinating and impressing person, but here he was distracted or just bored. After just nearly an hour the show stopped and was finished, because the band and Trent destroyed nearly the whole equipment.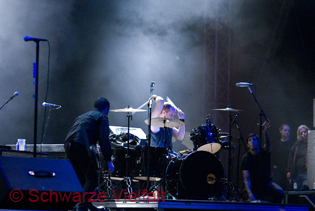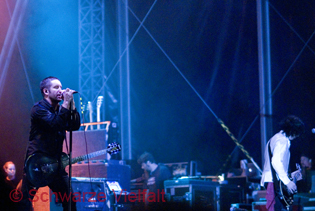 So there was no chance for an encore. This was our first NIN-concert, so we didn't know, what was wrong here. Maybe it was something about the festival or maybe Trent Reznor is always very angry and disappointed on stage. It was a pity.
Rating

Music 9
Performance 9
Sound 7
Light 3
Total 7.8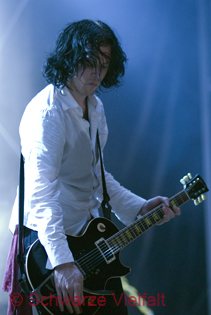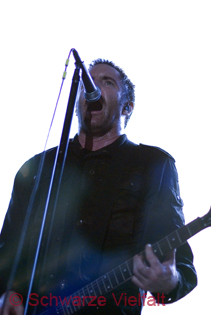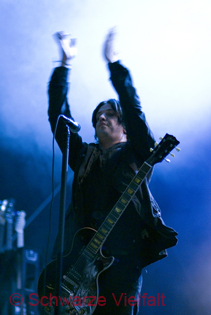 All pictures by Thomas Köhn
{jos_sb_discuss:18}

See also (all categories):