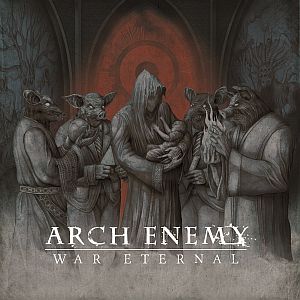 Artist: Arch Enemy
Title: War Eternal
Genre: Melodic Death Metal
Release Date: 6th June 2014
Label: Century Media Records
Album Review

ARCH ENEMY is a Swedish Melodic Death Metal band, founded in 1995 by Michael Amott and his brother Christopher, after the former left CARCASS. From 2000 until 2014, ARCH ENEMY were fronted by Angela Gossow as singer, who contributed significantly to the band's reputation and is considered among the first female vocalists who growl. Alongside this, the band is also known for its charismatic guitar work. In 2014, she retreated and is replaced by Alissa White-Gluz, former singer of THE AGONIST. Moreover, 2014 also saw another line-up change, since Christopher Amott (once again) left the band. His position is taken by Nick Corlde (also known through ARSIS).
With 'War Eternal', ARCH ENEMY establish their current line-up and also release their tenth studio-record. Following up on the most recent 'Khaos Legions', which did not only claim appraisal but also critique, 'War Eternal' seems to take ARCH ENEMY somehow back to their early days while also adding a modern touch to it. After the instrumental intro 'Tempore Nihil Sanat (Prelude In F Minor)', 'Never Forgive, Never Forget' kicks in and sets the style for the following songs. During the songs, not only does it become that the (newly combined) Guitar section works very well together, but also that Alissa's voice fits very well to ARCH ENEMY. She manages to add her own character to the music, for instance by occasionally adding higher screams and nevertheless also gets integrated into the sound of the band very well. 'War Eternal' offers a harsh and grooving track, which prepares for the very Death Metal sounding 'As The Pages Burn'. However, this song also includes a calmer and somewhat catchy chorus, which is contrasted with extremely fast riffs during the strophes.
'No More Regrets' is a track once again dominated by demanding and melodic guitar work, whereas 'You Will Know My Name' also includes more epic or symphonic elements. Thus, not only fast elements can be found on 'War Eternal', but also slower or middle-tempo oriented passages. The following instrumental 'Graveyard Of Dreams' would not really have been necessary, since it does not really create an outstanding or remarkable effect. 'Stolen Life', however, appears slightly reminiscent of ARCH ENEMY's early days, with a modern touch to it. This somewhat symphonic notch can also be perceived in the chorus of 'Time Is Black'. 'On And On' offers a sort of anthem, with a slower last third. 'Avalanche' begins with a melodic, symphonic interlude and is defined by a contrast between slower and more aggressive parts, which is also reflected in Alissa's use of clear vocals, which add an interesting although unexpected touch to the song. Following another straight-forward track, 'Down To Nothing', the album ends with another instrumental. Towards the ending, the album appeared lengthy and could have somewhat been compressed. Nevertheless, 'War Eternal' marks a solid record and constitutes a step in the right direction for ARCH ENEMY.
Tracklist

01. Tempore Nihil Sanat (Prelude In F Minor)
02. Never Forgive, Never Forget
03. War Eternal
04. As The Pages Burn
05. No More Regrets
06. You Will Know My Name
07. Graveyard Of Dreams (Instrumental)
08. Stolen Life
09. Time Is Black
10. On And On
11. Avalanche
12. Down To Nothing
13. Not Long For This World (Instrumental)
Line-up

Alissa White-Gluz – Vocals
Michael Amott – Lead Guitars
Nick Cordle – Lead Guitars
Sharlee D'Angelo – Bass
Daniel Erlandsson – Drums
Website

http://www.archenemy.net
/
http://www.facebook.com/archenemyofficial
Cover Picture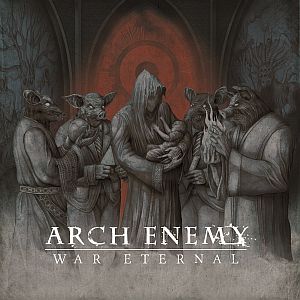 Rating

Music: 7
Sound: 8
Extras: -
Total: 7.5 / 10
See also (all categories):