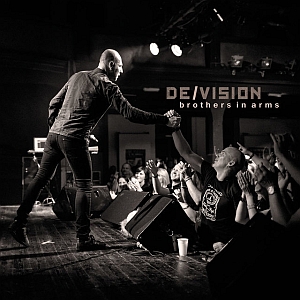 Artist: De/Vision
Title: Brothers In Arms
Genre: Synth Pop
Release Date: March 2014
Label: Popgefahr Records / Soul Food
Single Review

A new single of DE/VISION is always an event in itself… and since the 2007 'Best Of', always a good surprise. This one is meant to promote the Live DVD, but most of all, a gift for their fans as both, the live DVD and this Maxi CD, are only available for all of those who pledged on the project. This CD consists of six tracks: the Radio version of 'Brothers In Arms', three remixes, the live version and two B-Sides.
'Brothers In Arms' is a pure danceable DE/VISION hit single. It confirms the gift of the duet to compose some instant pop hits with very catchable choruses and great synth gimmick. The 2nd track is the 'Extended Version', in the pure old style meaning: Extending the listening pleasure with no additional production. 'The Hand We've Been Dealt' will certainly reminds a lot the beat of 'Dead Of Night', but the comparison ends there. This is a very minimalistic electro track with some very nice analogic sounds. A very nice track indeed. 'Damaged Goods' is an slow tempo instrumental, very hypnotizing, reminding me a bit of their early days melancholia with a contemporary electro sound.
Back to 'Brothers In Arms' then with the 'Rob Dust Remix'. Destined to dance clubs, the remix remains faithful to the spirit of the song. Danceable production without ruining the song... this is all I ask of a dance mix. The 'Torul Remix' that follows is a little more elaborated with strong basses and kicks or vocoders parts. Very nice indeed. And to end it all, the live version taken from the DVD (good thing as it's not on the live bonus CD). The song has clearly the potential to become a live classic of the band... and why not to end up in the next album, certainly in a different version, just like they did for 'Flavour Of The Week' and 'Love Will Find A Way'...
To sum it up, nothing to leave behind on this CD. Too bad there's no proper release for the moment as it would have certainly hit the charts in the Top 10, but after all, this was the purpose of the all project: something between the fans and the band. Which demonstrates the respect the band has for their fan base by providing high quality. Available only at
http://www.pledgemusic.com/projects/devisiontourdvd
Tracklist

01. Brothers in arms (Radio Version)
02. Brothers in arms (Extended Version)
03. The hand we've been dealt
04. Damaged Goods
05. Brothers in arms (Rob Dust Remix)
06. Brothers in arms (Torul Remix)
07. Brothers in arms (Live 2013)
Line-up

Steffen Keith – Vocals
Thomas Adam – Vocals and Keyboards
Website

http://www.devision-music.de
/
https://www.facebook.com/pages/DEVISION/24741337633
Cover Picture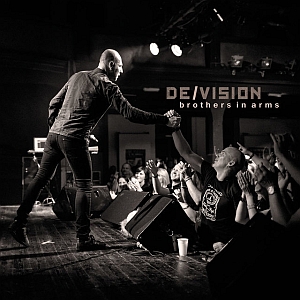 Rating

Music: 9
Sound: 10
Total: 9.5 / 10
See also (all categories):