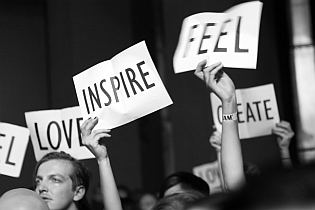 Sentrum Club, Kiev, Ukraine
2nd March 2016
IAMX Kiev: Wine, Glam, Rock and Dark Theatre

On March 2nd, Kiev plunged into the atmosphere of fabulous decadence – in the Sentrum club as part of their European tour, iconic electronics, rock band IAMX, which long ago became a real discovery of European underground music, has performed.
During the artistic career, the band gave concerts in Kiev already several times and repeatedly performed at such progressive and colourful festival of Ukraine like Stare Misto Festival in Lvov. Every visit of IAMX at Ukraine is a stunning success with unforgettable emotions! This time was a complete sell-out. Two weeks prior to the arrival of IAMX in Kiev, all tickets for the upcoming show were sold. And around the same time, the musicians presented their new video for the song
'North Star'
. IAMX is a truly a "musical revolution": the grace of a black cat, passion, sex, intelligence, stylish and imaginative stage costumes, masks, glam, elegant, logic, imagination, gloomy theatre and melancholy, synth-pop, rock, mysticism, expression in a shadow of circus tents. And behind it all stands a heavy, hard work. Mr Corner (Mister X) makes everything himself! He writes songs, arrangements, lyrics, creates video clips, sews costumes, designs merch for his boutique. The current members of IAMX are Chris Corner (vocals, keys, percussions) Janine Gezang (keyboards, bass, backing vocals), Sammi Doll (keyboards, backing vocals) and Jon Siren (drums).
http://www.iamxmusic.com
/
https://www.facebook.com/IAMXOFFICIAL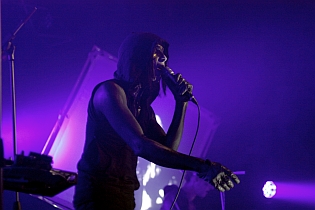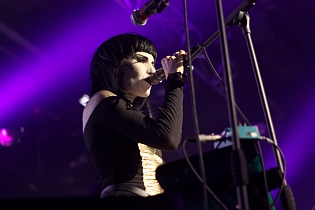 Music & Performance
"My shows is something like glam orgy in cabaret decorations. The sea of emotions, smart gestures, Japanese porn, sweat and tears"
, Chris said once in an interview. So, my dear reader, let me take you by the hand and spend some hours in a magical theatrical IAMX world, the world of dark glamour, madness, sophistication and rock, a part of which we were on March 2nd in Sentrum club. In the semi-dark hall with dimly burned lights, the audience impatiently chanted for IAMX and clapped their hands. After some time an invisible curtain was drawn and the mysterious and extraordinary musicians took over the stage, headed by the ship's captain - Chris Corner. The dark performance began with the song 'I Come With Knives' and the audience immediately caught a wave of madness. Chris was dressed in a new costume and a big black hat with feathers, as if he had just returned from the gothic Brazilian carnival. After 'I Come With Knives', such compositions like 'The Alternative', 'Happiness', 'No Maker Made Me', 'Tear Garden', 'Oh Cruel Darkness Embrace Me' followed. If we reason about the features of the IAMX project, it can be said that Chris managed to create his own mysterious world of sounds, style and video-visualisation unlike anyone else, as in the past it was successfully done by world-famous synth-pop idols DEPECHE MODE.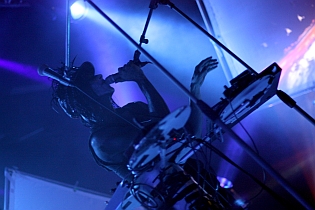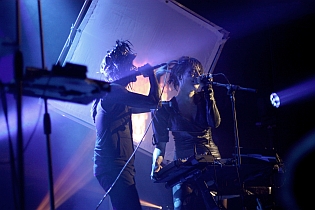 It was incredibly nice to hear some of my long-time favourites as 'Spit It Out' and 'Nightlife'. Charismatic Chris - as always in his repertoire - impetuously danced, amused the audience, flirted with beautiful Madam Gezang and Sammi, and drank red wine. Songs of IAMX are a colourful variations of synth-pop, emotional, and sometimes tragic, melancholic ballads, rhythmic and fascinating. Who are you Mister X? A dark magician? A dreamy sky watcher? A gallant shaman? A sexy rock-revolutionist? Or maybe a touching and tragic Master (novel "The Master and Margarita")? Nothing attracts so much as understatement and mystery. Because you want to ask, open, see, touch and be a part of the performance. During the songs 'Insomnia' and 'North Star', diligent Kiev fan club of IAMX has prepared an amazing flash mob: all participants unanimously and fervently chanted THANK YOU, and at the end of songs synchronously raised clean sheets of paper with the words PLAY, LOVE, LIVE, LOUGH, INSPIRE, FEEL, DREAM, etc. It was very cute and beautiful. Chris was very touched and even went down on his knees in front of the audience as a sign of his piety and gratitude to Ukrainian fans. Then sounded 'Aphrodisiac' and 'Your Joy Is My Low'. And an entr'acte began. An IAMX performance is more than a concert; it's as if you like artists being on the shooting area, border lights falls on you, the next take comes very soon, and the Earth begins to rotate faster at this moment. This is the absolute interaction.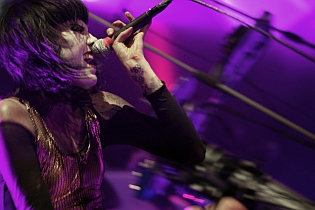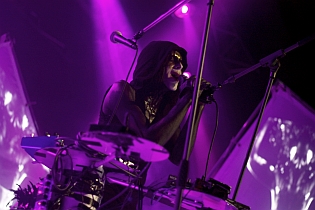 After entr'acte, the show continued, and the musicians came out twice for an encore and played such songs like 'Kiss + Swallow', 'I Am Terrified' or 'Bring Me Back a Dog'. I know that many wanted to hear 'Mercy', but this time, unfortunately, the band didn't play this track. IAMX bowed to the audience, sending kisses at to all. The invisible curtain was slowly descended. The performance came to an end. I would also like to tell about my acquaintance with the sweet little black angel, emerging in front of me out from the fog and darkness of the hall before the show. This amazing girl came to the IAMX concert from Lvov, where she lives and works as a political science teacher. Svetlana has sold behind the scene picture for Chris, which she drew with oil for two months. The picture is really very beautiful! I hope that it was delivered to the band. This fact proves once again that IAMX is dearly loved and appreciated in Ukraine. They are always welcome guests here. So we are waiting for new songs, videos, albums and new IAMX visits to Kiev! THANK YOU! YOU ARE REAL, YOU ARE GOOD!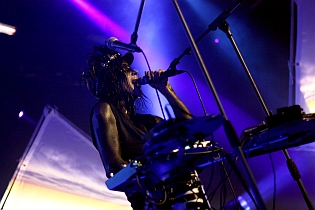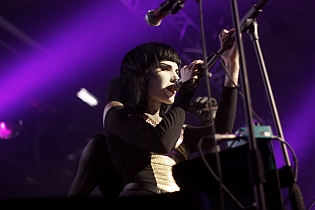 Setlist

01. I Come With Knives
02. The Alternative
03. Happiness
04. No Maker Made Me
05. Tear Garden
06. Oh Cruel Darkness Embrace Me
07. Spit It Out
08. Nightlife
09. Insomnia
10. North Star
11. Aphrodisiac
12. Your Joy Is My Low
---
13. Kiss + Swallow
14. I Am Terrified
---
15. Bring Me Back a Dog
Rating

Music: 10
Performance: 10
Sound: 10
Light: 8
Total: 9.5 / 10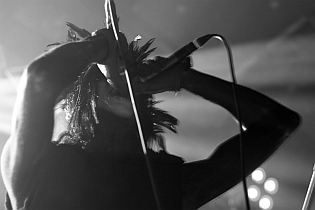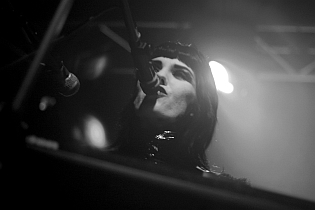 All pictures by Iryna Kalenska
The Russian version the article can be found here:
http://gothic.com.ua/Events/Reportages/3219.html
See also (all categories):