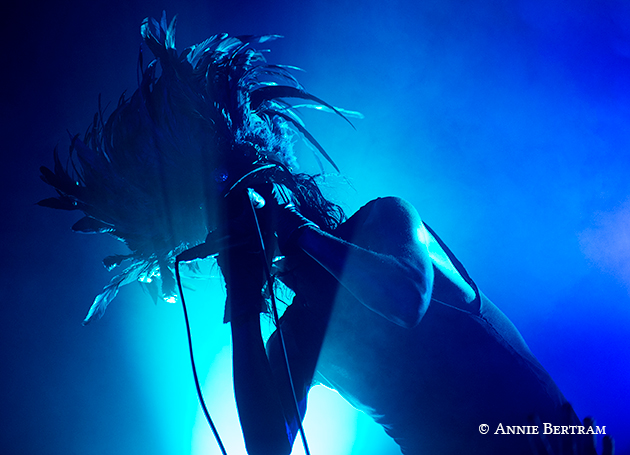 Schüür, Lucerne, Switzerland
2nd November 2016
IAMX - Everything is Burning Tour

After releasing 'Everything is Burning' Metanoia Addendum mini album, including seven brand new and nine remixes from 'Metanoia' CD, on September 2nd 2016, the time was right for a six week long IAMX Europe tour. Exactly two months after the release they stopped at our cosy club Schüür in the heart of Lucerne, one of the most beautiful cities of Switzerland. A perfect combination along with IAMX and their unique and emotional music.
IAMX is the solo project of Chris Corner who started his musical career as founding member of SNEAKER PIMPS in the 90's. In 2004 the critically acclaimed debut album 'Kiss + swallow' was released. Chris describes this project as his public therapy with which he can explore parts of his personality, connect with the world, pour his heart out and dance at the same time. And all this is reflected in the music he creates. Originally London based he lived and worked on his music for several years in Berlin. But battling with health issues like depressions, despair and insomnia that even made him consider to give up making music, lead him to the decision to move to the sunnier Los Angeles, USA, which helped him to overcome his issues and recharge. His struggle, the recovery, the regained energy and zest for life can be clearly found on his current album 'Metanoia', his sixth studio album, which was released in October 2015. For the live shows multi- instrumentalist Chris is supported by Janine Gezang (keyboards, bass, vocals), Sammi Doll (keyboards, vocals) and Jon Siren (drums).
http://iamxmusic.com
/
https://www.facebook.com/IAMXOFFICIAL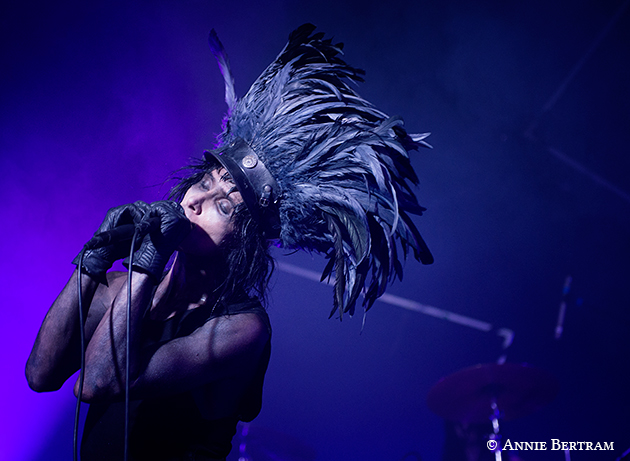 Music & Performance

Since the location of Schüür is very cosy and looks like an old attic - it looks like that the audience can expect a very close and private concert. Punctually at 9 pm (no support band played this evening) IAMX hit the stage with 'No Maker Made Me'. Four screens where installed on stage showing impressive, and sometimes disturbing video-clips. LED stripes framed the artists with their lights: Chris in the middle with two microphones equipped and beautiful and sexy dressed Janine and Sammy in black lace and Jon in the back on the drums. The party started immediately from the first moment on and everybody was dancing, singing and of course screaming. It seemed to be no border between the stage and the audience, Chris and his ladies touched hands with the fans and interact with them. The concert was like a journey through all albums of the band and all their hits very often in new versions/ style. I just wished that concert would never end. Overwhelmed by the clear voice of Chris and its emotions and messages right into the heart and the sound right into the legs. After one hour the first block was over. But the audience won't them let go, we just wanted more of the IAMX-Feeling. All people in the house screamed for more.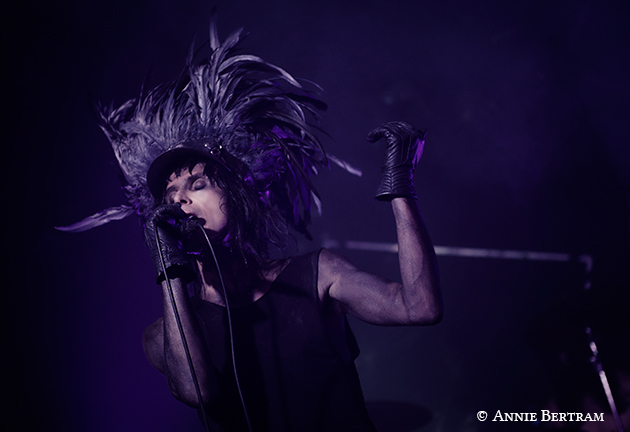 And they came back "with knives" for five more songs. After 'This will make you love again' we just fell back into reality - going back home in the autumn rain but with the happiness of IAMX in our hearts.
Setlist

01. No Maker Made Me
02. Happiness
03. Nightlife
04. The Unified Field
05. Everything Is Burning
06. Screams
07. U Stick In Me
08. Spit It Out
09. Insomnia
10. North Star
11. Aphrodosiac
12. Kiss & Swallow
---
13. I Come With Knives
14. The Alternative
15. Oh Cruel Darkness
16. Bring me back a Dog
17. This Will Make You Love Again
Rating

Music: 10
Performance: 10
Sound: 10
Light: 8
Total: 9.5 / 10
All pictures by Annie Bertram (
http://www.anniebertram.com
)
See also (all categories):