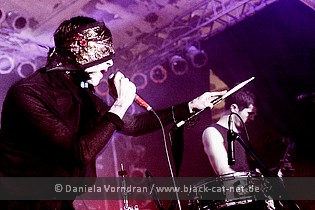 Essigfabrik, Cologne, Germany
8th April 2011
IAMX, Noblesse Oblige

IAMX in Cologne. Last time we had that pleasure I witnessed with my own eyes how even the Cologne audience could go berserk to a live show. Now, and after the release of the new album 'Volatile Times', Chris Corner and company were paying Cologne another visit and as expected the place in front of the venue was pretty crowded.



Noblesse Oblige

Ex-London, now Berlin based duo NOBLESSE OBLIGE was formed in early 2004 by German songwriter / producer Sebastian Lee Philipp and French performer-cum songwriter / chanteuse Valerie Renay after meeting at a masked ball in Hoxton during which Valerie was performing a live art show. Already two years later the band releases their first album 'Privilege entails Responsibility', the French translation of the band's name; and became quite a success, comprising the two singles and club hits 'Bitch' and 'Daddy (Don't touch me there)'. After relocating to Berlin the two started working on the follow-up album 'In Exile. The newest album 'Malady' came out in 2010. http://www.noblesseoblige.co.uk/ / http://www.myspace.com/noblesseoblige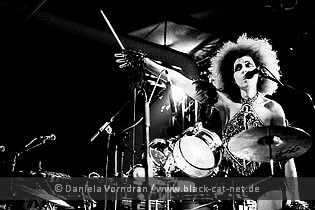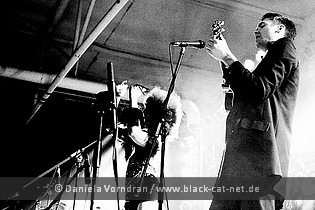 Music & Performance
Actually I thought there wouldn't be so much interest in this evening's support band NOBLESSE OBLIGE. Not because they'd be bad but people tend to wait out a support band frequently and just rush in to the main band's start. NOBLESSE OBLIGE had something visually appealing to offer apart from the music, and I guess that's what made people stay inside. Mister Philipp dressed like an early gentleman and Ms. Renay at the time having something enigmatic to her, walked in and started with a placid oeuvre named 'Equinox', the next one 'When Thunder Breaks Up Under' bringing forth deepest, blackest blues roots with a modern electronic twist. There was a latent mystical aura in their songs that had this "banning" effect on the people. The quite short set ended with 'May They Come With Spears And Knives' to a warm applause.

Setlist
01. Equinox
02. When Thunder Breaks Up Under
03. Tropical Fever
04. The Great Electrifier
05. Beck And Call
06. Sambo
07. May They Come With Spears And Knives

Rating
Music: 7
Performance: 7
Sound: 7
Light: 7
Total: 7 / 10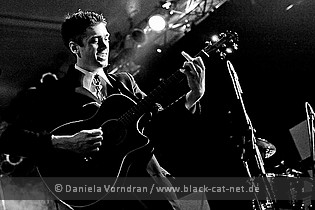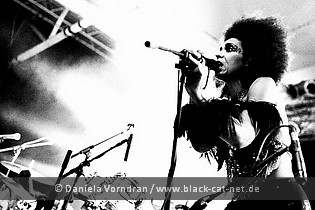 IAMX

Following a series of albums with SNEAKER PIMPS, Chris Corner started IAMX as his solo project in 2003. Corner produced the IAMX debut 'Kiss + Swallow' (Recall records, 2004) in his home studio and the follow-up 'The Alternative' (Major Records, 2006) in his new domicile in Berlin, Germany and now after a seemingly endless time span IAMX returned with the third album 'Kingdom of Welcome Addiction' in May 2009 off which the band was already presenting several songs live on various festival dates to be followed now by an extensive club tour. In March 2011, the band released their newest effort with 'Volatile Times'. IAMX live is Chris Corner (vocals), Janine Gezang (keyboard, guitar, backing vocals), Caroline Weber (drums) and Alberto Álvarez (guitar, bass, percussions, backing vocals). http://iamx.eu/ / http://www.myspace.com/iamx

Music & Performance
Welcome to the shadow cabinet of IAMX. Actually, you should've known what would come and we all expected darkness on stage. I mean, it's IAMX we're talking about, but eventually when the band appeared to deafening screams from the audience with 'Music People' the best you could get was shadowy figures rapidly moving on stage in an erratic fashion as they always do. A short "I can't hear you" from Chris drove people wild before the new album's title track 'Volatile Times' unleashed its edgy, swaying rhythms and a glimpse of light fell on faces on stage for a tiny moment, long enough to witness mimics in the dim. Right in time for 'Nightlife' there was actually something to call light and contours shaped out of the black finally. It still wasn't much but at the time you couldn't hope for anything better than that. While that track surely made the blood boiling, it was 'Ghosts Of Utopia' that got a spark across turning a switch to movement. The live version has so much more urgency and power than its studio pendant it's astonishing. We were visiting the 'Secret Friend' next; then it was rain falling down so an umbrella was necessary on stage.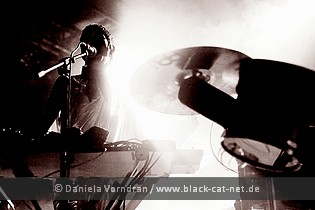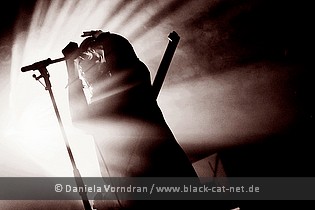 In the further course of 'Tear Garden', Chris elegantly swung the umbrella to the daring waltz on the brink of depression. A special visual treat came with Chris wearing a veil during 'Fire & Whisper' like a ghost. Some of the kick-ass tracks, simply belonging to an IAMX live gig were kept for a later time like 'Think Of England' on a comparatively bright illuminated stage with a crowd taking literally off as on the savage 'Bring Me Back A Dog'. On these occasions it was Janine, more than Alberto getting into a frantic state and dragging all the attention to herself for a few moments while riling up the audience. Two classics with 'Kiss And Swallow' and 'President' topped off the main set. Since the stage remained dark and the applause wouldn't cease the band's return soon followed with 'The Alternative', an adrenaline steeped composition you could spot several people jumping to. The rarely played 'Skin Vision' and one of my absolute favourites 'Spit It Out' marked the show's end.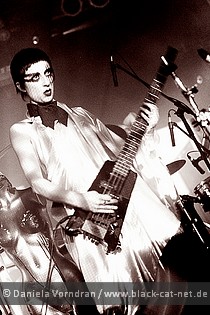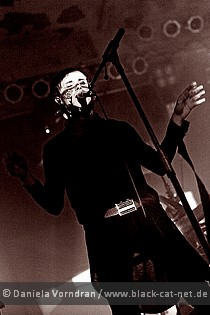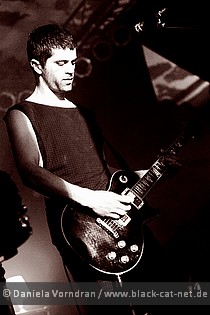 Many people looked very happy about the show upon leaving; others expressed criticism about a lack of power at certain points of the show that I second. They've done better in the past with all due credit for the energy they unleashed this evening. The reason they lowered things here is either they couldn't do it like that anymore or didn't want to in order to save energy for the next shows which I think is more likely.

Setlist
01. Music People
02. Volatile Times
03. Nightlife
04. Ghosts of Utopia
05. My Secret Friend
06. Tear Garden
07. I Salute You Christopher
08. Fire & Whispers
09. Think Of England
10. Bring Me Back A Dog
11. Nature Of Inviting
12. Cold Red Light
13. Kiss and Swallow
14. President
---
15. The Alternative
16. Skin Vision
17. Spit It Out

Rating
Music: 9
Performance: 8
Sound: 8
Light: 6
Total: 8.1 / 10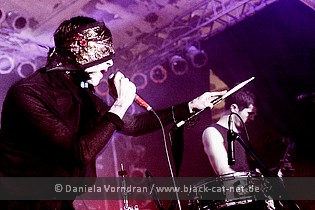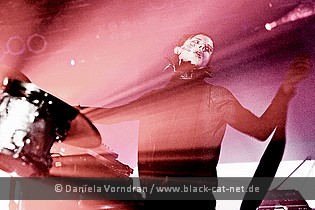 All pictures by Daniela Vorndran (http://www.vorndranphotography.com / http://www.black-cat-net.de/ / www.myspace.com/vorndranphotography / www.facebook.com/blackcatnet)



See also (all categories):