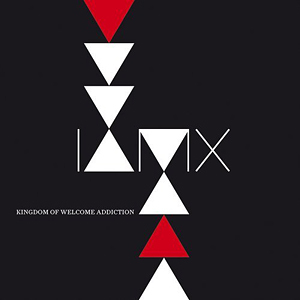 Title: Kingdom of Welcome Addiction
Artist: IAMX
Genre: Electronic
Release Date: 22nd May 2009
Label: 61 Seconds / Subspace Communications
Album Review

After series of albums with SNEAKER PIMPS, Chris Corner started IAMX as his solo project in 2003. Corner produced the IAMX debut 'Kiss + Swallow' (Recall records, 2004) in his home studio and the follow-up 'The Alternative' (Major Records, 2006) in his new domicile in Berlin, Germany and now after a seemingly endless time span IAMX returns with the third album 'Kingdom of Welcome Addiction' in May 2009.
Welcome to the 'Nature of Inviting' that cuts to the surface first and presents us a bare, metallic rhythm structure and warped guitars to lend some melody but the most spectacular instrument is Chris' voice that lures, tries to seduce us while going through the complete bandwidth of possible and impossible pitches. Let me now invite you to the 'Kingdom of Welcome Addiction' to a daring dance with your partner for this evening Chris Corner; a dance that always seems being along the abyss while one's being embraced by the symphonic elegance of a luxurious texture and a rhythm somewhere between a faster diversion of a waltz and the fiery attitude of a Latin dance that gives the beat. From there on our way leads us straight into the 'Tear Garden' decoyed by massive drum beats and before we know it the sorrowful aura of its atmospheres encompasses all our senses and Chris' soulful but utmost melancholy-laden vocals protrude directly into your soul supported by the lamenting play of violins roving around in the background. 'I Am Terrified' glows darkly and sends out a plaintive stream of loneliness as the protagonist of this song must feel it. He's like an observer. Detached, only blending into the nightlife once in a while for some tentative sex to return to his lonely position afterwards!
A deep ballad is awaiting the listener here. Carefully gliding onwards on rhythmical soundscapes of slowly executed, reverberating drums and heart-rendering modern classical melodies but the real strength of 'I Am Terrified' undoubtedly is its chorus building from a tender and fragile vocal styling to a final eruption of emotions giving one the feeling of being able to hear tears running down Chris's face while singing this part; or is it that just a too vivid imagination? Now let's continue with a tune most IAMX devotees will already be familiar with: 'Think of England' building up on a cluster of driving beat pulses, it's unashamedly catchy while bearing a straight sense of urgency and dramatics at the same time. Again the elegance of classic instrumentation ventures into a collaboration with the precise technical nature of straight electronics to give us a first class theatrical spectacle with 'The Great Shipwreck of Life' you can nearly see Mr. Corner parading over the stage in full rig while performing the incredible chorus. The matchless beauty of the closing ballad 'Running' can be hardly clothed in words. Concealment and sadness mix up inside the fabric of melodies enveloping beats sounding like tripping footsteps always giving you the feeling of moving away from a close emotional bond into the doubtful freedom of a single being "I must always run the race on my own…"
It's really hard to pick a favourite tune on 'Kingdom of Welcome Addiction' as they're all having their respective qualities and in each and every song you can feel how deeply intertwined the artist's soul is with his music and therefore it's absolutely reasonable that he's angry and disappointed if somebody - supposedly a member of the press - spread the album online many weeks prior to its actual release date. That is showing absolute disrespect in the work of the affected artist and we can only condemn the one who's responsible for that. The album is the best what IAMX has delivered so far and everybody who downloaded it should at least have the decency to buy it if they liked it. That should be a matter of course, unfortunately it seems like this isn't the case everywhere anymore.
Tracklist

01. Nature of Inviting - 4:16
02. Kingdom Of Welcome Addiction - 4:35
03. Tear Garden - 4:56
04. My Secret Friend (Ft. Imogen Heap) - 4:06
05. An I for An I - 3:56
06. I Am Terrified - 4:58
07. Think of England - 3:41
08. The Stupid, the Proud - 4:28
09. You Can Be Happy - 4:42
10. The Great Shipwreck of Life - 4:17
11. Running - 4:35
Line-up

Chris Corner
Website

http://iamx.eu/
/
http://www.myspace.com/iamx
Cover Picture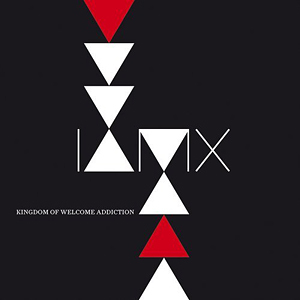 Rating

Music: 9
Sound: 9
Extras: -
Total: 9 / 10

{jos_sb_discuss:19}

See also (all categories):