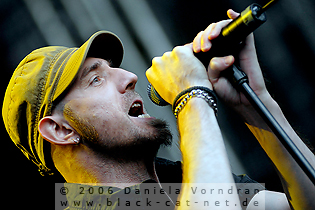 Schattenreich-Stage, Bochum, Germany
15th and 16th July 2006
Sunday, 16th July: Liv Kristine, Secret Discovery, I AM X, De/Vision
The fourth day of "Bochum Total" started as sunny as the day before. It was only a little warmer and later on the bands on the "Schattenreich-stage" had to suffer a lot in the sun.  To the final on Sunday four more bands entered the "Schattenreich-stage": Liv Kristine, Secret Discovery – Bochum's local heroes - , I AM X and De/Vision. The room in front of the stage was filled very well just for the first band and this promised a very nice concert evening where my personal favourites were I AM X.
Liv Kristine


Liv is a musical jack-of-all-trades. Most of the people still link the name Liv Kristine with her former band 'Theatre of Tragedy'. With her new band 'Leaves' Eyes' (which was playing the "Schattenreich-stage" a year before) she sets another cornerstone in her musical career. In spring 2006, she released her second solo album 'Enter my Religion'. The twelve songs show Liv as a matured artist with a very personal Pop-sound, Goth-Rock attitudes and folk arrangements. On stage she's supported by an international band. The live line-up is: Liv Kristine (vocals), Moritz Neuner (drums & percussion), Thorsten Bauer (guitars, saz, mandoline & sitar), Timon Birkhofer (bass, piano) and Dimitrios Argyropoulos (oud, bouzouki & tzoura).
http://www.livkristine.de/
/
http://www.myspace.com/livkristinekrull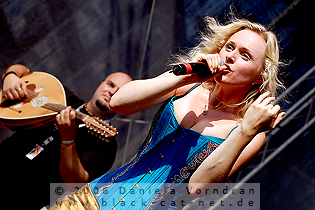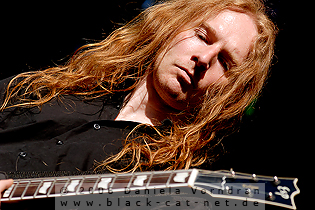 Music

The solo work of Liv Kristine delivers not the expected metal songs but atmospheric and elegy pop songs. She takes you to her dream-world with fantastic melodies, soft ballads and fresh pop hits. Highlight of her first album 'Deus ex Machina' was the duet '3am' with Nick Holmes of 'Paradise Lost'. This song was played also during her set at "Bochum Total". Duet partner was bass guitarist Timon Birkhofer. Also the title song of the debut album caused excitement within the audience. The songs of the recent album wear the signature of a personal pop-sound with Goth-Rock tunes and some folk arrangements. Ballads and up-tempo songs alternate. Especially the single 'Fake a smile' or the wonderful Bruce Springsteen cover version of 'Streets of Philadelphia' were favourites of the people in front of stage during the early Sunday evening. The opener of her set 'Over the moon' started with heavy guitars – but they faded soon and a drifting pop-song with a catchy hookline was unveiled. Over all the music stands Liv's tender voice which was in best condition during the show.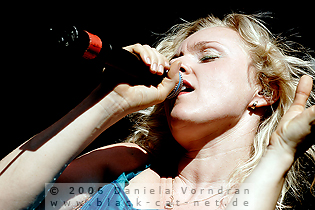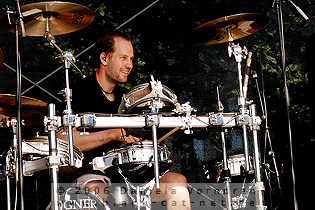 Performance

In direct hot sun the band entered the stage. Liv was wearing a wonderful blue corsage and a long golden skirt. After a while she mentioned the she's dressed totally wrong for those temperatures. A bikini – of course in black – would have been much better. This statement was happily acclaimed by mostly male visitors – I guess they would have loved seeing Liv in such an outfit. The whole show was mainly based on Liv's appearance – understandable because it's her solo work. After the soft and gentle 'Streets of Philadelphia' she mentioned that it's really hot and they should play something slower; a ballad. But no – something faster would be better and so 'You take me higher' started which was followed by the slower 'For a Moment'. When the show was finished with '3am' the audience was screaming for more. Unluckily an encore could not be given.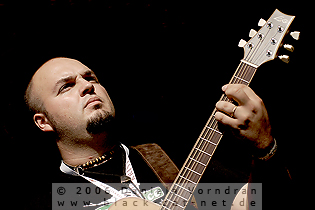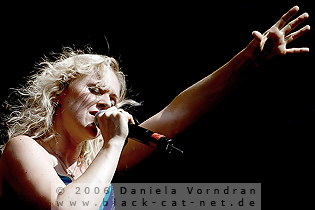 Setlist

01. Intro
02. Over the Moon
03. My Revelation
04. Fake a smile
05. Deus ex Machina
06. Streets of Philadelphia (Bruce Springsteen Cover)
07. You take me higher
08. For a moment
09. Trapped in your Labyrinth
10. 3 a.m.
Rating

Music 8
Performance 7
Light – (daylight)
Sound 7
Total 7 (7.47)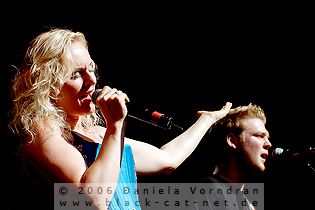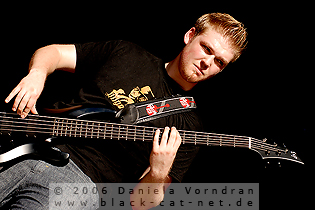 Secret Discovery


'Secret Discovery' – that's dark rock. After the success of the 2004 album 'Pray' and the enthusiastic reactions according the few gigs the band played, the boys were really motivated again for the recent album 'Alternate' which was released in February 2006. Lyrically and musically the band has moved forward. But still there are heavy guitars and catchy keyboard sounds within the charming voice of Kai. The new songs were tested before as support act during the 'Unheilig' tour (see our report from Krefeld). 'Secret Discovery' are: Kai Hoffmann (vocals), Falk Hoffmann (guitar), Ramses Razmjoo (guitar), Dirk Riegner (keyboard), Martin Hirsch (bass), Mattes Glathe (bass) and Lars Graebe (drums).
http://www.secret-discovery.de/
/
http://www.myspace.com/secretdiscovery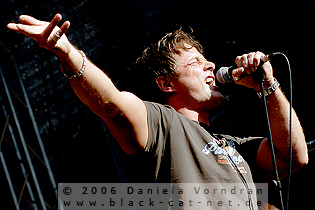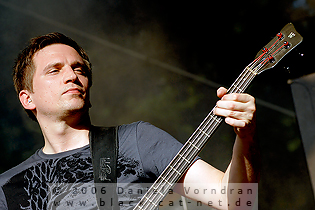 Music

With eight out of ten songs, the main issue of the set were the last both releases 'Pray' and 'Alternate'. The band started with 'Away' and 'Lass mich los' out off 'Alternate'. The new songs are more poppy than the older ones. 'Away' reminds a bit of David Bowie – musically and according to Kai's voice – and this is meant as a compliment. With 'Sieh nicht zurück' a song from the antecessor 'Pray' followed. The chant of 'Nichts ist mehr wahr' reminds a bit of "Rammstein" on CD, but it was pure 'Secret Discovery' on stage. With 'Down' and 'I turn to you' more hits from 'Pray' followed. Latter one is a cover version of Mel C.'s song – a really good one. The whole set was marked by Kai's charismatic deep and melodic chant, the extremely good and contemporary guitar play of Falk and Ramses, decent keyboard sounds and a solid and well accentuated rhythm landscape presented by Martin and Matted as well as Lars on drums. Towards the end of the set, the audience received the hit 'Hello Goodbye' and the always celebrated Billy Idol cover of 'Rebel Yell'. All in all the newer songs go a bit too much into the mainstream direction. The old power and the disturbing guitars were missed a bit.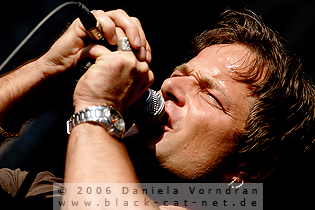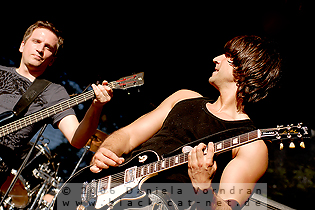 Performance

Today the band played in their home town – the second time on this "Bochum Total" after the gig in the "Sachs" bar – and you could see the joy and passion they brought on stage. At the beginning Falk still was playing the "cool guy", but he was expressing himself more and more during the set and towards the end his counter play with Ramses was pure joy to watch. Dirk behind the keyboard in the back left corner was again smiling a lot (like on the day before with 'Melotron') and sung with visible passion. And what to say about Kai? Who has ever seen a 'Secret Discovery' gig knows, what charisma this guy has. People were cheering a lot up to him. He and his twin Falk really know, how good they look in they eyes of several girls and so they naturally played with their look. Lot's of girls were surely hoping that they undress in the heat as Medusa, the moderator of the stage, was hoping before. Sadly they did not do that favour. But who cares after this really expressive and passionate gig?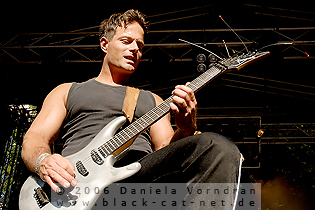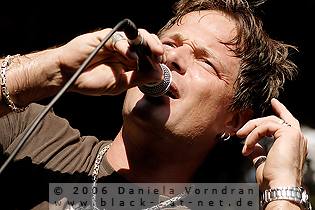 Setlist

01. Away
02. Lass mich los
03. Sieh nicht zurück (Tanz mit mir – remix)
04. Nichts ist mehr wahr
05. Down
06. I turn to you (Mel C.)
07. Mein kleiner Tod
08. Hello Goodbye
09. The same way
10. Rebel yell (Billy Idol)
Rating

Music 6
Performance 9
Light – (daylight)
Sound 7
Total 7 (7.3)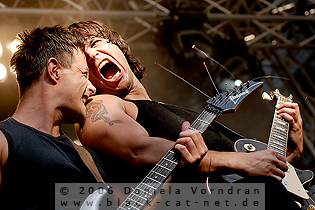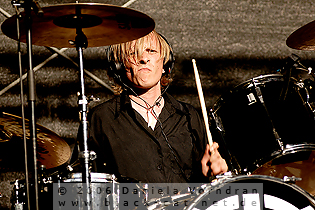 IAMX


Welcome Ziggy Stardust jr.! 'IAMX' is the current project of ex-'Sneaker Pimps' singer Chris Corner who is living in Berlin right now. He can look back to collaborations with 'Sophie Ellis Baxter', 'Placebo' and 'Marilyn Manson' and was touring with such famous bands as 'Beck', 'Blur', 'Duran Duran' and 'David Bowie'. Under the name 'IAMX' he just released his second album 'The Alternative'. This album is euphoric, sensual and  excessive with an irresistible pop appeal and the right amount of Electro-Glam attitude. No wonder that every song and every live performance becomes an adventure.
http://www.iamx.co.uk/
/
http://www.myspace.com/iamx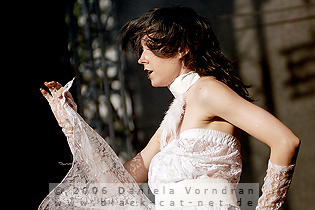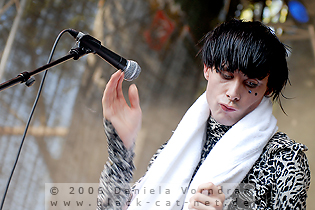 Music

The set of the evening was a really well balanced mix of songs out off both albums – 'Kiss and Swallow' and 'The Alternative'. The two title tracks have been played at the very beginning of the set. Even though 'IAMX' is mainly a solo project, the live line-up got extended by a guitarist, a very nice and likeable girl behind the drums and a gorgeous white fairy behind the synthesizer. Second voices are added by the keyboardist (i.e. during 'You stick it in me') and guitarist. The sound is a mix of pure electro beats, funk and punk-rock with a big portion of glam. The songs are dark, sarcastic and neurotic with a lot of pop appeal. Really remarkable are the musical diversity, the charismatic chant and the inventiveness in Chris' music. Trembling beats ('The Alternative' and 'Nightlife) were meeting waltz ('President'), fleet-footed pop ('Spit it out') and demanding rock ('The Negative Sex'). The songs out of the new album were really special and showed the development in Chris's output. But back to the songs of the first release. The second song of the evening – 'Kiss and Swallow' was mixing Electro with pure Rock. 'Missile' in the middle of the set from the debut album impressed with its deep melancholy and the sacral indications. All over the set, Chris' voice was bacchanal, tragic and a bit feminine.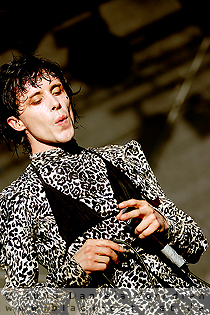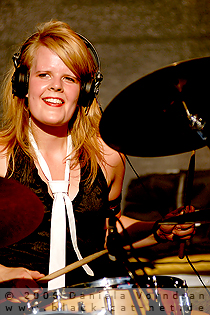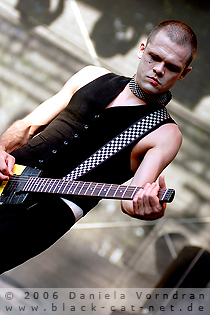 Performance

Not only the music of 'IAMX' is remarkable. The show is a real adventure. Chris himself draws the eyes of the audience very much on him with his partly feminine attitude – for example when he put on a bra over his shirt. Several times he asked for a drink and because of the heat he was pouring the contents of his glass over his head. During 'Skin Vision' Chris was playing a strange styled guitar and for the song 'President' he was grabbing a drum stick end hit the bass drum from the front like a berserk. While he was very expressive on stage, his guitarist was very cool and reluctant – until the last song when he went down on his knees to play on the floor. And there was some counter play between the both boys too when Chris too his microphone cable to retch the guitar player who was continuing playing his instrument in his cool way. But there were also two girls on stage. First of them was the lovely blonde vamp behind the drums who was constantly smiling while hitting her instrument. Secondly, there was the white dressed keyboard-babe who also took over the job of dancer and backing singer. She was really expressive too in her movement – no matter if she was dancing or hitting the keys. The whole show was eye and ear candy. If you ever have the chance to see 'IAMX' on stage – don't hesitate! Just do it!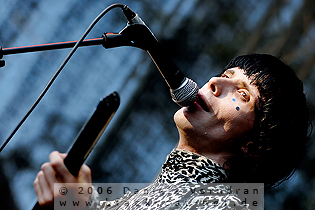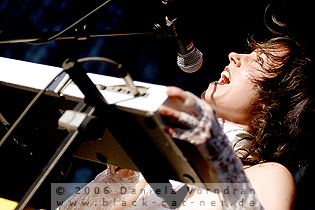 Setlist

01. Intro
02. The Alternative
03. Kiss & Swallow
04. Bring me back a Dog
05. Skin Vision
06. The Negative Sex
07. President
08. Missile
09. You stick it in me
10. Nightlife
11. Spit it out
Rating

Music 9
Performance 9
Light – (daylight)
Sound 8
Total 9 (8.8)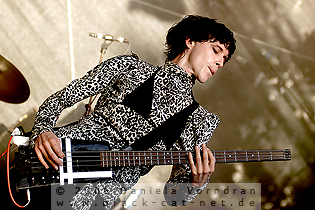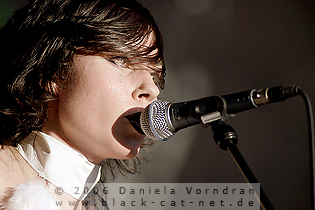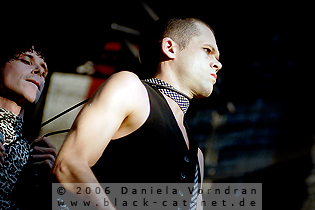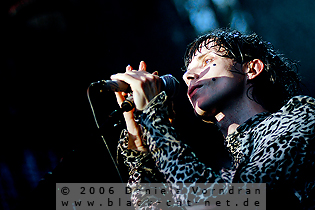 De/Vision


'De/Vision' – that's Synth-pop that goes under your skin. Since their foundation, 'De/Vision' can look back to a remarkable career and development. Recently, one of Germany's most successful Electro-Pop-acts came back with the new album 'Subkutan' what means as much as "under your skin". The band always stands for strong albums which impress through stability and straightness. 'De/Vision' are Steffen Keth (vocals) and Thomas Adam (keyboard). On stage the band is supported by two live musicians on guitar (Lars Baumgardt) and drums (Markus Köstner).
http://www.devision-music.de/
/
http://www.myspace.com/devisionmusic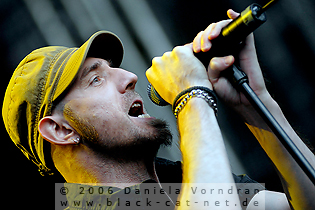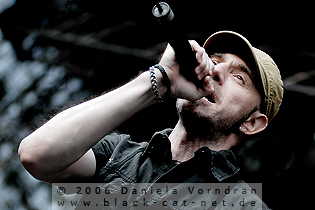 Music
Like expected, the set was based on songs from the current album 'Subkutan'. The opener 'Subkutan' and 'The End' presented a quite new development in 'De/Vision's' sound: trance layers – not that innovative today anymore. Nevertheless the songs work and present nice Synth-pop. 'I'm not enough' from the album '6 feet underground' presents the old charm of 'De/Vision' songs and reminds of 'World without End'. Besides several songs out of the recent album the band presented also some of their greatest hits: 'Your hands on my skin', 'Strange affection' and 'I regret'. Musically the band presented a solid show where also smaller sound problems did not really count.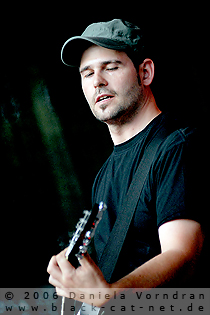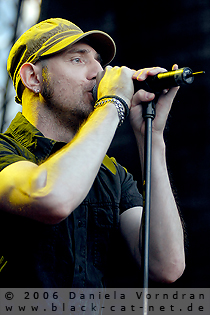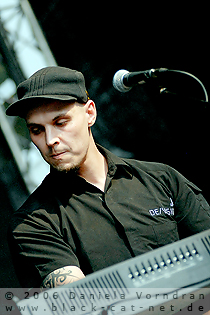 Performance

It's really a crux with 'De/Vision' performances – sometimes they are great and sometimes mainly boring depending where they play. I have seen intoxicating shows in smaller clubs and terrible ones on festival stages. The performance at "Bochum Total" belonged to the more boring ones. I cannot really mark it on a certain point. The band looked uninspired and a bit bored itself. Steffen brought all the same verdicts we know from so many shows. Also his dancing I found a bit bothering after a while. And I was not the only one. People were even leaving the show in the middle of the set. Highlight were the few old songs where people went more excessive and clapped and sang along. Good that it slowly went darker so you could at least enjoy some kind of light show which only took place behind the band where nevertheless some smoke combined with the lights caused nice effects. Guys, go back to the clubs of the world where we can enjoy passionate and exciting shows. I know you can do it!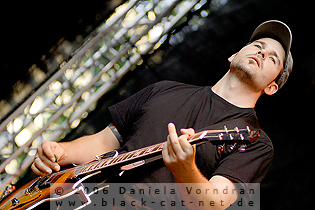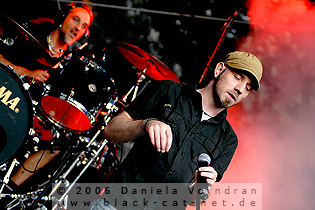 Setlist
01. Intro
02. Subtronic
03. Drifting sideways
04. I'm not enough
05. New Drug
06. The End
07. My own worst Enemy
08. Your hands on my skin
09. Strange affection
10. I regret
11. Still unknown
---
12. Addict
Rating

Music 8
Performance 4
Light 6
Sound 7
Total 6 (6.4)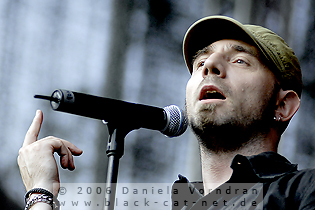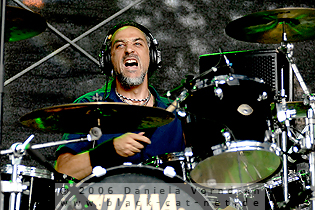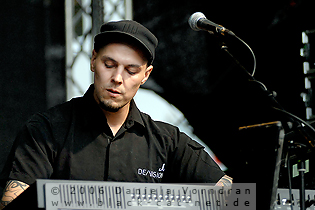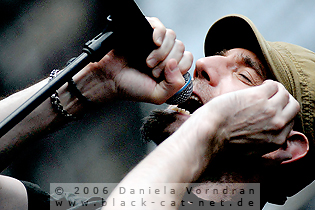 More pics on Black-Cat-Net

{jos_sb_discuss:18}
See also (all categories):