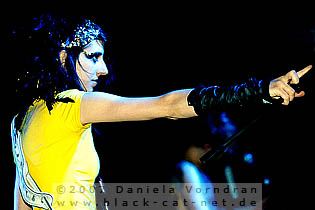 Underground, Cologne, Germany
20th November 2007
IAMX


Chris Corner's IAMX returned to Cologne a mere seven months after their last visit to the Rhine metropolis. After the US tour of his band he was apparently happy to be back in Europe. And the packed Underground club unhesitatingly celebrated the return of IAMX!


After series of albums with SNEAKER PIMPS, Chris Corner started IAMX as his solo project in 2003. Corner produced the IAMX debut 'Kiss + Swallow' (Recall records, 2004) in his home studio and the follow-up 'The Alternative' (Major Records, 2006) in his new domicile in Berlin, Germany.
http://www.iamx.co.uk/
/
http://www.myspace.com/iamx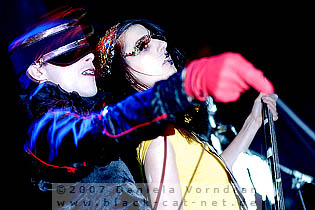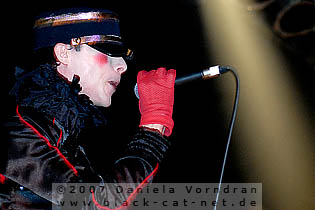 Music
IAMX advances the electronic side of SNEAKER PIMPS, adding a stronger 1980s touch and much more glam, darkness, theatre, and somehow perky sex. IAMX creates an "alternative to the real world" (a line from the track 'The Alternative') with sleazy, funky, beat-driven, danceable, ambiguous, melancholic, euphoric and many things more which an open mind might expect from Pop with an edge. Key tracks are songs like 'After Every Party I Die', 'Your Joy Is My Low' and the title tracks of the respective albums. But besides these up-tempo tracks IAMX also have a balladesque side, as a song like 'This Will Make You Love Again' proves. Chris Corner's IAMX combines the fines of diverse acts like Depeche Mode, Placebo, David Bowie, Chemical Brothers and, well, Sneaker Pimps!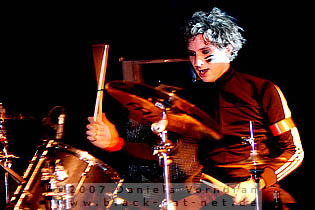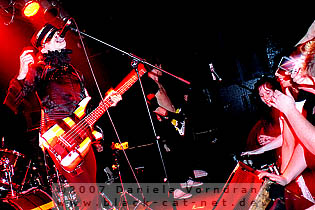 Performance
By now IAMX have a reputation for highly energetic, dramatic and sort of lewd live performances which are visually enhanced by a video show slightly reminiscent of David Lynch movies. At the Underground in Cologne the visual aspect of IAMX' live show was not as effective as usual, the very tiny club with a quite small stage only allowed the videos to be projected onto stage from the side. Thus the videos could only be screened on a small section of the stage's backdrop, and also only skewed, so that the videos partly lost their effect. But who does really care if you get a sweaty, pulsating and theatrical performance like that?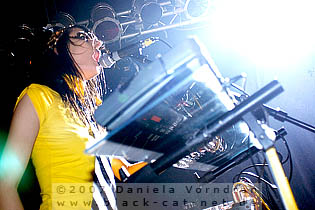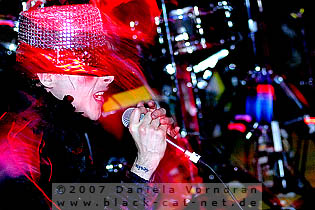 There was no support act tonight (although Mr. Corner's delay would have easily granted a support slot *g*) but IAMX does not really need a warm up. It takes only a breath and both band and audience is into it! The sound was raw and direct, not exactly an optimal sound and surely less detailed than on record, but it suited the rough and in-your-face attitude of the whole band. Chris Corner, with fancy make-up and his trademark top hat, jumped around on stage getting totally ecstatic, and sometimes even being close to fell off stage. He wouldn't fall deep as the stage was rather low in this small venue. ;-)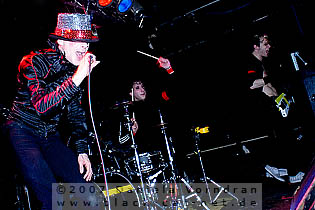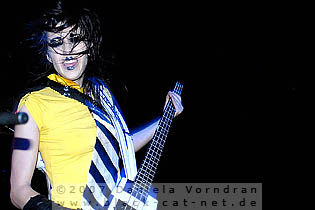 Although I wish IAMX would have all the success they deserve and play big venues, it is surely perfect to see them in such a cramped environment. The energy of IAMX translates ideally and although there's not much talking between the songs (apart from mentioning repeatedly how glad the band is to be back in Europe) Chris Corner knows how to get the audience involved by his moves and gestures alone. The set was a good mix from both albums, albeit concentrating on the up-tempo and danceable tunes.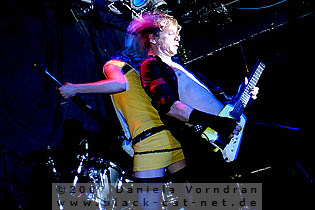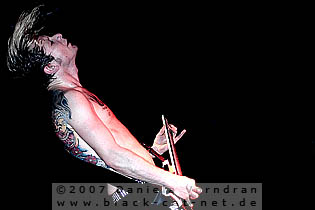 Only the waltz-like 'President' lowered the pace for a moment. IAMX also have a reputation for rather short gigs, so after mere nine songs (!) the main set was already finished. But Corner's band returned for two encores, including the much anticipated 'Your Joy Is My Low', and finally released their sweaty audience into the cold air of the night.
Setlist (without guarantee)

01. The Alternative
02. The Negative Sex
03. Skin Vision
04. President
05. Mercy
06. After Every Party I Die
07. Kiss + Swallow
08. Nightlife
09. Spit It Out
---
10. Song of Imaginary Beings
12. Missile
---
11. Your Joy Is My Low
12. Bring me back a dog
Rating
Music: 8
Performance: 9
Sound: 7
Light: 7
Total: 8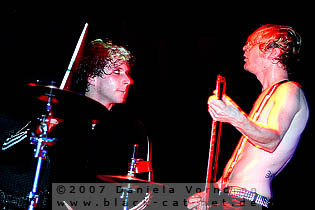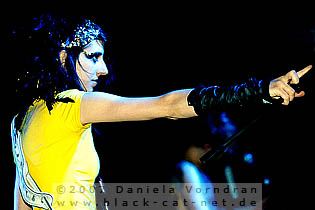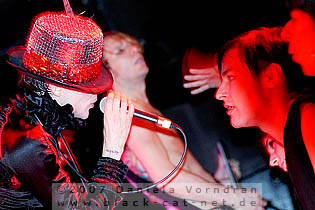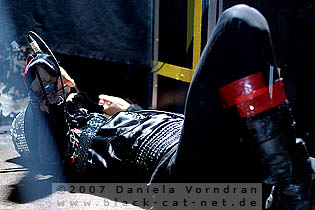 All pictures by Daniela Vorndran (
http://www.vorndranphotography.com/
/
http://www.black-cat-net.de/
/
www.myspace.com/vorndranphotography
)
{jos_sb_discuss:17}
See also (all categories):