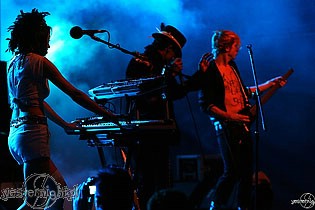 Castle, Bolkow, Poland
28th to 29th July 2007
Castle Party Day 1: TEAR, THE ROYAL DEAD, CATASTROPHE BALLET, MIGUEL AND THE LIVING DEAD, DIORAMA, PRIDE AND FALL, SUICIDE COMMANDO, DIARY OF DREAMS, IAMX

Castle Party 2007 - fantastic line-up (some say it's one of the best in the history of the festival), great atmosphere and - ubiquitous rain - that's how in short one could summarize this year's edition of the festival. In spite of bad weather conditions plenty of people decided to stay at the castle and watch the concerts of their favourite artists. Their stamina was praised by marvellous music and incredibly energetic and appealing performances.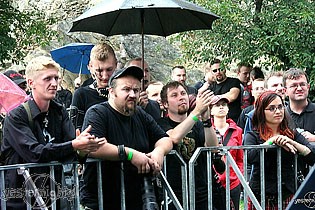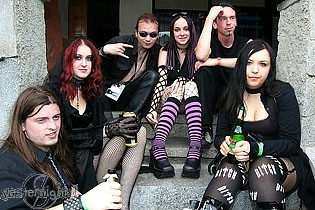 Castle Party has been organized since 1994, at first at the castle Grodziec, than in 1997 it was moved to Bolkow to remain there till now. During thirteen editions of the festival, many bands - both Polish and foreign - the already popular and the beginning played at the castle stage providing unique and wonderful atmosphere of the event.
In 2007 the line-up covered such bands as IAMX, Diary of Dreams, Diorama, Frontline Assembly, Legendary Pink Dots, Mortiis, Angelspit, some of them playing for the first time in Poland, the others being frequent and always-awaited guests.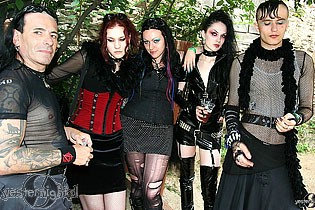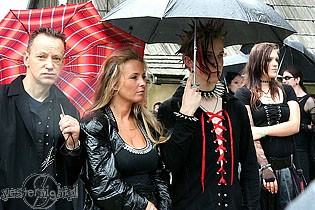 The festival started on Friday, traditionally by OFF Night DJs and the presentation of body piercing presented by Exiting Body Piercing group, whereas the concerts begun on Saturday.
http://castleparty.com/
/
http://www.myspace.com/castleparty


Saturday – 28th July 2007

Saturday welcomed us with rainy and cold weather so to warm up and to establish contact the audience was hard task for the bands starting the Festival Day. As the first, the Czech band Tear presented their gig.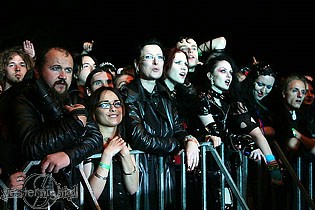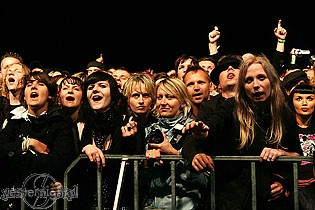 Tear

Zdenek Vovesny - musician and composer, has already experience in several bands. With expansion of musical instruments digitization, there emerged undreamed dimensions and space of musical expression for a composer of such calibre. Zdenek focuses solely on his project TEAR since 2003. To join informal world of living with structurally refined world of digital processors, he gathered several skilled musicians to extend TEAR's romantic, sophisticated arrangements with electric bass parts, acoustic drums and electric piano. TEAR's first official release titled 'Clear Message' is out since June 14th.
http://www.myspace.com/teareu
/
http://www.tear.eu/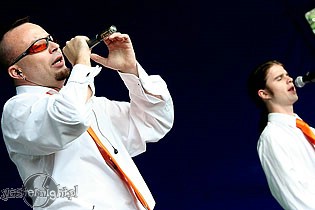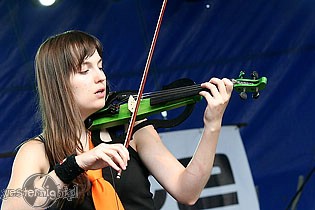 Music & Performance

TEAR is a band combining lively electro rhythms with powerful vocals and stylistics bringing to mind bands such as FUNKER VOGT and CEPHALGY. Despite the fact that it was raining they delivered a highly energetic and danceable show supported vividly by their fans from the Czech Republic who let them know they valued their work by loud screams. Additionally to their original songs, the band also presented two covers: 'Photographic' of DEPECHE MODE and 'Dominion/Mother Russia' of THE SISTERS OF MERCY. The variety of instruments used (violin, drums, guitars) and a strong voice of the front man added depth to the whole concert.
Setlist

01. Clear Message
02. Photographic (DM remix)
03. Bitter Feeling
04. Dominion/Mother Russia (Sisters remix)
05. Animal Farm
06. Desire
Rating

Music: 7
Performance: 7
Sound: 8
Light: daylight
Total: 7.2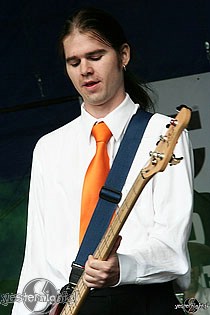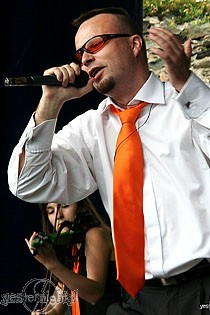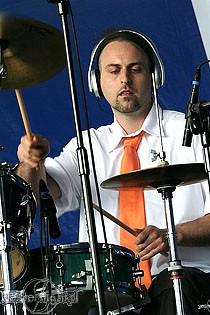 The Royal Dead

In 2002, Karasu (the composer), Aci (the violinist) and Haru (singer) established TRD. The band's former name was PHANTASMAGORIA and they were playing future pop. Their debut album 'Walpurgis' was extremely poplar in Japan and after taking part in several important festivals (e.g. Tokyo Dark Castle, Kobe Underground Festival, Chorna Rada, Children of the Night) in 2004 they released their next album entitled 'Lycanthrope'. In November 2006, PHANTASMAGORIA changed the name to THE ROYAL DEAD.
http://www.magoria.net/
/
http://www.myspace.com/exphantasmagoria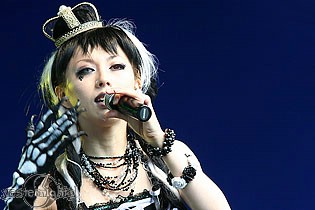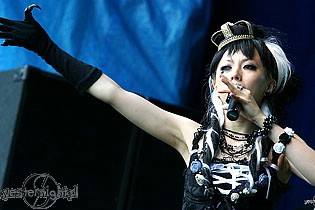 Music & Performance

Haru - the singer - wearing a fancy costume (a little crown and colourful dress), moving vividly on the stage and Aci playing violin made a nice impression. Fine sonorous voice and harsh, dynamic melody combined together with electro and classic elements stood for a fine energetic and diversified show. Despite the fact that the rain scared plenty of people away TRD managed to play a good, dynamic concert. The music of the band is somewhat a blend of Haru's beautiful voice and the music which is changing its atmosphere from lyrical, smooth and moving ambient to vivid, trance electro.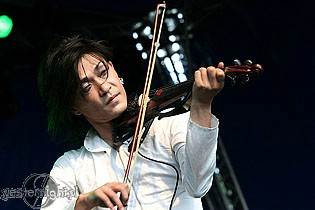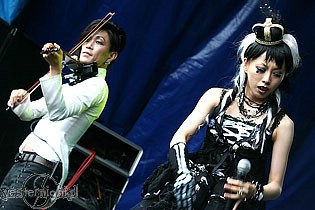 The combination seems to work perfectly and in spite of a tint of exoticism (the Japanese lyrics and specific vocalic and melodic mode) the performance was definitely fine.
Setlist

01. Phantasmagorium
02. Slave of love
03. Song of a liar
04. The rebel of the dark
05. Howling
06. ??(fuusou)
Rating

Music: 7
Performance: 6
Sound: 8
Light: daylight
Total: 6.8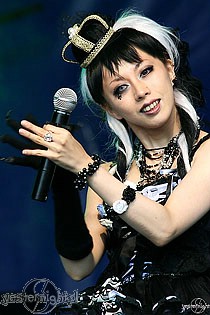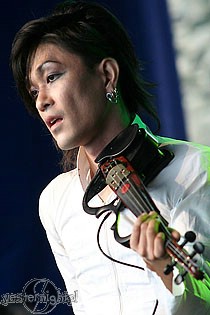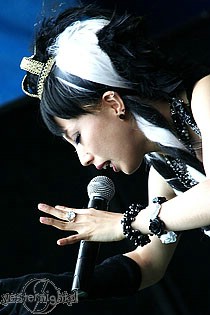 Catastrophe Ballet

CATASTROPHE BALLET was formed in 1999 by Eric Burton who got his inspiration from such bands as Killing Joke, The Sisters Of Mercy, Building House, The Cure and Fields Of The Nephilim. The albums 'Monologues Of the past and the future' (1991), 'Torso', 'Transition' (1993), 'New Values' (1996), 'Menschenfeind' (1997), 'Test of Time' (2003) and 'All Beauty Dies' (2006) feature the music which could be called a mixture of gothic rock and psychedelic.
http://www.myspace.com/catastropheballet
/
http://www.catastropheballet.de/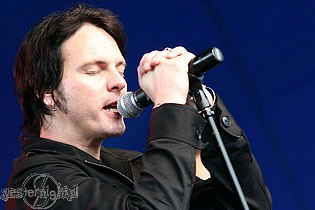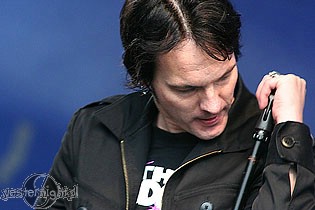 Music & Performance

The first, most outstanding impression of the concert CATASTROPHE BALLET played in Bolkow was the overwhelming, strong guitar sound and prevailing blackness of the outfit the musicians were wearing. Throughout the gig I could also hear some industrial-like elements, linguistic changes (lyrics sang partly in English, partly in German), electronic samples mixed with rock and metal melodies and a bit muffled, engaged voice of Eric Burton, highly vital in its expression, but the guitar sound prevailed the whole musical sphere supported by the considerable amounts of energetic drums and highly emotional background. During Castle Party the artist played mostly the pieces of their recent album 'All Beauty Dies'.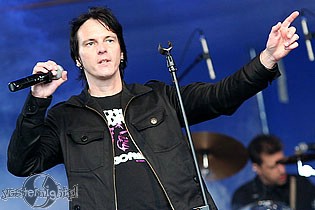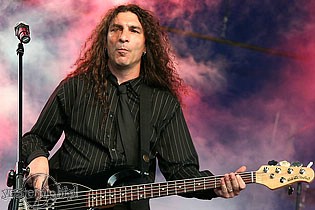 The rain and cold wind changed the audience area into the sea of umbrellas and made the contact between the audience and the artist literally impossible, otherwise the gig would have probably looked much different. As it was, most of the people were fighting with coldness to at least stay and see the show. Such conditions unfortunately didn't help in any exchange artists-listeners whatsoever, so I couldn't appreciate CATASTROPHE BALLET's performance fully.
Setlist

01. Intro
02. House of Hate
03. Eyelid Backspace Poem
04. I lost the key to your world
05. Licht in meinen Träumen
06. Mother
07. Consequently Inconsequently
08. Garden of Decay
09. Nothing
Rating

Music: 8
Performance: 6
Sound: 8
Light: daylight
Total: 7.3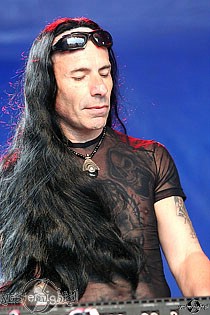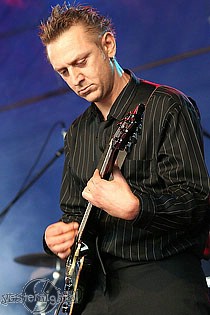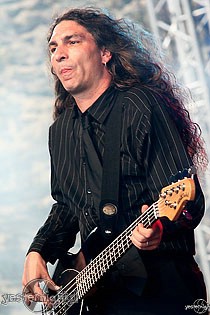 Miguel and The Living Dead

This Polish band started in 2001 playing the music being a resultant of gothic rock punk and death-rock, inspiration from such bands as Bauhaus, Alien Sex Fiend, 45 Grave, Siouxsie & The Banshees and UK Decay. In 2005 they released the album 'Alarm!!!', currently they're working n their new album 'Postcards From The Other Side'.
http://www.myspace.com/miguelandthelivingdead
/
http://migueldead.com/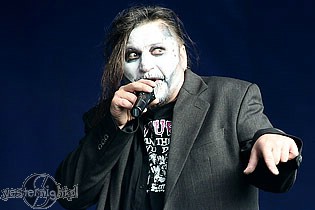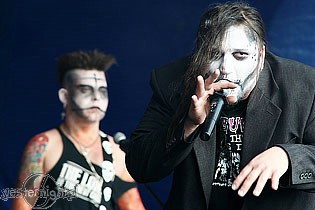 Music & Performance

Polish top death-rock band presented themselves as playing very fast and dynamic music, wearing excessive 'horror-like' make-ups and clothes. The show was often interrupted by the vocalist who was chatting with the audience, swearing, putting on lady-pants (onto his head or face even :)), throwing the bottle of vodka to the crowd and presenting vulgar and sexual gestures. Still, the audience seemed to love it and as far as I could see MATLD won the people completely. Their music features strong, drilling guitar sounds, deep pounding vocals and lots of punk, death-rock and 'spooky' spirit. It's a bit danceable with lots of irregular passages, while the performance sticks to the psycho-billy stylistics.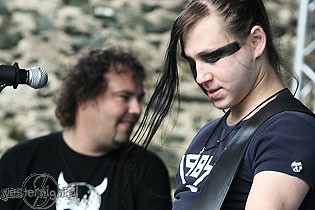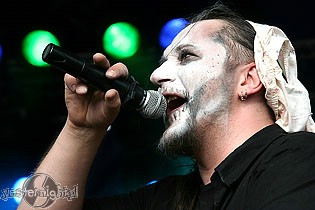 I'm not a specialist of the genre, neither am I'm a huge fan, still I can appreciate the way Slavik (voc), Killer Klaus (bass), Niuniek El Diablo (drums) and Nerve69 (guitars, lyrics) controlled their audience and established the contact with them which aside from deep, melodious and changeable vocals is one of the greatest advantages of the band.
Setlist
01. Lycantrophia
02. Night Of Terror
03. Batcave
04. Bonehead
05. Postcards From The Other Side part1
06. Postcards From The Other Side part2
07. Legion Of The Wicked
08. Graveyard Love song
09. Siekiera medley
Rating

Music: 8
Performance: 8
Sound: 8
Light: daylight
Total: 8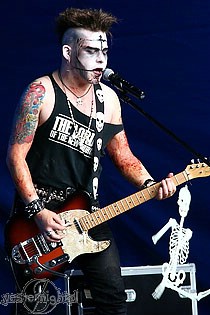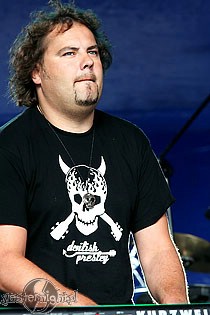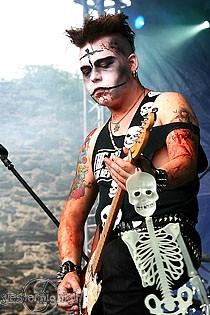 Diorama

DIORAMA - the band, consisting of Torben Wendt, Felix Marc, Sash Fiddler and Marquess, was formed in 1996. With such albums as 'Pale', 'Her liquid arms', 'The art of creating confusing spirits', 'Amaroid' and finally 'A different life', their position in the world of gothic music seems stable. The concert in Bolkow 2007 was their second concert in Poland and as one could expect they were received enthusiastically.
http://www.diorama-music.com/
/
www.myspace.com/dioramamusic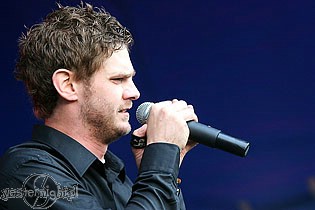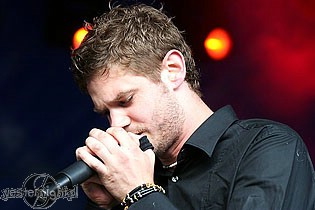 Music

DIORAMA gave a very beautiful concert in Poland though relatively short - it was like an appetizer and not the feast we wanted to be given. Still, it was dynamic and emotional: artists presented both old songs - like 'Advance' - and the new ones of 'A Different Life' like 'Why' and 'Erase me': fantastically melodious, vivid sounds that enchanted the listeners.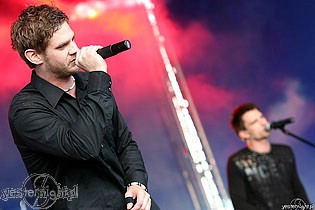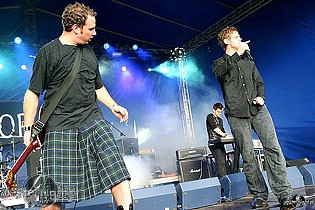 Performance

It was drizzling during the gig, so at some point Felix advised the listeners to form 'a wave' of all the umbrellas. However, the heat emanating from the stage was so enormous it scared the clouds always, not to mention that it warmed the audience up! During 'The girls', Sash Fiddler and Torben played a scene as if from a rock concert enacting some kind of 'pogo' together :)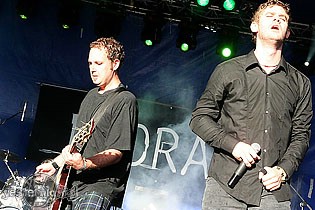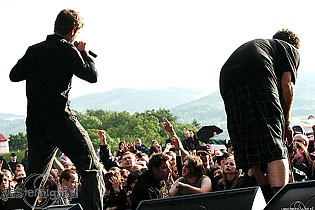 One of the finest moments of the gig was when Torben took the Polish flag - it was the same flag he'd been given two years ago in Warsaw at Gothic.pl Festival 2 - and showed it to the audience; the euphoria of the fans reached the peak. He also jumped out to the photo pit and strolled near the bars so that the fans who stood near could touch him. It was really splendid. I had the impression that something was released during the show - there was no coldness, distance and reservations whatsoever: just beautiful music and people's enthusiasm!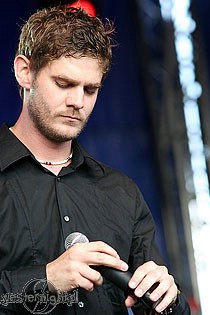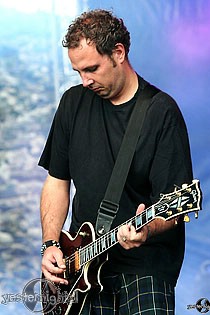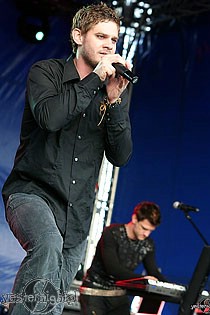 Moreover, as I said, it was a gig loaded with emotions - they found its way to Torben's face which definitely was positive sign. All in all, it was really a great show, blending exceptional power of the music, beautiful, engaged, gentle and yet powerful vocals of Torben and the whole atmosphere making it a treat of the Fest! Unfortunately, there were no encores, so the gig itself was very short, but afterwards, Torben came out to meet his fans, so that we had a chance to have a word with him.
Setlist

01. HLA
02. Synthesize me
03. Advance
04. Belle?
05. Erase me
06. The girls
07. Why
Rating

Music: 10
Performance: 9
Sound: 9
Light: daylight
Total: 9.5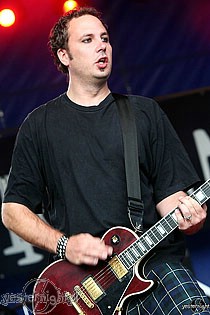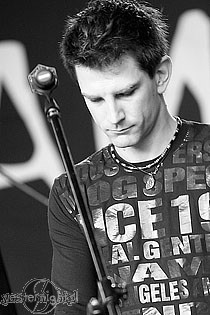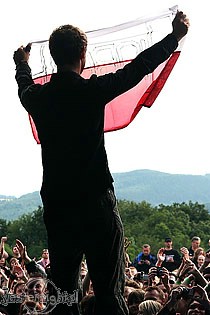 Pride and Fall

PRIDE AND FALL is one of the leading artists in the dark alternative electronic music scene. The music can be described as Future-pop, a recently-emerging electronic dance music genre, an outgrowth of electronic body music. PRIDE AND FALL have released two full-length albums, 'Nephesh' (2003) and 'Elements of Silence' (2006), plus being presented countless compilations worldwide. As of September 2006, PRIDE AND FALL are once again back in studio working on new material which was released on 17th August. Members are still the same since 2000 -Sigve Monsen, Per Waagen and Svein Joar Auglaend Johnsen
http://www.prideandfall.com/
/
http://www.myspace.com/prideandfall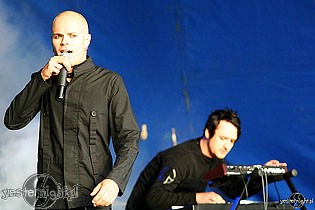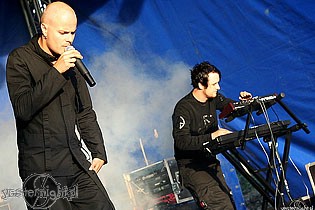 Music & Performance

When Pride and Fall started playing, the sun was already quite strong so the band could entertain their fans with no obstacles And so they did: Sigve Monsen dancing all over the stage, encouraging people to have some fun definitely introduced a vigorous and vivid atmosphere. The music of PRIDE AND FALL is very melodious, smooth and dynamic; a perfect dance floor filler. A mixture of synth and pop elements makes it run smoothly and danceable. Highly rhythmical, dynamic and freely running sounds plus a deep, melodious voice constitute a catchy mixture many fans of the genre appreciate.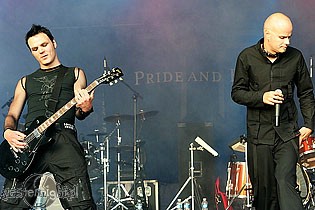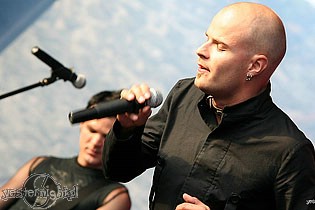 Setlist

01. Elements
02. Inside
03. My little
04. Violence in me
05. Construct
06. Border
07. Omniscient
08. Sacrament
09. Adored
10. Retrospect
11. Ego
Rating

Music: 7
Performance: 7
Sound: 8
Light: daylight
Total: 7.2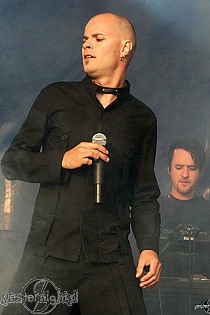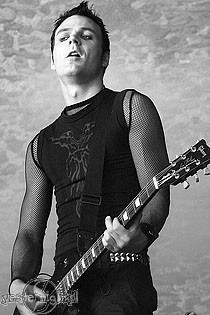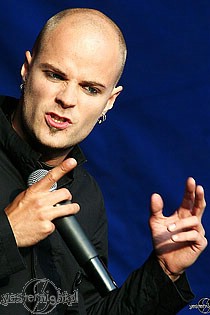 Suicide Commando

Started in1986 and influenced by EBM legends like Klinik, Skinny Puppy or Front 242, SUICIDE COMMANDO - a Belgian project of Johan Van Roy - is famous for production of murderous, extremely popular albums such as 'Construct-destruct' (1998), 'Mindstrip' (2000), 'Axis of evil' (2003), 'Bind, torture, kill' (2006) or the recent release, called "SC in a nutshell" - X20 - box set which includes three CDs and a live DVD released in 2007.
http://www.suicidecommando.be/
/
http://www.noiseterrorproductions.com/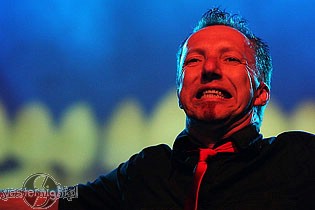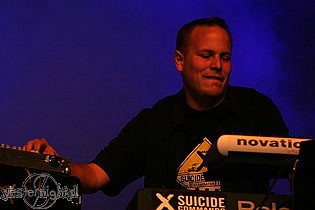 Music & Performance

The history of SUICIDE COMMANDO concerts in Poland is a story on how to make a several-thousand people scream, dance and applause madly. Apparently, Johan found a vent by means of which he helps the people to release aggression, vitality, madness and vividness and follows the path of mass-entertainer confidently and successfully... His concerts - the one at Castle Party 2007 was not an exception - were accompanied by screams, mass singing and scanning, not to mention the regular disco that started just by the stage the sight of which was simply marvellous. Johan was mimicking, jumping, posing a crucified… and, yeah, showing the middle finger, too, but who cared, the audience seemed delighted.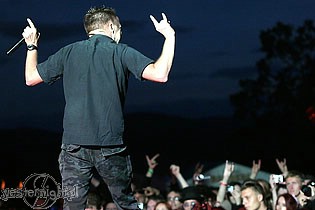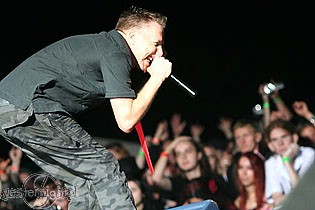 The additional advantages were superb, changing lights that helped in building the party-atmosphere, so despite some technical problems with the mike SC had at the beginning, the concert was a spectacular success. The music comprising of almost all the greatest hits with - of course - 'Hellraiser' as an encore was a perfect background for a fantastic energy-release the people experienced during that show. The heat was reaching highest levels and nobody cared about low temperature and wind any more... Well the crowd went wild so no atmospheric conditions mattered. :)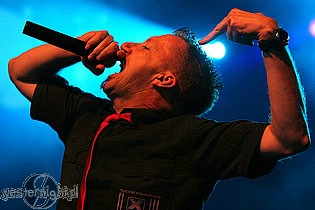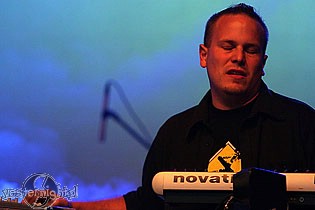 Setlist

01. Bind torture kill
02. Menschenfresser
03. Conspiracy with the devil
04. Dein Herz meine Gier
05. Raise your god
06. One nation under god
07. Massaker
08. Love breeds suicide
09. Come on and hate me
10. Fuck you bitch
---
11. Hellraiser
Rating

Music: 10
Performance: 10
Sound: 8
Light: 8
Total: 9.4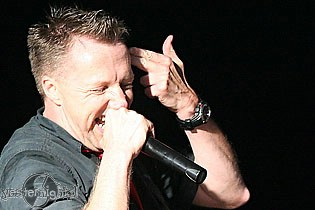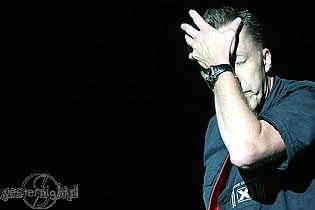 Diary of Dreams

German band DIARY OF DREAMS, whose style could be described as gothic / darkwave, was formed in 1989 by Adrian Hates and Alistair Kane. The results of their co-operation were visible yet in 1994 when their first album 'Cholymelan' was released at the Dion Fortune label. Two years later, the duet returned with the album 'End of Flowers' yet released at the Accession Records label of Adrian Hates himself. In 1997, the album 'Bird Without Wings' was out and the band's popularity and acknowledgement among the increasing number of fans was growing instantly. The year 1998 witnessed the release of the album 'Psychoma?'; at the same time DIARY OF DREAMS accepted two new members: Olaf Schäning and Christian Berghoff.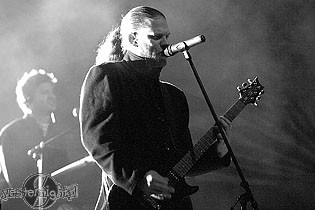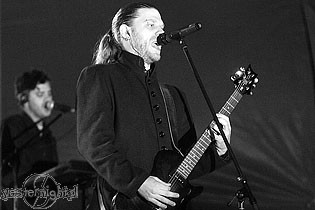 'Moments of Bloom' – some kind of best-of compilation and at the same time the first album released domestically in the US was out in 1999. One year later, the album 'One of 18 Angels' joined the band's rich output and two years later, the fans could enjoy the album 'Freak Perfume' as well as the follow-up EP 'Panic Manifesto'. The albums released in the following years, namely: 'Dream Collector' (2003, released for the South Africa Tour), 'Nigredo' (2004), 'Menschfeind' (Mini album) and 'Alive' (2005, live record) proved the mastery of the band's music and strengthened their position on the darkwave scene. The band's tracks are also featured on many compilations. The upcoming single entitled 'The plague' is to be released in September 2007 followed by a new studio album end of October.
http://diaryofdreams.de/
/
http://www.myspace.com/diaryofdreams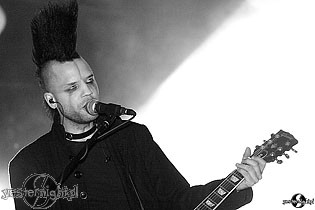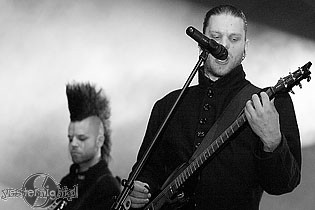 Music & Performance

The DIARY OF DREAMS concert was awaited by the majority of Goths gathered at the castle; even before it started the crowd had become so tick one could hardly move not to mention any other more vivid movements. The scenery accompanying the gig was marvellous: wind, stars in the sky and the moon which emerged just from behind the scene when DOD started playing... all that added to an exceptional atmosphere to the concert quite considerably. The very entrance of Adrian Hates, Torben (once again on the stage that day), Gaun:A and D.N.S evoked mass enthusiasm, screams and calls from the audience. Well, many people have now tendency to call DIARY OF DREAMS "a phenomenon"; when I was looking at people's reactions at Castle Party I could not agree more...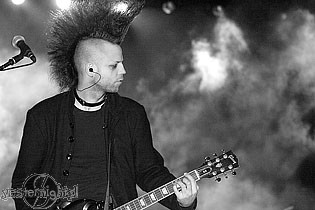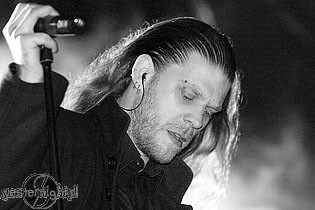 The band started with 'Rumours about Angels' and the spirit of thoughtfulness, melancholy and the tone of sadness became irresistible and overwhelming. Their music seems to find its way straight to the hearts of listeners whereas the twinkles in the listeners eyes (did I see tears in some of them? oh, by all means I did:) prove DIARY OF DREAMS still have a special place in the hearts of many. Well, Adrian Hates evidently has the magical knowledge of taking control of his listeners: the takeover is bloodless though: the hearts seem to surrender with no resistance whatsoever. Of course some gestures are the ones we're used to and those some people are always waiting for: for example Adrian loosing his hair always evokes enthusiasm (well, hair seems to have this magical power, doesn't is? you don't believe that? Check DOD gig and you'll see it works :)).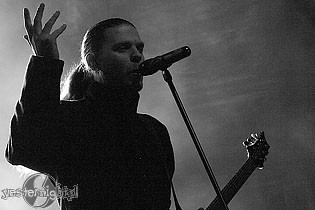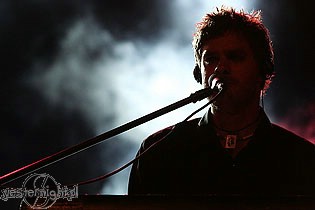 Other aspects of the concerts were stylish, dim lights building an atmosphere of concentration, Adrian and Gaun:A rocking the stage with their guitars, Adrian letting the people sing lyrics with (or instead of) him, and even dancing (!?). All that stood for a fantastic performance that many people saw as a jewel in the crown of the festival. There were some complaints the band didn't play the new material (people seem insatiable :)), but as DOD are going to visit Poland in January again, there will be a chance to listen to new pieces as well.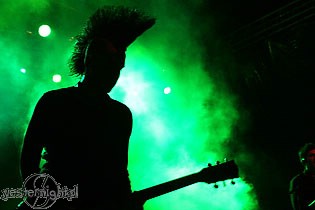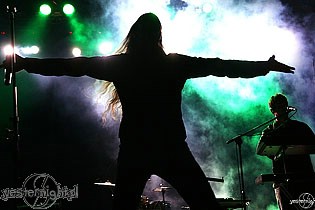 Setlist

01. Rumours about Angels
02. Reign of Chaos
03. Chemicals
04. Psycho-logic
05. O'Brother Sleep
06. Soul Striper
07.Giftraum
08.Traumtänzer
09. Butterfly:Dance!
10. She
11. The Curse
12. Kindrom
---
13. Panik?
Rating

Music: 10
Performance: 10
Sound: 10
Light: 10
Total: 10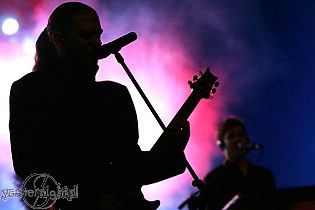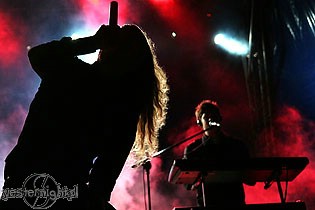 IAMX

IAMX is a project of Chris Corner known from the British trip hop formation SNEAKER PIMPS, which after the release of three studio albums ceased all activity. Chris Corner started his own project IAMX in 2004 releasing a debut album 'Kiss and Swallow'. The other one –'The Alternative' - was released in 2006 .The live line-up for the project usually consists of Dean on guitar, Janine on keyboards /synths/ bass, Tom on drums, and Sue Denim as backing vox.
http://www.myspace.com/iamx
/
http://www.iamx.co.uk/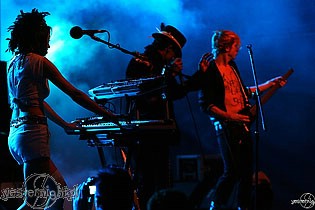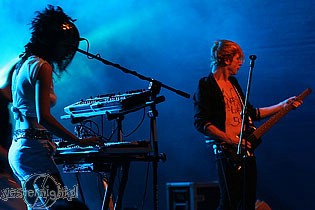 Music & Performance

IAMX played as the headliner of the evening and flooded the listeners with lots of stylish club/electro/glam/pop music. Fantastic theatre of lights, incredibly deep, changeable and emotional vocals and a cool performance: a rock concert, an operetta, a club, a bar, a cabaret, a theatre, a burlesque - all that came to my mind while I was watching the gig - were the tools IAMX enchanted the audience. Chris Corner managed to transfer his audience into his crazy, colourful, sexy world where emotions run unleashed and a voice has no barriers to cross. His show remained a maddening, bedazzling roller-coaster taking a listener into a mad journey and leaving the participants breathless and delighted.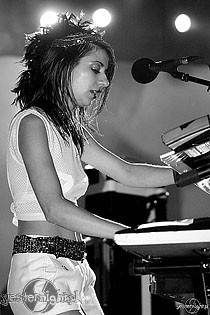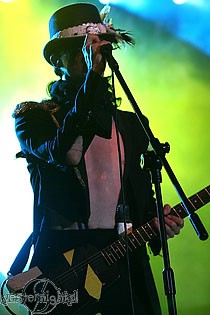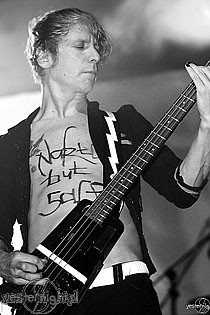 Strong guitars and even starker vocal, changing its quality from an angelic to devilish, vibrating, neurotic, ballad-like melodies and smashing energy stood for the biggest advantages of the show. When Chris jumped into the audience and let the fans carry him (at the end he thanked people that they let him come back to the stage safe and sound) - well, that was definitely a splendid view. The other thing is music - IAMX played the pieces of both 'Kiss and Swallow' and 'The Alternative' - invigorating, powerful, forceful attack on the sense of hearing. Generally spoken: during this gig the senses of hearing and seeing were inundated by colours, varying tones and modes of the music and fast pace of action enforced by Chris! It was by all means a magnificent show, great final for a perfect Festival Day no 1.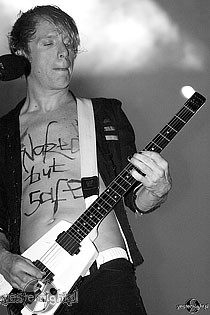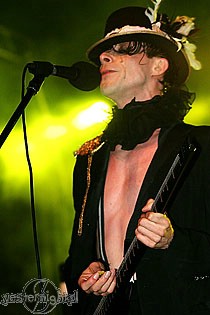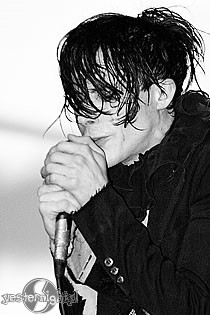 Setlist

01. The Alternative
02. Bring Me Back a Dog
03. Skin Vision
04. Negative Sex
05. President
06. Song Of Imaginary Being
07. After Every Party I die
08. Kiss + Swallow
09. Nightlife
10. Spit It Out

Rating
Music: 10
Performance: 10
Sound: 10
Light: 10
Total: 10
All pictures by Bartosz Sarama (
yesternight.pl
)
{jos_sb_discuss:18}
See also (all categories):