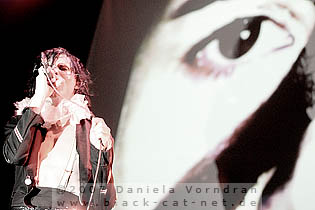 Bürgerhaus Stollwerck, Cologne, Germany
24th April 2007
IAMX, SOHO DOLLS, LEVELLOAD


In late April there was the British Music Week in the German metropolis of Cologne, and among many, many other great acts there was a show by IAMX announced - and they brought two cool support acts with them, LEVELLOAD and the wonderful SOHO DOLLS…



LEVELLOAD

LEVELLOAD is a British-Japanese collaboration between bassist/singer Mariko Doi and guitarist Tony Wade who deliver cool and Synth-driven Punk-Pop.
http://levelload.co.uk/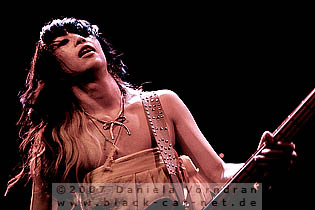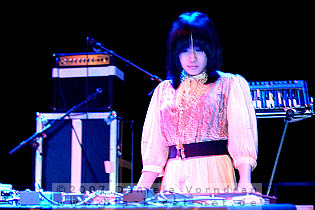 Music
Mariko and Tony formed LEVELLOAD in Tokyo before they moved to London. Their mix of Punk, Pop and Electronica got them the attention of the UK press and even the appreciation of the late music legend John Peel who put the single 'Palookaville' in his playlist and gave it a three-star-rating. LEVELLOAD have toured from underground club to underground club throughout Europe and Japan which granted them a cult following but they have yet to make their breakthrough. A by now almost legendary exclamation by UK reviewer Tom Edwards describes LEVELLOAD "as if the Yeah Yeah Yeahs were a great undiscovered Phil Spector girl-group" and this hits the nail on its head.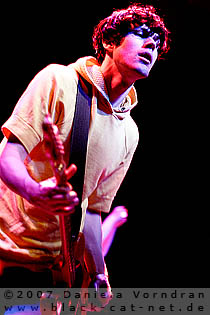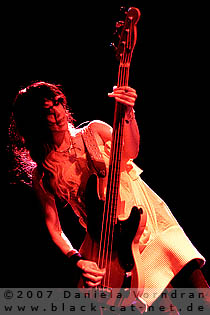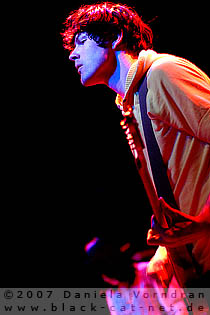 Performance
On stage the duo are accruing to a three-piece as they are supported by some anonymous female DJ who commands the bass drum and adds a few extra bleeps here and there. The DJ wears a rather traditional Japanese dress and hairstyle which nicely counterparts the Garage Punk attitude of Mariko and Tony. When LEVELLOAD entered the stage of the Stollwerck, it was still early in the evening and the place not even half full but they obviously had some fans of their own among the crowd, and they took everyone by storm with their blend of dirty guitars and straightforward electronic beats. Great stuff to dance to, and LEVELLOAD definitely have some potential. A little more variation would enhance their sound though but perhaps we will get exactly this with their forthcoming debut album.
Rating
Music: 7
Performance: 7
Sound: 7
Light: 5
Total: 6.7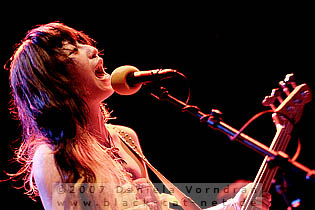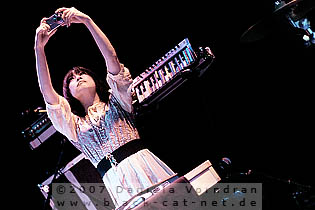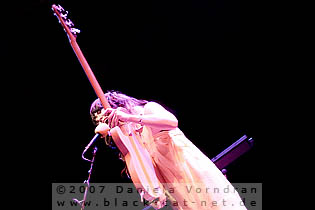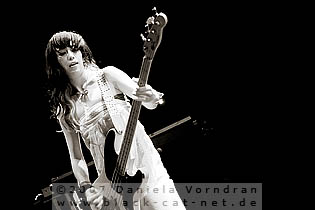 THE SOHO DOLLS

I never heard of SOHO DOLLS before, maybe I read the band's name somewhere but I never heard any of their music or even who they are. So, I wasn't prepared what was to come – folks, SOHO DOLLS is a name that you should remember!
http://www.sohodolls.co.uk/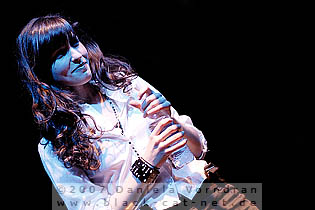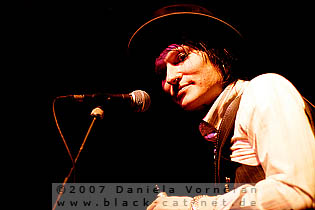 Music
THE SOHO DOLLS are Toni Sailor (guitar), Weston Doll (keyboards), Matt (bass guitar), Paul (drums) and last but not least the in every aspect truly amazing vocalist and glamour-girl Maya von Doll! In fact THE SOHO DOLLS were started by Maya who was sick and tired of her former UK Indie bands and their rather formulaic approach and the restrictions to her creativity. At first, THE SOHO DOLLS were an all-girl band but there were a couple of line-up changes, including the encounter with Toni Sailor from Finland "who happens to be a guitar genius", as the band puts it. Today Maya is the only woman among men in a band in which "the girl farts and burps while the boys were make-up".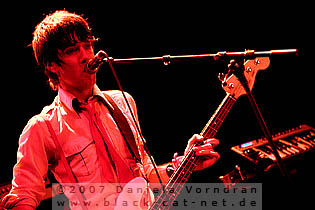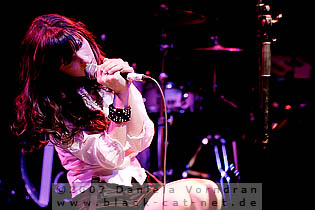 Maya definitely has enough femininity and sexiness to make up for an army of girl bands but the music of THE SOHO DOLLS is also very alluring, enthralling, and catchy. The band's Electro Glam Rock comprises the dirty gloss of 80s Synth bands like Soft Cell, the sarcastic melancholy of Nick Cave, the feminine rock'n'roll of Blondie, the organic and driving rhythm of modern Indie bands like Franz Ferdinand, the urban sub cultural feel of both Hip Hop and Punk, and many other things. Still, THE SOHO DOLL's sound is not torn, it sounds like one piece.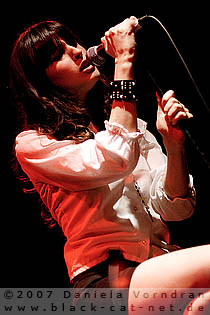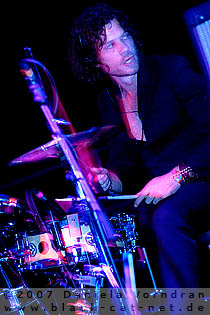 Performance
The boys in the audience knew that they will like THE SOHO DOLLS as soon as lead singer Maya walked on stage. She's a real beauty, and with high-heels, fishnets, black mini-skirt, and a white and semitransparent blouse she looked like the perfect mix of glamour and sleaziness. Her male fellow band members entered the stage too, and with eye-liners, teased hair and suits they were the perfect backup for their lead singer. I really feel guilty talking about THE SOHO DOLL's looks so much as their music is also very disarming and engaging. THE SOHO DOLLS had a furious start with some fast upbeat song (I think it was the track 'Johnny') and they had everyone's attention by then already.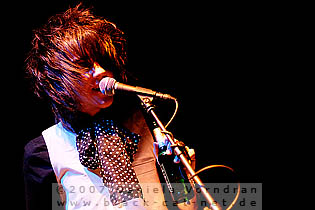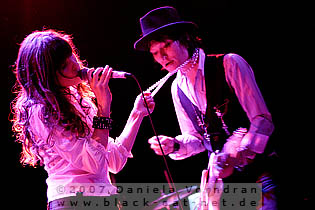 They lead us further into their world of wailing Synth layers, glam-rock guitars, dirty Pop hooks and songs like 'Prince Harry', 'Trash The Rental', 'Stripper', 'I'm Not Cool', or 'My Vampire'. Singer Maya obviously likes to get some clothes of – not that anyone would mind – and soon everybody discovered that she had broad black duck tape instead of a bra. She very clearly knows about her impact on people, she plays around with it and she has more the enough insane rock'n'roll in her mind to give her stage presence some dark erotic note with style.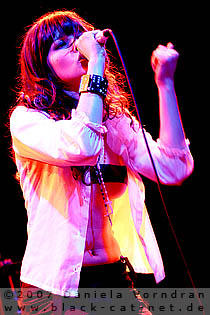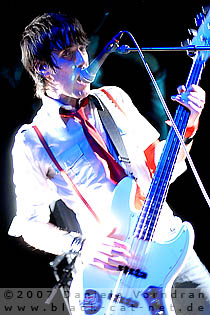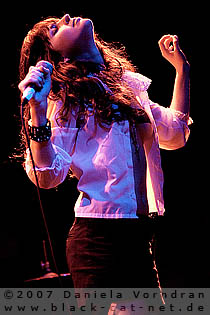 Something so many other front women only can try to achieve. THE SOHO DOLLS is a name to be remembered, with their debut hitting the stores soon their career will go through the roof. Next big thing? There's a good chance for it. If you see their record anywhere, just buy it! And especially, if they play anywhere near you do not miss them!
Rating

Music: 8
Performance: 9
Sound: 9
Light: 8
Total: 8.5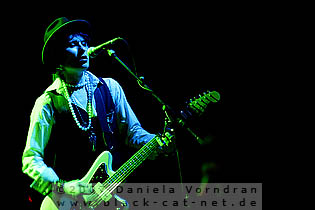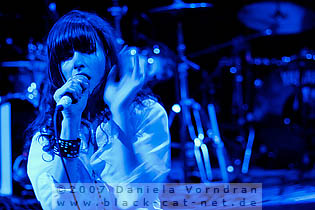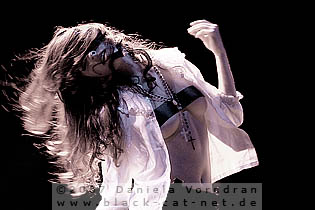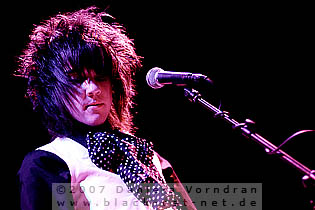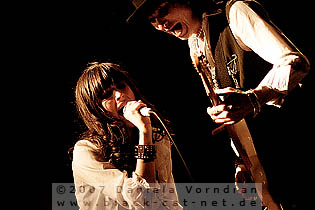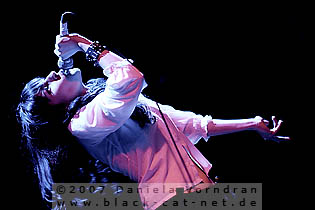 IAMX

The sleazy glamour of THE SOHO DOLLS was just a perfect tune-in for IAMX as glam, gloom and dirty erotic is what IAMX are about too, for the most part. Now we were about to get the male version of it all, or maybe the 'metro-sexual' as they call it today.
http://www.iamx.co.uk/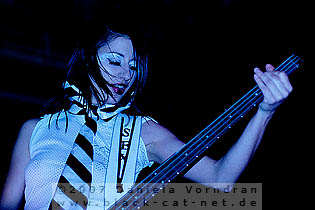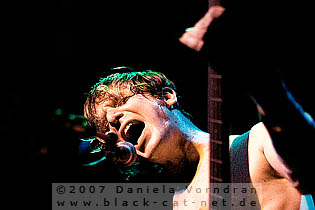 Music
IAMX is the solo project of Chris Corner of former SNEAKER PIMPS-fame. In fact the name of his solo project seems to be a pun on the title of the SNEAKER PIMPS' mid-90s debut 'Becoming X', and the sound of IAMX is not too far away from the SNEAKER PIMPS' last album 'Bloodsport' (2002). Coming from a Trip Hop background, IAMX dived deeper into the realm of dark, hypnotic electro pop with a noticeable 80s touch and some crispy guitars added, which allowed IAMX for becoming a favourite at the students' night clubs. Release Magazine described the projects' music as "the best bits of Depeche Mode, Placebo and Radiohead (sort of)" and this strange mix of references nicely describes the sonic direction of IAMX – and, on a second thought, how much the lyrics are concerned with subjects such as sex, death, narcotics, obsession, alienation and vague allusions to politics.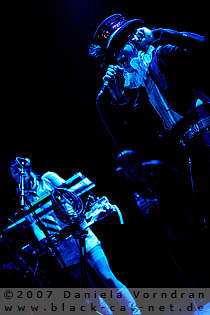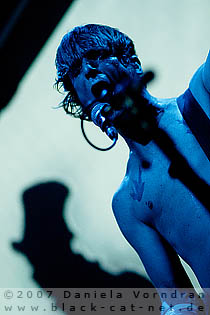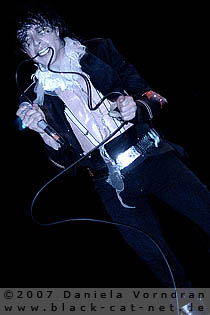 Performance
On stage IAMX becomes a full band, and the live line-up features Dean on guitar, Janine on keyboards / Synths / bass, and Tom on drums. Chris Corner is obviously the centre point of the band; and with a stage personality like this quite rightly so. The only other thing that may distract from Mr. Corner is the huge video screen behind the band on which great images underline the atmosphere of the tracks – most predominantly Chris Corner's(?) face with a big black X painted all over his face - a now infamous image since IAMX's debut 'Kiss & Swallow'.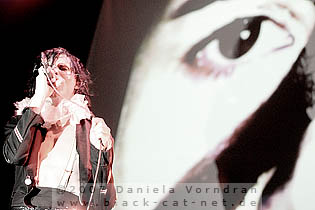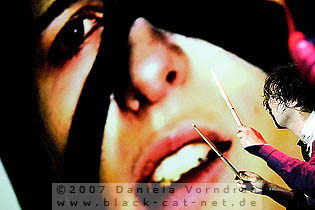 Corner has style, his own style – his tight clothing, top hat, a glittery jacket and feminine make-up made him look the Marilyn Manson-version of a ringmaster of some dark travelling circus. After staring at the audience for some time he took off his hat to greet the audience, and the show begun. Opening with the title track of IAMX's second album, 'The Alternative', Corner soon commanded the place and as IAMX has a loyal cult following (including Corner-look-a-likes and screaming teen girls in the front row) the audience happily agreed to follow his commands.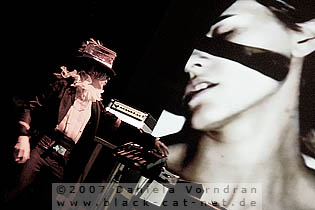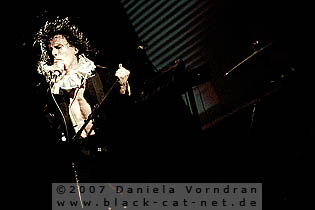 The crowd yearned to dance to the beats of IAMX, and as they added some extra punch to their tracks people got what they wanted. After the rocking 'The Alternative' the dark Pop of 'Bring me back a dog'' followed. Corner ran across the stage with double-speed, he seemed to be really into it and much more active than the last time I saw him on stage. Several times he got so wild that he lost his hat but hey, this important detail of his garment must be put back where it belongs as soon as possible – actually a funny sight to see him searching for his hat on stage while he was still dancing and singing. +g+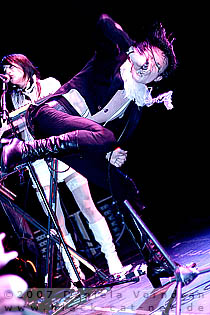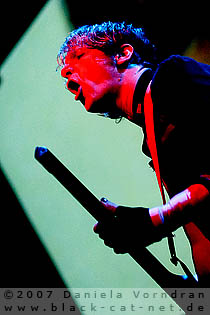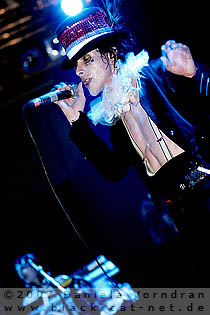 The sound was a little too loud in this venue so that the songs suffered a little from that but I'm not sure if anyone cared too much. The die-hards in front of the stage surely not! The major complaint is rather that IAMX's setlist this night was way too short – after only nine songs, with the perfect Pop of 'Spit it out' as the last one, IAMX already left the stage. Luckily they came back – they +had+ to come back really! – to perform a three-song encore, including the dramatic 'After Every Party I Die' and the painful but pounding 'Your Joy Is My Low': One should not take these titles too literally – I hope. Albeit the brevity of the show everyone took a lot of joy in IAMX's performance, and let's hope that we see Chris Corner back on stage soon!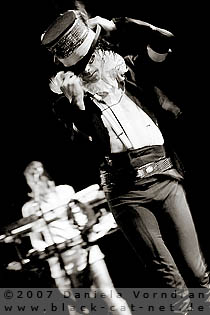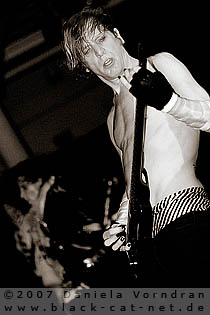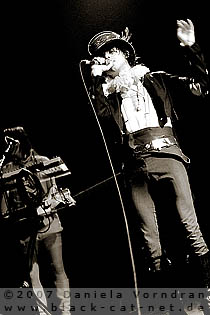 Setlist
01. The Alternative
02. Bring me back a dog
03. The negative sex
04. President
05. Song of imaginary beings
06. Mercy
07. Kiss & swallow
08. Nightlife
09. Spit it out
---
10. After every party I die
11. Sailor
12. Your joy is my low
Rating

Music: 9
Performance: 9
Sound: 7
Light: 8
Total: 8.6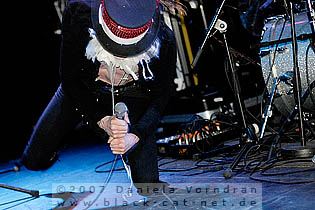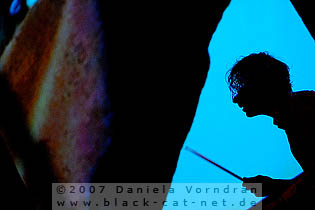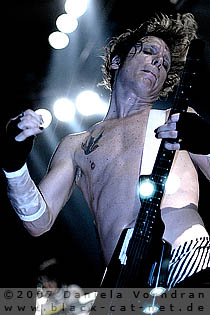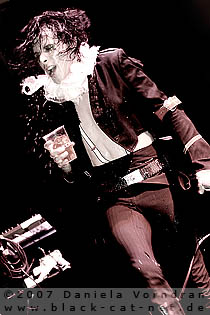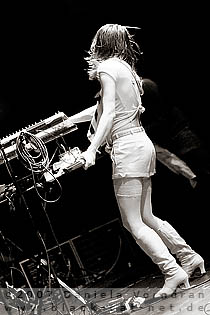 All pictures by Daniela Vorndran (
http://www.vorndranphotography.com/
/
http://www.black-cat-net.de/
/
www.myspace.com/vorndranphotography
)
{jos_sb_discuss:17}
See also (all categories):