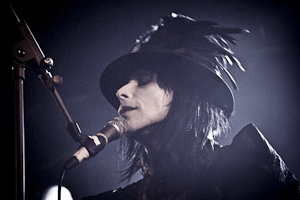 Astra, Berlin, Switzerland
11th April 2013
IAMX & Moto Boy

After the release of their new album 'The Unified Field', IAMX made a stop in their hometown Berlin for a single show, before heading off to some more gigs in Europe and then a large tour in the USA. When we arrived at the club around 6pm, there was just a small crowd waiting for the doors. We were wondering, because last time IAMX played in the Astra in Berlin, the crowd queued back over the yard to the street. At 06:45 PM the golden ticket owners entered the venue and about 30 minutes later the doors officially opened.



Moto Boy

Visiting an IAMX concert is always a great pleasure. Not the show itself is special, also the support act is often specially selected and I discovered different artists this way. Today MOTO BOY supported IAMX. Moto Boy is the solo project of Oskar Humlebo from Sweden and is inspired by different genres and artists like Tchaikowskij or Siouxsie Sioux. His sound is dark, slow and a bit melancholic with pop-elements. Around 8pm, MOTO BOY played a classy singer-songwriter show, supported by a voice matching every sound you could imagine. MOTO BOY is not the usual support act, but he leaves a perfect flair for the coming IAMX show. http://www.motoboy.se / https://www.facebook.com/motoboymusic

Setlist
01. The heart is a rebel
02. Keep your darkness secret
03. If only your bed could cry
04. Beat Heart
05. Blue Motorbike
06. Ave Maria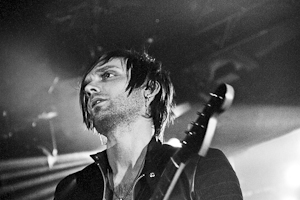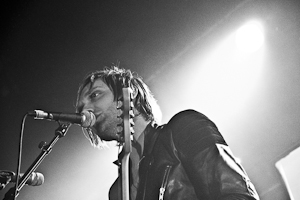 IAMX

IAMX is the solo musical project of Chris Corner, formerly head of the band Sneaker Pimps. Founded in 2004 in London, it is an independent music project which also focuses on and experiments with visual art. Musically, IAMX spans multiple genres from electronic rock and dance music to burlesque influenced songs and emotional ballads. Corner's striking and wide ranging voice, and his way of programming sounds and beats is an obvious characteristic of the IAMX sound. On 21st March 2013, their third album named 'Unified Field' was released. IAMX celebrates this new master-piece on the "Animal Impulses Tour" leading them through Europe and North America. http://www.iamx.eu / https://www.facebook.com/IAMXOFFICIAL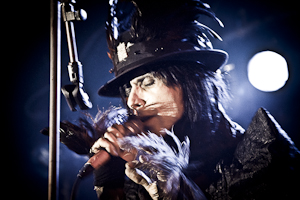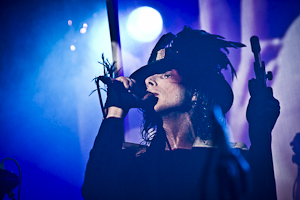 Music & Performance
After the change-over, the club was finally well crowded and IAMX entered the stage around 9pm. The room was filled with red light. The show started with 'Animal Impulses'. On stage, Chris Corner was supported by Janine Gezang (bass, keyboard, vocals), Alberto Alvarez (guitar and drums), Richard Ankers (drums) and Sammi Doll (keyboard and vocals). As always, Chris was extremely powerful on stage like moving around, playing with shadows and light, and interacting with the crowd. A fan gave Chris a huge dildo lollipop which amused Chris and instantly forced him to play around with.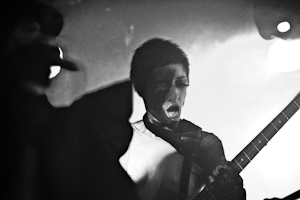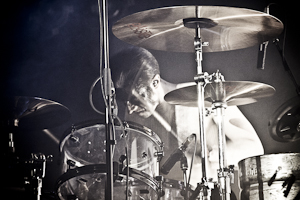 The setlist was a perfect mix of older songs and the new ones from their recently released album. Thankfully, the crowd soaked up the atmosphere and danced, sang along and shouted to the theatre on stage. For one and a half hours it seemed like a small universe had been created. After 'The Alternative', the band got off the stage and some people already left the venue, but IAMX returned with an encore of three more songs. This kept the atmosphere a bit longer, but after the band finally left the stage and the lights went on, the small universe collapsed and a happy crowd left the venue slowly.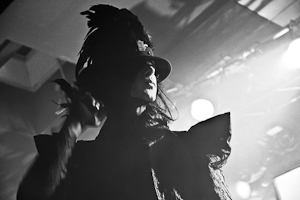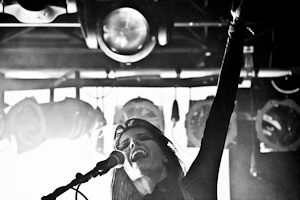 Setlist
01. Animal impulses
02. Sorrow
03. Kiss + Swallow
04. Kingdom
05. Spit It Out
06. Tear Garden
07. Secret Friend
08. Trials
09. The Unified Field
10. Cold Red Light
11. Walk With The Noise
12. Music People
13. The Alternative
---
14. I Come With Knives
15. President
16. Nightlife

Rating
Music: 9
Performance: 10
Sound: 8
Light: 6
Total: 9 / 10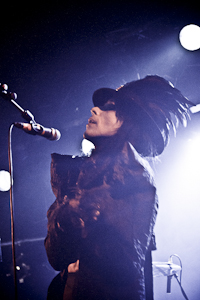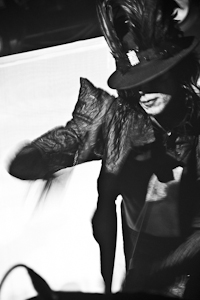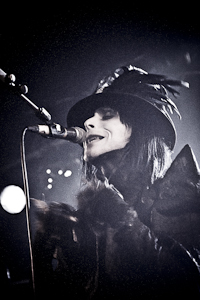 Full Gallery


All pictures by Simon Hönscheid
See also (all categories):