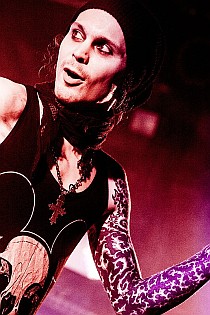 Postbahnhof, Berlin, Germany
22nd April 2013
HIM

Formed in 1992 by vocalist Ville Valo, guitarist Mikko "Linde" Lindström, and bassist Mikko "Migé" Paananen, HIM's albums have seen them win a worldwide following, becoming the first Finnish act to achieve platinum sales in the U.S. To date, HIM has sold a combined 1.75 million albums and over 1 million digital tracks in North America.


Ever since they released their super hit 'Join Me (In Death)', almost every single or album placed itself in the upper ranks of international hit lists. Alone in Germany, two of HIM's albums have reached the pole position of the charts and other ones followed, having reached the second, third and fourth position there. HIM released their new album 'Tears On Tape' in Germany via Universal Music on 26th April 2013 and vial Razor & Tie Records in North America on 30th April 2013. The new album is the "Love Metal" band's eighth official album and was recorded in their home country with long-time producer Hiili Hiilesmaa and mixed by long time-band associate, Tim Palmer (U2, Ozzy Osbourne, Pearl Jam, Robert Plant). In order to support the new record, HIM made their way to Berlin's Postbahnhof on 22nd April. http://www.heartagram.com / https://www.facebook.com/theheartagram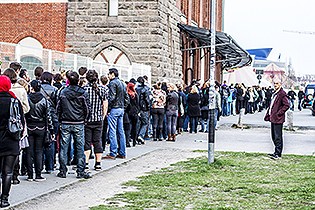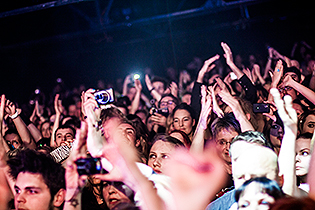 Music & Performance
Maybe it's just an impression but in the run-up to the release of their 8th full-length studio release there was a lot more promotion going on than for the last two records, especially with such mighty tools like Facebook and its increasing fan base as a vehicle. HIM promised to return to old strengths under a new label, teaming up once again with producer Tim Palmer after the horrendously tame "Screamworks" engineered by Matt Squire. Hence maybe it's just me getting more and more excited for the new record and - of course - the show after it was announced as one of only two gigs across Germany in this context. For a remarkable time it was vague if the band would ever be able to return to stage in its known line-up since drummer Mika/Gas suffered for the good of a whole year under severe nerve damage in his arms which kept him from playing. Nevertheless, eventually he recovered and the band went on rehearsing, coming up with the songs for the record which now has been named 'Tears on Tape'. Over three years have passed since the band's last visit to good old Germany and with the new material ready it was time to come back. My first and last live encounter with His Infernal Majesty was in 2000 while they were touring with 'Deep Shadows and Brilliant Highlights'. Back then they obliviously and admittedly lacked motivation and didn't hide that since they were run into the ground by extensive tour schedules. 13 years later I was ready to give them a second chance.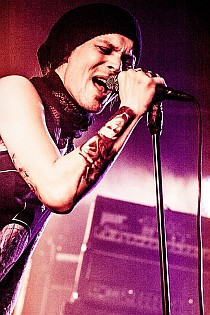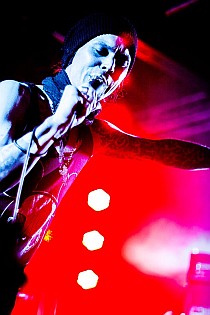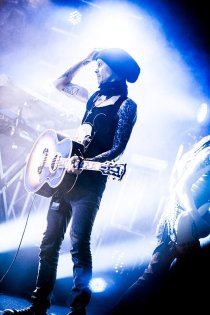 Although the days of HIM's mainstream appeal and single chart entries have passed, the word spread around and the tickets were sold out over a month prior to the event. The broad interest in the Finnish Goth rockers further showed in the length of the queue of fans which appeared a considerable time before the doors opened. While some latecomers vainly tried to obtain some "left-over" tickets on site, those who had them wondered what the term "HIM + Guest" meant in terms of supporting acts. Eventually the doors were opened, the admittance went on smoothly and screens informed us that the mentioned guest went by the DJ Lord Noir and provided the acoustic framework till the show would start. Although that point of time was scheduled for 8 o'clock, some time passed, bridged with adequate tunes from German and international Goth favourites on a danceable sound level. In the meantime busy staff completed all the stuff that could have been done beforehand (since there were no other bands to play that day): uncovering the amps, distributing the setlists, tuning the guitars. During that time the well-heeled fan was able to buy exactly one shirt for his/her specific gender, printed in one colour, carrying the dates of both Germany gigs plus the UK one for the bargain-price of 25 Euro. A few minutes to nine the lights went out and the show began with the album intro 'Unleash the red' followed by the opener 'All lips go blue' and a torrent of ecstatic girly screams as the band and front man - and wet dream of many of the audience's ladies – Ville Valo stepped onto the stage, dressed in a tank top with scarf and a heavy cross necklace. I probably will never understand why he likes hiding his hair under beanies as he did this night; I get his appeal even at the age of 37. Bassist Migé once again gave the impression of Robinson Crusoe's well-nourished brother, while Linde kept his dreads neatly bound together - but externals are not what we came for.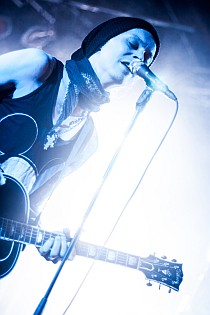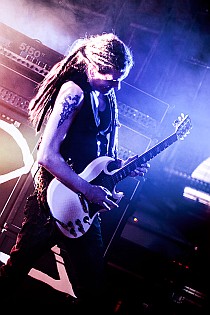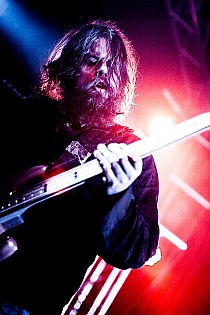 The first thing that sprung to ear was the extremely heavy sound with a massive and broad guitar and the bass forcefully thickening the sensation. There is no doubt that HIM are professionals in creating the mix they want to transmit; therefore drummer Mika used an acrylic shield to achieve the best on stage and PA mix. If you liked HIM the heavier the better that show was definitely for you. Burton's keyboards integrated well into the mix and the drums came across rocking and adequately tight. Only the microphone sound lacked a little bit of brilliance, drowning from time to time between the other instruments, but maybe that's been a locational issue. When it comes to performance, the delivering was as good as the sound and left me with no complaints. There were a noticeable amount of songs in which Ville himself felt like laying hand on his semi-acoustic guitar. That made the sound broader and gave it a certain lightness from which the restrained verses profited, even in songs like the classic "Wicked Game" which never to rarely was performed in that version before. His performance did the songs justice (in which I had no doubt since they were written acoustically by him in the first place), but also by his vocal delivery. Ville was in good shape and gave a masterful performance of his range on his bittersweet vocal lines, only misplacing a scream here and there.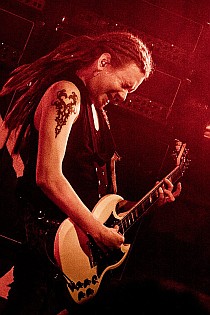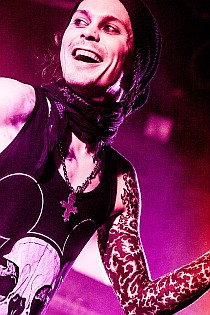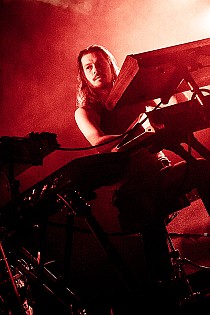 So did the fans, who – for the internet's sake and to the surprise of the front man – were very perfect singing along even the lyrics of the album, which only should be released two days after the concert. Ville should have taken lessons by his followers, because a verse slipped him by during the performance of 'Kiss of Dawn' (although he managed to remember his rendition of the line "…and I look into your eyes" which he intonated "…and I look between your thighs"). This and every other mishap were precisely captured by vaguely a million mobile phones and pocket cameras buzzing half a meter above the audience at all times, so that every lit cigarette and each beanie-adjusting could be documented on YouTube. Considering the huge back catalogue of singles and fan favourites, most of their followers should have left the Postbahnhof satisfied that night. After the above-mentioned opener, HIM closed in for a rush through their 19 year on-going history, covering nearly every album of their career. Noticeably songs from 'Venus Doom' and 'Greatest Love Songs Vol. 666' took a great amount of slots on the setlist and went perfectly with the band's live sound, while the previous album 'Screamworks' was not even touched once – no 'Heartkiller', no 'Dying Song' for Berlin – but there was no reason to weep (or was it?): They brought along hits like 'Join Me in Death', 'Right Here in My Arms' or 'The Funeral of Hearts' to the content of their fans. The latter one was played in a nice rendition with an extra jazzy intro part. Although it's been a CD release concert, HIM made a wise decision only to play four of the new songs during their 1 hour and 10 minutes on stage, before they left to come back for the encore 'Sleepwalking past hope', which for me couldn't have been a better song to finish with.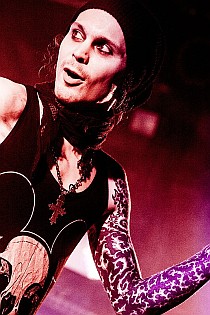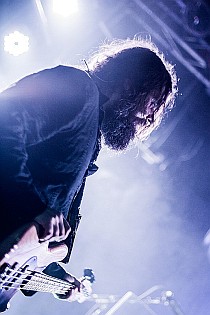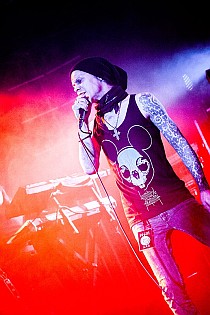 All things considered, HIM played a very enjoyable concert with only a few surprises but a great selection of tracks. It could be the chilly Finish mentality but besides the dynamic music there not that much was going on: The communication was sparse (but existent) and the stage performance itself followed suit. However I got the feeling that HIM did enjoy being back on a German stage and I am glad they were. Unfortunately the last few days again brought some more bad news: The band had to cancel their U.S. tour on the basis of a diagnosis of severe asthma with presumptive pneumonia on the part of Ville Valo. We wish him all the best to recover soon to play many more Germany gigs in the future.

Setlist
01. Unleash the Red
02. All Lips Go Blue
03. Buried Alive By Love
04. Rip Out the Wings of a Butterfly
05. Right Here in My Arms
06. The Kiss of Dawn
07. Hearts at War
08. Join Me in Death
09. Your Sweet 666
10. Passion's Killing Floor
11. Tears on Tape
12. Wicked Game
13. It's All Tears (Drown in This Love)
14. Soul on Fire
15. Into the Night
16. The Funeral of Hearts
17. When Love and Death Embrace
---
18. Sleepwalking Past Hope
19. Kiss the Void

Rating
Music: 9.5
Performance: 8.5
Sound: 9
Light: 6
Total: 8.25 / 10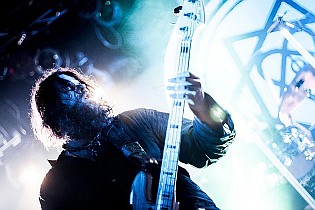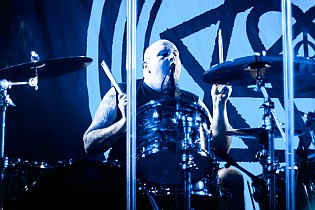 All pictures by Anne Kuhfuß



See also (all categories):